What to wear in Egypt and what not – advice from a seasoned traveler.
Are you planning a trip to Egypt? Are you currently wondering what to wear in Egypt?
Then this guide is for you. Egypt is a wonderful country (just check out my list of the 20 best things to do in Egypt), but the combination of the hot climate and the conservative Muslim culture does pose a problem not that easy to solve. Is it okay to wear shorts? And what to wear in Egypt when entering a mosque?
I'll answer all of these questions in this detailed Egypt packing list. I guess this truly is a must-read before you travel to Egypt just like my Egypt itinerary (click here).
But let's get into it, shall we?
Note: Definitely make sure to read my detailed Egypt travel guide as well.
Preface – The weather in Egypt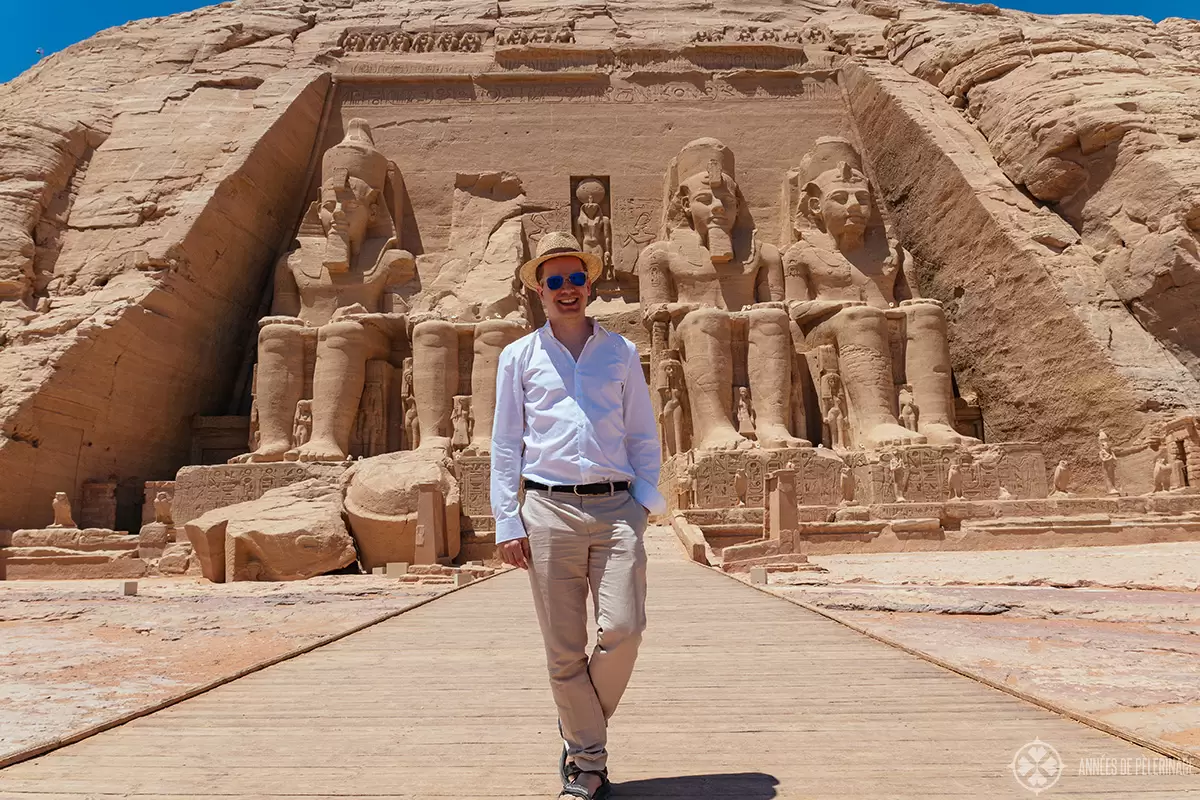 Egypt is hot throughout the year. It is basically one big desert, it almost never rains (like 2 days a year), and the only thing you possibly have to worry about is a sandstorm. The sun will be extremely intense no matter the season you travel. Expect temperatures starting from 30° Celsius / 86° Fahrenheit and way above (read my detailed guide to the best time to visit Egypt here).
The good news: It's a dry kind of heat with extremely low humidity so it won't feel as hot as it actually is. Still, places like Cairo, Luxor or the famous Valley of the Kings will be a true furnace in summer (especially June to August). I cannot recommend visiting unprepared! Usually, it doesn't cool off all that much during the night.
If you are visiting Egypt in winter (November, especially December & January, until March), you will be able to enjoy cooler temperatures around 10 to 25 ° Celsius / 50 to 77 ° Fahrenheit. The sky can be a bit overcast during that time of the year. But for visiting temples (Karnak / Luxor) or the Giza pyramids it might be the more enjoyable time of the year to travel.
What to wear in Egypt
Can you wear short trousers in Egypt? How do women dress in Egypt? Are sleeveless tops okay? Well, yes and no! There really is no dress code in Egypt for tourists.
But, you should know that Egyptian men dress rather smartly and are rather conservative – both the Islamic majority and the Christian minority. You will see most men in shirts, long trousers, and leather shoes. Rather no jeans, no t-shirts. And what do women wear in Egypt? You will see few Egyptian women fully veiled, though abayas (loose overgarment/robe) and loose veils are abundant. If you like the style, you will find cheap cotton abayas at most souvenir shops (they are actually quite comfortable!).
This doesn't mean you can't wear shorts. In the tourist regions (like Hurghada or Sharm el-Sheikh), on the beach, or in the hotel it is totally acceptable to wear shorts. I'd recommend you to dress smartly anyway. In mosques, women are required to cover their shoulders & wear a veil, while men should be mostly covered as well.
You'll often read that tourists should respect the local traditions and not wear shorts. But I'd say this is only one side of the truth, as travelers from these countries often don't refrain from wearing the full veil when visiting western countries either. Instead, I believe you should always show your best. Respect and tolerance don't have only this one face. Midriff-baring tops or tank tops might be stretching it a bit too far, though (but are okay as long as you don't leave the beach or your hotel).
Note: During Ramadan, the locals might be a bit more sensitive to all forms of touristic "misconduct" and you really should respect the traditions around this special time of the year!
Egypt packing list
Note: I get commissions for purchases made through links in this post. I do not recommend products I have not reviewed thoroughly myself.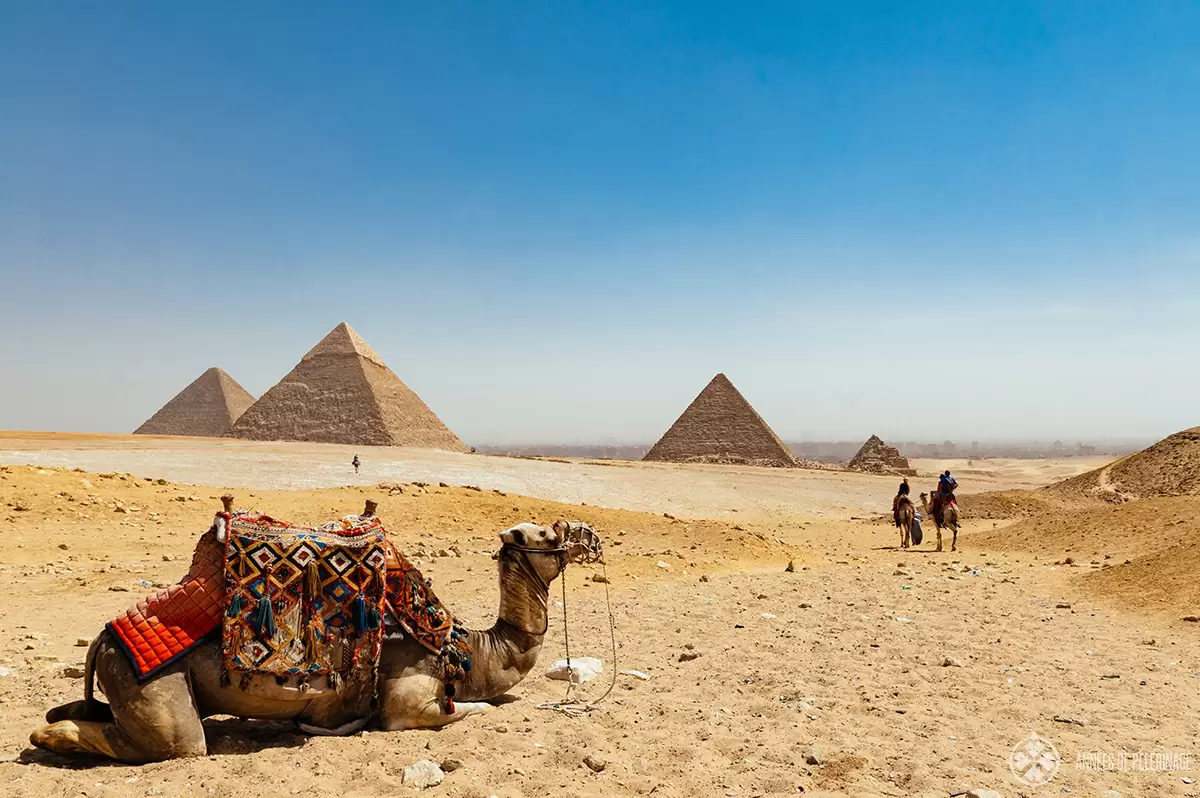 Egypt is a hot country and the laundry service is extremely cheap, so I recommend you stay away from overpacking and just pick a small suitcase. Here is what you need to pack for your Egypt vacations:
A) Clothes to wear in Egypt
Do remember that you will sweat quite a lot, there's a lot of sand/dirt in the temple ruins, and also remember that sunscreen (mixed with sand) can leave ugly yellow stains on your clothes not easy to remove. So, rather pack a spare or two. And remember to bring at least one smart casual outfit for visiting mosques/good restaurants.
Shorts or short skirts as you see fit (covering the knee, if possible)
A couple of T-shirts
At least one shirt, blouse, or smart looking top
One pair of long trousers
A veil/shawl (women only; you can buy it at most souvenir shops as well)
Swimsuit or bathing suit
Swim Tee / Rashguard (I got this one;it's cheap and does the job -> only needed for proper sun protection while snorkeling)
Note: You probably won't need shorts when visiting in winter. Rather pack a light jacket instead. You will need it in the evening. Also, some places will be air-conditioned quite heavily.
B) What shoes to wear in Egypt?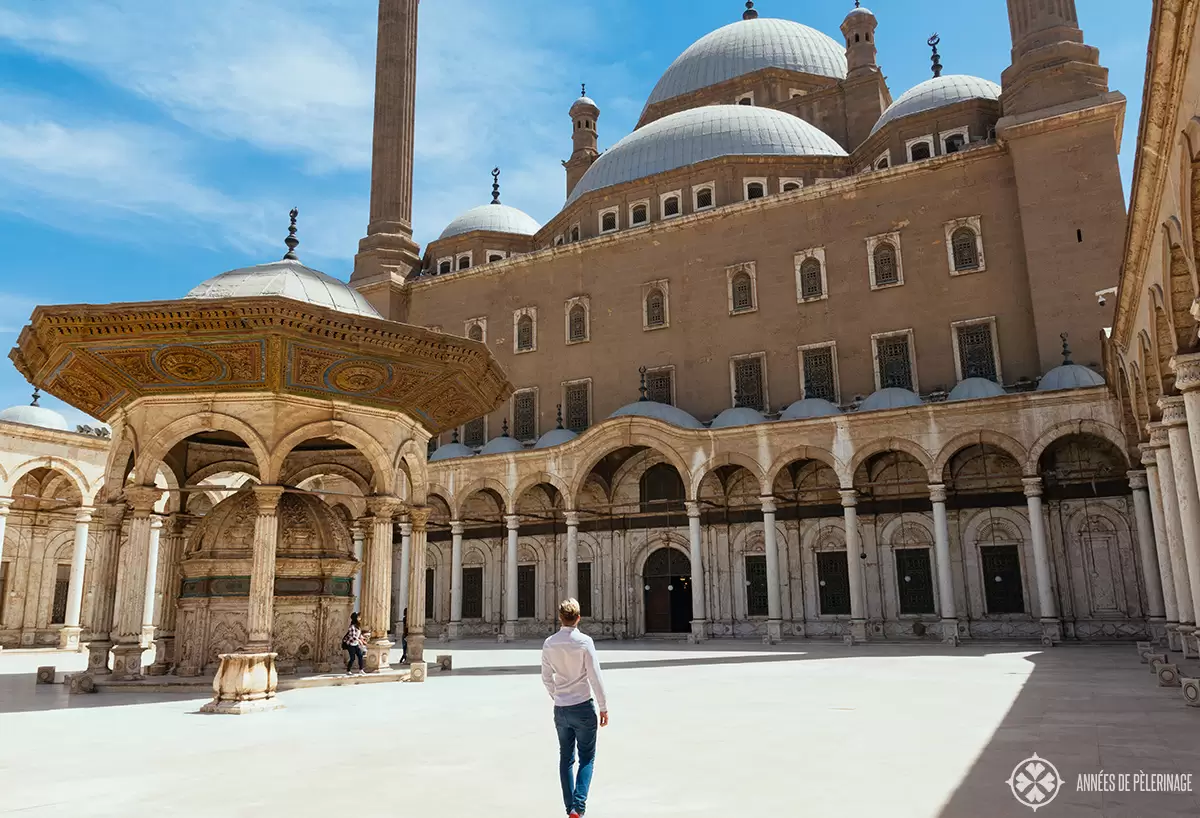 Picking the right kind of shoes for Egypt is sort of tough. Again, the hot climate and local traditions are sort of in conflict. You'll probably have to pick a middle ground. Also, know that the ground in most temples and around the pyramids is not even, usually quite sandy with rocks in between. High heels won't get you far. Instead, bring:
Comfortable light walking shoes. Trekking sandals can be a very good option (I'm using these Teva sandals | women's version)
Sandals as you see fit.
Beach shoes or flip-flops; the sand will be too hot to walk on. I'm using Adidas ClimaCool Water Shoes, though the ground underwater is usually not rocky or dangerous.
One pair of closed shoes/leather shoes
Socks – you are not allowed to wear shoes in Mosques. Decide for yourself if you want to run around barefooted or not – it certainly won't kill you ;-)
Note: Due to the extremely hot ground, it is not uncommon for the glue of your shoes to melt (happened to me more than once). It might be a smart idea to bring spare sandals/flips flops along.
C) Electronics
In Egypt the supply voltage is 220 V. There is either a Type C or a Type F socket. Please do check the electronic devices you will want to bring before visiting (there always is an appliance rating plate that tells you).
Visitors from the US or the UK will need a Power adapter; Buy an international one you can use on your next trip
If your electrical appliances do not support dual voltage or 220 V, you will need a step-down converter. This one is cheap and does the job
Camera, SD cards, and battery charger
Kindle Paperwhite or any other e-reader (you might spend quite some time on tour buses or beach :P)
D) Toiletries & Medicine
Pharmacies or drug stores can be a bit harder to spot in Egpyt, though most hotels will usually be able to provide you with the most important medicines in case of an emergency. That being said, diarrhea is a MAJOR issue in Egypt. Definitely stick to "peal it, cook it, or leave it". Don't drink fresh juices or anything with ice cubes (except they only use filtered water and you REALLY trust them; I wouldn't!). Do bring:
High SPF sunscreen (I love the Neutrogena Wet Skin Spray; especially for days on the beach)
After-sun lotion (you'll thank me later); I use the Nivea After Sun Lotion 
Something strong against diarrhea (do consult your doctor)
Diarrhea prophylaxis (Perenterol is a very good choice; start 7 days in advance)
Sanitizing gel & hand wipes
Painkillers (I really can't cope with air conditioning; sunstrokes are a possibility as well)
Blister plasters (your feet will sweat a lot; I love Compeed)
Other stuff to pack for Egypt
It is quite important to stay hydrated throughout the day. Egyptian tap water is not drinkable and I don't recommend using sterilizing agents either as they mostly don't kill tapeworm eggs! You won't need to bring a canteen, but a shoulder strap to carry your water bottle (something like this) will be quite a smart idea. In theory, you could also bring a small daypack, but it usually means you'll sweat a lot on your back.
Also, consider bringing a small umbrella if you got sensitive skin and don't forget a hat. The extra shade it offers can be a true lifesaver – at least for people like me who still get sunburn despite wearing SPF 60 sunscreen and only sticking to the shade.
Quite obviously, you also need to bring sunglasses ;-)
What to wear in Egypt on a Nile river cruise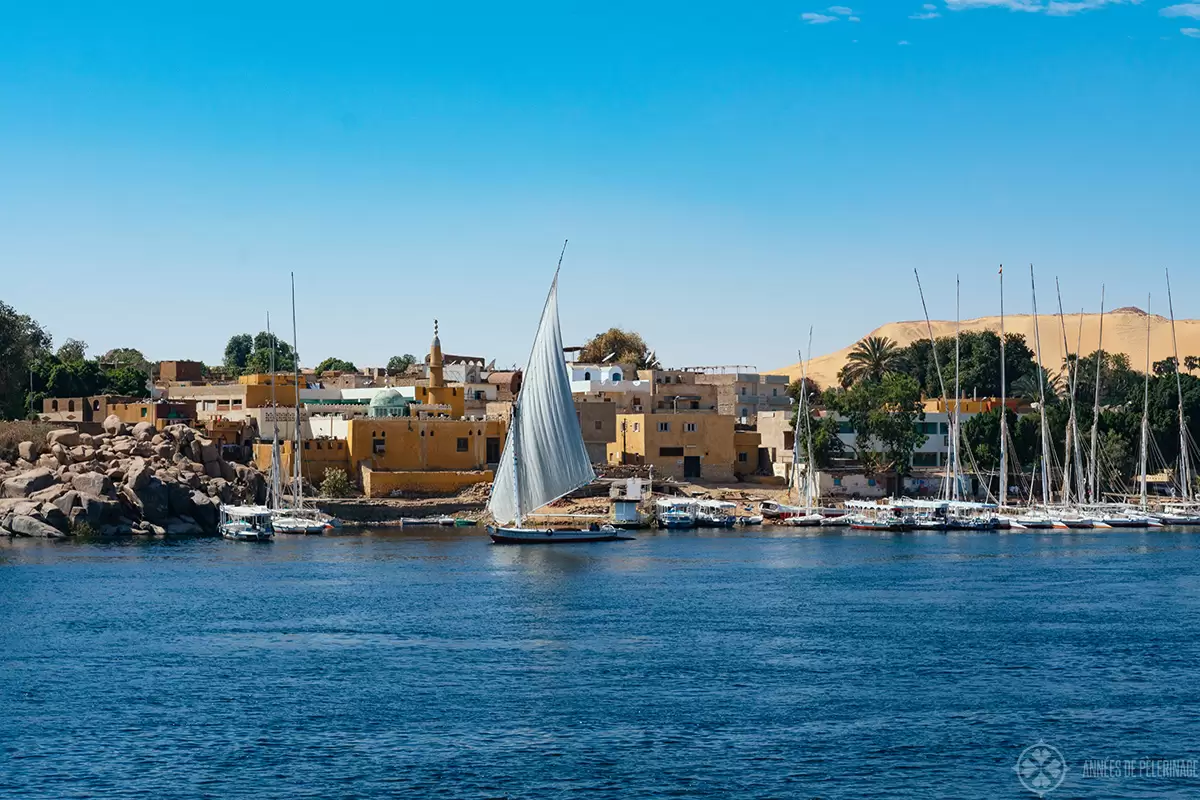 If you are taking a Nile river cruise (or touring lake Nasser), you really don't have to pack much differently. Most cruise ships do have a pool on the upper deck, so you will need a bathing suit as well (you absolutely cannot swim in the Nile).
There are billions of midges around the Nile, though very few mosquitos. Bringing an anti-bug spray might be a good idea, although better cruise ships will have equipment so you will be able to sit on the upper deck after sunset without trouble (Just don't open the window of your cabin at night!). If you just plan to ride a Felucca this will be no problem, as they only appear at night.
Not even the top luxury Nile cruise ships (like the Oberoi Zahra; read my review here) will have a special dress code or formal nights. As long as you pack some smart outfits, you'll be fine and there really is no need to pack extra clothes. Again, restaurants on the ship will usually be air-conditioned and sometimes even quite chilly.

So, this was my guide on what to wear in Egypt. Got any questions? Leave a comment below. And don't forget to pin this article to your Pinterest board!