A massive list of the top tourist attraction and things to do in Cairo. What to see, where to stay and when to visit.
Did you know that most tourists in Egypt don't know about the best things to do in Cairo and miss out a lot of the top tourist attractions?
Most of them just focus on the Pyramids in Giza, maybe the Egyptian Museum and then fly off to Hurghada or Luxor. Who could fault them? Egypt IS amazing (just check out my Egypt travel guide).
Still, taking to little time for Cairo is a mistake, I'm telling you! The region around modern Cairo has been continuously occupated for more than 6,000 years and it's rich in history and culture (both modern and ancient). Richer than any other city in this world, in fact. That's why I compiled a list of the 10 best things to do in Cairo for you.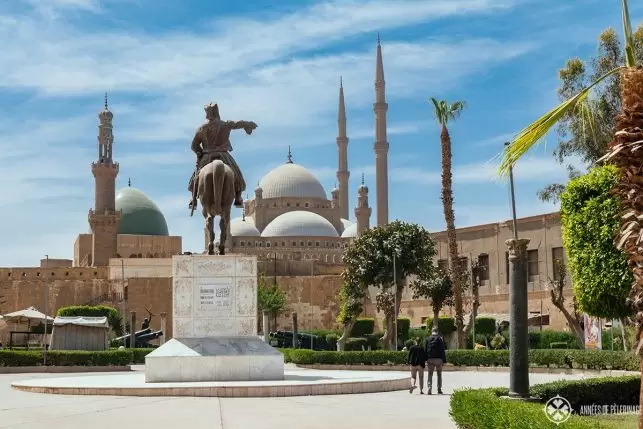 But there is more!
I also tried to provide you useful links and insider tips you might not even find in high gloss Cairo travel guides. Egypt's capital is not the easiest city. With more than 23 million inhabitants and the river Nile neatly intersecting it all, it can be quite the traffic nightmare. Plus, it's not always easy to decide what to see in Cairo and what not (check out my detailed Egypt itinerary, in case time is short, though).
Anyway, let's start with the list of the best places to visit in Cairo!
But before we go: Remember to check out my guide on what to wear in Egypt. And read my detailed Egypt travel guide before you go.
Note: I get commissions for bookings made through the links in this article
1. Pyramids of Giza & Sphinx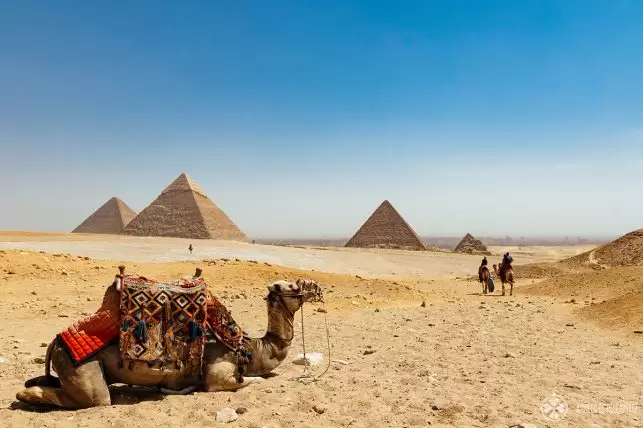 Despite what I said, there really is no way around putting the Great Pyramids of Giza on your list of things in Cairo. Visiting the most ancient of the Seven Wonders of the World (andthe only wonder that survived the ages) should be on every bucket list. For me, it certainly was a dream come true. So, don't forget to read my full guide to visiting the Pyramids of Giza.
Standing in front of those gigantic, and yet so perfect, piles of stone makes you feel so small – both in terms of dimensions and historical context. To think they are more than 5,500 years old is almost incomprehensible. I mean, Machu Picchu, for example, is beautiful, but it's only 500 years old. Imagine, the Pyramid of Khufu or the Pyramid of Cheops are 10 times older!!!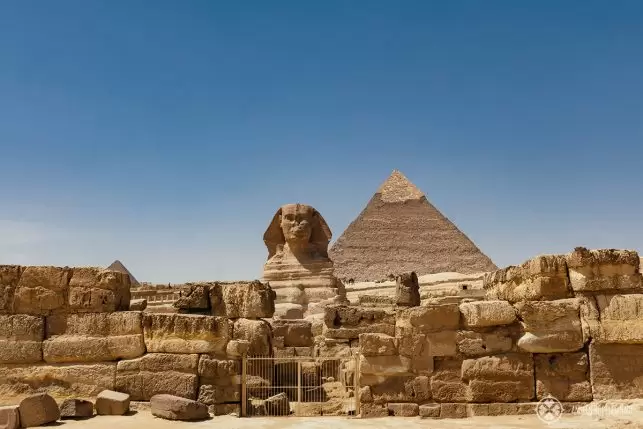 Obviously, you really have to visit the Sphinx as well. It marks the entrance to an ancient mortuary temple and many myths are told about its construction. Some claim it's over 10,000 years old, while others believe it was built by the Pharao of the second pyramid, Khafra, around 2,500 BC. As I am no Egyptologist, I stuck to admiring the ancient landmark.
Note: If you want to climb inside the Pyramid, you'll have to get an extra ticket (300 EGP). It will be quite hot and claustrophobic inside. The light show in the evening is rather mediocre.
Definitely consider booking a guided tour as this will faciliate things a lot! I recommend booking it on GetyourGuide. Here's the tour with the currently best reviews to visit the Pyramids.
2. Egyptian Museum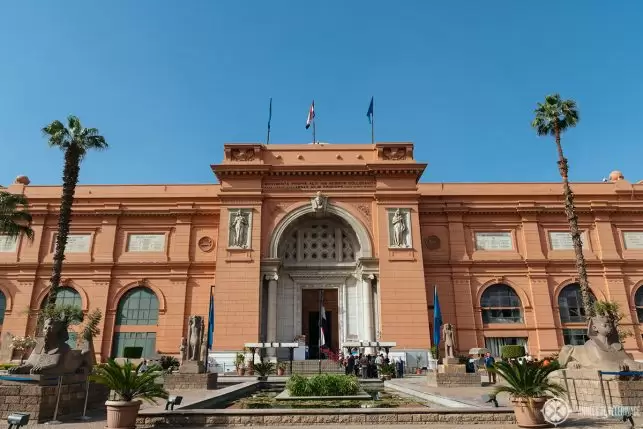 There is no place in the world where you will find more artifacts from ancient Egypt than in the Egyptian Museum in Cairo. Located right on the famous Tahrir Square the colonial building houses the golden hoard from the tomb of Tutankhamun and so many other old Egyptian artifacts.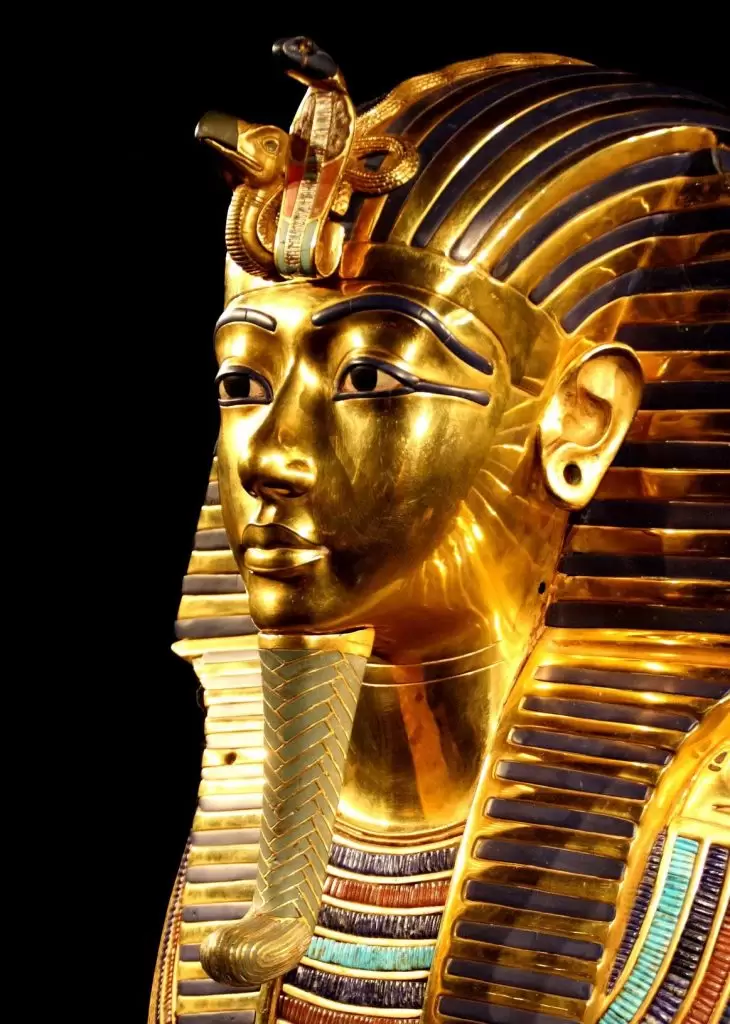 The museum is, from a visitor's perspective, quite the nightmare. It's more like a warehouse without proper inscriptions and little to no plan. So, I do recommend you to get a professional guide to guide you around (Here is a link to a well-respected tour). Know then that among all the places to visit in Cairo the Egyptian Museum is by far the most amazing attractions
Note: As of 2018 parts of the collection are starting to be relocated to the new Egyptian Museum in Giza. The new museum will be finished in 2022 but will be partially open starting from 2018.
3. Cairo Citadel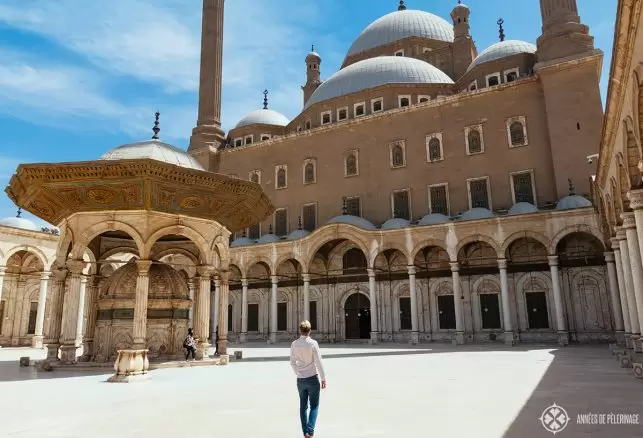 Considerably younger, but still a must-see in Cairo is the Cairo Citadel sitting on the hills on the east side of the Nile. It once served as a fortress and now houses a couple of beautiful mosques and the National Military Museum of Egypt. Read my full guide here >>
Your first and foremost reason to go there should be visiting the Mosque of Muhammad Ali (not the boxer!) or Alabaster Mosque how it is often called. It's the grandest sacred building in the city and quite the iconic sight.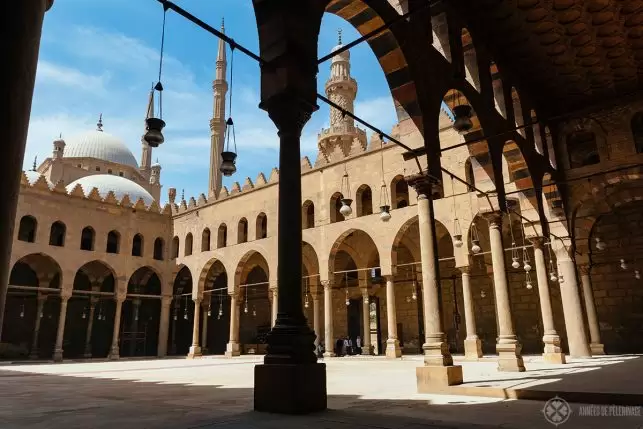 I actually loved the Al-Nasser Mohammed Ib Kalwoun Mosque better. It has a more refined look and a beautiful ageless patina to it. If you are worried about walking around Cairo all alone, do read my guide on travel safety in Egypt. Still, getting a private tour guide might be a good idea, as there is little in the way of explanation available on site (you can book one here).
Note: The Citadel is also one the best (if not the best) viewpoints in Cairo.
4. Presidential Palace Cairo / Abdeen Palace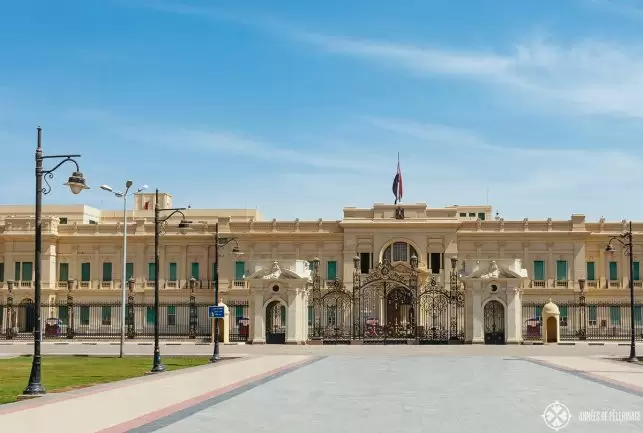 Right in Downtown Cairo, you will find the Abdeen Palace. It's the principal workplace of the President of Egypt. The palace is said to be one of the most sumptuous palaces in the world, though tourists are not allowed to enter the beautiful golden hallways and parlors on the second floor (only foreign dignitaries may visit).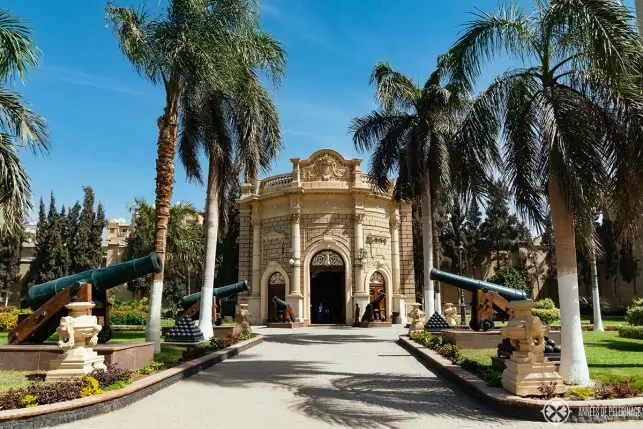 But, the lower floors are open to the public. They house the Silver Museum, the Royal Family Museum, the Presidential Gifts Museum and, most importantly, the Arms Museum. The latter houses one of the finest collections of arms around the world and it's a true paradise for lovers of military history. Oh, and did I mention the gardens and courtyards are quite lovely as well!
Note: There is no pre-registration required and you do not need to bring your passport.
5. Saqqara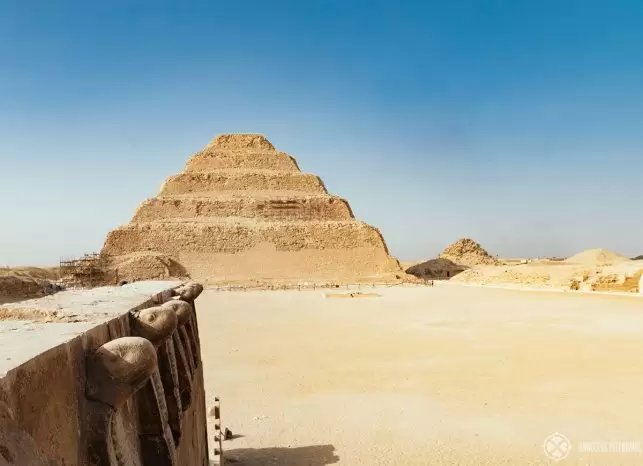 When people talk about the Pyramids they usually think of the huge complex in Giza. Few people know that it all started somewhere else – in Saqqara. The step pyramid of Djoser was the first true Pyramid ever built and is about a hundred years older than the ones in Giza.
The impressive pyramid with a height of 62 meters is surrounded by a limestone wall some 10 meters high imitating bound bundles of reeds. A huge roofed colonnade is only the entrance, even though some 13 fake doors exist.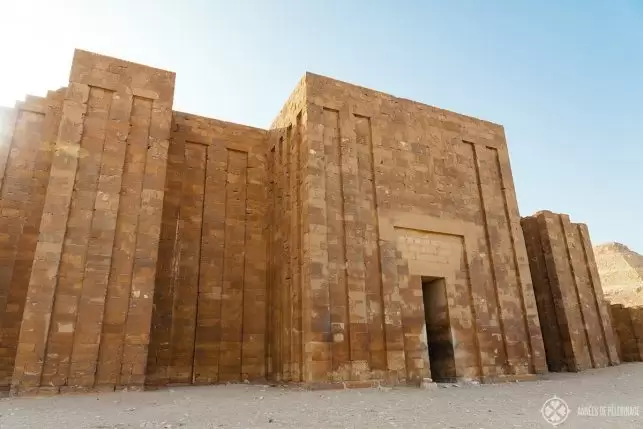 To me, the impeccable entrance to the mortuary complex was one of the most impressive sights in whole Egypt! Saqqara is not located in Cairo itself but some 15 kilometers outside the city center. It can be easily visited on a half-day trip from Cairo combining the other Pyramids in the area. Read more about it in my Saqqara guide.
Note: If you got the time, you may consider traveling on to Dahshur, where Sneferu's "Bent Pyramid" can be visited. Here is a guided tour that visits both Saqqara and Dashur.
6. Mosque-Madrassa of Sultan Hassan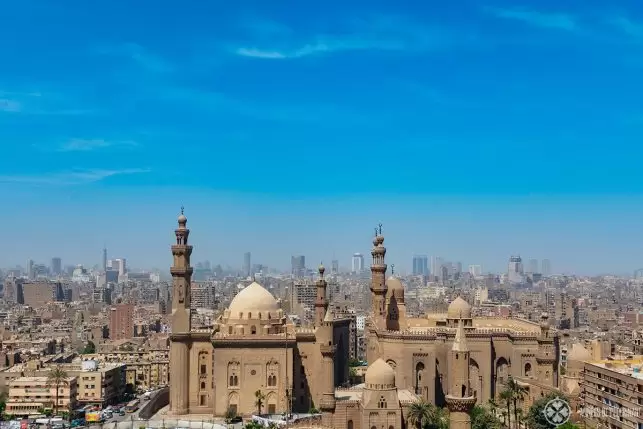 As far as Islamic buildings in Cairo are concerned, it doesn't get any better than the fabulous Mosque and Madrassa complex of Sultan Hassan. You'll find it directly below the Cairo Citadel (you'll have to drive around, there are no stairs).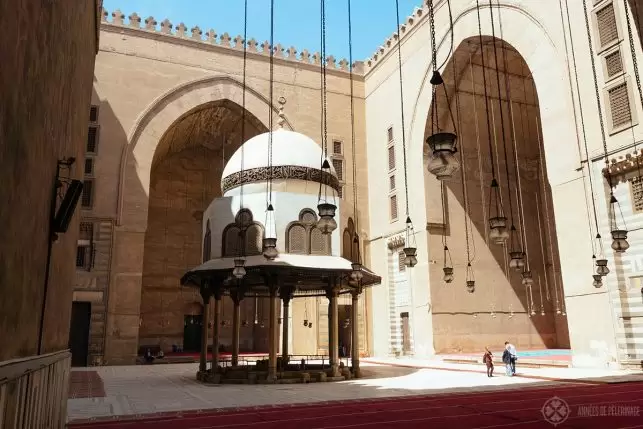 The courtyard with its ancient well is particularly famous and probably one of the finest photography spots in Cairo. Hard to believe the construction of the building began in 1356. It's one of the largest mosques in the world and was designed to include schools for all four of the Sunni schools of thought.
Note: As there are no inscriptions or anything on-site, a guide will be quite helpful.
7. Memphis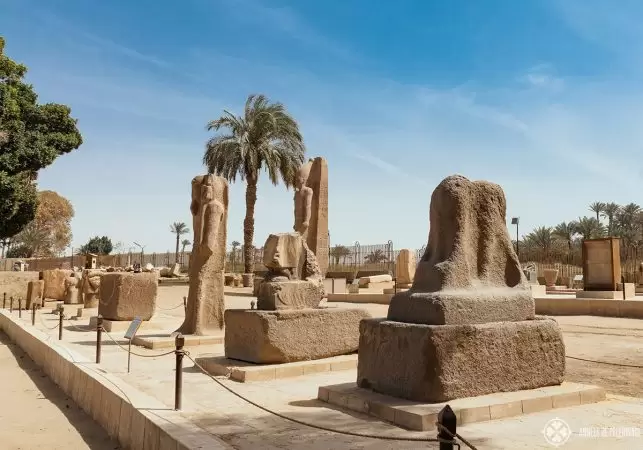 Memphis was the capital of Egypt during the Old Kingdom. It's another of these UNESCO World Heritage Sites in Cairo, though not a lot remains to be seen today. The city has been abandoned in late antiquity, the palaces looted and demolished.
The main reason you should visit is the colossal statue of Ramses II in the open-air museum. As there is a beautiful pavilion built around it, it's the closest and most intimate look you will get at the ancient pharaoh and that perfect Egyptian masonry you'll ever get.
Note: Best combine your visit to Memphis with a trip to Saqqara & Dashur
8. Tahrir Square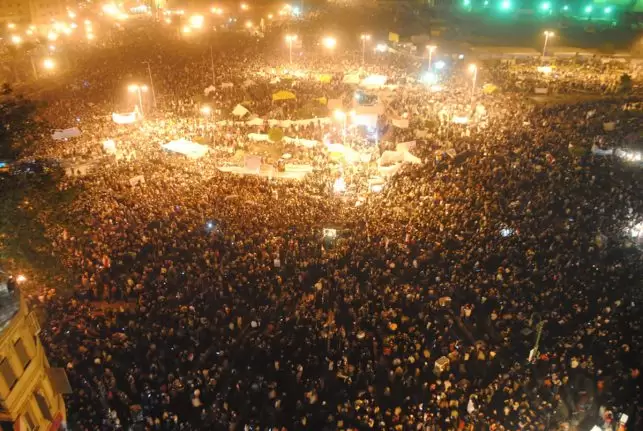 I want to be honest with you. Tahrir Square is not pretty. Actually, it's downright ugly and more a big traffic crossing and not so much a place to stroll around. It was, however, the sole focal point of the 2011 Egyptian Revolution against former president Hosni Mubarak. It also played an important role in the June 2013 protests that ended the regime of Mohamed Morsi.
Note: As you will want to see the Egyptian Museum anyway, you can take some minutes to walk around the square which is directly in front of the Museum. Unlike in the picture above, it is usually quite deserted.
9. Museum of Islamic Art
With more than 100,000 objects on display, the Museum of Islamic Art in Cairo is one of the greatest and most important museums of its kind in the world. Unlike the Egyptian Museum, the Islamic Museum underwent a major renovation from 2003 until 2010 and now features state of the art displays! Absolutely put it on your list of things to see in Cairo!
10. The Hanging Church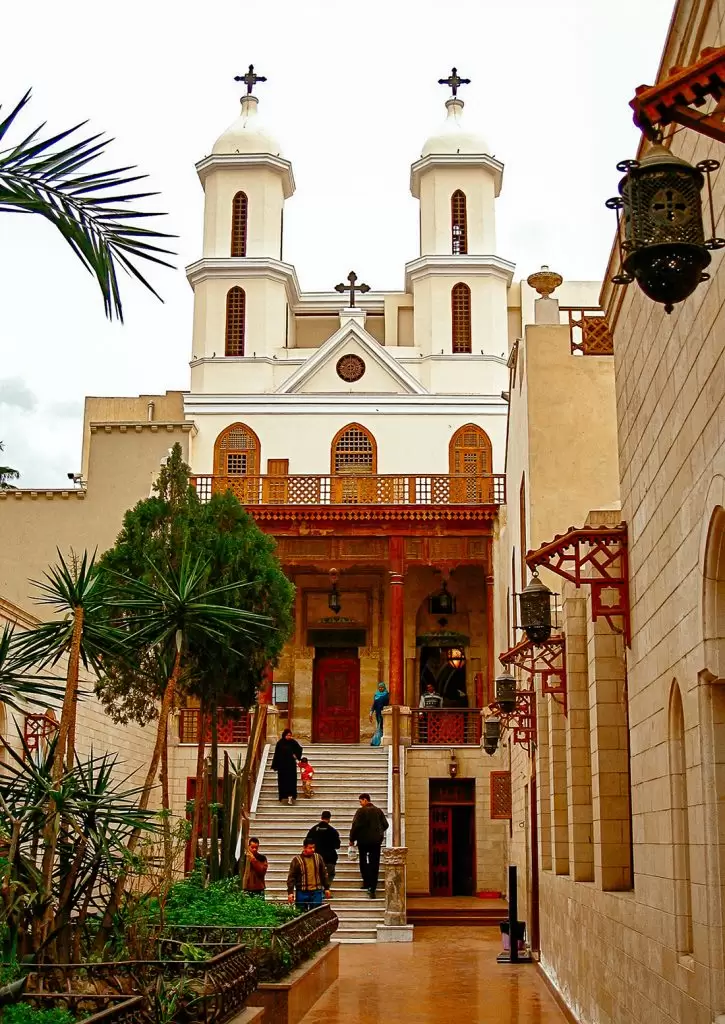 Did you know that around 10 percent of the Egyptians are Christian? In fact, Egypt has its own church, called the Coptic Orthodox Church of Alexandria. It has an ancient tradition and can be traced back to the 2nd century AD! One of the oldest, still surviving churches from those early times is the so-called Hanging church – named so for its nave suspended over a passage. Probably built in the late 7th century, it is home to over 110 holy icons and beautiful Coptic interiors.
12. Coptic Museum
If you want to know more about those early Coptic Christians in Egypt, you absolutely have to visit the Coptic Museum in Cairo. It's one of those things to do if you got three days in Cairo or more, as I am not entirely sure spending too much time inside the museum is a wise move. Still, it's a marvelous place with a fabulous collection.
Here is the link to the official website >>
13. Day trip to Alexandria
You probably heard of Cleopatra, didn't you? But did you know she was not an Egyptian Pharao at all but of Greek heritage? Well, after Alexander the Great conquered Egypt he founded a city which served, until the Roman conquest, as its capital.
It was here the world-famous Library of Alexandria was founded and you really should not miss visiting what remains of this glorious time. Truth be told, it's not a lot – most of the current landmarks date back to the Islamic era – like the Citadel of Qaitbay, but it's still a wonderful day trip from Cairo!
14. Baron Empain Palace
One of the weirdest landmarks in Cairo is certainly the Baron Empain Palace. It is better known as Le Palais Hindou (Hindu Palace) and one of the many reasons to make your way to the suburb of Heliopolis. It looks a bit like a mixture between Angkor Wat and a sandcastle. It is now abandoned but still a beautiful place to see from outside
15. Al-Azhar Park
Cairo can be hot, incredibly hot in summer. If you are looking for a refreshing break and some shade, then the Al-Azhar Park might be something for you. The park offers beautiful views of the city (especially the citadel) and was a gift to Cairo from Aga Khan IV. It's one of the few free things to do in Cairo on this list
Note: Make sure to visit the adjacent Al-Azhar Mosque while you are in the area.
16. Mosque of Ibn Tulun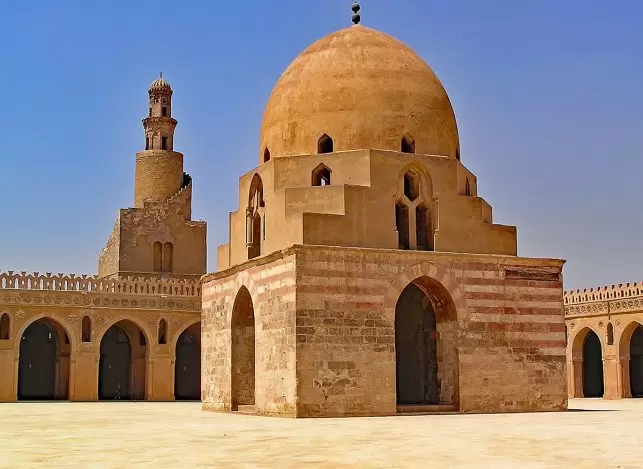 Islam came to Egypt quite early (which is no wonder given the geographic proximity to Saudi Arabia). Not many religious buildings survived from those early times and the Mosque of Ibn Tulun would be your best bet if you are interested in the oldest part of Cairo. Ibn Tulun Mosque is, strictly speaking, not the oldest Mosque in Cairo (construction started around 876 AD). It is, however the largest mosque in Cairo, and about the only one maintaining its original shape.
17. Nilometer
There are a couple of islands in the Nile. If you fancy visiting one, then I suggest picking Rhoda Island. It is home to the so-called Nilometer – one of the oldest surviving Islamic buildings in Egypt. But what is it? Before the building of the Aswan High Dam, seasonal floods dictated the life of the Egyptians. High floods meant a lot of inundation of the surrounding areas, low floods led to poor harvests.
From ancient times Nilometers were used to predicts the annual floods but also to determine the levels of tax to be paid. Do visit!
18. Day trip to Wadi El Hitan
The Wadi El Hitan is a unique paleontological site some 150 kilometers southwest of Cairo, often called Whale Valley. It is the site where Archeologist found hundreds of ancient whale fossils in 2005, which quickly led to its status as a UNESCO World Heritage site.
The perfectly preserved fossils, as well as the general arid landscape, make it a lovely day trip from Cairo, even though it will be quite a strenuous day. But worth it!
19. Khan el-Khalili (shopping quarter)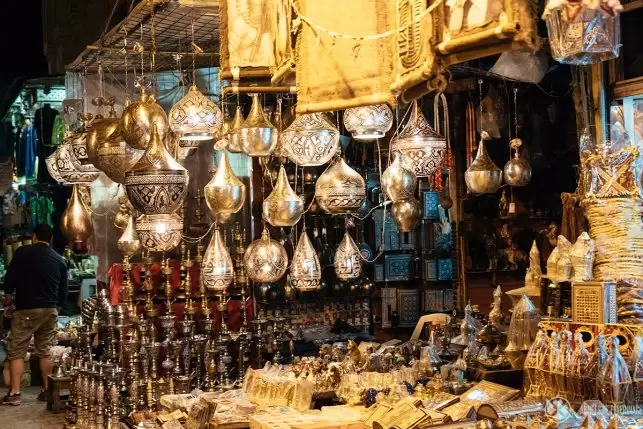 Visiting Cairo without visiting at least one souk (Arabian market) would be a mortal sin. And there is no finer place to go shopping than the Khan el-Kahlili district in the historic center of Islamic Cairo. It is not only incredibly pretty with all its mosques and ancient arches, but it's also a buzzing area with souvenir shops, restaurants, street cafes, and quite a history. For me, it's one of the most fun things to do in Cairo at night.
Note: Naguib Mahfouz is the most famous traditional restaurant & café in the district you might want to check out!
20. Visit the Cave churches of the Zabbaleen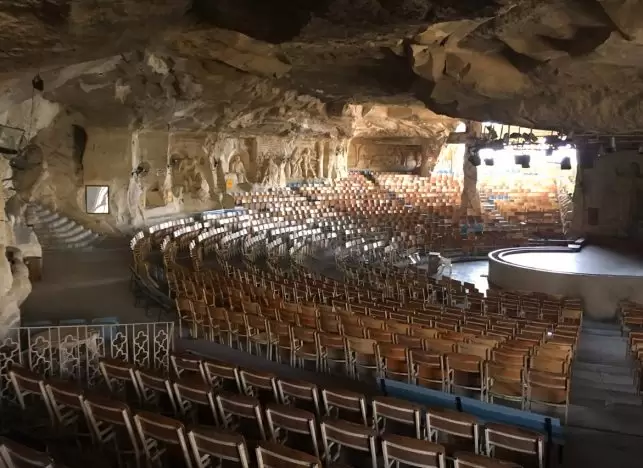 For those looking for places to go in Cairo that aren't totally crowded with tourists, I recommend visiting one of the Cave churches of the Zabbaleen. Zabbaleen literally means garbage people. These garbage collectors are a unique community, if not all that well respected, within Cairo. While I usually do not promote that kind of tourism, you will find a beautiful Coptic cave church in one of their villages called Mokattam Village. There are several cave churches in the area, but the monastery of St. Simon the Tanner is the largest, with a seating capacity of 20,000!
Note: Entering the suburbs of Cairo without a knowledgeable guide is not recommended
Other things to do in Cairo, Egypt
I want to be honest with you: Cairo is a city of 23 million inhabitants, but they're actually not that much more to do. Of course, I did not mention the fabulous Egyptian food, the nightlife, and the many shopping arcades as these are more or less self-evident.
Downtown Cairo is also full of beautiful buildings from the early 19th century and a walk (or a taxi drive) should be on your list of things to see in Cairo. There are, quite obviously, many smaller and larger Mosques and churches throughout Cairo I did not mention, nor did I mention the sheer craziness you will see on the streets and in the suburbs. Ultimately, you have to decide where to go to Cairo and where not. All in all, I'd say three days in Cairo are more than enough, more of you plan the day trips to Wadi el Hitan and Alexandria.
Where to stay in Cairo?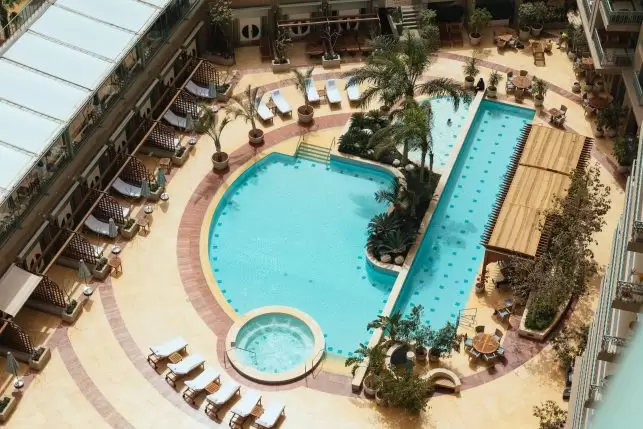 Note: I get commissions for bookings made through the links below.
Cairo is huge and the traffic can be a nightmare – especially when you are sitting in a taxi without airconditioning in summer. So, I do recommend you book a hotel quite close to the center. Few landmarks will be within walking distance – you will always have to pick a taxi (due to the sheer dimensions of the city). But as most of the tourist attractions listed on this list of things to do in Cairo are scattered around the city, staying in the center is the smartest move.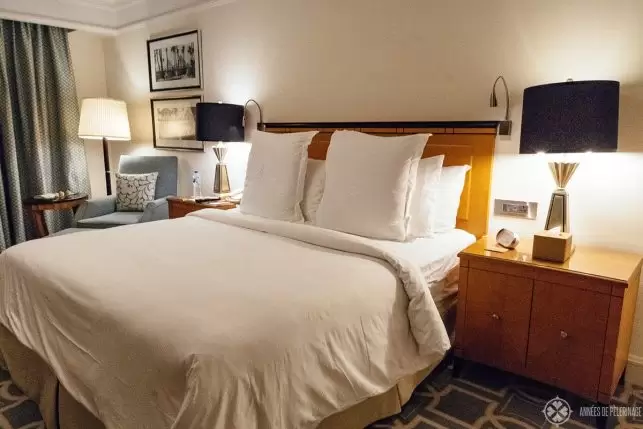 The best hotel in Cairo is by far the Four Seasons Hotel Nile Plaza. It offers world-class luxury for quite a decent price. It has quite a good location and you can enjoy beautiful views from its rooms over the city. The pool area is wonderful for a city hotel and the service was the best I had in Egypt. Click for prices & more pictures
The Ritz Carlton on Tahir Square will also be a good option, as the Egyptian Museum will be within a direct walking distance (2min). The hotel is not as crisp as the Four Seasons, but still an excellent choice. Click for prices & more pictures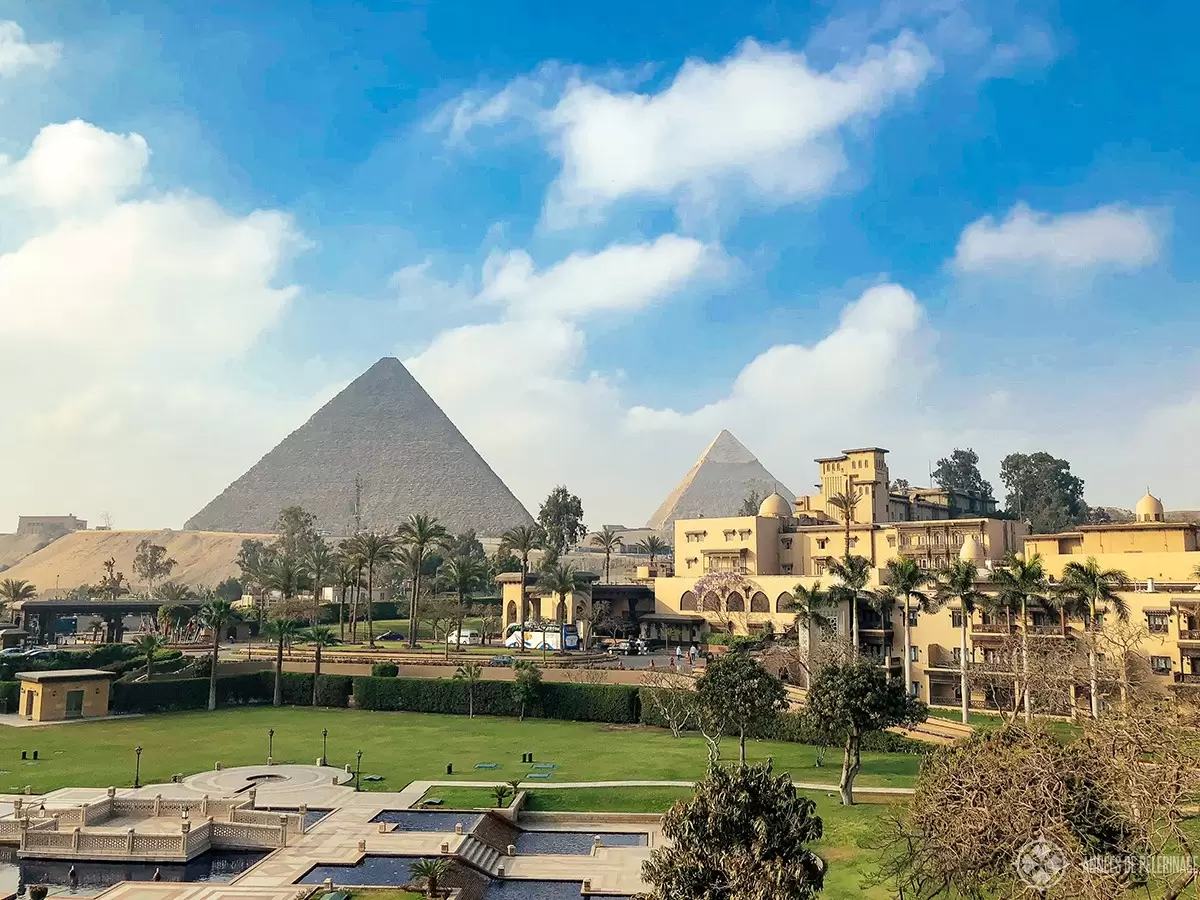 A very lovely option for Cairo is the Mena house run by Marriott in Giza. You can enjoy beautiful views of the Pyramids right from your private balcony and even see the light show at night. Truly amazing, but a little bit far outside. They do have a lovely pool, so it's best suited for those travelers who don't plan to do too much in downtown Cairo. Click for prices & more pictures.
I do not recommend you book any hotels below 5 stars in Cairo or Egypt, let alone hostels. The Nile, the hot weather and lower standards in hygiene lead to all sort of weird problems for western stomachs you absolutely want to avoid. And mind you, the kind of diarrhea you catch in Egypt is nothing to joke about – not treated right away you might even end up in hospital quicker than you think (happened to my mother once).
The good part – the price level in Egypt is currently quite low. So, you'll find excellent hotels even if you are traveling on a rather tight budget. A good budget choice, if want to call it, would be the Kempinski Nile Hotel in Cairo (click for prices & pictures). It has a great location, good rooms and usually a fantastic price.
By the way. If you are looking for some further Egypt inspiration, do read my review of a luxury Nile Cruise. In my opinion, the very best way to explore the rest of Egypt!
Best time to visit Cairo
The best time to visit Cairo is March or November. Both months are warm, but not too hot and with few tourists. That being said, the only months you should truly avoid is June to mid-September. It will be unbearably hot in summer and some places, like the inside of the Pyramids or the tombs in the valley of the kings, will be practically unvisitable due to the extreme heat. BUT hotel prices will also be at their lowest.
December and January will be quite cold and not really suitable for bathing (in case you want to move on to Hurghada or Sharm el Sheik). While it never really rains in Cairo, sandstorms are more likely to obscure the sky in spring. So, autumn is probably the better overall choice.
What to wear in Cairo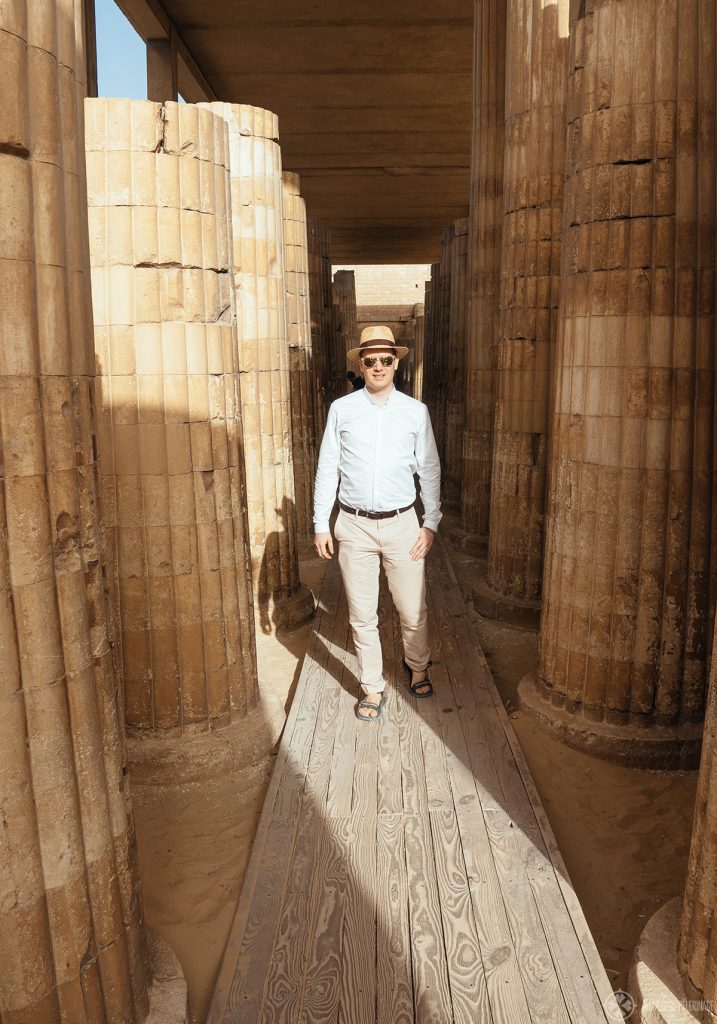 Egypt is an Islamic country and this means you should adhere to a more conservative wardrobe. That doesn't mean you need to run around with a full veil, but neither does it mean running around like at a beach party.
T-shirts are okay and so are shorts (more or less), as long as they do cover the knee. You will see the locals dress rather smartly, though. If you want to be on the safe side and not risk any weird glances, loose linen trousers, and a shirt/polo shirt might be a better option. For mosques and churches, a conservative outfit covering all that naked skin is mandatory and so would be a veil for women.
To be quite honest with you: I'm always torn between respecting the foreign culture and demanding respect for mine. I believe finding an acceptable middle ground is always the best approach – especially if you show your best.
Further reads:
So, this was my guide to the best things to do in Cairo, Egypt. Hope you found some inspiration. Got any questions? Feel free to comment below. And pin this article to your Pinterest board if you liked it!
Picture credits:Kristina, David Stanley, Lilian Wagdy