A massive list of the best tourist attractions, unmissable landmarks and things to do in Bukhara.
Bukhara. The name alone evokes stories from the Arabian Nights and sounds like the end of the world at the same time. But there was a time when the fifth-largest city in Uzbekistan was in fact, one of the largest trading hubs in the world. At the height of the silk road trade in the 9th and 10th century, Bukhara was even the most important Islamic center in the world. Just one of the reasons it was listed as a UNESCO World Heritage site.
With a history so vast, it is probably no big suprise that there is just so much to see and do in Bukhara. It took me three days to explore it all, though most travelers will only stay a day or two. Personally, I love to take things slowly – especially because of the intense heat (check out my full itinerary to find out more). Either way, here is my list.
1. The Ark of Bukhara
The Ark is an ancient fortress observing the very heart of Bukhara since the 5th century AD. As it served as a real fortress until 1920 and was destroyed and rebuilt many times. The last time, after the Bolsheviks conquered Bukhara. It said that the Emir itself blew up parts of his palace, as he did not want them to fall into heathen hands.
Putting legends aside, the Ark is home to a fabulous and well-preserved mosque and offers a spectacular view of Bukhara. There is also a tiny museum, but as most museums in Uzbekistan, it is very simple and not worth visiting by itself.
Also, take note of the undulating wall around the Ark. With a heigh of up to 20 meters, it encloses an area of almost 4 hectares. Truly a sight to behold
2. Po-i-Kalyan complex
Probably the main reason why most tourists come to Bukhara is the Po-i-Kalyan complex. The complex is so impressive that even Genghis Khan spared the Kalyan minaret (back then one of tallest buildings in the world) after he conquered the city. The whole complex consists of a mosque and a madrasah and is one of the finest examples of Islamic architecture in the world.
-> Check out my list of the 10 best things to do see in Uzbekistan for more highlights like this
Kalan Mosque
The history of this mosque goes back to the 7th-century ad. Even before that, it served as a place for the heathen fire cults of these days. The current structure, with its 288 domes and 208 pillars, dates back to 1514 and was built to rival the famous Bibi-Khanym Mosque in Samarkand. It was the attempt by the local governor to start the formation of a new capital (and for a time quite successful).
Just in case you missed it: Here's my full guide to Samarkand
Only the Minaret, with its heigh of 45 meters, dates back to the early 12th century. You can actually climb all the way to its top, but do expect a very dark and incredibly steep climb. The view of Bukhara from the top is quite stunning, though.
Mir-i Arab Madrassah
Madrassahs are Islamic religious schools and the one in Bukhara is still pretty much in operation. This is why tourists cannot enter the imposing edifice, but you can marvel at the stunning iwan (front) with its tiled mosaic.The Mir-i-Arab Madrassah was built between 1535 and 1536.
3. Lyab-i Hauz complex
Lyab-i Hauz (لب حوض ) is Persian and means 'by the pond'. Centuries ago you would be able to find such hauz in every city of Uzbekistan, as the reservoirs were the prime source of fresh water during the hot summer months. Most of them fell into disrepair or were forcefully closed for hygienic reasons.
But Lyab-i Hauz is special for two other reasons. The Madrasah of Nadrid Divan-begi is one of the very few examples in Islamic architecture depicting animals and not just geometric shapes and verses. Two stylized phoenix birds, a sun and two deer (in the claws of the phoenix ) adorn the portal.
During the tourist seasons, there are frequent traditional dance and music shows inside. And you will also find a couple of souvenir shops there. You have to prebook, but the show is actually quite worth seeing (the food less so).
The other unique fact about the Lyab-i Hauz complex concerns the Magak-i Attari Mosque. Before the Arab conquest, Muslims and Jews were said to have worshipped alongside each other. Even today, you will find the last of Bukhara's synagogues in a side alley of the square.
Note: Lyab-i Hauz really comes to life after dark when most locals will emerge after the heat of the day dispersed.
4. Chor Minor
Chor Minor (actually Madrasah of Khalif Nyaz-kul) is a unique little mosque with what appears to be four minarets. Contrary to what you might believe, the structure is quite small (maybe 15 meters high) and was only completed in 1807. That being said, it is part of the World Heritage Site Historic Centre of Bukhara and worth a visit. It certainly looks fantastic, even though these days there is just a souvenir shop inside.
5. The trading domes
Visiting an Islamic city without seeing the bazar feels like not having been there at all. Right in the heart of Bukhara (in between Lyab-i Hauz and Po-i-Kylan) you will find the old trading domes of Bukhara. It's not a true bazaar anymore, as you will only find souvenir shops here, but it is still a wonderful place due to its ancient architecture.
In ages pasts, you would have been able to see merchants from India, China and possibly even Venice trading precious spices, silks and incense. My, what a sight that must have been.
6. Bolo Haouz Mosque
A couple of hundred meters behind the Ark of Bukhara hides another gem: The Bolo Haouz Mosque. I loved it for the richly carved wooden columns in the entrance (actually the summer prayer room). Once inside, you also get the chance to see a typical central mosque interior (lots of gold & crystals). The columns reminded me of Khiva, another place in Uzbekistan you really need to visit (check out my guide here)
7. Samanid Mausoleum
The Samanid mausoleum is one of the oldest and only surviving building from the prosperous Samanid dynasty that ruled Central Asia in the 9th and 10th century. But it is special in another context as well. Orthodox Sunni Islam actually explicitly probits burials in mausoleums.
These days, a small amusement park lies adjacent to the tiny structure from around 943 AD. Some locals hang out here, but it's more or less a desolate place.
8. Chor-Bakr Necropolis
A few kilometers outside of Bukhara you will find an ancient cemetery covering almost 3 hectares. The site was established around 971 AD and is said to be the burial place of Abu-Bakr-Said. As such a pilgrimage to Chor-Bakr is considered mandatory for Muslim Uzbeks before moving on to Mecca.
9. Baha-ud-Din Naqshband Bukhar shrine
Baha-ud-Din Naqshband Bukhara was the founder of the Naqshbadi Sufi order and is thus one of the most important historical figures of Uzbekistan. The place of his death was transformed into a site of pilgrimage – one you should definitely put on your list of things to do in Bukhara.
10. Sitorai Mokhi-Khosa Palace
Built to escape the staggering heat of the city, Sitorai Mokhi-Khosa was the summer palace of the last Emir of Bukhara. Compared to other palaces around the world, the sprawling ensemble might not rank as a top highlight, but it gives a unique glimpse into the last days of a failing empire. I found it to be incredibly interesting.
Other things to do in Bukhara
Bukhara is an ancient city, and my list didn't cover all the tourist highlights in the city. I already mentioned the ancient (but tiny) synagogue that is truly worth visiting and you will pass quite a couple of small mosques and Madrassah as well.
Definitely, consider going to the gold souq in the heart of the city and watch the local women haggle and chat among the buzzing activity under the watchful eyes of the vendors.
Also, remember, that there are quite a lot of lovely villages and towns in the surrounding area. Admittedly these are quite hard to visit and would probably require a knowledgeable guide and your own car (quite a problem in Uzbekistan in fact). Speaking some Russian will probably help (in the "unlikely" event you don't speak the native tongue *grin*)
Where to stay in Bukhara
Note: I earn a small commission if you book through links in this article. All recommendations are based on my personal, unsponsored opinion.
Unlike in Khiva, it's not really hard to find proper accommodations in Bukhara. Speaking from past experience it's probably the best idea to look at hotels or guesthouses listed on booking.com (click here). It's, in most cases, a good first hint that the proprietor speaks English and has a hunch what international tourists actually require.
I'd also stay away from standard hotels, as most of them are quite the sad affair. Instead, rather chose a guest house run by a local. Chances are high you'll have an amazing breakfast and sleeping in traditional rooms is way better than the Uzbekistan take on whatever they believe a western hotel should look like.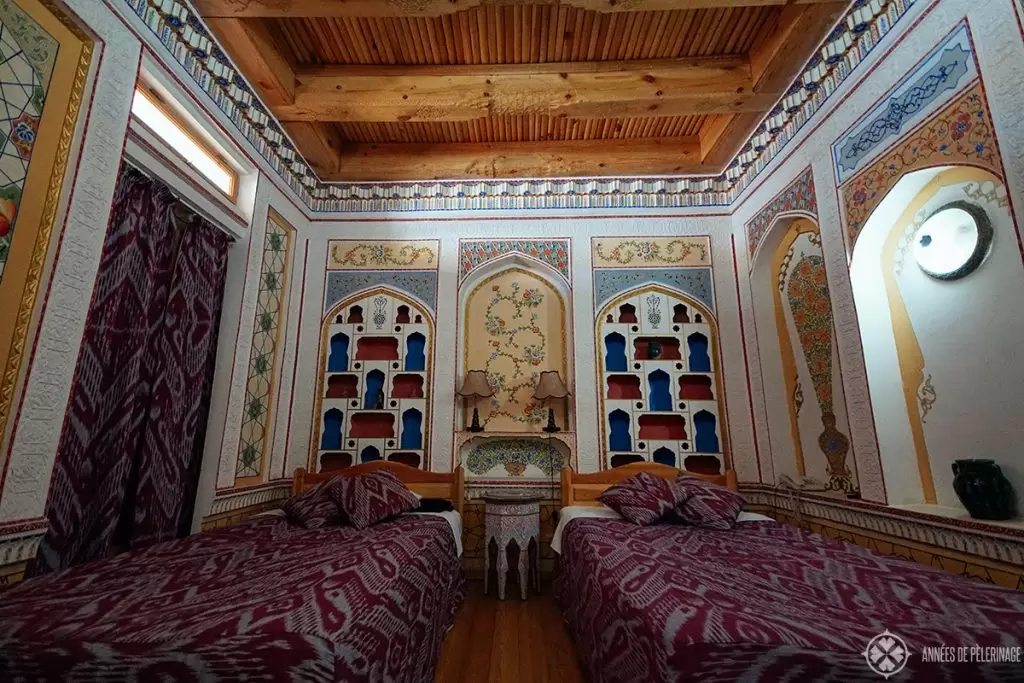 I can recommend the Boutique Hotel Minzifa from the bottom of my heart. It has an excellent location, the rooms are designed in the traditional (quite royal) Bukhara style and the breakfast was quite lovely as well. It's certainly not the top luxury resort, but as far as accommodations in Uzbekistan go, I loved this property the most.
Best time to visit Bukhara
The best time to visit Bukhara is probably May or September. Uzbekistan can be incredibly hot in the summer, with temperatures rising up to 40° Celsius (104° F) in the sun. So, if you can't stand the intense heat, do stay away from June, July, and August.
That being said, I did in fact visit in the middle of July and found it to be bearable. And that is coming from someone with fair skin who feels above 25° Celsius is when "blistering heat" starts. The heat in Uzbekistan is quite dry and if you stay indoors between 12 am an 3 pm you will manage. On top of that, there were virtually no tourists (as you might have guessed from my pictures). It's quite a nice feeling having a UNESCO World Heritage site all to yourself!
The problem about visiting in the off-months: A lot of regions in Uzbekistan (and almost everywhere in the adjacent Krygstan) have extremely high mountains (5,000 meters and beyond). So, if you want to see a bit of alpine nature, you have to pick a travel time when the mountain passes aren't closed (due to snow & cold). And believe me, you have not seen beauty like that before (check out my guide to Kyrgyzstan to get a first glimpse) From that perspective, late August is probably the best time.
So, this was my list of things to do in Bukhara. Got any questions? Feel free to drop me a comment. And don't forget to pin this to your Pinterest board.