A visual journey through the fascinating museum town of Khiva, once the pride of the Silk Road.
Brown dust stained my sandals. In my hand, I held a half-emptied water bottle, the other clutched my camera. As the sun slowly crept along the meandering city walls, I knew I finally made it. It's hard to believe it took me 26 hours to reach the minareted gates of Khiva. Six of them spent sleeping on the cold floor in the transit area of Tashkent airport, waiting for my connecting flight to Urgench. Three of them trying to clear the customs, and one bribing my way out. But there is a reason why Khiva made it on my list of the best 10 things to do in Uzbekistan.
It was almost dark, bright stars began to form on the firmament and the sickle moon brought back memories of the Arabian Nights. History, long forgotten, seemed to permeate these walls like the crumbling crust of indigo tiles covering them. Of spices and incense, I smelled nothing. Only a faint shuffling of feet behind curtained doors reminded me that people were living here.
Khiva is old. Very old. Parts of the city date back to the 10th century, some even claim as early as the 6th century. But as everything in the desert, nothing is permanent except the scorching sun. Wars reduced the ancient capital of the Khanate of Khiva so often the locals lost count. Starting with the Arabs in the 2 century BC, then Genghis Khan, Amir Timur and finally the Soviets. They all fought for control over a city that only wanted to govern itself.
What you see now, is only a faint impression of a city that was once the secret pearl of the Silk Road. Camels loaded with carpets, tea and precious gems stopped here every day – to rest, to trade, to learn. Most houses had been rebuilt in the 18th and 19th century, but now, close to dusk, they seemed to whisper stories from another age.
The simple hotel I had chosen offered no dinner. It was almost the only one I was able to book online, here at the far end of the world. Luckily, I found a charming restaurant in one of the ancient madrasah. A peculiar place that tried hard to create the impression of modernity through a roaring air conditioning the size of a big cupboard and a TV set struggling with the bad reception. I asked the waiter in broken Russian to turn both off and ordered some Manty – a mixture between Ravioli and Pelmeni served with homemade yogurt. I was the only guest, and probably also the last for today.
Khiva, you have to know, is not exactly a tourist hotspot. Despite its fairy tale beauty, despite its official status of a UNESCO World Heritage site, it is a rare day you will meet another tourist. Sometimes you will see locals from Tashkent, seemingly searching for the lost history of their family. Once, I saw a French tourist group, quickly vanishing behind the mud walls of one of the many museums. Tonight, though, I breathed in the wonders of Khiva all on my own.
Exploring the old town
The next day, I woke up groggily to a typical Uzbek breakfast: Pancakes, yogurt, preserves and succulent melons. Still half lost in last night's dream, the landlady tried to explain how Uzbek melons were the best in the world. I slumped in the refreshing shade of the traditional porch, blue tiles in the background and a ceiling of exceedingly rich carving above me, and nibbled at the succulent flesh.
On the horizon, I already saw the unrelenting sun climbing over the spear-shaped minarets. By noon, the intense heat would transform this beautiful courtyard into a furnace. "July is hottest month of year", I heard the landlady addressing me again. I only remember reading something about the mountain passes being snow free in summer and the clearest sky. Here in Khiva, clouds sounded like a fantastic idea.
I felt a little bit silly as I wandered down the streets into Khiva again, painstakingly sticking to the meager sanctuary of shade my black umbrella offered. At the city gates, an intimidating policeman in his green uniform ushered me into a guard house to pay the equivalent of 12 US-Dollar. A fee used to preserve the museum or one for the private coffers of the family sipping tea in merry conversation. Who knows?
Golden teeth blink in every mouth. "How old are you? Are you married?", asks the eldest woman in Russian. She is wearing one of the sequin-studded silk dresses so popular in Uzbekistan. I blushed and stumbled through a conversation that didn't quite leave them understanding how a 34-year-old man is still without kids and a wife. Purple, I decided, doesn't really suit her. The ticket, at least, seemed to be official. But that doesn't really mean a lot in a country where policemen bribe their way up to the best traffic routes to earn the most through unofficial tickets.
My first stop inside Itchan Kala, as the old part of Khiva is properly called, was the ancient Juma Mosque. No arches, no domes, no grand portals marked the entrance of this utterly uncharacteristic building. The beauty lies all within. 213 wooden pillars, each carved in a different style, each from a different epoch upheld an uneven ceiling over the sprawling courtyard. Some of them are said to be carved back in the 10th century. Two women were filling buckets from a gurgling fountain, splashing the ever dusty floor with its brackish brine in Sisyphean patience.
Shallow light seeped through the few openings in the ornate ceiling illuminating the artificial forest. Juma Mosque is a place for quiet contemplation, but also a place to preserves the ancient artisan tradition of the region. Even the door, a cellophaned handout informed me, is more than 7 hundred years old. Only a few meters away, I heard the rhythmic hammering of a chisel carving, so I would later find out, a similar door from elm wood. A rich Russian had ordered it for his house in France. Khiva truly is a marvel.
Not far from Juma Mosque, my unerring feet found the Islam-Khodja complex. It was this small madrasah, with its towering minaret, that prompted the UNESCO to put Khiva on the World Heritage List in 1990. Know then, that the whole complex was only built in 1908!
The belted blue and azure majolica of the minaret glittered in the morning light. Only at the bottom, the decor faded into intricate brickwork, no less amazing. A few souvenir stands lined the way to the precarious-looking wooden stairs at the back. "Here, here", a local peddler urged me to check out his embroidered tapestries. At the sight of the brittle way up, I almost felt like giving in.
The landlady at my hotel had insisted that the tiny platform at the top would offer the best view of Khiva. What a marvelous idea that had seemed sipping my bowl of tea over breakfast. Nothing, however, had me prepared for the dusty bricks that corkscrewed 45 meters up into the ominous dark. Without a handrail or rope, I scrambled upwards using hands and feet, trying to find purchase on the uneven stairs, so steep they barely passed for a ladder.
It was incredibly hot and sticky, almost like an Egyptian tomb. Sweat was painting lines of dust down my face, yet I dared not release my less than firm grip on the dark stairs ahead. "Back in Germany, they would have closed this ages ago", I thought as a sliver of light finally offered relief from the unpleasant mixture of claustrophobia and vertigo.
I entered the top through a crude trap door where bird droppings and graffiti seemed to fight a war over the precious space I already crowded myself. The landlady was right! The view of the multicolored domes below was beyond spectacular. Spice-laden caravans, pupils rushing to their Qur'an lessons and the chatter of concubines haggling over the price of exclusive jewelry – it was all there in my head!
________________
Looking for more stories about Uzbekistan? Read my article on the best things to do in Samarkand
Khiva, the city of Caravanserais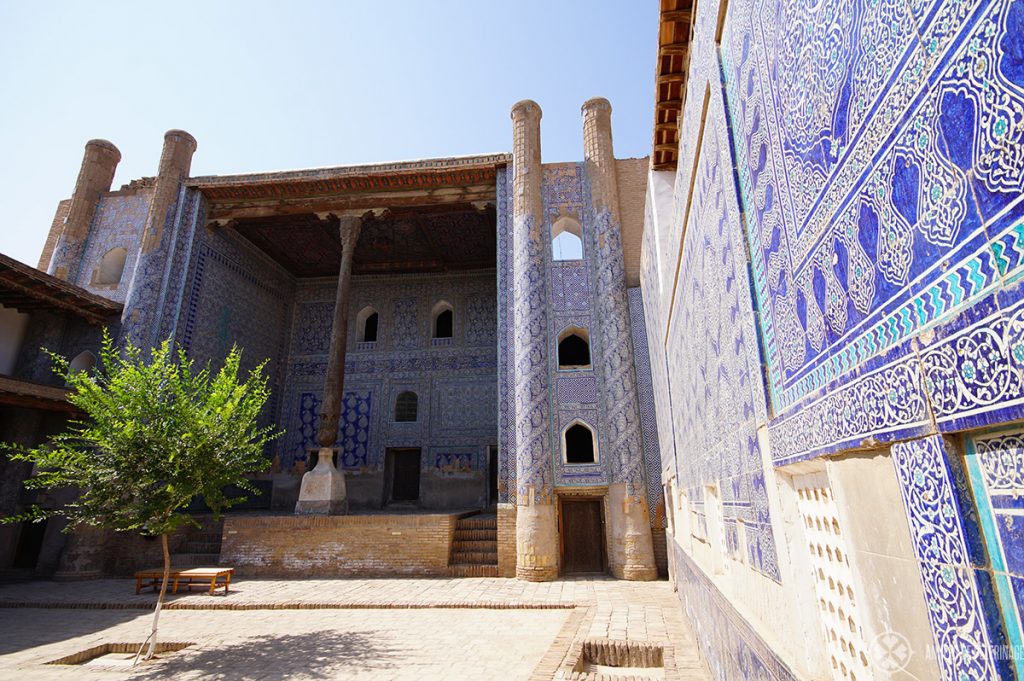 Don't ask me, how I ever managed to climb down the minaret, but writing these lines is a testament to the fact I succeeded. Noon was slowly approaching, and the meager life on the streets was coming to a complete halt. I quarreled with myself over returning to the hotel for an extended siesta but finally decided to tour the Tash Khauli Palace instead.
In all honesty, I have to say: I never ever visited a more beautiful place in my life. Tash Khauli is a labyrinth of courtyards and dim corridors. Every single inch was decorated with majolica in seemingly a million shades of blue. A reception hall there, a harem here – the palace spoke of untold riches and an age few in today's Khiva still remember.
Of course, I knew that a lot of the blue splendor presented to my eyes was in fact renovated only recently. Still, the palace emanated an authentic story so rarely seen in other parts of the world. I grew up listening to the Arabian Nights, my grandma sitting beside my bed, spectacles firmly on her nose, telling tales like Scheherazade once did. Here, relaxing in the shade among the arched courtyards of Tash Khauli, it would not have surprised me to hear Shahryar asking what I was doing in his palace?
I finally decided it was time for a break and sought out the cooling shade of a lovely restaurant right opposite of the famous Kalta Minor minaret. The small restaurant would become my favorite over the next three days. 10 skewers of traditional lamb kebab and spicy Ajvar quickly found their way to my table, creating the perfect opportunity to watch the locals going on about their business on the street below.
Some of them were walking towards the Kunya Ark fortress to the left, where a raised platform above the city walls attracts tourists to take the perfect picture of its the sinuous curve. Others were lazily adjusting the awnings of their small souvenir stalls for better protections against the midday sun.
Time to finally take my afternoon nap, I thought, paid my bill, and slowly headed back towards my hotel. Instead of walking down the main street again, I decided to take one of the winding side alleys of dust and mudbrick houses. Call it luck, call it a habit from years and years on the road, but that's how I happened to meet Süleyha and her beautiful daughter.
The two were preparing fresh Uzbek non (flatbread) on their porch and didn't mind me watching. With practiced ease, Süleyha rolled the blond dough and then used a stamp, more like a needle cushion, to imprint an intricate pattern. "This one", she said in Russian "is more than hundred years old." and gesticulated with her hands counting to one hundred.
All the while, the mother used cotton twigs to preheat the simple tandoori oven, then swiped a wet rag over the wide disks of dough, carefully placed it on some sort of leather cushion and immediately smacked it against the sizzling wall inside. How many thousand years ago, I silently wonder, did the first woman bake bread liked this?
Three times she repeated this process and then indicated we had to wait 10 minutes. Time to interrogate me about my relationship status, my age, and my job (a pattern seemed to emerge!). I also learned that the bread tastes so much better fresh from the oven than anything I would later eat at restaurants or markets on my trip through Uzbekistan.
Things to do in Khiva
Khiva is a lovely city, but not particularly big. Still, you will need a full day to explore it all, and you actually got a couple of beautiful day trip options as well. So staying 2 days might be a good idea. Here's an overview of all the things to do in Khiva.
Kunya-Ark Fortress
The so-called old fortress ('Kunya-Ark') once was the residence of Khiva's rulers. Sadly, not much of its former glory remains. A few tiles rooms, some sparse exhibitions. The guard tower is, however, an excellent vantage point!
Islam-Khodja complex
The most iconic sight in Khiva and the structure that first made it to the UNESCO World Heritage list (Gary Arndt is currently in the process of documenting the other Silk Road UNESCO sites, so make sure to check out his website). With a height of 45 meters, it offers the best view of Khiva
Tash-Kauli Palace
Built between 1830 and 1838, Tash-Kauli will amaze you with its blue tiled courtyards. It was once the private palace of Allakuli-Khan.
Juma Mosque
Juma Mosque is located at the very heart of Khiva. It boasts 213 wooden pillars from over 10 centuries. The mosque follows the same layout as the previous mosque, from the 10th century had.
Kalta-Minor
Muhammad Amin-Kahn started building this unfinished Minaret in 1845. He intended it to become the biggest minaret in all the Islamic world. But after his death, the money was needed to defend against the invading Turkmen tribes.
Pakhlavan Mahmud Complex
Legend has it that Pakhlavan Mahmud was an exceedingly talented wrestler, poet, and philosopher who lived in the 13th century. By the 17th century, he became the patron saint of Khiva and the mausoleum was built over his grave. Go inside, to see the most stunning majolicas this side of heaven!
Muhammad Amin-Khan Madrasah
Muhammad Amin-Khan didn't also fund the Kalta-Minor Minaret, but also the biggest Madrasah in central Asa. It is now a hotel, but you can ask them if you can take a look at the courtyard within.
Palvan-Dravoza-Ensemble
The so-called 'great gate' (Palvan-Dravoza) guards the eastern entry into Khiva and is by far the liveliest part of the city. Here you will find the Anush-Khan Bathhouse, the Allakuli-Khan Madrasah, the Allakuli-Khan Caravanserai and the AQ Mosque.
Merchant stalls are lining the street and beyond the gate, you will find a local market.
Unknown Minaret
If you want to shoot a good panorama of Kalta-Minor and the city gates, you will have to climb the small minaret outside the city gates. It's private property. I had to pay a bribe of 5 US-Dollars to climb it. The climb is crazy, but if you are desperate for that picture, it's doable.
Best time to visit Khiva
Having seen all these pretty pictures, you are probably wondering when is the best time to visit Khiva. I visited in July and it was bearable but very hot. We are talking about very dry 40 degrees Celsius and more. The winter months will be very cold, so most tourists option to visit either between April to May or September to November.
Personally speaking, it depends on your itinerary. I journeyed on to Kyrgyzstan afterward. As the high mountain regions are only accessible in July and August, I didn't have the luxury of choosing a visit during a less hot month.
Uzbekistan might nominally be Islamic, but running around in shorts is no problem.
Where to stay in Khiva
This is really a tough question. I love sleeping at luxury hotels, but there are no luxury hotels in Uzbekistan at all. From personal experience, I'd utterly advise you against sleeping in hotels. They are usually just horrible concrete containers with bad air-conditioning and bad service.
In any other country, I'd never advise guesthouses, but in Uzbekistan, their service is sooo much better than in the hotels? Why, because the guest houses are usually run by locals who love the contact with westerners and really try to offer you their bests. Hotels, on the other hand, are usually focusing on local weddings and quite….interesting interior design decisions.
I stayed at the Qosh Darvoza property and really liked it. It was simple, but enough. The breakfast was lovely and it had this rustic local charm.
Note: I get commissions for purchases made through links in this post. 
Practical information for visiting Khiva
There are no direct flights to Khiva. You have to pass through Urgench, some 30 minutes away by car. There are daily planes from Tashkent to Urgench (here's the website of Uzbekistan Airways). Trains are also available, but the train ride takes 18 hours. Trains are clean, but nothing you would expect in Europe or the USA. Tickets cannot be bought directly online.
The best way to travel between the cities (Samarkand or Bukhara) is by taxi. The roads are horrible, but buying train tickets is an utter nuisance, it's not cheaper and takes so much longer. Still, a trip from Khiva to Bukhara will usually take you about 8 hours – depending on the condition of the road, the condition of your car and the current mood of the police. Best book taxis through your hotel and ask for a new car. Also, tell them you will want air conditioning (which will cost extra), except you want them to leave the window open for the whole 8 hours (something I absolutely do not recommend).
The standard tourist visa requires you to detail out your exact travel route. You will also need vouchers from each hotel you will be staying at. So, there is no way around booking hotels/guest houses in advance. There are other visa alternatives as well, but these are quite harder to apply for.
Khiva is one big pedestrian area, but most streets are not illuminated at night. Bringing a small torch might be a good idea. Your hotel or the tourist information at the entrance to the inner city will be able to provide you with a simple tourist map. Uzbekistan has a very low crime rate (excluding bribery!!), so you really don't need to worry about your safety. In fact, you will see a lot of policemen!
Tap water is not drinkable and very salty, but there are tons of merchants around town selling bottled water. It will be a lot cheaper to stock up at a grocery store, though. If you want to drink good coffee, do bring your own. The people of the Stans drink tea. Some restaurants will have instant coffee, but usually no milk.
Last but not least, remember that your credit card is worth exactly nothing in Khiva. There isn't even an ATM. You will need cash. You will have to pay official bills in Sum, but most merchants will also accept US-Dollar. If you plan to change US-Dollar, never change them at the official money exchange. The official exchange rate is, on most days, only half of what you get on the very driving black market. Usually, the guy at the reception will be able to help you with exchanging money on the black market. On markets, you will also find people asking you to change money. Use these, at your own risk. The rates are usually way better than in your hotel.
Further readings: