There are few final frontiers left on this planet. Few places truly off the beaten track. Uzbekistan is one of them. Finding good (and reliable) information on the former Soviet country is hard. A curse and yet an opportunity, as there are just so many things to do in Uzbekistan.
Few tourists come to the unbelievably beautiful country each year and few of its amazing UNESCO World Heritage sites are ever truly crowded. I guess a lot of people are scared of the name itself. Stan. Sounds like terrorists, burkhas, communist architecture and dictatorship. But the reality couldn't be farther off the mark.
True, there is corruption. The economic and political situation is precarious but at the same time, you got a very open society, keen on getting to know a foreigner. People proud of their ancient past and actually worried about all the terrible things happening in the neighboring countries. You won't see burkhas, but the most colorful and beautiful fashion instead! I truly loved it, always felt perfectly safe (with so many policemen around hard not to), and urge you go to go! Here is my list of the 10 best things to do in Uzbekistan to convince you.
1. Visit Samarkand
Samarkand was once the pride of the Silk Road. And in a way it still is. During all my years of travel, I have seen few cities more beautiful than the former capital of Uzbekistan. Especially the famous Registan Complex will be forever in my heart.
The Shah-i-Zinda necropolis is also worth a trip by and in itself. The good part about Samarkand – it's (unlike the rest of Uzbekistan) quite accessible. I wouldn't go as far as calling it a modern European city, but it's pretty close.
Read my full guide to Samarkand here >>
2. Bukhara
Just as pretty as Samarkand and only about 300 kilometers away lies another one of Uzbekistan's tourist highlights: Bukhara. The ancient city is listed as a UNESCO World Heritage site as well and offers a wealth of beautiful mosques, madrassahs, and palaces.
Read my full guide to Bukhara here >>
3. Khiva
Khiva is perhaps the most fascinating place in Uzbekistan. At least I found it to be so. Hidden deep down in the desert, the ancient museum town is as authentic as spectacular. Needless to say, it's another of those marvelous UNESCO World Heritage sites. It was my favorite place in the inner Asian country and I urge you to put it on your list of things to see in Uzbekistan.
Read my full guide to Khiva here >>
4. Elliq-Qala – The lost desert fortresses of the Khwarezm
When you are in the area of Khiva, you absolutely have to do a day trip to the Khwarezem desert oasis. Once a proud nation on its own, all that remains today are decaying adobe bricks hinting at the large city fortresses that must have guarded the once fecund haven. The name Elliq-Qala means 50 forts, even though only about 20 have been found so far.
Locals guides from Khiva will be able to show you the other highlights of the Kyzylkum desert. With a bit of luck you might even see some Bactrian Camels!
5. Tashkent
Visiting a country without spending at least one day in its capital seems a mortal sin. Other than a city of transit, most international tourists actually skip Tashkent. Certainly, there are no UNESCO World Heritage sites here, but it is nevertheless a young and incredibly vibrant city worth a visit. Personally speaking, I'm a huge fan of turbo-communist architecture and there are loads of fancy buildings to be explored in Tashkent. Do visit!
6. Nukus
Khiva is already quite hard to reach. But Nukus really is the end of the world. It's actually quite the desolate place (though the sixth largest city in Uzbekistan). The prime reason to visit is the Nukus Museum of Art as it houses a unique collection of modern art from 1918 to 1935. This is exceptional as Stalin banned all modern art. The collection only survived as Nukus literally because of its remoteness.
7. Lake Aral
Lake Aral was once the biggest freshwater lake in the world. But the blooming cotton industry in Uzbekistan and other farming operations in the area drained the former grand lake to nothing but a little puddle. Where once there was a shore, only desert remains. Quite the sight to behold.
8.Ugam-Chatkal National park
Ugam-Chatkal is Uzbekistan's largest National Park. It spans 574,600 hectares and is a unique opportunity to get one with the beautiful nature of Inner Asia. Unlike the lower regions of Uzbekistan, the high mountain valleys are surprisingly verdant and look more like Switzerland. Do visit and sleep in a traditional yurt!
9. Kokand
Kokand is your main reason to visit the Fergana Region in eastern Uzbekistan. Most people come to see the Palace of Khudayar Khan. Once it was said to have been the largest and most opulent palace in Central Asia, but these days only 13 of the original 100 rooms survived. Still, quite worth a visit!
10.Shahrisabz
Sharisabz can't be left out on any list of things to do in Uzbekistan. The city is particularly famous for its gigantic statue of Amir Temur (the national hero of Uzbekistan) and the remains of the Ak-Saray Palace – Timur's summer palace. The gate tower of the palace alone was 65 meters high. The gigantic complex dates back to 1380 AD, but ist mostly in ruins these days. Still, quite a sight to behold!
Other things to do in Uzbekistan
Uzbekistan is quite a large country and my list of the top tourist attractions in is far from extensive. Especially the nature in the mountain region is astounding as are the many national parks. I really grew fond of the food and shopping on one of the many markets it certainly something you should not miss when visiting Uzbekistan.
Also note, that I feel it's important you sleep at one of the many guest houses (at least once) so you get a good feeling for the locals, the traditional food and the small and large reminders of the Soviet past.
As Uzbekistan sits right in the middle of all the "-stan" countries, absolutely do consider visiting one of them. Krygzstan would be my personal favorite as it's pristine nature and high mountains are a welcome change from all the cultural highlights in Uzbekistan. I wrote a comprehensive guide to things to do in Kyrgyzstan, you should definitely check out! Kazakhstan is certainly as a lovely country, though definitely check the visa requirements for the countries as some of them are a bit harder to obtain.
Best time to visit Uzbekistan
Uzbekistan is located in the middle of Inner Asia and has a very continental climate. The summers are unbearably hot, while it can get quite cold in the winter. The weather tends to be less than favorable during the winter months (November through March), with rains, snows, and cloudy sky.
The best time to visit Uzbekistan are the months directly before and after summer. This means Mai and early June or September. Temperatures will be considerably moderate (around 30°C).
Do note, however, that temperatures in the mountain regions of Uzbekistan will be quite frigid during these months. If you plan to move on to Kyrgyzstan, July or August would actually be the best months to visit, as this is the only time the high mountain yurt camps are open and all passes are easily accessible.
I did visit in July and the heat was indeed horrible. But it's very dry heat. If you take things slowly, drink enough water and maybe take along an umbrella for shade, things are quite manageable. The best part: There are very few tourists in July and August so you will have the great UNESCO World Heritage sites in Khiva or Bukhara all to yourself.
Where to stay in Uzbekistan
Note: I get commissions for purchases made through links in this post.
Finding good hotels in Uzbekistan is a daunting task. Actually quite impossible. There are no luxury hotels in Uzbekistan at all and everything that calls itself hotel has this unbearably post-communist charm that makes you want to flee instantly.
I had the best experience with local guest houses found on booking.com. Lots of places are not listed (or not properly) on the English speaking internet and this is usually a good indication of the fact they are not well prepared for demanding western tourists. Good (and working) bathrooms are usually the big issue and so are beds that don't feel like concrete benches.
In Khiva, I stayed at a property called Qosh Darvoza and really liked it. It was simple, and the landlord extremely forthcoming. The breakfast was lovely and it had this rustic local charm. I can recommend it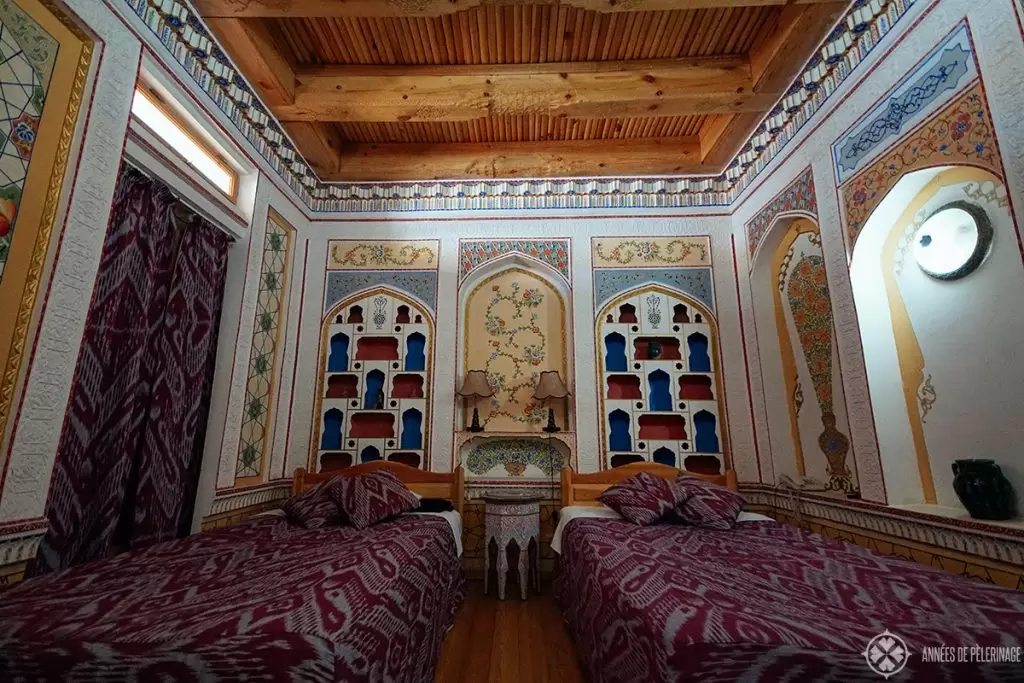 In Bukhara, I can recommend the Boutique Hotel Minzifa from the bottom of my heart. It has an excellent location, the rooms are designed in the traditional (quite royal) Bukhara style and the breakfast was quite lovely as well.
In Samarkand, I picked the Hotel Diyora. The rooms were clean, there was a western standard bathroom (rare in Uzbekistan, trust me), and even a pool (which I never used). All things considered, the hotel was clean, the breakfast quite horrible and, most of all, it was more or less within walking distance of the Registan. As hotels go, this is probably the best you can get in Uzbekistan, but picking a guest house might be a smarter idea.
How to get around in Uzbekistan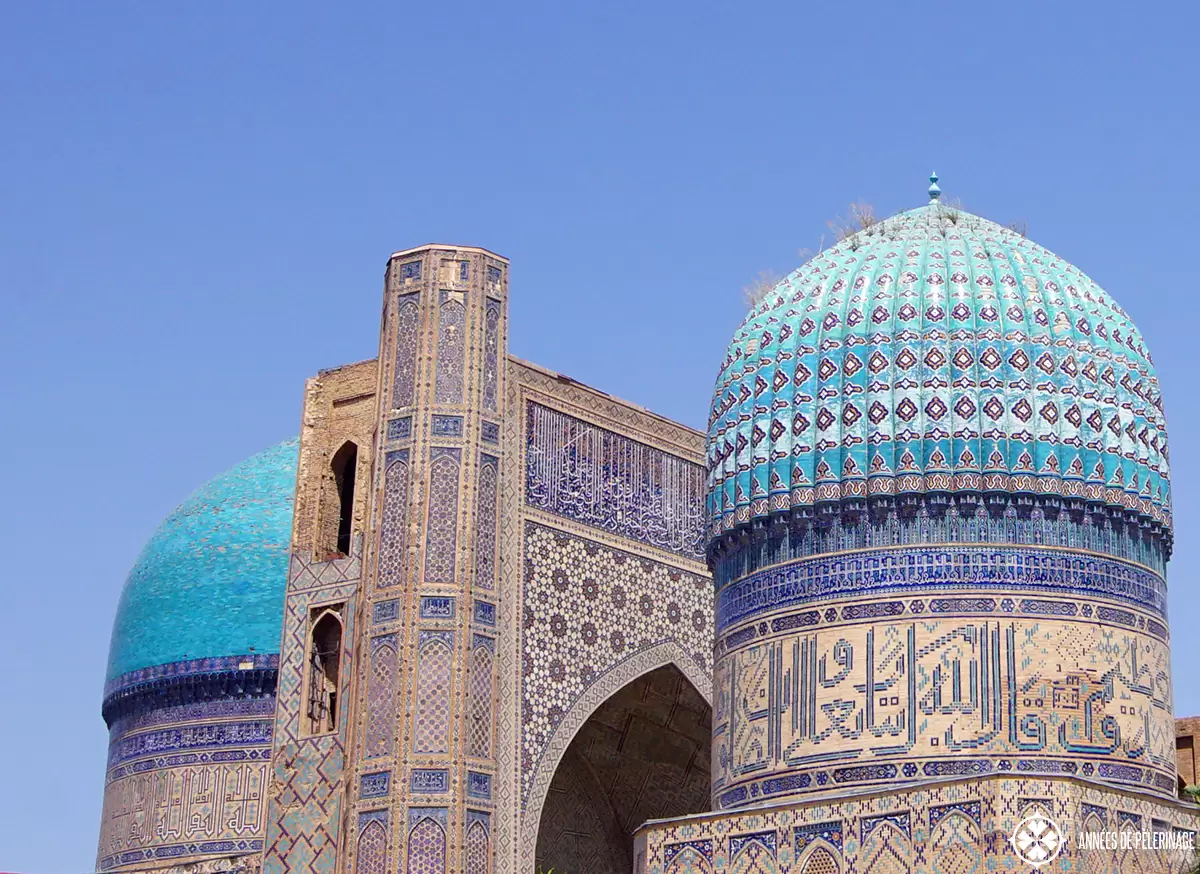 Uzbekistan is quite large and the infrastructure a nightmare. The distance between Khiva and Tashkent is "only" 1,000 kilometers but in reality, this is a two or three-day tour by car. If you can, try to take the plane. I found it to be the most reliable mode of transport and especially from Tashkent to Khiva it is probably the only truly feasible connection (note: the airport is in Urgench and you will have to take a taxi to Khiva)
There is also a train network, but getting tickets is a bit more difficult and some connections are better than others. Between Samarkand and Tashkent or Samarkand and Bukhara, it's probably the best way to travel. Ask a guy from the hotel to get you tickets (two days in advance).
Taxis in Uzbekistan are quite cheap and a very good alternative if you are traveling in a smaller group. Expect about 100 US-Dollar from Khiva to Bukhara (600 kilometers). Best go through your hotel as they will know reliable drivers. Always ask them about the car they drive before (tho there are literally just three kinds in Uzbekistan) and always negotiate the price before you enter (drivers around the airport are famous for asking a small fortune ). Three words of warning though:
The roads are horrible and you drive with around 40-50 miles per hour
most cars run with gas, so the space in the trunk is fairly small
you will have to pay extra if you want air-con. Locals will drive with open windows but if you are not used to it this can quickly lead to a nasty cold.
That being said, I usually relied on taxis as they are just the most versatile way to travel. Knowing a little bit of Russian will be recommended as almost nobody speaks English (except the very young generation in the larger cities, but they are far from fluent). The roads are horribly bumpy, there are quite a lot of police controls and there so much dust. But you also get to see a lot of the countryside so it's bearable.
If you are quite unsure I'd like to point out that there are a couple of organized tours available through local agencies and they usually got climatized buses to drive you around the country.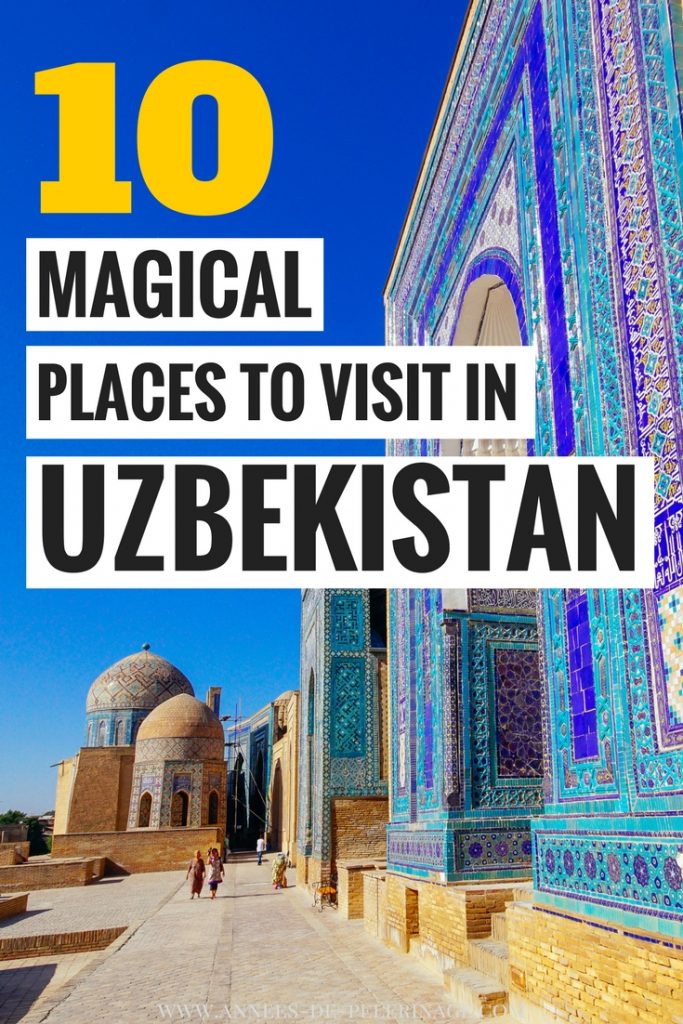 Hope you liked my list of the best things to do in Uzbekistan. Got any questions? Feel free to comment below. And don't forget to pin this to your Pinterest board if you liked it!
Picture credits: upyernoz, Stefan Krasowski, Jean-Pierre Dalbéra