Venice is probably the most romantic city in the world. It's the perfect place to propose or have a very romantic holiday. This is the reason why many tourists want to add a little extra to their trip and plan to stay at one of the many luxury hotels in Venice. But which one is the best? And which offers the best value?
I have been to the beautiful lagoon city many times and probably seen all the tourist attractions in Venice three times over. I have also been visiting the top luxury resorts in the world for more than 30 years. So, with all that experience, I compiled this list of my favorite luxury hotels in Venice for you.
I ranked it according to my personal preferences, but I also added all the pros and cons of each hotel so you can form your own opinion. Whether you like two swim in a pool after a long day exploring Venice or want to sleep in an authentic palazzo, I'm sure you will find some good inspiration here.
There are three important things I would like to point out ahead. It's possible to dine at most of the hotels I listed below. So, if you just want to see the lobby or enjoy the view from the rooftop, it can be a viable alternative to staying there.
And secondly: Venice is a very densely populated city. Hotel rooms are considerably smaller here than in other places around the world, and perhaps also a bit more expensive. BUT some hotels are almost 50% cheaper in the low season (February, March, November). So, it's possible to find a good bargain as well.
Apart from the ranking, I also provided a direct link to booking.com for each hotel. That's where I always book my short stays and over the years I just found them to be the cheapest overall (besides they'd match any cheaper price). For longer stays (4+ days), I'd recommend using a travel agent because they usually will be able to get you some nice perks.
Note: I earn a small commission for purchases made through links in this article.
The best luxury hotels in Venice
1. Aman Venice (11/10)
My personal favorite hotel in the city is by far the Aman Venice. It's located in an ancient 16th-century palazzo. Staying here really feels like you were part of the Venetian aristocracy for a day or two. The amazing ballroom on the first floor is nothing short of spectacular.
It is also the only hotel in the inner city with a big garden terrace and has by far the biggest entry-level rooms. In fact, with 45-77m² the lowest category at Aman Venice is still bigger than most of the biggest suites at all the other luxury hotels. I loved the mix between contemporary design and original frescos by Tiepolo and other famous artists.
This is the perfect hotel if you want to immerse yourself in the history of the city. You'll find it very close to the Rialto Bridge (5 minutes away), so it's also perfect for exploring both parts of Venice. I gave it 11 out of 10 possible points because it truly exceeds your expectations.
You can read my detailed review of Aman Venice here
Pros:
Beautiful authentic Venetian Palazzo
biggest rooms in the city
only 24 rooms & very quiet hotel
amazing views of the Grand Canal
Spotless service and very refined modern luxury
the perfect mix between Renaissance art & contemporary design.
Cons:
The most expensive hotel in Venice;
no pool (but there is a little spa & gym)
just one restaurant and one bar
2. Gritti Palace (9/10)
The Gritti Palace hotel opened in 1895 and has been a Venetian landmark ever since. The website states "it's a place of exceptional art and elegance with a homely feel" and there is little else to add. If you want to live like royalty and be treated like it, then this is your place
A lot of the big suites have a direct view of the Grand Canal and they are quite spectacular. Mind you, it's all very plush and golden, but I didn't feel the interiors of the 15th-century palazzo were dusty. It's very classic, to be sure, but beautiful nonetheless. It is now run by Mariott.
Direct link to booking.com for the Gritti Palace
Pros:
Inside an authentic Venetian Palazzo
Beautiful restaurant terrace on the Canal Grande
amazing signature suites with direct Canal grande view
very central (5min to St Mark's Square)
Cons:
Quite expensive,
no pool (but there is a little spa & gym)
3. Hotel Danieli (8/10)
If you'd rank the top luxury hotels in Venice according to their popularity on social media, then the Hotel Danieli would certainly come out first. The lobby of the historic hotel has been featured so often it could be considered a landmark in itself.
The rooms are pure opulent Venetian style, though quite a lot of them are located in the modern annex of the hotel. I personally always felt it is a bit touristy, but there is no denying it's beautiful.
Here's a direct link to booking.com for Hotel Danieli
Pros:
amazing location; directly next to the Doge's Palace
beautiful public areas
local hotel with a lot of tradition
wonderful rooftop terrace
Cons:
somewhat small rooms & big hotel
not all rooms are in the old palazzo
no pool
4. Belmond Cipriani (10/10)
The hotel Cipriani on the island of Guidecca is also one of the extremely famous luxury hotels in Venice. Starting from the 1970ies, the biggest movie stars and celebrities all stayed here. It is the place where Bellini cocktail was invented and the place exudes La Dolce Vita from every pore.
It also happens to be the only luxury hotel in Venice with a big pool. After a day exploring the city, could you think of something better than relaxing an hour or two at the pool? The rooms are quite big and posh, the restaurants ambitious, the service flawless, and you'll find everything here you'd expect from a classic luxury hotel.
Book the Belmond Cipriani on booking.com
Pros:
huge garden and pool
authentic modern luxury
flawless service and classic design
Cons:
located on Guidecca & have to take a water taxi to see the city
a modern hotel without a historic context
quite expensive
No view of Venice from most rooms
5. Bauer Palazzo (6/10)
If you are looking for a hotel that offers pure and classic Venetian design, then the Bauer Palazzo is a good choice. There are stucco, gold, silk, and crystals everywhere you look and most rooms share this rather opulent design. St. Mark's square is just around the corner and some big suites even have a nice view of the Grand Canal.
Back in the 1980ies it was one of THE top hotels in Venice, but I do feel they are losing ground a bit. On a more positive note, the hotel is also considerably cheaper than the adjacent Gritti Palace, even though the rooms are just as big.
Book the Bauer Palazzo directly on booking.com
Pros:
reasonable prices
house with lots of tradition in a good location
pure Venetian design (lots of gold, silk, crystal, etc)
small but nice terrace
good location
Cons:
the new part of the hotel is quite ug..i mean interesting
Service not as over the top as in other luxury hotels in Venice
no pool or garden
6. JW Marriott Venice (6/10)
If you'd ask me about the most exciting hotel openings in Venice in the past years, then I'd blurt out JW Marriott Venice faster than you could count to one. You see, space is incredibly limited in the inner city and most of the exciting houses are centuries old making it hard to make adjustments according to the needs of modern luxury hotels.
Marriott found a beautiful property on the Isola delle Rose and developed it into a new hotel with a lovely pool and big rooms. Prices are quite fair and there is a huge park around the hotel. It does take 20 to 25 minutes to get to St. Mark's Square by boat though. But if you plan to stay a couple of more days in summer, I'm sure this is a lovely alternative.
In terms of pure luxury, it has to be noted that it's not en par with the Aman the Belmond or the Danieli. The furniture is slightly less opulent, the service a tiny bit less extravagant, but so is the price.
Book the JW Marriott Venice directly on booking.com
Pros:
beautiful new property with a lovely pool
considerably less expensive
new hotel (opened 2015)
Cons:
very far away from the city
less over the top than the other hotels on this list
7. St. Regis Venice (9/10)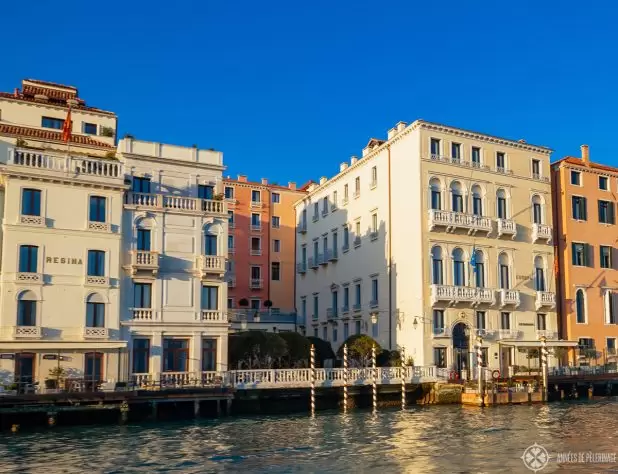 St. Regis has been a household name among luxury connoisseurs for ages. Their signature butler service and their luxurious classic design sure make the choice hard. The hotel only opened in 2019 and they basically took over the former Westing Europe & Regina hotel.
It's a beautiful location, nonetheless and only takes 5 minutes to St. Mark's square. I feel if you are looking for a luxury hotel in Venice with a very contemporary design and first-class service, then this would be your hotel. You won't even find the smallest bit of Venetian kitsch, which can be a bit overwhelming. And those terrace suites above the Grand Canal are unrivaled in Venice (u won't find them like that in any other hotel).
Book the St. Regis Venice directly on booking.com
Pros:
suites with amazing Grand Canal view terraces
beautiful location right across San Maria della Salute
new hotel with butler service
beautiful garden & grand canal terrace
rather competitive prices
Cons:
no a historic property & standard contemporary design
no pool (just a small gym)
8. San Clemente Palace Kempinski (8/10)
A luxury hotel in Venice that is currently still under the radar? That would be the beautiful Kempinski property on San Clemente Island. My father raves about it constantly and cannot understand why I absolutely want to stay in the city.
Well, there is no denying the hotel is beautiful, quiet, has a big garden, and a big pool. But of course, it also takes like 15 minutes by boat to get to St. Mark's Square. Still, Kempinski is one of the luxury hotel chains in Europe and their hotel in Venice really benefits from all their experience. If I'd plan a wedding (or big party) and the Cipriani was too expensive, then I'd pick the San Clemente Palace Kempinski. the big park is just ideal and there is a chapel!
Book the San Clemente Palace Kempinski on booking.com
Pros:
beautiful pool and park on a private Island
Member of the Leading Hotels of the World
historic property with its own chapel
competitive prices & good value
Cons:
need to take the water taxi (15min) to get to the city
Quite the big hotel (196 rooms)
9. Baglioni Hotel Luna (7/10)
If you love luxury hotels then you certainly heard of the Leading Hotel of the World. The Baglioni is part of the illustrious register and certainly lives up to its status. There's an ever so slight modern twist on classic Venetian design and the location right behind the Royal Gardens is just fantastic for exploring the inner city.
Book the Baglioni Hotel Luna on booking.com
Pros:
excellent location
competitive price & nice value
traditional Venetian design (but not too oppulent=
Cons:
most rooms don't have a nice view
no garden terrace or lagoon view restaurant
10. Hotel Metropole (6/10)
I am a bit reluctant to mention the Hotel Metropole on this list. Why? Because unlike all the other hotels on this list there is nothing truly unique about it. The design is very opulent, the location on the Venetian waterfront is quite nice and the rooms are well-appointed.
At the same time, there is no big ballroom or rooftop-terrace. No rooms with an outstanding view or historic details. As far as luxury hotels go, this is "only" a charming small hotel with a good standard and a good location. I also feel, you get a bit more value at the St. Regis or the Danieli for almost the same price.
Here's a direct link to booking.com for the Hotel Metropole
Pros:
good location (5 minutes to Doge's Palace)
opulent Venetian design
Cons:
no rooms with beautiful views
no pool or garden terrace
comparative small entry-level rooms
Other luxury hotels in Venice, Italy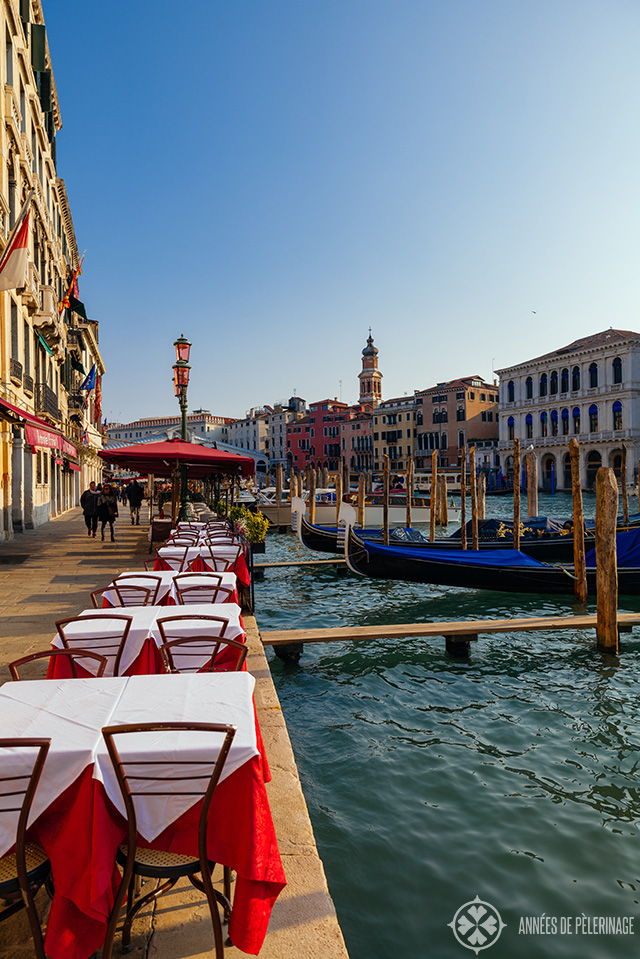 Of course, there are plenty of other fantastic 5 star hotels in Venice. Even though I generally don't like them at all, the Hilton Molino Stucky could be a very good alternative if you want to find a good bargain (and that rooftop pool is a-mazing!)
But in terms of the top luxury hotels, this list is quite complete. But that doesn't mean that there aren't some nice 4 or 3 star hotels in the city. But as budget travel is not exactly my personal focus, you'd probably have to ask somebody else.
In a way, you could say that spending 500 USD or more a night in Venice is a waste of time. After all, you are spending most of your day exploring the city. While that may (or may not) be true, I also feel a hotel can be so much more than just a bed. If you are eating your breakfast in a ballroom that is almost as old and opulent as the Doge's Palace you added so much more depth to your stay. But maybe that's just me?
One thing, you certainly shouldn't fuss too much around is the location. A lot of luxury hotels are close to St. Mark's Square, but as you are probably planning to explore the whole city, it doesn't matter all much where you start. Plus a water taxi/bus can get you anywhere in no time. So, if you are wondering where to stay in Venice – just pick what appeals the most to you!
Further reads:
Anyways, that was my list of the top luxury hotels in Venice, Italy. Got any questions? Feel free to comment below!