Are you looking for the best places to take pictures in Venice, Italy? Then you came to the right place! There are so many places to visit in the city that it sometimes feels hard to visit all the Venice photo spots in one day.
You should also consider that the Serenissima is ancient and there are basically no straight roads. It's all one big maze and quite easy to get lost. This is why I put together a list of the 15 best photography locations in Venice for you.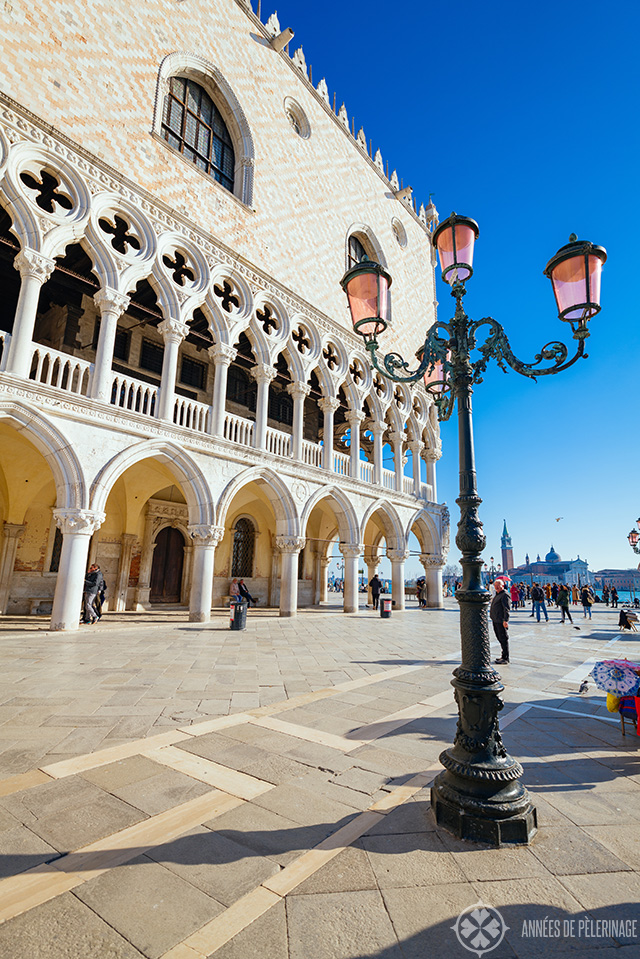 I have been to Venice four times now and the city still doesn't stop to amaze me. Whether it is riding in a Gondola or simply sitting down in one of the ancient coffee houses – you cannot help but fall in love with the most beautiful city in Italy.
The best photo and Instagram spots in Venice
When you plan your Venice itinerary, please bear in mind that some of these photo locations require a ticket and there are opening hours to take into account. Also, the light situation can be quite difficult. So, best plan your visit in a way you don't stand in front of closed doors or landmarks in the shadow or with tons of backlight.
Also, consider that if you only stay one day in Venice, it will be a tight fit to see them all! Anyways, let's get started!
Note: Here's another post with beautiful, but maybe not as famous pictures of Venice.
1. The waterfront of St Mark's Square
I'm pretty sure you've seen this picture before. A lot of Gondolas basking in the sun and St Mark's bell tower in the background. But just where do you shoot the picture? Well, here's the secret. You don't! What you see is actually the island of San Giorgio Maggiore and it's incredibly easy to get to this spot.
Right in front of the Doge's Palace, you'll find a long waterfront where all these beautiful Gondola's are moored. All you basically have to do is press the shutter button from here! It's also quite pretty at night – though the constant bobbing of the gondolas will mess with your long shutter speed ;-)
Best time to be here: Morning/Afternoon/ Night
2. From the top of the St Mark's Campanile
Looking for a beautiful bird's eye view of Venice? Then the easiest way to take that picture is taking the elevator all the way to the top of the St Mark's Campanile (bell tower)
There are two things you need to know:
The light can be sometimes a bit difficult and the earlier you get there the better. Especially if you want to actually shoot a picture of St. Mark's square which will be in the West.
In summer, you absolutely need to book your tickets in advance. Otherwise, it will be quite hard to get up and there will be long queues. No problem in winter.
Opening hours: 9:45 am – 7 pm
Entrance fee: 12€ per adult
Best time to be here: Morning
3. At the base of the Rialto Bridge
The Rialto Bridge was not only the first dry crossing of the Grand Canal in the 12th-century (back then still a wooden bridge), it's also probably the most photographed bridge in the world. As a result, the whole area is usually very crowded! But if you walk a bit along the banks of the Canal Grande, you can actually find a lot of quieter spots where you can shoot some amazing pictures.
It's also a very good idea to come here at night. There will be virtually no tourists and the atmosphere is almost magical!
Best time to be here: morning towards noon & night
4. T Fondaco dei Tedeschi by DFS rooftop terrace
You can shoot a lovely picture of the Grand Canal from the top of the Rialto bridge. Sure, do that! But also try to visit the luxury department store "T Fondaco dei Tedeschi by DFS" right next to the famous bridge. They have an amazing rooftop terrace, which is actually one of the best viewpoints in Venice.
You do have to reserve your tickets in advance and early in the morning is the best time to be here, as the most beautiful panorama is to the West (and towards the Rialto Bridge).
Opening hours: 9:45 AM to 7:15 PM
Best time to be here: Morning
Note: From here, it's only a short walk to the amazing Liberia Acqua Alta. If you want to shoot pictures of an old Italian bookshop. The twist, the books are kept in bathtubs so they don't get wet when there is a little flood.
5. Ponte dell'Accademia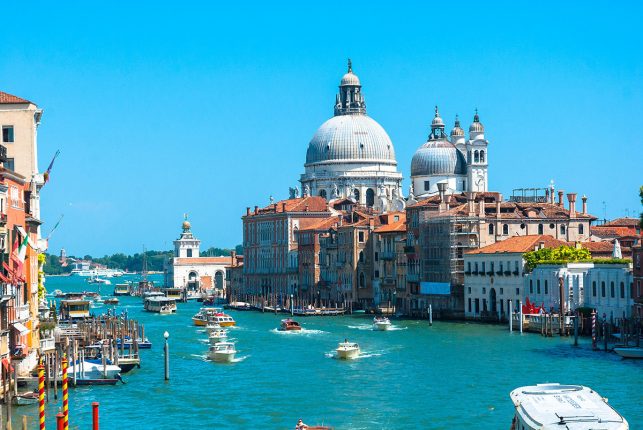 One of the most beautiful Instagram spots in Venice is the Ponte dell'Accademia. The onion shapes domes appear on many a postcard and it's actually quite easy to take that picture. Just take a Vaporetto from St Mark's Square (line 1 or 2) and you'll stop right in front of it. You can also walk (about 10 minutes)
Theoretically speaking, the best light would be in the evening close before sunset. But sadly, houses are casting a lot of shadows (see above).
Best time to be here: Afternoon
6. Scala Contrarini del Bovolo
Looking for some of the hidden gems in Venice? Then the Scala Contrarini del Bovolo might be what you are looking for. The impressive Renaissance staircase was turned into a museum and offers a beautiful view of the inner city.
The place is slowly gaining popularity and it's not as quiet as it used to be, but it's probably still your best bet to shoot an amazing picture of yourself and the Venice cityscape. In terms of light, the best time would be very early in the morning (but it's still closed then). The balcony faces the east, so try to be here in the morning for portraits and in the afternoon for views.
Opening hours: 10 – 6pm
Entrance fee: 7€ per adult
Best time to be here: Morning
7. Venice from San Giorgio Maggiore
I already mentioned San Giorgio Maggiore a couple of times, but I need to mention the amazing church one last time. It actually pays off to take a water bus to the island and climb the church tower. From here, you can enjoy a view of the whole lagoon. I actually enjoy this view much more than from the top of St Mark's Campanile – especially as it is so much quieter.
You can also shoot some nice pictures of the Doge's Palace from the square in front of the church. So, don't miss that opportunity!
There is a little lighthouse to the side, which I feel offers a beautiful detail to add to your picture of the Venice waterfront. The lighting will be best early in the afternoon to catch that picture.
You should also realize, that you can shoot a lovely close-up picture of the Doge's Palace and St. Mark's Square from the Vaporetto that takes you to the little island. It's quite close, so you don't need a big tele lens (something around 50mm will be sufficient, except you wanna capture a detail)
Opening hours: 9 am – 7 pm (in winter 8:30 am till 6 pm)
Ticket price for the tower: 6 €
Best time to be here: pretty all-day
8. St Mark's Square at night
I love St Mark's Square. It's one of the busiest squares in the world and the atmosphere is quite unique. Despite the high prices, I do urge you to sit down and sip a cup of coffee here. That being said, going here by night will actually be even more rewarding.
No tourists, amazing light and solitude is your reward for being there around midnight. Most tourists only come for the day, while the few that stay are already sleeping. I love it & it is one of my favorite photo spots in Venice!
9. Grand Canal from a gondola/water taxi / Vaporetto
Venice is a city best explored by boat. It might be expensive, but it's also beautiful. One of my favorite memories are taking a sunset cruise around the city. Incidentally, the unique viewpoint from a taxi/gondola is also a photography opportunity you should not let pass.
Water taxis are a bit more expensive than gondolas, but they will be able to get you around faster so you see much more and will be able to take tons of amazing pictures from the waterline. And remember – nothing speaks against sharing the ride with a couple of other people to save some money.
10. The small alleys around the Teatro de Fenice & Rialto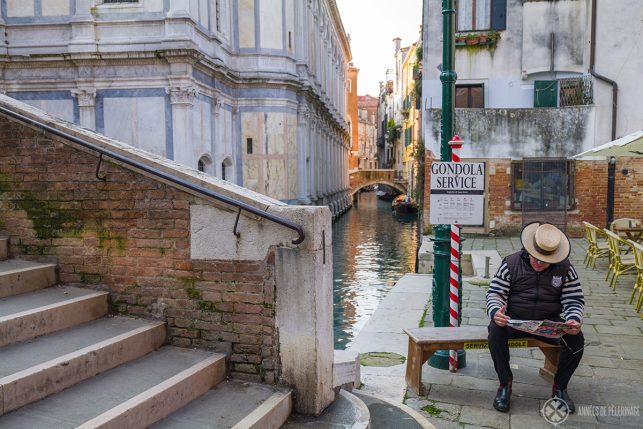 The best thing you can do is getting lost. I am dead serious! The smaller alleys and water channels are beyond beautiful. I have seen many guides directing you towards a certain bridge or photography spot in Venice and let me tell you: Don't follow that advice.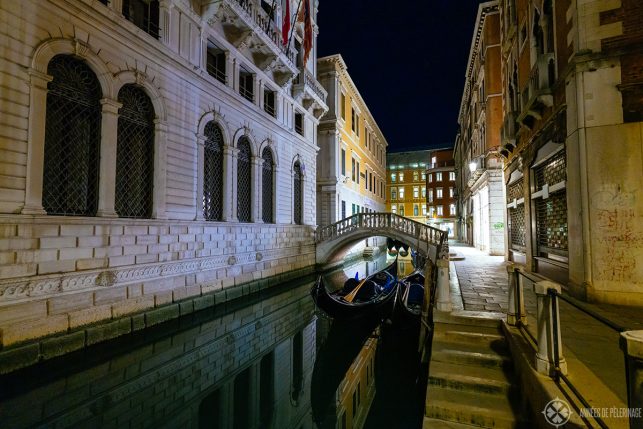 While you'll probably end up at an instagramable spot, you missed the whole point of your visit. I have yet to find a single little waterway or bridge that isn't pretty. So, instead of chasing around for one particular spot, use the grand canvas that is already there.
And make sure to think beyond the ordinary. Visit at night, visit the quarters where the locals still live, etc. That being said, the area between Rialto and the Teatro Fenice probably offers you the best area to find little bridges.
11. The promenade towards the Venetian Arsenal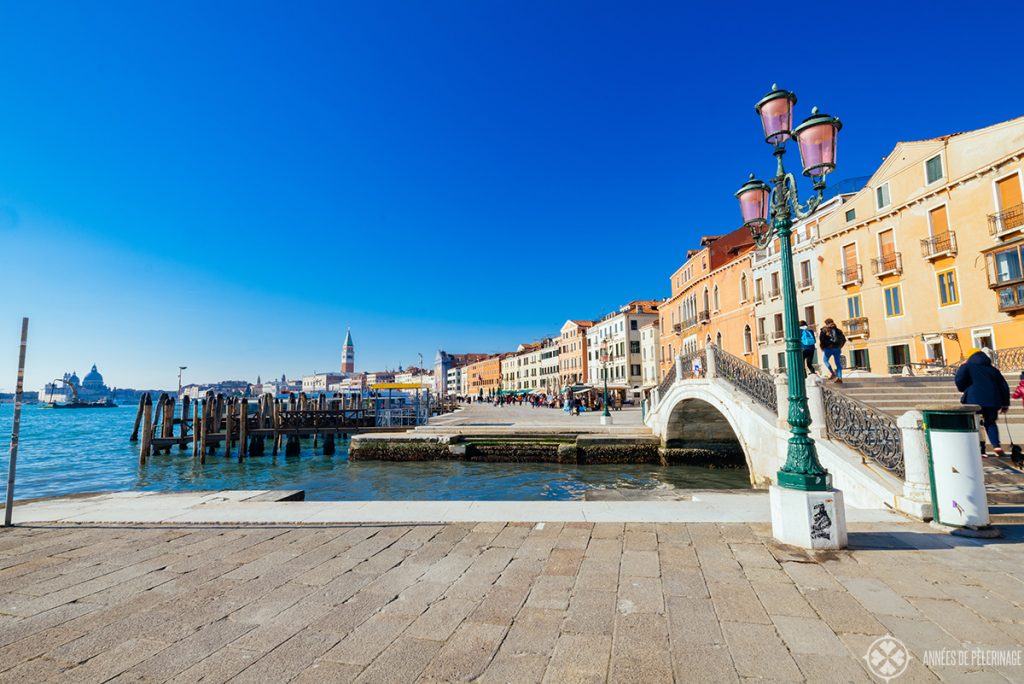 The typical tourist route takes you from the train station to St Mark's Square and back again. Don't! Instead, walk further along the waterfront towards the Venetian Arsenal. The views of the Doge's Palace & the tower are quite lovely and it's also a much quieter area.
On top of that, the Venetian Arsenal is quite beautiful itself! Actually, the whole area is incredibly beautiful and quite tranquil. It's certainly one of the lesser-visited photography locations in Venice, but definitely worth the detour. (Note: You cannot actually go inside the arsenal)
Best time to be here: Morning until noon
13. Visit Burano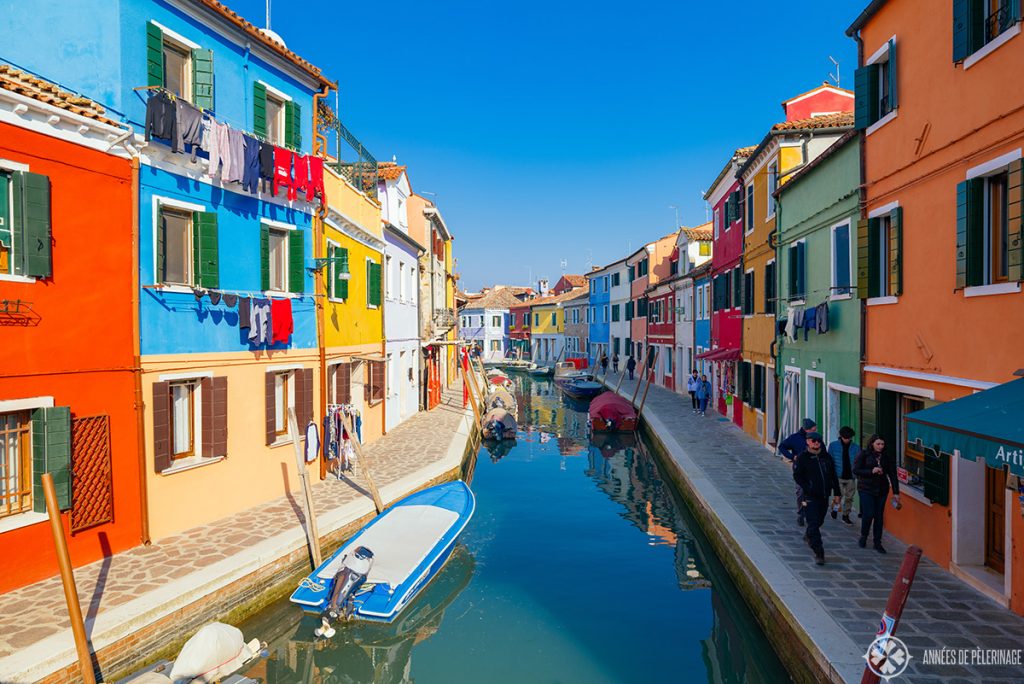 There are many beautiful islands in the Venetian lagoon. Murano, Torcello, Guidecca or Lido. But in terms of instagramability, probably nothing beats Burano. It takes about 45 minutes to get there with a waterbus, but it's totally worth it if you stay 2 days or longer.
It almost looks like a fairy-tale version of Venice. Everything is smaller and more colorful. It's quite a popular spot, so don't expect to be the only one here – especially in summer.
14. The Cimitero di San Michele
The best place to enjoy the sunset in Venice? Tough call! I love the way the setting sun is reflecting from the red brick walls of the Venice cemetery.
It's a very quiet place with hardly and tourists. And yet, you'll find some interesting photography spots here. There are no grand crypts or anything, but the cedar-lined pathways just ask for a girl in a flowing red dress, don't you think? (sadly, I am not. So, please excuse me for not twirling my skirt :P)
Please be aware that the San Michele Cemetery closes quite early. But you can still catch a late Vaporetto to Murano and enjoy a beautiful sunset from here.
Opening hours: 7:30 am – 4:30 am
Best time to be here: Late afternoon
15. The Bridge of Sighs
Last, but not least, I do have to mention the famous Bridge of Sighs. If you are wondering where to take pictures in Venice that every other tourist takes, then this is probably where you need to me.
I want to be honest with you. I don't particularly like this spot. The light is usually quite bad and you can basically just take pictures of gondolas crowding the small water channel. You can try to get artsy and take a picture through the grills of the bridge in front or behind it, but I personally am not convinced.
How to get there: You'll find it right behind the Doge's Palace if you follow the promenade further to the east
Best time to be here: noon or night
[Bonus] Venice Carnival (February)
For many photographers, February is actually the best time to visit Venice. The combination of the frequent early morning mist and the carnival create some excellent photo opportunities. Now, when you see pictures of the Carnival, it's usually golden masks on the St Mark's Square. This is precisely why I am sharing a picture of a different side of the Venice Carnival here.
It's a lovely time to visit Venice and I just want to point out that there are also many parades and parties – not just masked people on the main square ;-)
Other photography locations in Venice
Okay, that was quite some list! But there are actually quite a lot of other Instagram spots in Venice. In fact, the whole city is one and you can basically take a beautiful picture around every corner. It's probably the main reason why millions of tourists visit the Italian city each year.
Just go with the flow and don't fuss too much over finding another secret photography location in Venice. Shooting the same pictures everyone else does is kind of boring after all.
And above all – don't forget to inside! There are some amazing hotels in Venice with lobbies this side of heaven (like the one in Aman Venice). In my experience, you can easily take a picture of it as long as you don't enter the guest quarters.
Most of them have beautiful rooftop terraces and bars where you can actually enjoy dinner or a cocktail. Don't just rush through Venice and view it through your lens. Try to live dolce vita as well, eh?
Some practical tips for shooting in Venice
First of all, you will be walking quite a lot, so try to wear comfortable walking shoes. High heels are really not suitable for streets a couple of centuries-old (carry them in a bag, if you absolutely need them for the pictures). Read my Italy packing list for further details
Most of the alleys and water channels in Venice are incredibly narrow. This means the usual golden/blue hour rules are somewhat harder to apply. By the time the sun sets, most of the landmarks will be in a deep shadow. Mornings can be quite magical, though.
Also, you will probably need a wide-angle lens – especially if you go inside or want to take a picture in one of the narrower areas. Not sure you really need a telephoto lens. The few times I took one I ended up carrying it around the city the whole days and using it twice.
It's probably quite impossible to cover all the photography spots in Venice that I mentioned in one day. To move around faster, you can and should use the Vaporetto. Save some money and buy a day ticket (20€) as a single ride is already 7.50€.
Please also consider that Venice is very crowded. People will constantly bump into you, etc. Be aware of pick-pocketers but also secure your gear in a way it is not damaged by a stranger with a big backpack who decides to turn around in the worst possible moment.
Further reads:
Okay. That's was my guide to the best photo spots in Venice. Feel free to comment below with your questions.