A detailed list of everything you need to pack for Machu Picchu, including an Inca trail packing list.
So you decided to see Machu Picchu and possibly even hike the famous Inca Trail. Great! You will not regret it! You got your tickets, the itinerary is all set, but now you are facing the all important question "What to pack for Machu Picchu?". Hidden high up in the Andean mountain range, the ancient Inca ruins offer picture perfect vistas and certainly an outstanding experience, but the lost citadel also puts quite a strain on your packing list, especially if you plan to hike the Inca trail or the Salcantay trek.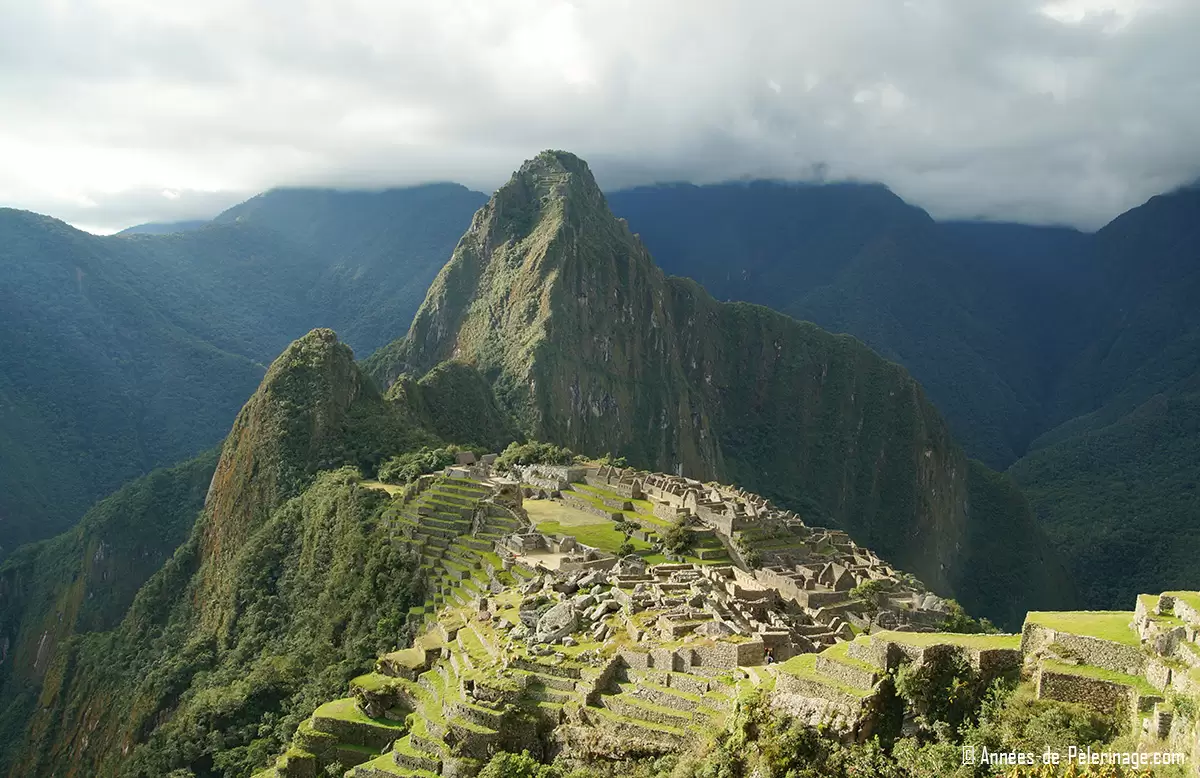 I split this list into three parts: First I'll cover everything you need to bring for Machu Picchu (because no matter if you arrive by train or on foot, you'll need these items). Then I'll cover all the special items you will need to pack for the Inca Trail. And last, but not least I got quite a big section on things not put on your Machu Picchu packing list – either because they are forbidden or because you won't need them. So here is your Machu Picchu packing list.
Note: I get commissions for purchases made through links in this post. I do not recommend products I have not reviewed thoroughly myself.
__________________
Ready for Machu Picchu? Check out my ultimate insider guide to Machu Picchu
What to pack for Machu Picchu itself
1. The best shoes for Machu Picchu
Hiking boots vs shoes for Machu Picchu? The ancient Inca citadel is located on a very high and steep mountain ridge and maybe you are wondering what shoes to bring. While there are graveled pathways throughout the ruins, you will have to do some climbing. There are a lot of stairs, some uneven terrain and also quite a view inclines. If you just want to walk through the ruins itself, pick something comfortable; trainers will be okay as well. If you plan to hike Huayna Picchu (read my guide here), Huchuy Picchu or Machu Mountain, I'd pick some good mountain trainers.
I am using the  Adidas Outdoor Men's Terrex Swift R GTX Hiking Shoe (see picture above; This is the version for women). They are excellent for terrain like this. I wouldn't wear them in any alpine circumstances, but they are perfect for low to medium challenging terrain and shorter treks. Mountain boots are not needed, as far as I am concerned. They will just slow you down. Just think about it – essentially you are still walking through a city. Hope that answered all your questions about what shoes to bring to Machu Picchu.
2. Fast-drying, breathable shirt or t-shirt
Machu Picchu is known for its high humidity (up to 70 percent in winter and around 50 percent in summer) and considerably high temperatures. Prepare to sweat a bit. A good fast-drying hiking shirt will be your best friend. Other than that, I avoided compiling a full-fledged Machu Picchu clothing list. Just pick something comfortable and you will be fine. Dress smartly, as you might be sharing a picture or to with your relatives and friends at home.
3. Light-weighted rain jacket
Rains occur often in Machu Picchu; Having a rain jacket or poncho along could save your day. Street vendors might sell plastic ponchos at the entrance for those in need. If you come in winter (November through March) this is especially important and actually a must-item on your Machu Picchu packing list. I am using this poncho. You could take a plastic one as well, but I like to invest into re-usable items.
If you are looking for a really good, reasonably cheap water-proof rain jacket, I can recommend this one from Columbia. I have taken this jacket to about every single country I visited in the past 2 years and it did not fail me once.
4. Power adapter & step-down converter
If you are visiting Machu Picchu & Peru, you really should bring Power adapter (this is the one I use). Standard US/Europe sockets won't work. I recommend buying an international one you can use on your next trip. You obviously don't need the power adapter in Machu Picchu itself, but as you will want to charge your camera/mobile phone before and after your visit, it surely is an essential item for your whole trip.
Important: If your gadgets can't handle a voltage of 220 you have to bring a step-down converter. If you just want to charge a mobile or a camera battery, this step-down converter will be more than fine for you.
You could also opt to get a combination of power adapter and step down converter. I have been very satisfied with the BESTEK gear (they also offer special gear for the car). They got a very good Universal Travel Adapter 220V to 110V Voltage Converter that comes with USB ports and whatever else you may fancy. It's a wee bit more expensive, but in my opinion, a great investment if you are traveling with a lot of electronics.
5. Bug repellant
There is a nasty kind of gnats inside Machu Picchu; especially along the Camino Inca but also everywhere close to the forests; best come prepared. The Sawyer Premium Insect Repellent with 20% Picaridin is pretty neat as it's not DEET but Picaridin (which is more effective). It's not all natural, though – but big as those gnats are, I'd rather not take bets.
6. Sun blocker
Luckily there is a lot of the sunshine inside Machu Picchu (up to 250 hours per month in July); To avoid a nasty sunburn (especially at these high altitudes) sun lotion will help you a lot. I use Neutrogena with high SPF as I got fair skin.
7. Water canteen (1 liter per person)
There are no vending machines, restaurants, etc. within Machu Picchu. Do bring a water canteen (So something like this). 1 liter per person will me enough if you just plan to tour the ruins; more if you plan to go hiking.
8. Small snack (energy bar or similar)
Strictly speaking, food is not allowed within Machu Picchu. Still, do bring a small snack like a protein bar or a cereal bar. Just absolutely make sure to take your garbage back out with you.
9. Photo gear (camera, wide angle lens)
Machu Picchu is one of the few popular bucket list spots on this planet that delivers fully on its promise. Taking along proper photo gear will pay off a million. A wide angle lens will be your best friend. There are quite marvelous plants in the jungle around Machu Picchu (though not as easily accessible), so macro equipment is optional. Just in case you were wondering which camera I am currently using: I love the Sony A7 II
I've been using Sony for a long time now (8 years or so). Everybody says Canon is the best, but I disagree. As a traveler I do not want to carry around heavy equipment, so the full-frame mirrorless technology really is the way to go for me.
10. Small day pack
To store all your belongings, bring a little day pack. Preferably something waterproof or water repellant, depending on the season you are visiting. I am using the Lowepro Photo Sport 300 AW (check it out here) and am super satisfied with it, as all my electronics and a few spare clothes fit in (when necessary).
I also got a totally waterproof alternative one from Lundhags (that's the red one you see in the picture above) – if my itinerary asks for it (like visiting the Amazon Rainforest or places with a very high chance of rain). Don't get something too big, as there is the feared Machu Picchu backpack size limit is a real thing.
11. Your Passport (very important)
On a trip abroad, it is quite important to have your passport along wherever you go (remember to keep copies somewhere else, as well). But to enter Machu Picchu, you will actually need it. You won't be able to get in without your passport. There are strict limits on how many people are allowed to enter each day, and your tickets are only valid in combination with a valid passport. And ID is not enough for foreigners.
Last but not least: There is no need to over-pack for Machu Picchu itself. Most items you will find on the list above will be needed for the rest of Peru as well. Cusco is way higher than the sanctuary, and almost all other Inca ruins in Peru are harder to tour (though Machu Picchu is one of the hardest to reach).
Maybe remember to dress smartly on the day you visit Machu Picchu. Those pictures will hopefully last a lifetime. You will not regret looking neat on them.
_______________________
Not sure where to sleep yet? Here's my article on the best hotels in Machu Picchu for any budget. 
Inca trail packing list
There are many different trail options into Machu Picchu. The Salkantay Trek and the Inca Trail are probably the most famous. They all roughly share the same terrain and difficulty rating, and they all put almost the same demands on your gear. Here is what you will need ONTOP of the items I already mentioned.
Important: Remember to check if your tour is self-supported or with a porter and pack accordingly. Most classic Inca Trail tours take porters along, but you will want your basic necessities in a daypack as the porters usually don't walk with you.
1. Proper Hiking Attire
I already mentioned the essentials above: A  couple of fast drying t-shirts, one long shirt, a light weighted jacket. For the Inca trail, I recommend long pants – as there are gnats and it's generally speaking better if you should stumble. Loving the Lundhags Baalka Pants they are also available as a short version. Why do I love them, cuz they are quite plain looking, but extremely durable, yet flexible and dry incredibly fast. If you click a little bit through my blog, you will see me wearing them in different versions on half of the pictures *lol*.
As you won't be staying in a hotel at night, it pays off to bring a jumper/shawl/sweater for the evening & night. Just think in layers. The temperatures will vary quite a bit during the day, due to the fact that you will be facing some particularly strenuous hikes or might be sitting around the campsite while it rains.
2. Good footwear
It goes without saying that the most important item on any trek is your footwear. The Inca Trail is, like the name already says, a fairly developed trail. Back in the days, these were used by messengers, emissaries and to transport goods. So you actually don't need heavy hiking boots.
Personally speaking, I'd pick some light mountain trainers. The above-mentioned adidas Terrex Swift R GTX will do the job quite excellent and might just be the best shoes for the Inca Trail. Dragging around too heavy boots at such high altitudes can be a pain in the ass, and it is actually not needed. During the rain season, you will want to have something with an excellent grip on slick stones.
If you are doing one of the many alternative treks into Machu Picchu, you will need proper, high-ankled boots, as you will usually go off the beaten paths. I can personally recommend the Lowa Renegade GTX Mid Hiking Boots. They are super light weighted and have a very comfortable collar. They are also water resistant, which is very important on the Inca trail (even during Peru's dry season, when it can still rain).
Important: Remember to break your footwear in properly. There is nothing worse than blisters on your first day and 4 more to go! Also consider shopping for special hiking socks, as they are probably the best way to avoid blisters.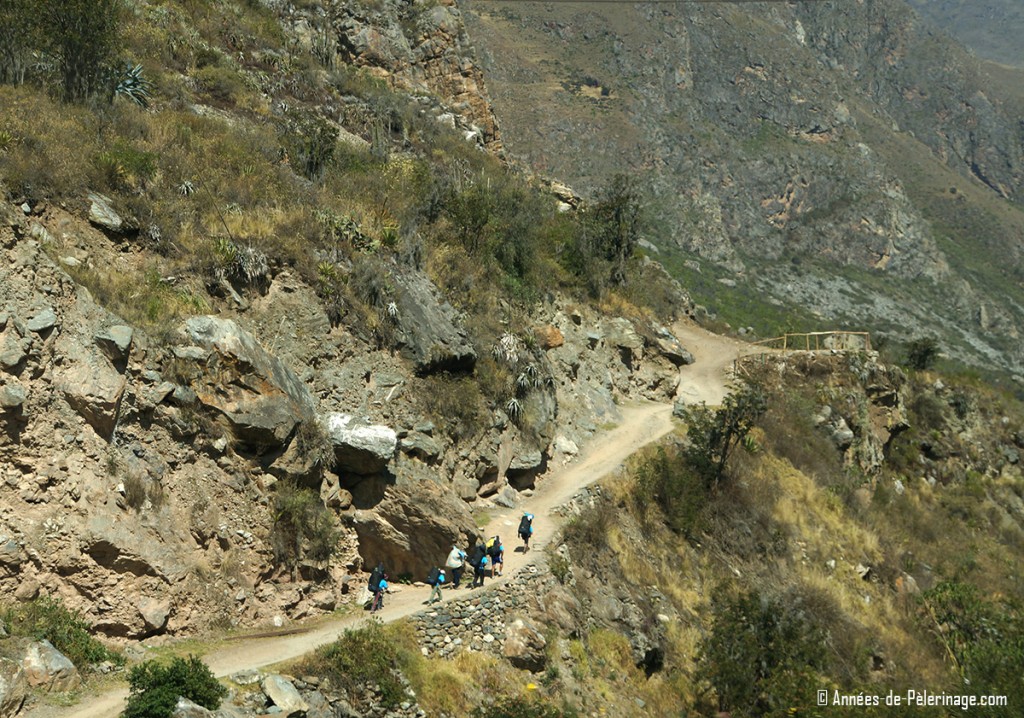 3. A cozy sleeping bag
The second most important item on the Inca Trail is probably a good sleeping bag. Without a good night's rest, the strains of the upcoming days will feel like a burden you are not fit to carry. I recommend you to pick a four-season sleeping bag for Peru, as the temperatures & humidity as you will essentially pass into two a different climate zone from Cusco to Machu Picchu (alpine & mountain rain forest). Unlike the days, the nights aren't too warm either.


The Hyke & Byke Snowmass 0 Degree might just be the currently best available sleeping bag for the Inca trail. It's ultra warm, extremely light weighted (actually there I am not aware there is a lighter one in this price category) and comes in 4 different colors. Check it out here.
Pick one in mummy form, as they are warmer, and you will need some warmth during the cold nights. Tents are provided by your tour operator, so you don't need to bring these. If you rent the sleeping bag, you might consider bringing a sleeping back liner.
3. Toiletries
You are going on a multi-day trek and not a luxury cruise. Still, you will want to bring some basic toiletries to make your hike more pleasant.
toothbrush & toothpaste
sun blocker
deodorant
soap
toilet paper
moist wipes (for basic cleaning without a shower!)
4. Sandals/ Flip Flops
Now you are probably thinking, Norman, you are insane! Why recommend flip flops on a trek? But bear with me. First of all, you will want to have some shoes to relax in around the camp. Depending on the length of your trek, you will have the opportunity to shower (check with your tour operator) and I don't feel all the comfortable going into a communal shower bare footed.
5. Poncho & Waterproof bag
I already mentioned a light weighted jacket above. But for the Inca Trail, I recommend you to bring a proper poncho. It can rain quite heavily and a normal jacket will not cover you the way a poncho does. Here is the one I am using.
As it can rain, it's always good to have one of these waterproof bags (click to see more) along, to store your electronics and important documents. I am using these and you'll drown before they leak in water.
6. Flashlight
No matter if you need to see the toilet at night or just want to find your way back to your tent after dinner, a flashlight is a must on the Inca Trail. No need to overdo, as you won't be actually hiking at night. I am currently using this flashlight.
I also have a headlamp, but these will be more expensive and probably not needed here. The Petzl – ACTIK Headlamp, 300 Lumens, Multi-Beam will give you a lot of bang for your buck, while still being affordable even if you don't plan to spend the next 10 years hiking at night.
7. Spare Batteries / Power Block
Just like the rest of Peru, the Inca Trail is beautiful beyond belief and you will want to take quite a couple of pictures on the way to Machu Picchu. Bringing spare batteries is a very smart idea. You could also bring a power block for your cellular.
If you are planning to do more trekking in the months and years ahead, you might want to invest in a small solar panel. This is the one I bought (from Aukey). It might not be all that cheap, but you can easily attach it to the top of your backpack or your tent and charge whatever device you want.
8. Blister Plasters
No matter how hard you try, sometimes blisters cannot be avoided, especially at high humidity. Personally speaking, I always carry Compede Blister Plasters with me – no matter where I go. These gel pads make you forget, your blisters ever existed. Just remember to attach them as soon as you notice them, else the healing process will take forever.
9. Walking Sticks
I grew up high up in the Alps and my partner always tells me I must have been a mountain goat in one of my former lives. For me, walking sticks are only needed on very challenging hikes, and for me, the standard Inca Trail is neither extremely challenging not particularly high.
That being said, I know a lot of people with less of a mountaineering history dream of walking into Machu Picchu. For those, I strongly recommend bringing walking sticks. They are excellent to keep a good balance and keep a lot of strain from your joints.
10. A sun hat & sunglasses
As the sun can be pretty intense above Machu Picchu and beyond, having some sun protection for your head along is a smart idea. I wouldn't say this is an essential item, but I am aware that most people feel more comfortable with one.
Sunglasses, however, you will absolutely need. On the standard Inca Trail, normal sunglasses will suffice, as most of the trek is not above 4.000 meters of altitude. Proper mountaineering sunglasses might still be a smart investment if you are planning to do further treks around Peru.
Further things to pack for the Inca Trail (non-essentials)
Depending on your personal fitness and your personal preferences, you might want to bring the following. Again: Remember that you actually have to carry these things around
Trekking towel (for the shower; I am very satisfied with these here)
Lightweight gloves (for the night & early morning)
Inflatable pillow (for the night; pick something like this ultralight pillow)
What NOT to put on your Machu Picchu packing list!
Machu Picchu is a place of many wonders, but regardless of what you might think, it's not that high up in the mountains. It is also a UNESCO World Heritage site. So some items are not allowed to take in, others you won't need.
1. Patches/pills against altitude sickness
Machu Picchu is only 2,400 meters above sea level. Altitude sickness will not be a problem. For a detailed analysis of Machu Picchu's altitude (compared to the rest of Peru), check out this article.
2. Walking sticks
They are not allowed in Machu Picchu. If you are handicapped, do contact the authorities before your visit and ask them about your options. Even then, only rubber tips are allowed! High heels and hard soled shoes are prohibited as well, by the way.
Note: Walking sticks are allowed on the Inca Trail. Here you should actually bring them.
3. Tripods for your camera
These are officially forbidden (starting from July 1st, 2017). Small travel tripods might be still possible to use if they have rubber tips. But I cannot guarantee it.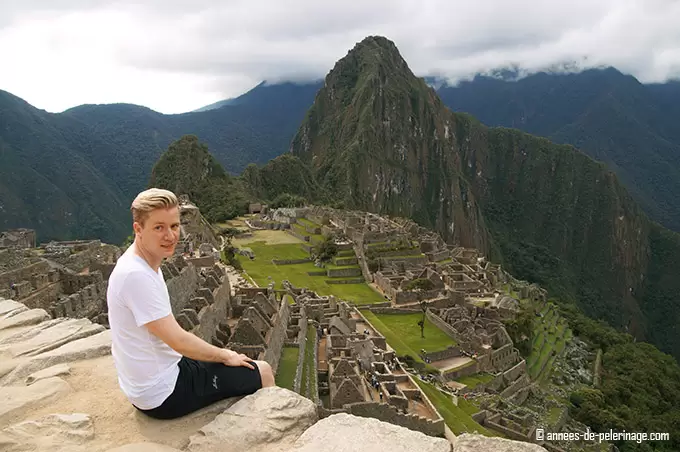 4. Food & drinks
Food and drinks are not allowed within Machu Picchu; especially anything disposable. Obviously, they want to keep the ruins as pristine as they are and I really feel you should respect that. Your tickets entitle you to leave the ruins once. There is a posh restaurant a buffet and a snack bar at the entrance.
5. Big backpacks (above 20 liters):
In Machu Picchu, there is a backpack size limit of 20 liters. Everything bigger that 40 x 35 x 20 cm is not allowed within the Inca ruins.  There are locker rooms in front of the entrance. From a safety point of view, it's also smart to leave them there, as the pathways are narrow & steep.
6. Children's Strollers / Prams
Sorry, parents. If you plan to visit Machu Picchu with babies, you will have to get a strap-on baby carrier or similar.
7. Warm clothes
Machu Picchu is located within a tropical mountain jungle. It will be hot and humid, even in winter; a lightweight jacket and a shirt will be all you need (see above). It will be cold at night during the dry season (actually almost close to the freezing point)!
There is a place to store excess luggage at the entrance; So backpackers are allowed to leave their packs at the entrance, or anything else you are not allowed to bring in. There are also two restaurants and a little food stall in the immediate vicinity – for those who are hungry. There is also a toilet (the only one!!!), so make sure to plan ahead.
The weather in Machu Picchu
Last, but certainly not least, it is important to consider the weather. There is a dry season and a rainy season. Wondering what to pack for Machu Picchu in May, June, July or August? Well, my answer would be quite different if you were visiting in February.
Machu Picchu dry season: May – August (0-5 days of rain per month)
Machu Picchu rainy season: October – March (15- 25 days of rain)
Transition months: April + September (6-10 days of rain)
Otherwise, the climate is fairly stable throughout the year, with temperatures averaging around 25 °C during the day and 10 to 5° C at night. If you are looking for a more detailed analysis, here's my full guide on Machu Picchu's weather.
Phew! That was my Machu Picchu packing list. I hope I was able to cover every last item you could possibly need for visiting the lost citadel & the Inca trail. If you are unsure about a special item, feel free to ask me in the comments below.