A detailed analysis of the different elevation levels within the Inca ruins & how to prevent altitude sickness in Machu Picchu.
If you have ever seen a picture of Machu Picchu, then you probably know that the famous Inca ruins are located within a very mountainous region. But the first impression might be a bit deceiving. Machu Picchu's elevation is only 2,430 meters – by Peruvian standards that are almost the lowlands. Still, many tourists worry about altitude sickness in Machu Picchu before planning their visit. The uneven terrain and the hiking passages are also a point of concern. Obviously, there's also the issue of what to pack for Machu Picchu (make sure to read my guide), as most people fear of not being prepared for the mountainous terrain.
But let's take one step at a time. First of all, you shouldn't think of Machu Picchu as one geographically distinct point on the map with a certain altitude. Most travelers will start in Cusco, take the train to Aguas Calientes (the Vistadome offers the best view), then the bus up to Machu Picchu, and maybe even hike up to Huayna Picchu.
Other tourists decide to take the Inca trail (or Salkantay Trek) and follow the Urubamba River into the Lost City of the Incas famous Hiram Bingham brought to public notice in 1911. You will thus face various levels of altitude throughout your trip! Here's an overview:
Machu Picchu altitude: 2,430 meters (7,970 feet)
Huayna Picchu altitude: 2,693 (8,835 feet)
Machu Mountain altitude: 3,082 meters (10,111 feet)
Intipunku altitude: 2,720 meters (8,924 feet)
Aguas Calientes altitude: 2,050 meters (6,690 feet)
Ollantaytambo altitude: 2,792 m (9,160 ft)
Cusco altitude: 3,400 meters (11,200 feet)
Classic Inca trail, highest elevation: 4,215 meters (13,828 feet)
As you can see, Machu Picchu itself isn't all that high compared to the rest. The Inca ruins and the surrounding terrain are, however, extremely steep. You will be facing almost vertical drops on all sides. People with vertigo will have problems touring the ruins. Also, any numbers given for the altitude of Machu Picchu are a bit misleading, as the mountain ridge is far from even.
The Guardian's hut (where the classical panorama is taken), is considerably higher than the temple of the condors. Many ancient stairs and dirt paths connect the different regions, but all in all, it's still a difference of height of approximately 70 meters – even if you just stick to the classic round tour through Machu Picchu!
Then there is the mountain behind Machu Picchu. It is called Huayna Picchu and 2,693 meters high. Huayna Picchu is thus 260 meters higher than the ruins of Machu Picchu. The trek is very hard, often called "The stairs of death". If you want to know more about it, read my guide to climbing Huayna Picchu. As an alternative, there is also Machu Mountain, which is higher yet (altitude of 3,083 meters) but equally as demanding. There are, however, no visible remains of the Inca empire to be seen at its top.
Will altitude sickness be an issue?
Regardless of what most tourist to Peru might fear, altitude sickness (sometimes wrongly called Mountain sickness) will be NO problem within in Machu Picchu. If you are coming from a place with a very low elevation (like from the coast), you will probably notice the difference in altitude, possibly some light nausea & shortness of breath. Walking through the remains of the Inca civilization might be a tad more difficult at such a high altitude for you as well.
True altitude sickness, meaning severe headaches, stomach illness, dizziness, sleep disturbance, and sometimes even nose bleeding, is very unlikely to occur. These usually start to occur at altitudes beyond 3,500 meters. Going beyond 5,000 meters of altitude, Altitude Cerebral Edema (HACE) and High Altitude Pulmonary Edema (HAPE) can easily threaten your life.
On the Inca Trail, altitude sickness can be a true problem, though. The highest point of the Inca trail is at 4,215 meters (13,828 feet). The best idea is to start the altitude acclimatization process very early. Spent a couple of days in a lower region of Peru or just relax a day or two in Ollantaytambo and the Sacred Valley. Other than that, there are various medications against altitude sickness, but taking it slowly is the best (and cheapest) medicine. Your body needs some time to acclimatize after arriving.
Caveat: The older (and less fit) you are, the harder it will be for your body to adjust to the higher altitudes. Only a couple of years ago, a British tourist died at age 68 in Machu Picchu. He suffered a fatal heart attacked, caused by the high altitude. But do not be scared – with good preparation people of all ages can easily see Machu Picchu!
Why does altitude sickness occur?
Altitude sickness is caused by a lack of oxygen in your blood. At sea level, there is a barometric pressure of around 1070,1 hPa (Hectopascal), which an oxygen saturation of about 21 percent in the air. The higher you go, the lower the barometric pressure gets and the more problems you will face breathing in enough oxygen to supply your vital organs. Cusco's altitude is 3,400 meters, and at this altitude, the barometric pressure is reduced to about 646,5 hPa.
Contrary to what you might think, this will have almost no effect on the total oxygen saturation in the air. It will still be roughly at 21 Percent. Instead, the lower pressure so high above sea level means that the same amount of air will need more room (click for a more scientific explanation). Think of it as a gas container. The gas container is also under high pressure. If you were to crack it open (meaning you suddenly lower the pressure; which you absolutely should not!!!), there would still be the same amount of gas available, it would just fill a way larger volume (meaning the air around you).
The same happens if you climb to higher altitudes. Suddenly 1000 air-molecules (with its 21 percent of oxygen) fill twice the volume. At the same time, the volume of air you can breathe in with each breath stays the same. So, in Cusco, each breath you take, delivers 35 Percent less Oxygen into your body than in Lima (which is located on the coast). The air is literally thinner.
(Note: As it is colder at higher altitudes, the effect is not as extreme, as cold gas needs less volume)
Machu Picchu altitude sickness: Precautions & Acclimatisation
I am no doctor. The information I am sharing here is strictly for informational purposes. If treatment is needed, please consult a doctor! Still, here are 10 commonly accepted rules that will really help you to prevent altitude sickness in Machu Picchu & the whole Andean mountain range.
Take deep breaths to get in as much air as possible.
Drinking a lot of water is recommended. Why? Because you will breathe way more frequently and thus lose more water through breathing.
Take Chlorophyl drops to keep your hemoglobin levels up. Diamox (Acetazolamide) is also quite popular to treat altitude sickness
Don't drink any alcohol or take any drugs, as most of them are respiratory depressants and thus slow the acclimatization process. Alcohol also tends to cause dehydration. Smoking is also not advised in the first few days.
Don't overexert yourself – walk slowly and rather use the opportunity to take another picture of the outstanding views around you.
Consider taking Acetazolamide (Diamox) as a preventative medication (do consult your doctor!).
Locals offer Coca tea or Coca leaves as a traditional means to fight altitude sickness. The teas are available in most hotels, but also on the train to Machu Picchu.
Don't move too rapidly to higher altitudes. No more than 500-700 meters of altitude per day is recommended.
Once you show mild symptoms of altitude sickness, do not move to higher regions before these are gone, or even consider going back to a lower region depending on the severity.
Book hotels at one of the 5-star hotels in Cusco (like the amazing Belmond Palacio Nazarenas); They enrich the room atmosphere with oxygen. The Belmond Sanctuary Lodge (actually the best hotel in Machu Picchu!) right at the gates also has an oxygen station.
What type of shoes will I need?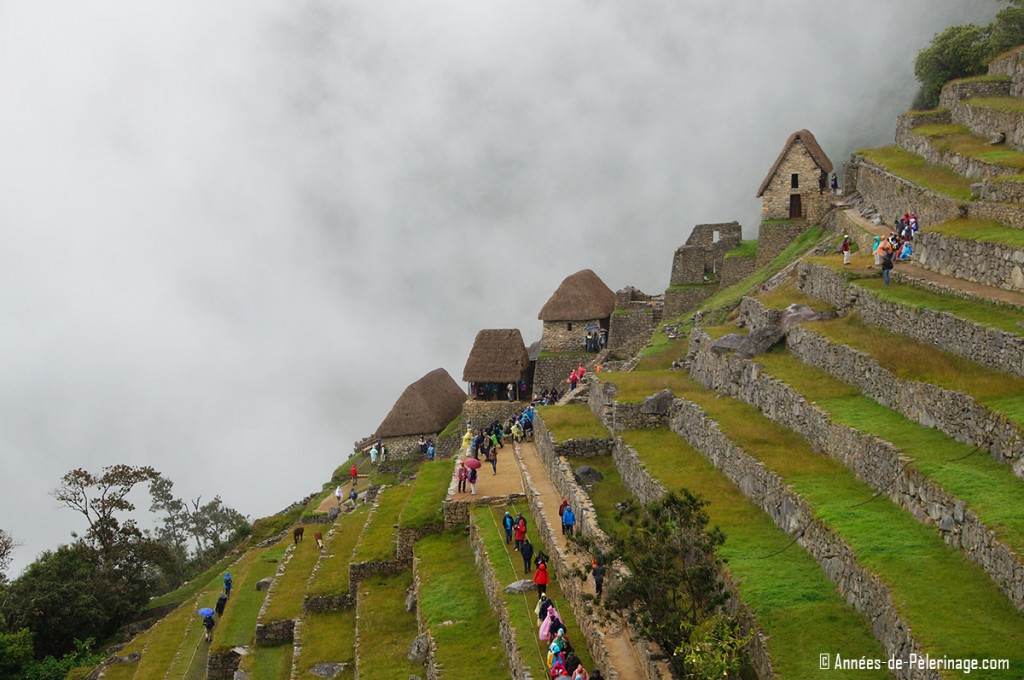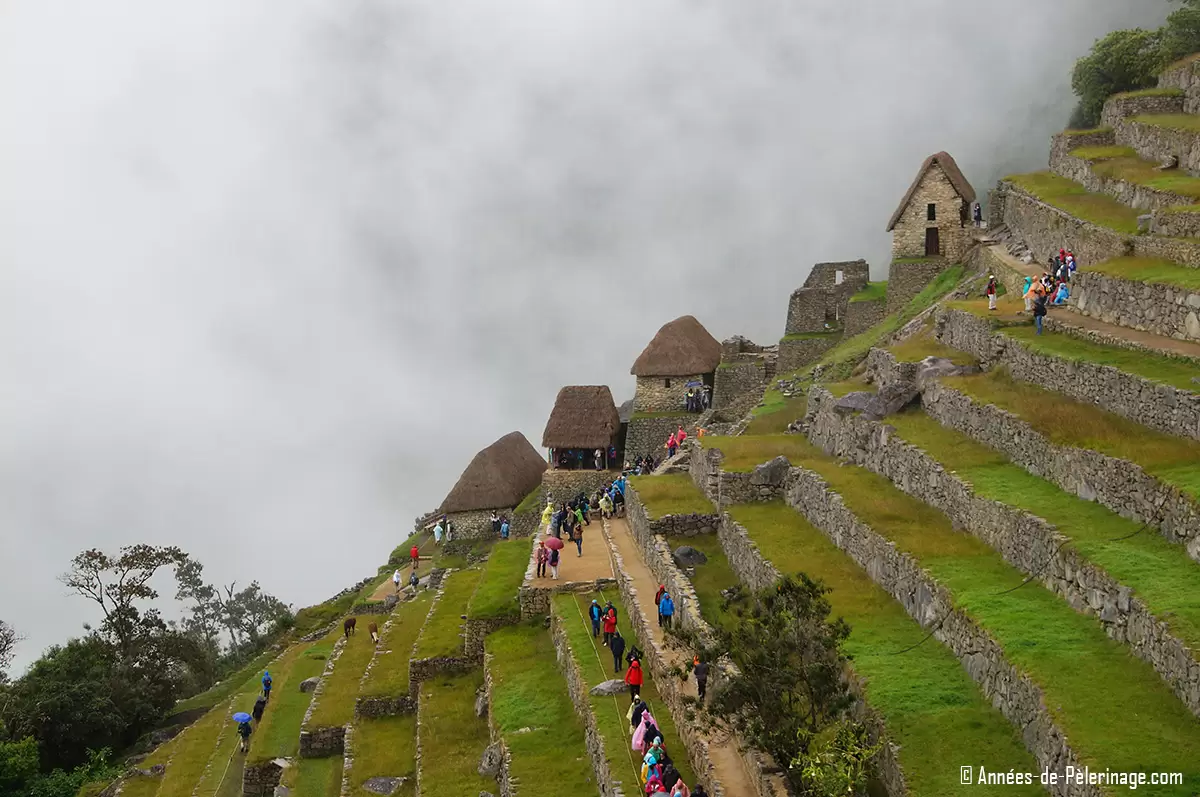 The terrain inside Machu Picchu is very rough, with a lot of crude stairs. Only the very first few meters or the archaeological excavation are actually paved, with a lot of terraces (see picture above). As long as you don't plan to hike Huayna Picchu or the Inca trail, very comfortable walking shoes are sufficient. I am using the Adidas Terrex Swift and am very satisfied with them.
For people taking the Inca Trail or hiking up to Huayna Picchu / Machu Mountain, standard hiking shoes are recommended. Ideally, you will need something to stabilize your ankles. Not only because of the higher elevation, but also as the paths are far cruder. During the rainy season, they will be also quite slippery.
Important note: Walking sticks are prohibited inside Machu Picchu for anything but the elderly. Handicapped people should contact the authorities in advance.
Further information on Machu Picchu
This article on Machu Picchu altitude might only be the start of planning your perfect trip to the famous Inca Citadel. Here are a couple of my articles on Machu Picchu & beyond:
Free Cusco itinerary
Save yourself time and money: Subscribe my newsletter & get a detailed itinerary for Cusco straight into your mail box.