Are you dreaming of a trip to Bhutan? Then you have certainly come across the name Aman. The most exclusive luxury hotel brand in the world runs a total of five lodges in the Buddhist kingdom named "Amankora". They pride themselves on offering probably the deepest cultural immersion and the highest standard in the country.
Among fans of the hotel brand, commonly referred to as #amanjunkies, the Amankora hotels are probably the ultimate holy grail. But why is Aman Bhutan so special? I did a grand tour of all five lodges in October 2019 and saw all the top tourist attractions in Bhutan. It was quite a fantastic journey and I guess it's about time I share my impression with you.
There is little not to love about the Aman Bhutan hotels. But with the hefty price tag (~1600 USD per room and night) comes a certain expectation. In this Amankora review, I'll take a detailed look at the different lodges, the tour, and the general service. Just like in my other Aman hotel reviews, I'll try to show you the high- and the lowlight of my journey.
But let's start with my little Amankora review, shall we?
Note: I traveled to Bhutan via Abu Dhabi on Etihad business class. Check out this guide if you want to see the other options to get to Bhutan.
My Amankora Bhutan review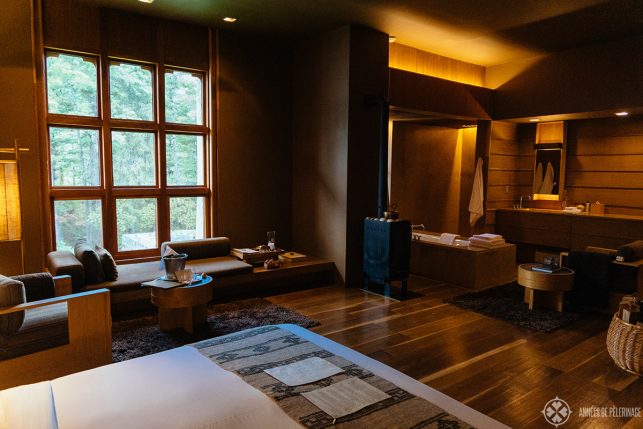 Before we take a closer look at the individual lodges, I feel it is important to address a couple of more general things concerning Aman's Bhutan presence. First of all, Amankora could best be translated with 'peaceful pilgrimage' (aman means 'peace' in Sanskrit and kora 'circular pilgrimage' in Dzongkha). And this already hints at the most important difference compared to other Aman hotels: You are actually booking a full guided tour and not a single hotel room.
The thing is: You can't even visit Bhutan without a guide and all tourists have to spend at least 250 USD per day and person. Now, Aman might inflate that rate a tiny bit, but you sure get a lot of value for it. Each traveling group will get a luxury car (jeep or bus depending on the size), a dedicated driver and a dedicated guide. Both of them will accompany you throughout your whole itinerary.
Together with the booking assistants, you get to customize your itinerary the way you like. While Aman certainly can do all the organization for you, you got the option to personalize it further. For example, you could put an emphasis on festivals and cultural activities or on hiking/trekking. I experienced the whole process as very smooth and everyone responding extremely fast.
You should also know that all 5 lodges share the same basic room layout and design. Your room in Paro will look almost exactly like the one in Bumthang or Gangtey. In a way, this sounds a bit like a letdown, but when you are changing accommodation so often it also has its advantages. It almost feels like you are sleeping in the same room for your whole journey (plus you'll know where things are right away).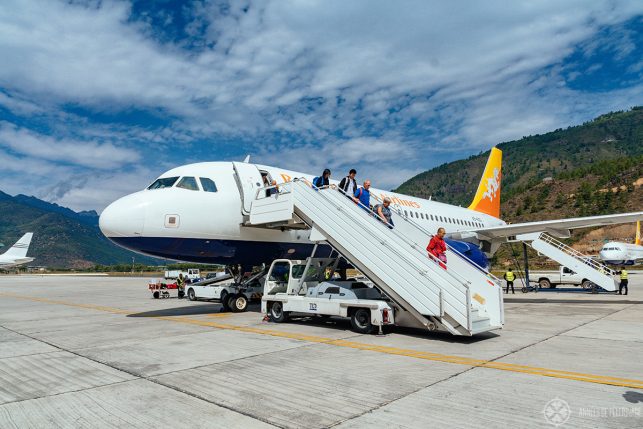 The last thing I do have to mention is that the Aman Bhutan team will book your business class flights to Bhutan for you and apply for the mandatory visa. There will be an extra charge for the flights, though.
In essence, you have to think of Amankora more of booking a tour, and not a hotel room.
Now, let's take a quick look at the five lodges. I will write a more detailed review of the individual Amankoras later, so I'll keep things as brief as possible.
Amankora Paro
Amankora Paro is both the oldest and biggest lodge Aman operates in Bhutan. No wonder, most people will want to see the famous Tiger's Nest and this is probably where the highest demand is.
The location of Amankora Paro is just awe-inspiring. All the individual villas are nestled under a dense pine forest. From the lobby, you will get to see the now restored Drukgyel Dzong and even Jomolhari (the second highest peak in Bhutan).
One thing you should get used to quite quickly is the communal dining room. I'm sure the concept sounded quite lovely 15 years ago when nobody even had Bhutan on the map and those few early adventures wanted to share their thoughts at the dinner table. These days, it is just one big noisy hall where people wish for more privacy. I heard they are planning a new restaurant, though.
I also have to mention, however, that the quality of the food was the best of all five lodges. I didn't have a single dish I didn't like – both for breakfast and dinner. I didn't particularly like the idea of an Indian menu on my second night and really didn't understand why they didn't stick to Bhutanese fare – but maybe that's just me.
You will find your rooms in the pine grove behind the lobby. Each villa has 4 rooms – the rooms on the ground floor got access to a little terrace on the backside. I sort of missed a nice view of the surroundings, but on a more positive note, the many individual separate buildings kept things really quiet and peaceful.
Amankora Paro is also one of only two lodges with a dedicated spa building. I have to say I had mixed feelings about it, though. I had two massages there during my stay in Paro and really enjoyed both of them. It was a nice, well-rounded treatment with nice personal touches. The building itself needs some soft lighting, and I'm really missing a nice relaxation room where guests can enjoy warm tea or cider afterward!
Amankora Thimphu
Amankora Thimphu was actually the first lodge in my itinerary and I have to say that I was quite impressed. Now, some people might miss a beautiful view. The lodge is, more or less, facing inwards, not outwards. There are walls on all sides facing a central courtyard where a fire is lit every evening.
Some might say it's the least beautiful of the lodges, but I found the actual facilities were the best. I loved the huge dining room with its high vaulted ceiling. There was live music coming from the adjacent bar every for dinner and the service was just spotless.
Also, they had a fantastic cultural program each evening. One night there was this spectacular dance show that somewhat reminded me of Amankila in Bali. The other night they invited an actual Lama into the lodge who held a talk on Buddhism which was equally as amazing. I'd say Aman Thimphu offered the best such activities – at least during my stay.
It might be worth noting that the hotel is located directly next to the palace of the queen mother, so quite the prestigious place.
Amankora Bumthang
Amankora Bumthang was my least favorite lodge of the five. Let me explain why! First of all, the location is quite lovely, as it is sitting right next to the palace of the 2nd King of Bhutan. But the whole ensemble still didn't speak all that much to me.
Probably because they did have a huge communal dining room again that clearly was not meant to be used. Even when just for of us were sitting there it was way too cold and loud inside. That's why they are now serving dinner and breakfast in the bar, which is too small and loud for so many guests as well.
There is a tiny spa in Bumthang where I tried out the signature herbal compress. Let me tell you, I have almost never regretted booking a treatment as much as I did. The price tag (~260 USD) was quite high, but I feel you are getting some good hard product for it.
What I didn't get was time to finish my welcome tea, time for a short introduction or even questions how hard or soft I would like my massage. It was just 90 minutes of silence. In the end, I was more or less told to find my room by myself, as there were already 2 other guests waiting in front of my cabin. Great.
There were no cultural activities during the evening either, though the manager gladly lit the outdoor fireplace upon our request. I would like to highlight that the manager was both local and female. Which is rare for luxury hotels, but really shouldn't be! Either way, I feel it's nice that Aman tries to diversify its management and not send Europeans across the globe.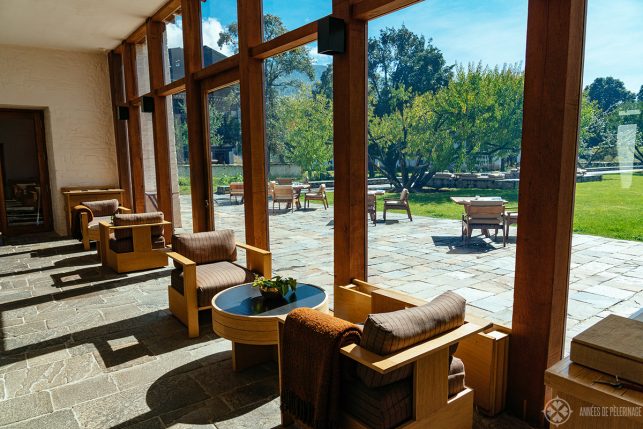 She also told us, that due to an upcoming festival, all the dance groups weren't available during our stay. Ah well. On a more positive note, we happened to see the rehearsals for said festival.
From a more objective point of view, the Bumthang lodge is still quite stellar. Quite big, but please do take my critic the way it is meant: As pointing out a few flaws in an otherwise well-rounded product.
Amankora Gangtey
The smallest of all five Aman Bhutan lodges might just be the most serene of the lot. There are only 8 rooms at Amankora Gangtey and it is just so quiet and beautiful.
Again you will find a communal dining and breakfast room but with so few guests I felt it was actually quite charming and not in the least loud or disturbing.
Sadly the weather was quite bad during our stay, so we didn't get to enjoy the terrace and the beautiful views all that much. But let me tell you: this spot is exquisite. You can see the whole Phobjikha valley and Gangtey Monastery right from your room.
During your stay, you absolutely have to book the traditional hot stone bath! Amankora Gangtey is working together with local farmers and they transformed traditional potato sheds into the most rustic spa treatment ever.
While soaking away in a herbal concoction, you'll be able to enjoy views of the valley. In addition, traditional butter lamps light your shed, and there are snacks and drinks. I didn't ever want to leave!
Amankora Punakha
All other lodges are above 2,000 meters of altitude – except Amankora Punakha. This is the reason why it's the only lodge that actually has a pool. It's simply too cold to go bathing in the other four places.
And speaking of it: The infinity pool at Aman Punakha is quite amazing. Weirdly enough it looked quite underwhelming on the website, but it's actually rather spectacular. Punakha valley is so extraordinarily beautiful and you see it all right from your sun lounger!
The Punakha lodge is also the only one that is located inside an old authentic Bhutanese mansion – at least partially so. This is quite a charming contrast.
Dinner, lunch, and breakfast are usually served outside. A hot fire, blankets, and warm water bottles keep you cozy at all times. But usually, the weather is warm enough so you can totally do without such amenities. Naturally, you can also eat inside, but the confines of the old house are maybe less inviting than the large open-air terrace.
All Aman Bhutan lodges do have an archery ground, but the one in Punakha was the most beautiful. So, definitely ask your guide to give it a shot or two here.
The car & the guides
Most of your time on your "kora" through Bhutan is spent in the car and together with your guides. Often, you leave quite early in the morning, maybe return for lunch and then come back for dinner. So, I'd like to show you what to expect in that area as well.
Both our guide and our driver spoke very good English and were beyond helpful the whole journey. It was their mission to create a seamless journey from the very start. Even at the airport, they memorized our pictures (from our passports) and they recognized it right away. Our luggage what whisked away by those "fairies" before we even realized we were through immigration.
Our guide was extremely well-versed in Bhutanese lore and could name even the most minute of detail on the tiniest mural. Quite impressive, if you ask me. He was always carrying this huge backpack with drinks and snacks for us and he generally thought of things before we even could voice our wish.
When my dad expressed his preference for sparkling water or I, myself, confided I only drink hot chocolate and no coffee, there didn't pass a single day when even these wishes were taking care of during the frequent breaks.
As I was traveling in a group of four (so 6 with the guides), we got a big Toyota van. Maybe not the newest edition, but the car was very comfortable, even stylish and there was a lot of legroom. We didn't do any offroad stuff, so the van was totally fine for the roads.
Snacks and drinks were always provided in front of our four seats – there were even tissues, a trash bin, and extra cushions. Talking about traveling in style.
Oh, and of course I have to mention that our driver was just perfect. He was always driving extremely considerate, but never too slow. The car was always ready when we needed it – there was never a single downtime in 2 weeks. Not in the morning, not when we returned from a hike, etc. Quite stellar in fact.
And let me tell you, the roads in Bhutan are not always easy. There is hardly any traffic, but of course, you can't expect highways above 10,000 feet of altitude driving through a rugged landscape that is basically one big jungle.
Food & drinks
So, let's talk about the most important part of any journey: The food. I have to admit that I was thoroughly surprised by the high quality of the food. Food & beverages ist usually not the strong point of most Aman resorts. Based on past experiences, my expectations are usually quite low when visiting one of their properties.
The Aman Bhutan team did, however, an excellent job throughout our journey. I couldn't name a single day or a single lodge where we didn't have a very lovely breakfast, lunch or dinner.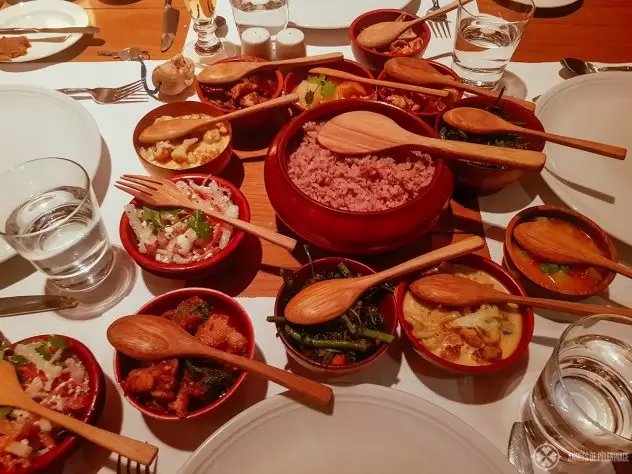 While I tried to eat Bhutanese food as much as possible, they did an amazing job at preparing it without chili or spices so my rather…uh sensitive stomach could bear the fragrant mix of foreign delicacies. But the few pizza and pasta I had were downright amazing.
You should also consider that Bhutan is literally at the end of the world and almost everything has to be important from Bangkok and beyond. This is even more remarkable as there is no proper infrastructure to support the demand as Aman Bhutan is almost the only customer for such exotic "western" fare.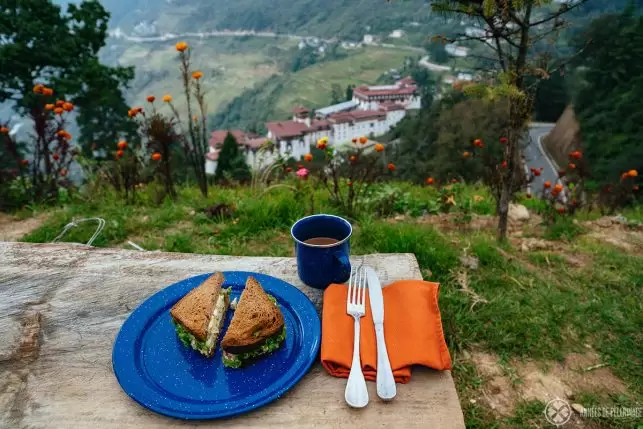 I also have to mention that our lunch packs were usually quite less ambitious. It almost felt like a different kitchen was preparing them, especially as they misplaced most of our orders and usually prepared something different. Most of it tasted and looked like a packed sandwich from the supermarket.
On top of that, I didn't even understand the need for those lunch packs anyway. I mean, there are local restaurants everywhere. Very disappointing actually. Our guides always tried to pick an extremely lovely spot for our breaks, though.
General service of Aman Bhutan
Except for the lodge in Paro, which really felt a bit disorganized (like it had no dedicate manager), the service throughout our stay in Bhutan was beyond excellent.
The communication between the different departments and lodges was flawless. So, whenever we arrived, there was somebody waiting at the entrance, everybody knew our names, almost nobody ever asked for our room numbers, etc.
Often the manager of the lodge itself knew all our appointments (like spa treatments, etc) by heart – which is no small feat. I'm not sure I even saw housekeeping once during our stay, but our room was always in pristine shaped whenever we returned to it.
When we requested separate blankets on the second day (honest questions: who actually likes those big couples blankets?), they passed on that wish to all the other lodges. In a way, this sounds obvious, but in reality, I often had housekeeping removing the extra blanket on the next day when staying at the same hotel so often in my life.
A very nice touch was the gift pouch we received at the very start of our journey. Made from traditional Bhutanese fabric, it contained hand-sanitizer, lip balm, sunscreen, candies, etc. All things we would later need on our journey.
And talking about gifts. If you are familiar with Aman resorts, then you probably know that their turn-down service doesn't do towel sculptures or flower petals (and good riddance). You do, however, get a good night gift every day. Sometimes that is a book or a traditional hand-held prayer wheel or prayer flags you could hoist on your next hike. I really came to appreciate these small gifts as they are always chosen with care and meant to enhance the whole experience.
On request, they would also light the fireplace, but they would always leave a warm-water bottle between your sheets so things will all nice and cozy after you returned from dinner.
Amankora also offers complimentary yoga classes every morning. Since we had to get up so early on a lot of days (note: this was our personal decision, you can design your itinerary the way you like if you are a late riser), I only attended three or four times, but I loved having the opportunity to start the day in such a calming way.
So, all in all, the service at Aman Bhutan was exceptional and really exceeded my expectations. Which is, if you think about it, quite remarkable. Aman was the first in the secluded kingdom, which also means there was virtually no tourist infrastructure. Training locals up to an international luxury standard is no small feat.
I don't mean this in a condescending way, but it remains a fact that even today their whole cultural background and living standard is a world apart from understanding how to serve caviar or champagne correctly.
Summary of my Aman Bhutan review
So, let's wrap up my Amankora experience. All in all, the journey through Bhutan was well balanced, extremely well-organized, and smooth at any time. The service was outstanding and the food was quite above average – even from an international standard.
I really loved the overall design of the different lodges which felt both modern and rooted in traditional Bhutanese architecture. Some guests might miss a TV or a coffee machine in their room, but I was so much more happy with the fireplace cracking me a lullaby every night.
Access to the different lodges is sometimes a bit difficult, but that's no fault of Aman and rather due to the Bhutanese infrastructure and the overall geography of the country. Most of the lodges share a pristine location. I have to mention that some of them might not be up to the demands of a younger generation of luxury travelers who will expect an infinity pool wherever they go, though.
The spa facilities are probably the weakest point of the Amankora lodges. Since none of them are traditional wellness resorts where you spend a week inside the hotel, this is only a soft factor for me. I also heard they are currently in the process of adding new facilities to most of the lodges (probably because they feel the competition from Six Senses).
Yes, my two-week journey through Bhutan wasn't especially cheap. Together with the flights, massages, etc., it probably came down to 1,000 USD per person and day. Was it worth it? Absolutely. Please consider: Usually, a full day excursion will cost about 400 to 500 USD in most luxury hotels around the world alone. So, I feel Amankora is providing good value.
It's the small touches that create exceptional experiences. We had a monk performing a blessing ritual at a shrine with us at the start of our journey, and we ended it wearing complimentary traditional clothes for our goodbye dinner. Amankora is a journey that takes you deep into the Bhutanese culture and not only ticks of bucket list items like the Tiger's Nest.

If money is no consideration, then I can recommend the journey through Bhutan with Aman from the bottom of my heart. Don't just stay 3 nights in Paro – visit the country and see all 5 lodges. You'd be downright stupid to miss this amazing adventure.
So, this was my Aman Bhutan review. I hope I was able to give you a good account of my experiences with the unique luxury journey. Feel free to ask any questions in the comments below.