A full, unsponsored review of Amankila in Manggis, East Bali.
Are you looking for the best hotel in Bali? Then the Amankila luxury hotel should be high on your list.
A verdant hilltop resort with its own private beach and a spectacular infinity pool reminiscent of the Balinese rice paddies are just a few of the reasons Amankila is the most exclusive resort on the Indonesian island.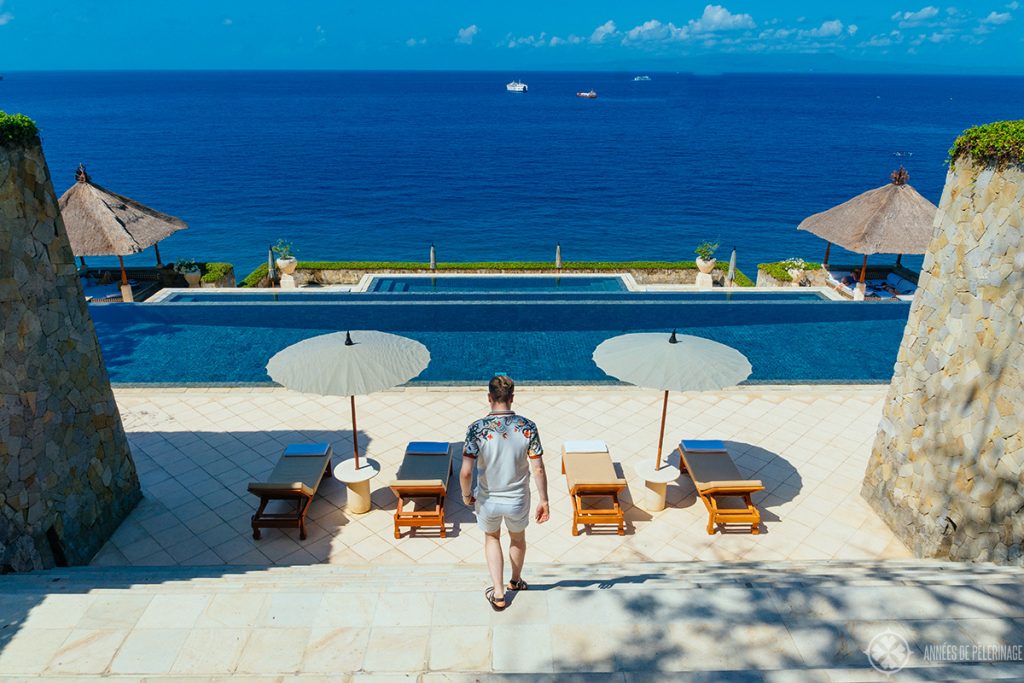 But beautiful pictures on a website are one thing, an unsponsored review with authentic pictures quite another thing. After all, a stay at Amankila isn't exactly cheap (starts from 900 USD a night). Who wants to invest a small fortune in an exclusive stay only to realize it was not worth it (if you are planning to visit Bali, make sure to check out my list of the 10 best things do!).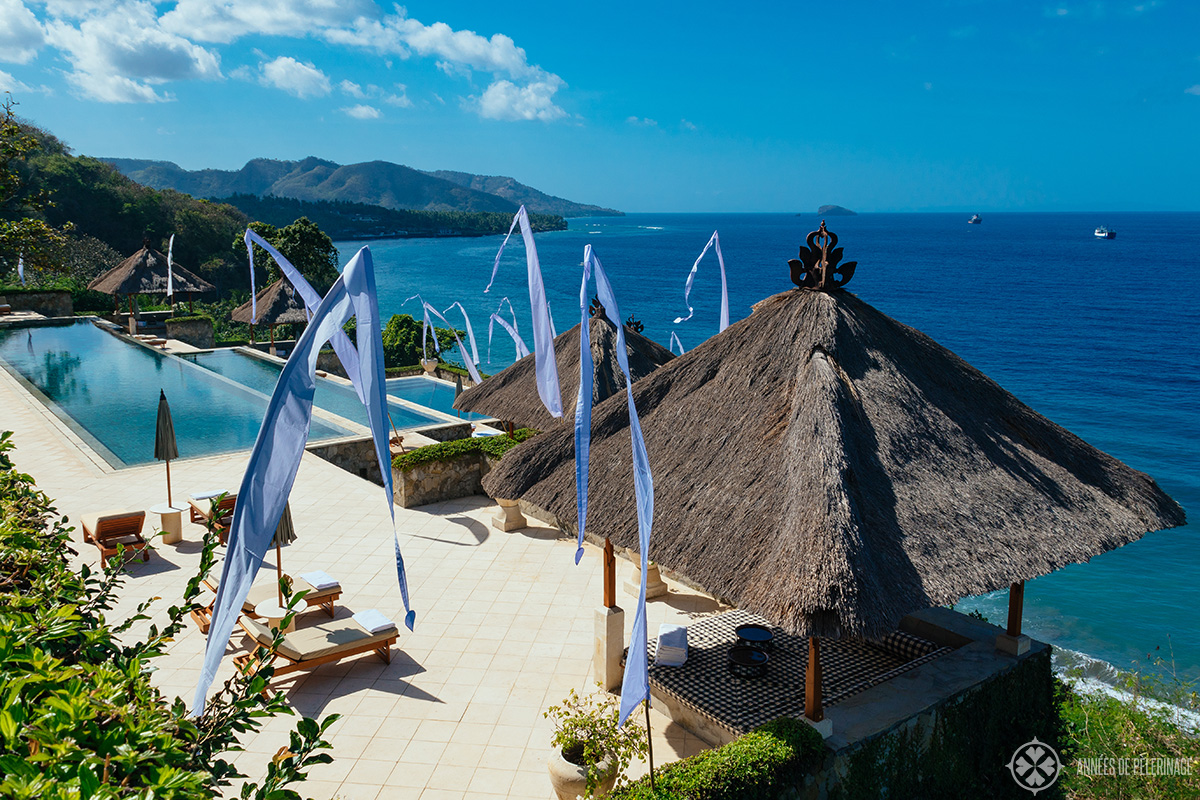 To help you with your decision I recompiled this detailed Amankila review. As always, I had no associating with Aman when writing this review and paid for my 7 nights stay at Amankila all by myself. As a result, my opinion of this unique luxury resort in East Bali is truly my own, which I am sure you will appreciate.
But let's dive right into my Amankila review, shall we?
The Amankila resort
Amankila means 'peaceful hill' and it really sums up the resort quite perfectly. 34 free-standing villas, much like a traditional Balinese beach house, cling to an imposing cliff atop the Lombok Strait, offering spectacular vistas and tranquil views.
They villas designed by architect Ed Tuttle almost three decades ago are interconnected by high walkways and stairs. From afar, only the reed thatched roofs are visible peeking out from the verdant greenery, offering shade for those taking a stroll below.
Bali is incredibly popular among digital nomads and Chinese tourists alike. It almost feels like a small miracle that East Bali and Amankila survived this hype almost unscathed. No matter the time of the day and no matter the season, Amankila always feels like a secluded island of relaxing calm – like you had it all to yourself.
Perhaps it helps that the staff of Amankila is extremely loyal. Many of them serving at the luxury hotel since the opening 26 years ago. It's hard to create this unforgettably intimate and relaxing surroundings while still maintaining an extremely professional environment offering world-class luxury. And mind you, it's not like the whole luxury world didn't change.
The rooms & suites at Amankila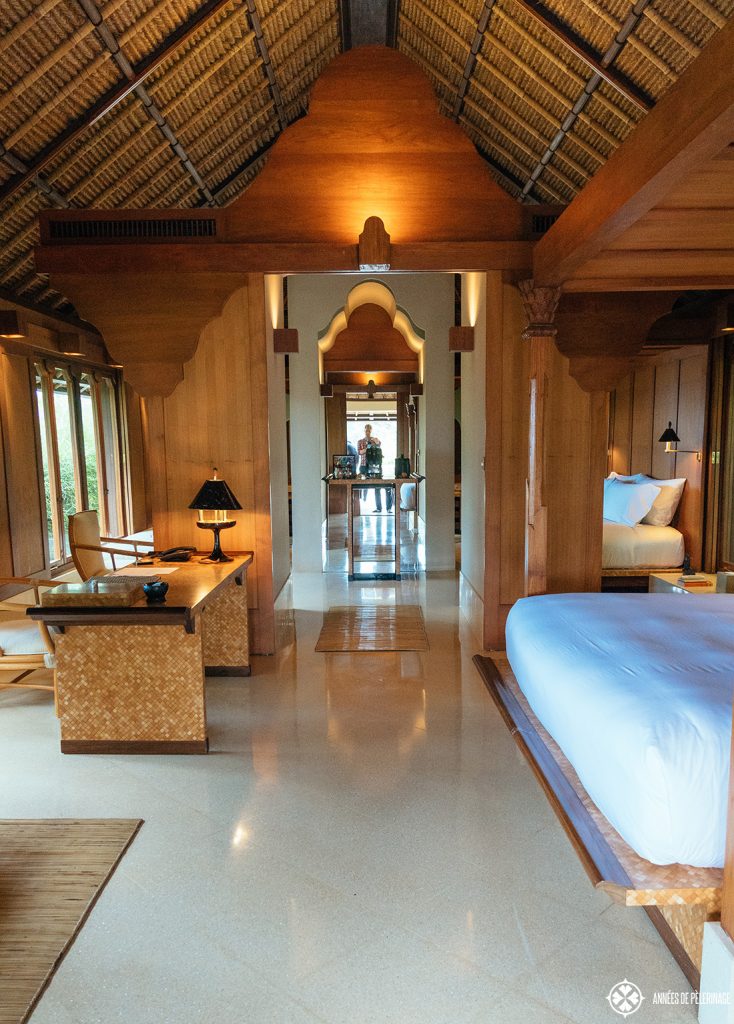 All of the 34 villas at Amankila share the same basic layout. So, no matter if you pick a villa with an ocean view or a hillside view, or choose to book a room with a private pool, the villa at the core of your domain will be the same.
The villas are extremely spacious and follow an open door plan with almost no doors. Thus the 94 square meters (1,104 square feet) almost feel like a 150 m². Apart from the huge king size bed covered by a wooden canopy, there was a lovely sitting area and another desk. A complimentary fruit basket was refreshed daily, as were the free snacks at the mini-bar and the coffee station stocked with Balinese specialties. Wireless LAN was available in all areas, and the air-conditioning was quite delicate (unlike the noisy wind machines in some other places).
I really loved the bathroom (which actually takes up half of your villa) with a separate shower and toilet, while the bathtub was easily large enough to fit two people. Two separate sinks, two separate dressing areas, and another lounge area made it all feel like some dream apartment from Sex & the City.
The very light bathrobes were divine, as were the exclusive Aman soaps, conditioners, body lotions, and soaps. There was even after sun lotion for those who stayed in the sun a bit too long. Best of all, a light touch of fragrant blossoms was added to towels each day, making even the loo feel like a special place to stay a while.
The private terrace featured a lounge area and a separate desk table, tastefully decorated with flowers and ancient Balinese wood carvings. Late risers or those looking for some privacy, may enjoy their meals on the terrace instead of at the main restaurant.
I had an ocean view villa, as I felt the pool and the beach club are so spectacular there is no need for a private pool. If you are an avid swimmer (which I am not), I am sure the extra luxury of having a plunge pool right in front of your terrace is more than welcome. You may not observe the sunset in East Bali, so generally speaking, a garden view villa can be a viable option.
Please be aware that the villas are connected by long stairways to the lobby/restaurant. If you are, for whatever reason, not fit to climb a hundred stairs to get to your room, make sure to ask for one of the few (almost) level villas before you book. I attached a map of Amankila for your convenience (see below).
But I feel it's important to mention a couple of negative points in this Amankila review as well. Personally speaking, I didn't like the fact the terrace was as open as it is. It's not like anyone ever entered our private domain, but it sort of felt like anybody could at any time. Also, while I am all for a digital detox, hiding the power sockets under tables or under the bed felt quite awkward most of the time. Ladies might miss a bidet in the bathroom, while I really didn't understand why they didn't offer tea as an alternative choice to coffee from your mini-bar.
The pool
The pool of the Amankila luxury hotel is magnificent. Out of this world. A three-tiered infinity pool overlooking the Lombok Strait, with spacious huts and umbrellas sprinkled in between really can't get any better.
Funnily enough, when showing friends or relatives the pictures of the pool the first reaction (right after a "wow") was always "were you alone?". Well, no, but guests can retreat into the various Bales (how the traditional huts are called), then there is the beach club (see below), so it really was never crowded, and it did, in fact, feel like you were alone.
There is a grill restaurant right next to the main pool and a library (where you can enjoy a complimentary afternoon tea each day). Most people prefer to eat right inside the Bales themselves, where a choice of food and drinks are served throughout the day.
The overall service at the pool is outstanding and the staff incredibly attentive, never in an intrusive way. It really is the perfect place to relax, though it sometimes is a bit windy.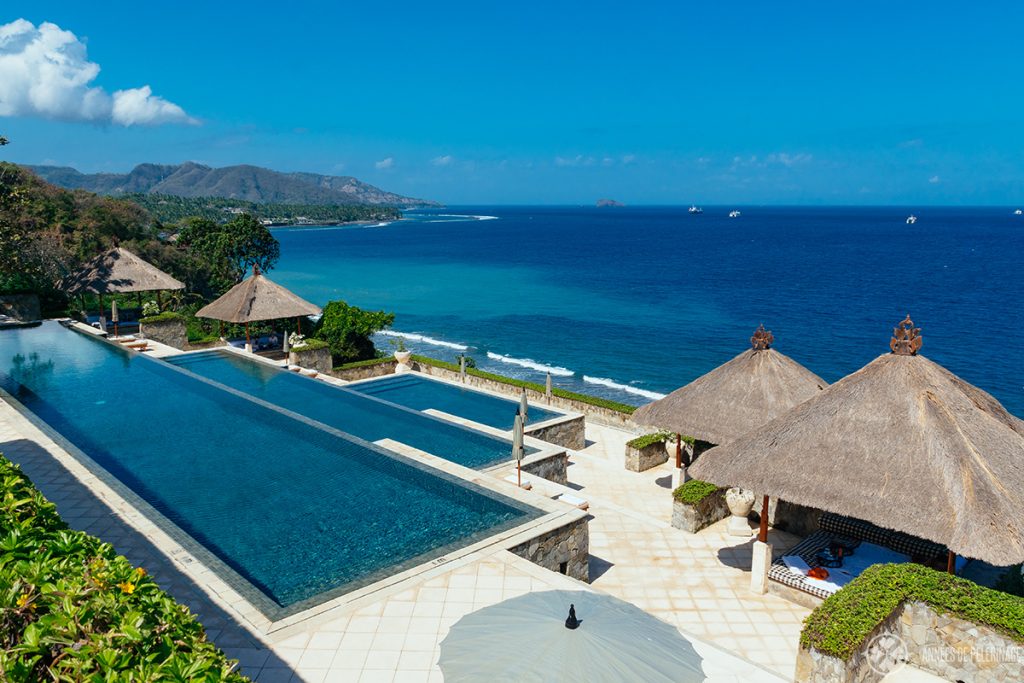 The three pools are more or less identically. The upper pool is long enough (I estimated it to be 35 meters) to swim and quite deep in the middle, while the lowest pool is rather shallow. The three-tiered setting further helps to keep the whole pool area incredibly quiet. Even if another guest decides to take a plunge at the same time you wanted to, chances are high you will be swimming on different tiers. It's quite fabulous!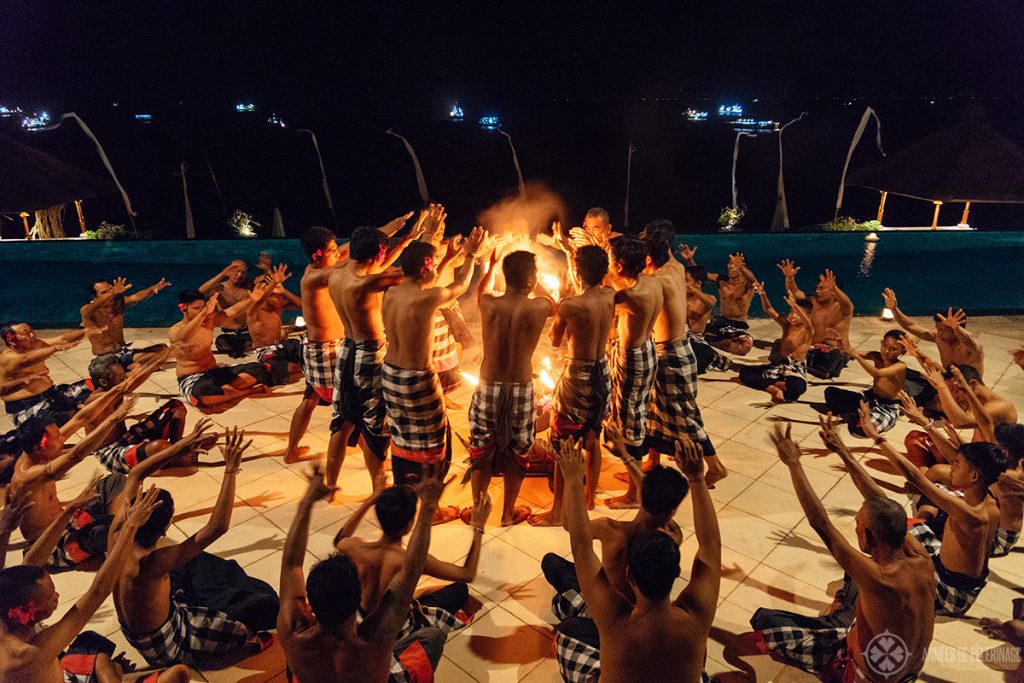 The pool also serves as a stage for the frequent nightly Balinese shows. During my stay, we saw two difference dances where the stairs to the pool served as the auditorium (plush cushions and popcorn were provided). I really have to say that these shows were the best shows I ever saw at a hotel. They weren't in the least touristy and incredibly professional. Truly don't skip them!
The Amankila Beach Club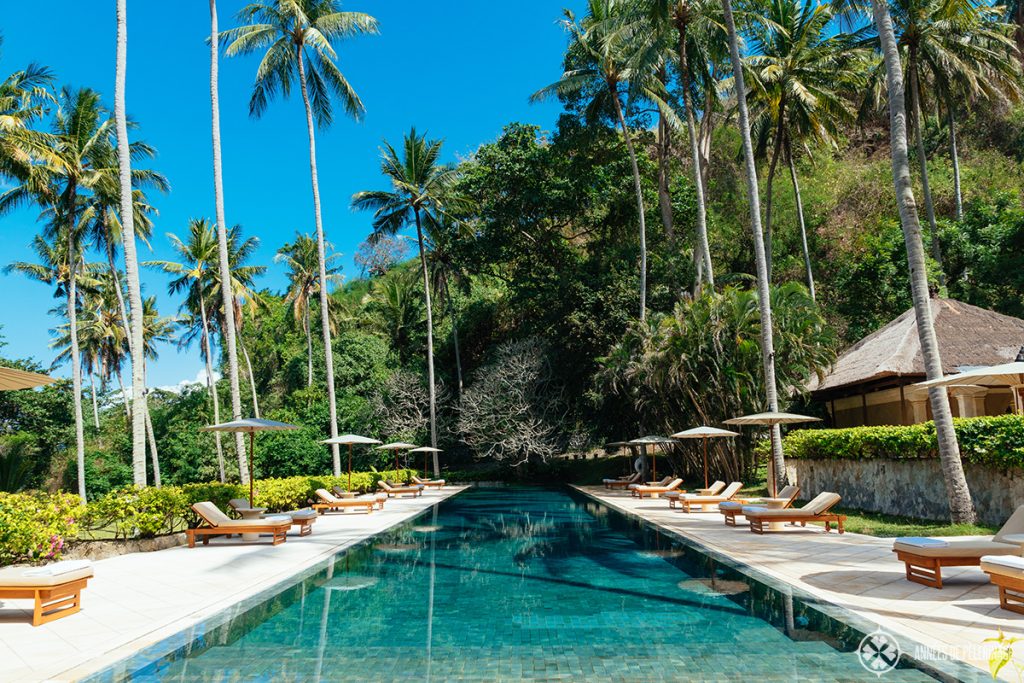 Amankila was built high on a cliff but that doesn't mean you can't enjoy the beach. A winding set of stairs will lead you down to the surf, where another magnificent pool invites you to stay a while. Alternatively, you can take a beach buggy down.
To be quite honest with you, I liked the Olympic pool at the beach club even more than the one atop the cliff. Thee tall palm trees dancing in the wind, the tranquil sound of the waves crashing into the black Balinese beach and the occasional tropical bird fluttering by – it truly feels like out of this world.
Right behind the pool, you will find another restaurant serving a wide variety of international and Balinese food, snacks and cocktails. I particularly enjoyed the home-brewed ginger beer.
Don't want to spend your day at the pool? No worries, the Amankila has also a private beach. Mind you, it's black sand but that doesn't mean celebrating ennui in one of the many secluded Bales along the surf isn't a worthy choice to spend a day.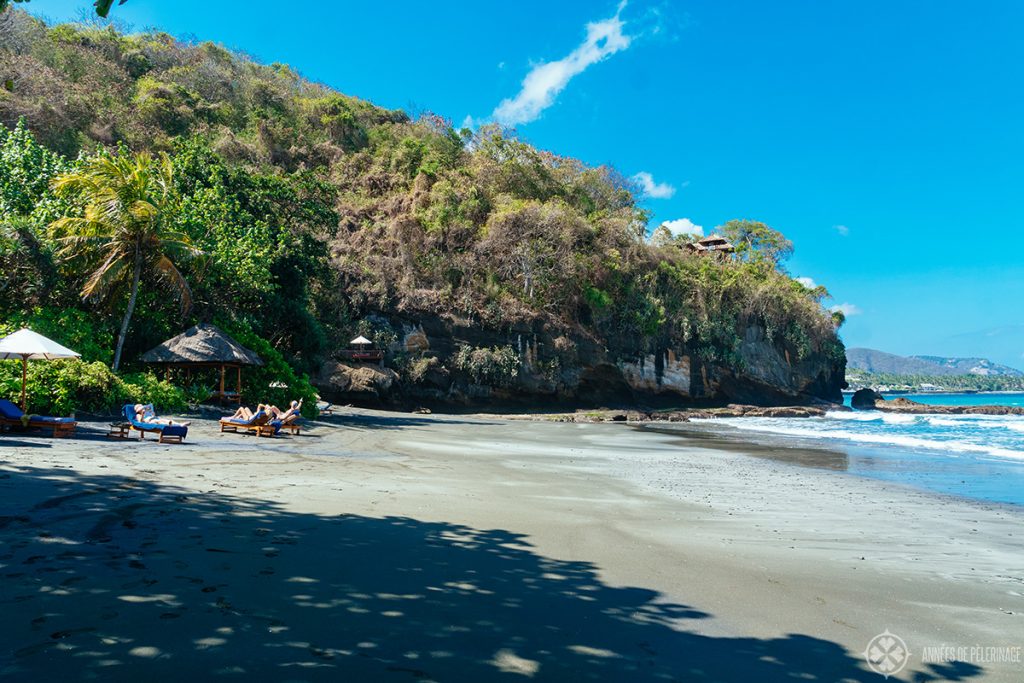 A little Hindu temple abuts the cliff on the north end of the beach, inviting your eyes to linger on something else but the soothing sound of the crashing waves.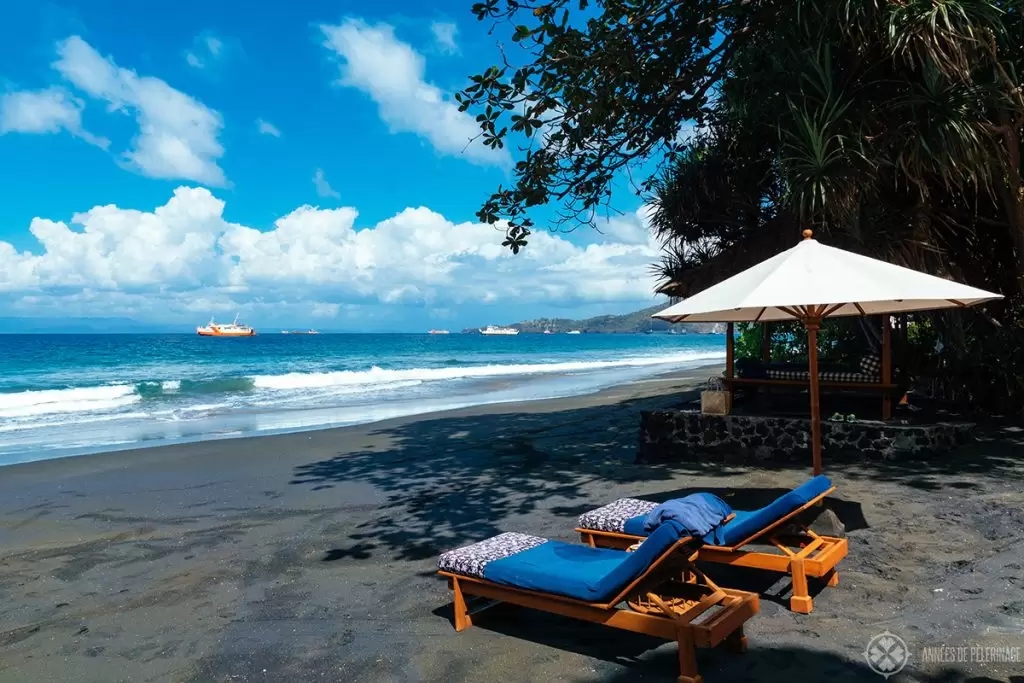 Sadly, a lot of plastic litters the whole beach despite two dedicated staff members constantly cleaning the whole area – especially on windy days with high waves. It's probably nothing you would notice, except you came very early. Also, the Bales kind of feel a bit outdated and shabby, and probably would need a refurbishment.
There was plenty of watersports equipment for rent at the beach club. From standup-paddling to sailing with your own catamaran – there was virtually nothing you couldn't do. There were even a little yoga pavilion and an outdoor fitness studio.
Restaurant & Breakfast
Dinner and breakfast are served at the main restaurant right below the lobby. If you are familiar with Aman resorts, then you probably won't miss the breakfast buffet. Everything is à la carte, which I came to appreciate a lot, as it's fresher, more hygienic and less busy. Plus, it just looks so much neater if a chef prepares your plate as opposed to you piling high your plate with pastries and jam.
The variety of dishes and juices on offer is quite incredible and even after 7 days, it didn't bore me at all. Breakfast is considerably expensive, so definitely try to book one of the rates where it is already included.
While the two restaurants at the pool and the beach club will serve lunch and afternoon snacks, you sadly can't dine there. I really have to say that I would have enjoyed a bit more variety – eating breakfast and dinner at the same restaurant for 7 days really did start to get boring.
Still, 7 days and 7 dinners later, there was not one day where I didn't thoroughly enjoy the food (the traditional live music every evening certainly helped!). Sometimes it was a bit too spicy for my taste, but still always beautifully presented and cooked right on point. I loved the fact that they had a wide variety of traditional Balinese food, but also western alternatives for those less adventurous. The bread selection was incredible, while the desserts were usually a hit or miss.
Also, the team tried to prepare a special set-menu every day. You also got the option to enjoy a private dinner at the pool. As candles lit the area during nighttime, this truly is an extremely romantic alternative. Once during my stay, there was also one big seafood barbeque (which I skipped because I am not THAT big a fish fan).
You can also book a dinner at the private Aman Bale up in the mountains. Originally I definitely didn't want to miss this experience, but after I saw the Bale during one of the excursions, I changed my mind. The view across Bali was mostly obstructed by vegetation, and the whole setting wasn't all that special either.
The Spa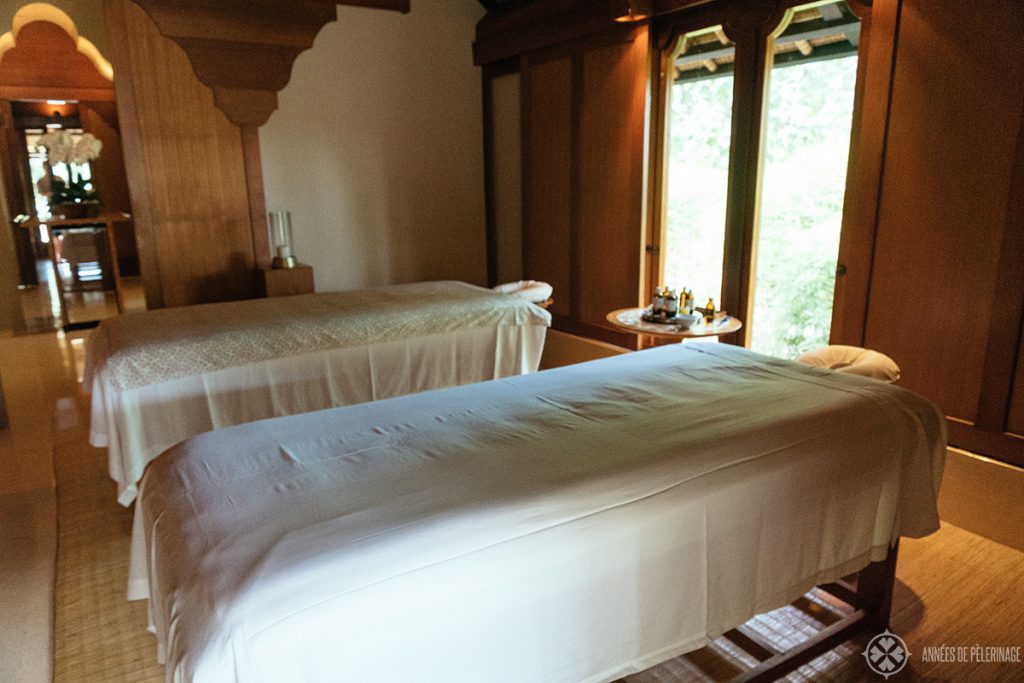 Bali is famous for its spas and ancient treatments. Quite surprisingly, Amankila doesn't have a real spa facility at all. They do have one small spa villa where you can book massages and some treatments. Why? Well, Amankila strives to offer you perfect tranquility and so it may come as no surprise massages and treatments can be booked in your room (or inside any of the many Bales around the pool and beach). They also offer partner treatments.
As I did want to experience the spa facilities themselves, I booked one 'Balinese Massage' (60 minutes) at the spa villa. Funnily enough, the spa villa turned out to be an almost exact match of my own villa, so there really was no point. The massage was incredibly relaxing and quite expertly done, but I really have to say that the whole spa-experience was a bit lacking. Compared to Aman Tokyo or the Aman at the Summer place in Bejing, I really didn't feel like diving into a whole new world, forgetting all the worries of this one.
I would have expected a nice view or garden to enjoy a relaxing tea after my massage and probably a more extravagant setting. Instead, it was all in a standard villa. Especially in Bali, I would have expected more. Mind you, this is criticizing on an extremely high level, but this is Aman we are talking about. On a more positive note, a 1-hour massage was "only" about 100 USD, which felt almost like a bargain compared to prices at some other Aman resorts.
Excursions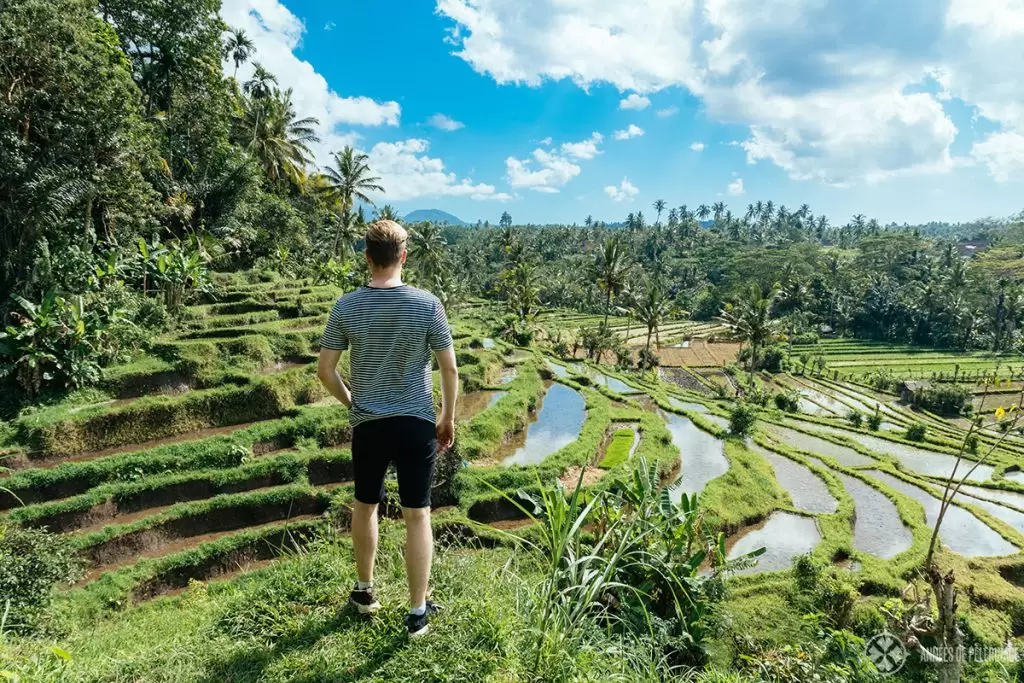 Amankila offers a variety of excursions around East Bali. So, do look out for the special deals on the website, like the 'Bali break'. If you stay 3 or more days at the luxury resort, you get free excursions (among others) on top.
Of course, a proper Amankila review would be incomplete without doing at least one excursion. So, I did the East Bali tour to all the major temples and palaces, and it was simply magical. Having your own private driver in a very comfortable Toyota van really does have its advantages. The tour doesn't come with a guide, only a knowledgeable driver who will show you around a bit. For me, this was no problem at all, though some people might be looking for a bit more explanations on site.
I also did the rice terrace trek from Kastala to Tengana, which was arguably the best experience I had in Bali. Not only were the views of the rice paddies beyond amazing, there were also no other tourists at all. Compared to the massive crowd at Tirta Gangga or Tegalalang this piece of earth still felt like Bali and not a tourist trap.
Amankila also has its own outrigger boats for snorkeling and visiting the adjacent islands. Sadly, the winds and currents were so unfavorable during my stay I didn't get to experience this part. Instead, I decided to do another customized full day trip around the Ubud area which turned out great as well. Again, our driver was beyond helpful and even took us on a detour to his favorite viewpoint.
Summary of my Amankila review
Location: 5 of 6
Service & Hospitality: 6 of 6
Design: 4 of 6
Rooms: 5 of 6
Spa: 4 of 6
Value for the money: 5 of 6
Food & drinks: 5 of 6
Accessibility: 5 of 6
Amankila is one of the oldest hotels among the many outstanding resorts in the Aman portfolio. The management did an excellent job at keeping the property in pristine condition for all those years. Especially the service was exceptional. The whole staff knew our name on the first day and from then on we never ever had to sign a bill or tell our room number once (just like it should be, but almost never is!).
The whole setting, the remote location, and the local design create the perfect atmosphere for a few days off the grid. While Amankila might be a bit further away from the tourist hotspots, the excursion team creates marvelous experience making up for the remoteness. Foods and drinks were excellent as were the rooms.
The overall design sometimes does feel a bit dated (though never outdated), while the spa really isn't up to the standard of other, newer Aman resorts. Also, if you plan to spend your time at the beach, Amankila is probably not the first choice. But at the same time, the price is quite competitive and I really can't come up with a single reason why I wouldn't want to recommend Amankila from the bottom of my heart.
It's the little things that let Amankila shine. Like the little complementary gifts & bedtime stories waiting on your bed each night. The waiters calling housekeeping as soon as you enter the restaurant so you will never ever see them making up your room. Or the girls presenting you with traditional Hindu offerings each day. Do visit!
So, this was my Amankila review. Hope I could convince you to book a stay at the best luxury hotel in East Bali. Feel free to ask any questions in the comments and don't forget to pin this to your Pinterest board.