An honest review of the Aman Tokyo, based on a 5-night stay.
Tokyo is a sprawling megapolis of over 9,2 million people and 2,188 square kilometers. There are virtually uncounted tourist attractions and things to see (just check my list). But it is also home to a couple of unparalleled luxury hotels. One of them is the Aman Tokyo. Ever since its grand opening in December 2014, the hotel is frequently named as the best hotel in Tokyo. But does it stand up to this name? Here is my review:
First of all, I'd like to say that I am a big fan of Aman. They really did revolutionize the whole luxury hotel industry and brought it to a whole new level. Small, exclusive, authentic, unpretentious, reduced and always in a sublime location – there are few things an Aman hotel has in common with the Hilton of the 90ies. But so far, they did not have any true city hotels.
The Aman Tokyo is the first of it's kind, doubly so as it is a boutique hotel. As you can imagine, I was more intrigued to find out if Aman knows how to run a hotel in the middle of bustling Tokyo. Before I start with the review, do check out my Japan itinerary, to see how I incorporated this amazing hotel into my trip!
The hotel in detail
The Aman Tokyo is located on the top 6 floors of the Otematchi Tower in the district of Chiyoda. There is a subway station in the basement, while the central station and the imperial palace are within walking distance. The whole hotel is a relatively new addition to Aman resorts and celebrated its grand opening in December 2014 like I already mentioned above.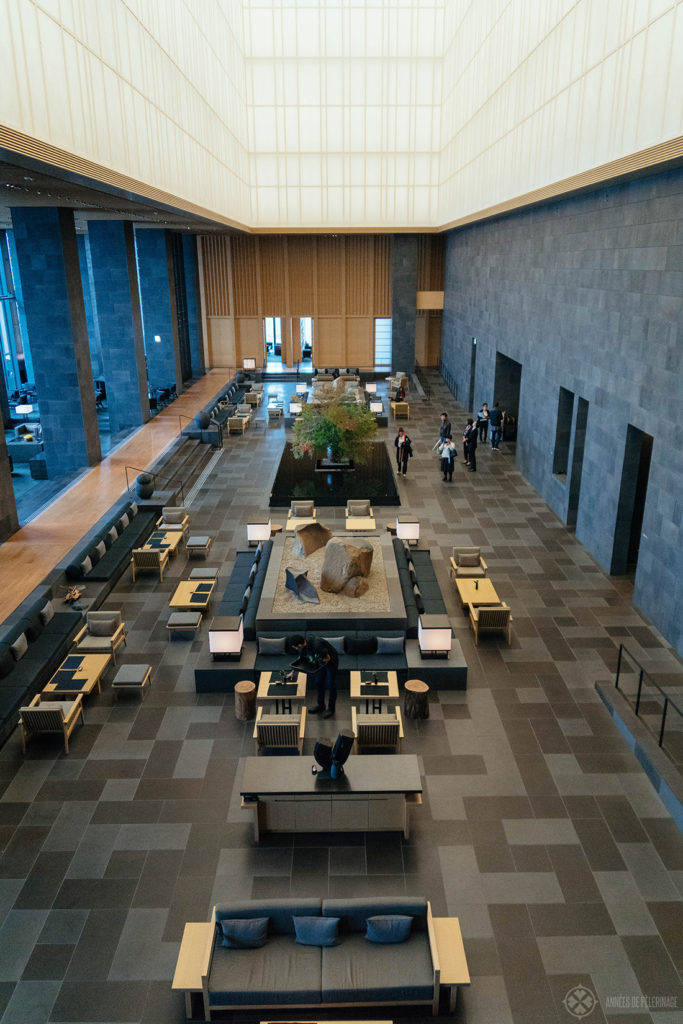 There is only a relatively small reception area on the ground floor – more or less just a desk and aisle and a couple of elevators. But once you exit said elevators you are left gawking at the gigantic lobby. Built to resemble the inside of a traditional Japanese andon lantern, the lobby of the Aman Tokyo alone is probably the size of most other hotels in Tokyo.
Right in the middle, there is a big fountain with a breathtaking floral arrangement. As I was visiting in autumn, they had a whole maple tree standing there. Hard not to fall in love with it, and I haven't seen anyone entering resting the urge to take a picture of it. Who could fault them, eh?
A portion of the lobby is used up by a restaurant and bar, while you will also find a library and a smoking room. It's all pretty much open to maximize the impression of the wide-open room. That impression is even more profound once you realize that space sells at the utmost premium in Tokyo. You'll often see 20 storied sky-scrapers built on what elsewhere would be used as a duplex parking garage. I mean, seriously, they could have squeezed 40 to 100 more rooms in the same space, yet the Aman decided to use it on a profound statement. Just glorious!
But what would be a good review without some critic thoughts? All other Aman hotels (I know off) have a very quiet, relaxed and peaceful air. This is mostly a product of the low number of rooms and the fact that they are more or less closed to the public.
With 84 rooms, the Aman Tokyo is considerably larger than most other Amans. On top of that, the lobby seems to be a quite popular place among locals to enjoy an afternoon tea. As a result, everything feels a bit busy. It's actually quite hard to get a seat (I once had to sit in the library for my afternoon tea, as all other tables were occupied).
I probably do understand the necessity to open up the hotel, but I am not quite sure if I am all that comfortable with the outcome. To be quite fair, city hotels, in general, are not especially known for quiet contemplation, Tokyo and the Indonesian countryside do have little in common at the end of the day. I guess, I just expected something different.
The Rooms
At the Aman Tokyo, you can choose between a small range of different rooms. All of them are just perfect and none of them is smaller than 71 square meters. Those are, as far as I know, the largest standard rooms in Japan as a whole.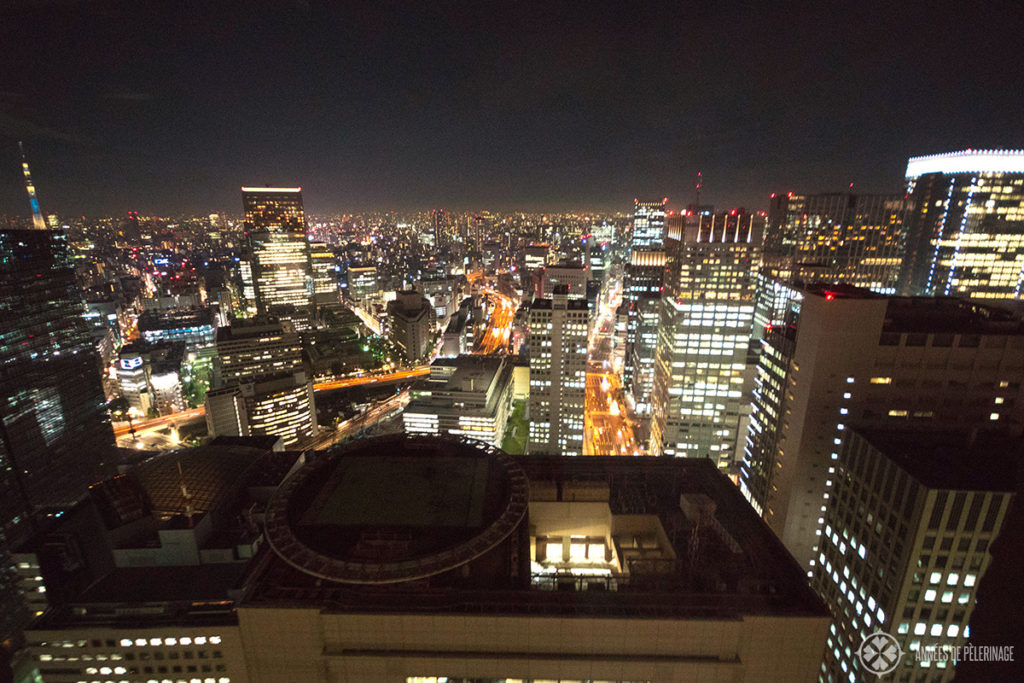 The biggest difference is the view. Palace view comes at a premium, though I really have to question the reasoning behind it. While the palace garden is certainly lovely to look at, the grounds are one big blob of darkness during the night. Most tourists will probably leave their room to explore the city, so I'd actually recommend picking the standard deluxe room or the premier room (if you want a bigger bathroom), so you can enjoy a colorfully sparkling night view.
All rooms do have a beautiful sitting area and the big window front will quickly turn it into your favorite spot in the whole room. The suites will have a separate dining area but will share the same basic layout. In-room dining is very popular in Japan, but for western tourists, I feel the upgrade to a suite makes little sense, as you just get that – a dining table.
I seriously loved the overall reduced design, which is somewhat reminiscent of the modern Japanese imperial style. Frequent guests at Aman resorts will be used to a similar approach, while people not as familiar with Japanese aesthetics might possibly consider it a bit too spartan. Even the TV-Set was hidden in the divider between sleeping and sitting area (which I loved as I absolutely hate TVs – especially on vacations.).
The minibar is very well stocked, but only soft drinks were complimentary. They even had my favorite champagne (Ruinart Blanc de Blanc), and not the usual Moet nonsense. Tea and coffee machine was also included.
There is a little panel right next to the bed where you can control the lighting, raise the window blinds and other such fancy stuff. Sadly, the light of the LEDs is quite intense and I had to cover it up at night. Also, I hated the calligraphy, and I don't say it lightly. The way that 和 was written almost felt offensive and not in the least harmonic to me (okay..i know I am horrible *chuckle*)
The Bathroom
What can I say: I seriously never ever stayed at a hotel with a more beautiful bathroom than the Aman Tokyo. Okay, that's probably a lie, but the view from your private hot tub is just unparalleled.
I literally spend 1 hour each day (during my 5 nights stay) sitting in that very bathtub, trying to comprehend the sheer endless mass of sparkling lights. Fragrant traditional Japanese bathing salts were available, which made the soaking extra special.
If you are looking for a reason to book a room at the Aman Tokyo and were wondering if it's worth it, then this bathroom is your answer. Do it! Now!
As is quite common in Japanese hotels, Aman Tokyo also supplied free basic (and some not so basic) necessities like toothbrush, shaver, brush and body lotion, etc – all perfectly hidden from plain sight and yet there when you need it.
The Spa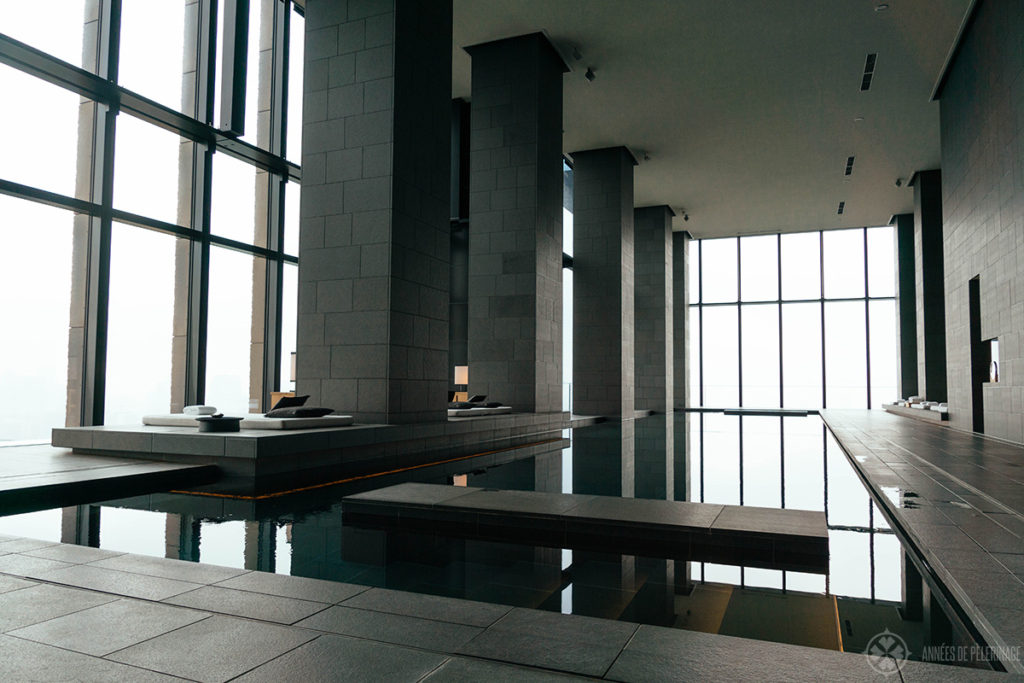 And since I am talking about soaking, I have to mention the spectacular spa at the Aman Tokyo. It's hard to comprehend how a spa of that size fits into to the 36th floor of a towering skyscraper. There are a whole 30 meters of perfectly warm water to cater to the needs of even the biggest swimming enthusiast.
Again, the design is very reduced and follows simple lines, accentuated by the same dark-greyish granite you will find throughout the hotel.
I have to admit, I stayed almost one full day just at the spa (as it was raining cats and dogs and I really couldn't convince myself to go outside). Weirdly enough I almost felt like it was a waste to go to the spa, as the bathtub in your hotel room is already so inviting.
That being said, you obviously can't swim in your room, nor do you have a steam room. The big sun loungers were well spaced, offering privacy without destroying that overall feeling of wide open space. The spa staff was very attentive, while still respecting your privacy.
I could imagine some tourists might miss a bit more variety, as there are only the big pool, an onsen-like hot tub, and a steam room. There's no jacuzzi, no sauna and no area for kids. Still, I'd rank it among the top 10 hotel spa areas in the world without flinching.
You can obviously also book massages and treatments. From past trips, I came to appreciate the high standard of the Aman spas, but really have to say I thought the prices at the Aman Tokyo where a bit too exaggerated. A 90-minute massage or facial is offered for around 350 US-Dollar. Too much, in my opinion.
Breakfast & Food
Breakfast in Japan is always a bit difficult for western tourists. Not everyone likes grilled fish, Nattō, and pickled vegetables early in the morning. At the Aman Tokyo, you can thus choose between western and Japanese style breakfast.
I really have to admit that I seldom had such a good breakfast like at the Aman Tokyo. Everything was pristine but had a slight (yet pleasant) twist. Be aware tho, that there is only à la card and no buffet (like in all Amans). Personally speaking, I never really was a buffet guy anyway and always preferred the higher quality of a breakfast prepared à la minute.
I only know a handful of hotels in the world with a better breakfast (one being the George Cinq in Paris and the other the Eden au Lac in Zurich), and I've seen a lot. I especially have to highlight the amazing hot chocolate they served. I don't drink coffee and I feel you can judge the true quality of a kitchen by the standard of the not-so-standard orders. To be quite honest, it was the third best hot chocolate I ever drank at a hotel (so kudos to whoever is the chef!).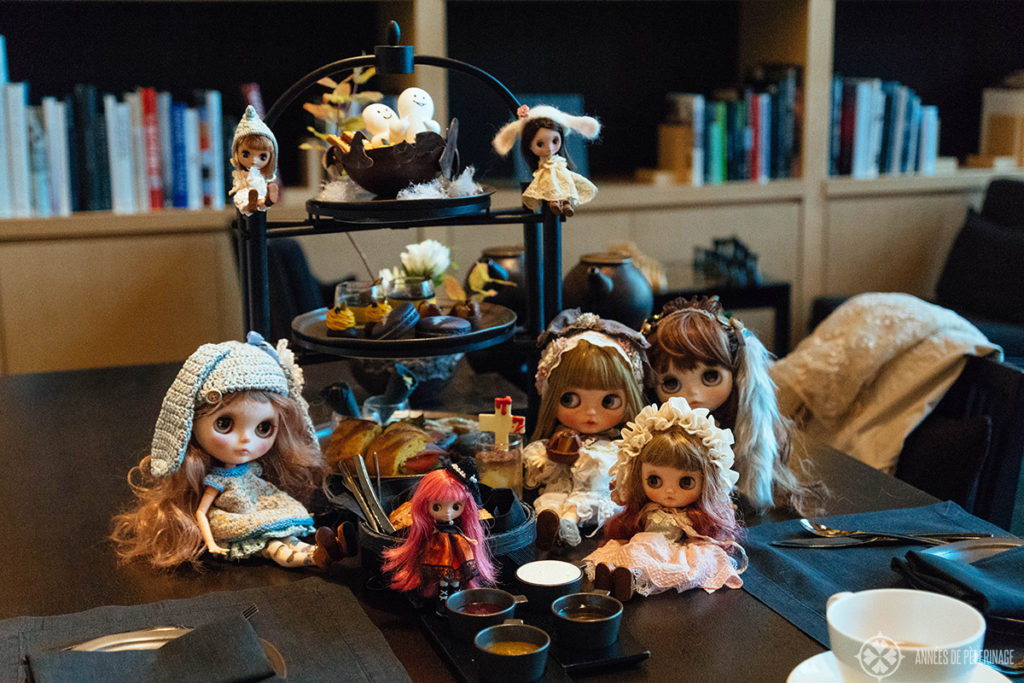 I also sampled the afternoon tea. As detailed above, the Aman Tokyo is quite the popular spot, but after my experience at breakfast, my expectations very equally high.
Sadly, the kitchen of the bar can't hold up to the high standard of the breakfast. My Halloween inspired afternoon tea was lovely to look at, but rather average in taste. (Note: It didn't come with these dolls. I took this picture together with some Japanese ladies who very having a Halloween party of sorts).
Weirdly enough, coffee and hot chocolate came from a standard coffee-machine and tasted bland, despite their rather steep price tag. A very attentive waiter brought me a hot chocolate from the other kitchen, and this was divine as usual.
I never ate at the only restaurant of the Aman Tokyo, as I didn't really feel like pan-Italian cuisine, so there is little to write about it. I did, however, order some in-room dining after a particularly long day on the streets. The sandwich and the sashimi I had was truly delicious and well priced for the quality delivered. Wouldn't call it inspiring, though. Same applies to the drinks I had at the bar – tasty but certainly nothing you'll miss back home.
The Service
Aman Resorts puts a huge emphasis on a very personal, yet reduced and non-invasive service. One could say, it's the foremost reasons for luxury tourists choosing the hotel group in the first place. The Aman Tokyo is no exclusion, though the big amount of rooms and guests really shows. The service is still impeccable but lacks the last 10 percent of the usual Aman spirit.
For example, the check-in process is supposed to be as non-intrusive as possible. So, instead of waiting in front of a desk at the reception, you are ushered into the lobby to admire this outstanding piece of architecture. The otherwise sound concept starts to fail when it takes 10 minutes for your welcome drinks to arrive and another 15 for the receptionist to appear with the papers. Could have been solved in a more professional manner.
Same applies to breakfast: I would expect the waiters to know your name, your preferences (like my dislike of pineapples & coffee) and your room number – if not on the first day, then at least on the second. With a hotel this size, it seems impossible and information has to be shared redundantly.
Now don't get me wrong: The overall service was perfect and even housekeeping was fluent in English (while you are lucky to find one English speaking staff member at most standard hotels in Japan). So, this is criticising a very high level. But then again, you are paying 1,000 US-Dollar a night (and more) for perfection. So, I have to mention other hotels in Japan do a better job in this area (like the truly divine Tawaraya in Kyoto).
Omotenashi (the Japanese word for offering godly service without expectation of a reward) could and should be celebrated – especially at an Aman Resort. Maybe the staff is a bit too international.
Overall impression of the Aman Tokyo
Location: 5 of 6
Service & Hospitality: 5 of 6
Design: 6 of 6
Rooms: 6 of 6
Spa: 6 of 6
Value: 5 of 6
Food & drinks: 4 of 6
Accessibility: 6 of 6
Japan is my favorite country in the world. I admit that the Aman Tokyo really was on my bucket list ever since it opened, so I might be a bit biased in my review.
I'd be lying if I said the Aman Tokyo was the only luxury options in Tokyo. BUT, having stayed at the Penninsula and the Four Seasons, I really have to admit that the Aman is by far the best hotel in Tokyo. The lobby, the rooms, the spa and the overall design truly managed to set a whole new standard for Japan as a whole. The service & food are just perfect (though obviously nothing in the way of Michelin-star quality; which never really has been a focus of Aman, as far as I understand it). Though, as detailed above, my overall impression of the first true city hotel of Aman is slightly different than the other resorts I had the chance to experience.
The only thing I really missed was the historical context. Most other Aman resorts share a unique location – something the Otematchi tower lacks. But then again Tokyo really is not exactly a city of old ruins and palaces, so from a certain perspective, it's quite fitting all in all.
I know, the price tag of the Aman Tokyo is quite staggering. It is, however, worth every single cent and weirdly enough almost appears to be cheap in the light of the huge rooms, the huge spa and the overall quality of the hotel.
My final verdict: The Aman Tokyo is a relaxing & soothing oasis in the middle of Tokyo and I can truly recommend it from the bottom of my heart. I am sure the staff will find a way to go those last couple of meters to attain perfection in the years to come.
Note: I had no direct or indirect association with Aman Resorts at the time of writing this review. All opinions are my own as was the money that paid for my 5-night stay at one of the premier rooms.