A sample itinerary covering all the must-see tourist attractions and sightseeing spots if you only got 1 day in Milan
Milan in Italy is one of the best cities to visit in Italy. The beautiful architecture, the abundant museums, shops galore, and let's not forget the amazing Italian food. There are just so many things to do in Milan (make sure to check out my list of the 20 best highlights). But sometimes time is short. This is why I compiled this guide on how to spend one day in Milan.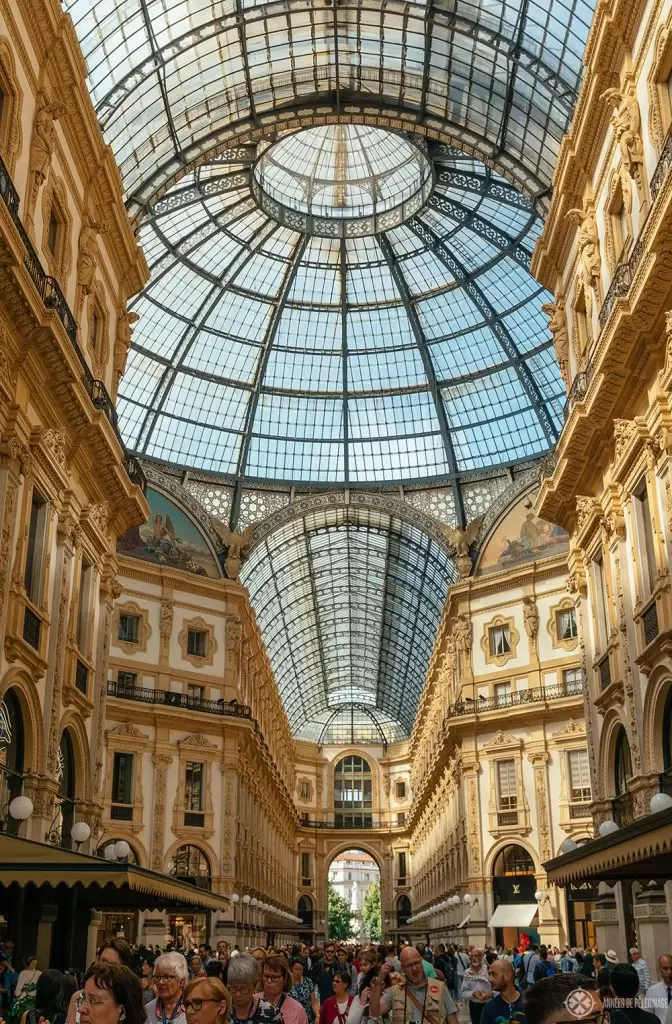 While I'd certainly say you can easily spend two or three days in Milan, 24 hours can be enough to see the major tourist highlights. This little itinerary is the product of my last trip to the amazing city at the heart of the Lombardy region when I wanted to show my parents around. I'm going to show you step, by step how to plan your tour.
So, let's get started with my tips on what to do in Milan in a day, shall we?
The top 10 things to do in Milan
Milan is an old city, very old indeed as it was founded by the celts in 660 BC. It played quite the important role in Roman times and became its own independent dutchy in the medieval times. With such a history, it's no big wonder there are many must-sees in Milan. Here is the list of the top sights:
Duomo Santa Maria Nascente
Galleria Vittorio Emanuele II
Last Supper / Santa Maria della Grazie
Pinacoteca di Brera
Castelo Sforzesco
Teatro alla Scala
Museo Poldi Pezzoli
Parco Sempione
Triennale Design Museum
Biblioteca Nazionale Braidense
Please be aware that this is not the full list of tourist attractions and points of interest in Milan, but merely a selection of the places you really have to see. Naturally, you should reserve some time for shopping and enjoying the fabulous Milanese food as well!
The perfect Milan 1 day itinerary
If you want to experience all of Milan in a day, you really have to prepare a good itinerary, otherwise, time will be a bit too short. Also, know that you need to buy your tickets for Leonardo DaVinci's Last Supper in advance. Depending on the timeslot you score tickets for, you might have to change this sample itinerary accordingly.
Either way, here's how I'd plan my 24 hours in Milan:
8:00 am: Start your day at the Duomo Santa Maria Nascente; Remember to buy tickets to visit the rooftop (the terraces); This early in the morning you (probably) don't need the fast track tickets
9:30 am: Head over to Galleria Vittoria Emanuele II, which lies on the right-hand side of the Piazza del Duomo and marvel at the beautiful architecture of the ancient shopping arcade.
10:00 am: Walk over to Museo Poldi Pezzoli (use google maps; just 5 minutes on foot); click for the website.
11:00 am: Your next stop will be the famous Pinacoteca di Brera; you will need about 1 hour to see all the highlights, but you can easily spend 2 or three hours there; decide for yourself what you want to see and possibly skip Museo Poldi Pezzoli. click for the website
12:00 am: More or less in the same building, you will find the
Biblioteca Nazionale Braidense (just follow the signs on the ground floor)
12:30 am to 1:30 pm: Time for lunch. You'll find quite a lot of restaurants in Via Fiori Chiari just 50 meters from the main entrance (if you turn left and then right);
2:00 pm: Explore Castello Sforzesco. You can easily walk over from Pinacoteca di Brera (about 800 meters), there are a couple of beautiful museums inside; decide for yourself if you need to see one or not (but you'd have to adjust this itinerary accordingly)
3:00 pm: Parco Sempione; right behind the Castello Sforzesco is a huge and wonderful Park. If you feel like it, you can walk all the way through to the Arco della Pace or just rest a bit and have a picknick.
4:00 pm: La Triennale di Milano is located right inside the park (on the left-hand side) and showcases all the design highlights Milan is so famous for! Click for the website.
5:20 Last Supper & Santa Maria della Grazie: At this point, you might want to take a taxi, though it's only about 1 kilometer or 10 minutes walk; Remember to buy your tickets in advance. The last tour will be 6:20 pm
8:00 pm: Teatro alla Scala: While it is possible to tour the world famous Theater in the daytime, I strongly recommend you to buy tickets for a performance in the evening (make sure to book 2-3 months in advance, if possible)
Like I already said, there's no need to attend an opera or ballet performance at the Scalla. As an alternative, you might just see the theater during the daytime and go for an early dinner. While there isn't any strict black-tie dress code, visitors are expected to look chic, so hence the little 90 minutes break in my itinerary in case you need to change clothes.
Naturally, you can easily scramble my Milan city tour around as you see fit and start at the end. And don't forget: The city is perfect for shopping and eating (though a bit expensive), so nothing speaks against skipping a museum and using that extra time to treat yourself. There really is no need to rush when you visit Milan. You might as well just enjoy the dolce vita, eh?
Visiting Milan on a day trip
Milan lies quite close to the border of Switzerland. It is not possible to visit Milan on a day trip from either Venice or Florence, as you will need roughly 3 hours in both cases – one way! You could, however, leave either city late in the afternoon and stay a night in Milan and start your day early. This is what most commercial Milan day tours offer as well.
Or leave very early and then stay a night in Milan and leave for Switzerland the next day. Lucerne is only a 3 hour's drive and you could possibly stop in Varese (a beautiful UNESCO World Heritage site) or at Lale Como or Lake Lugano.
I'm very confident you can adjust my itinerary accordingly and see a museum or one of the many other tourist attractions in Milan in the morning of the following day (pick whatever is feasible and close to your hotel). Please do keep opening hours and national holidays in mind.
Please be aware that Milan is an incredibly expensive city, and hotels will be equally expensive. Expect prices around 100 to 250€ per night for a low standard hotel. My favorite luxury hotel in Milan is the Four Seasons hotel, as it has a beautiful green courtyard and a very good location. Check out my review here.
There are obviously cheaper hotels around, but some people might still opt to stay a night at the iconic Armani hotel nonetheless, simply as it feels right. You can even stay right inside the Galleria Vittorio Emanuelle II. Check out the TownHouse Galleria to see it is totally worth the heavy price tag!
If you are not willing to invest that much money, a good option is to stay on the outskirts and driving into Milan in the morning.
Note: I earn a small commission if you book through these links.
Anyway, this was my little guide to spending 1 day in Milan. Hope it helps you visiting one of the most beautiful cities in Italy. Got any questions? Leave them in the comments below. And don't forget to pin this travel guide to your Pinterest board!