A detailed list of Nara's temples and shrines you have to visit on your next visit!
Nara is an intoxicating place. The ancient city who was the capital of Japan between 710 to 794 AD exudes history no matter which part of the city you go. There are gigantic tombs, the beautiful deer park, fascinating museums and of course many ancient shrines and temples in Nara.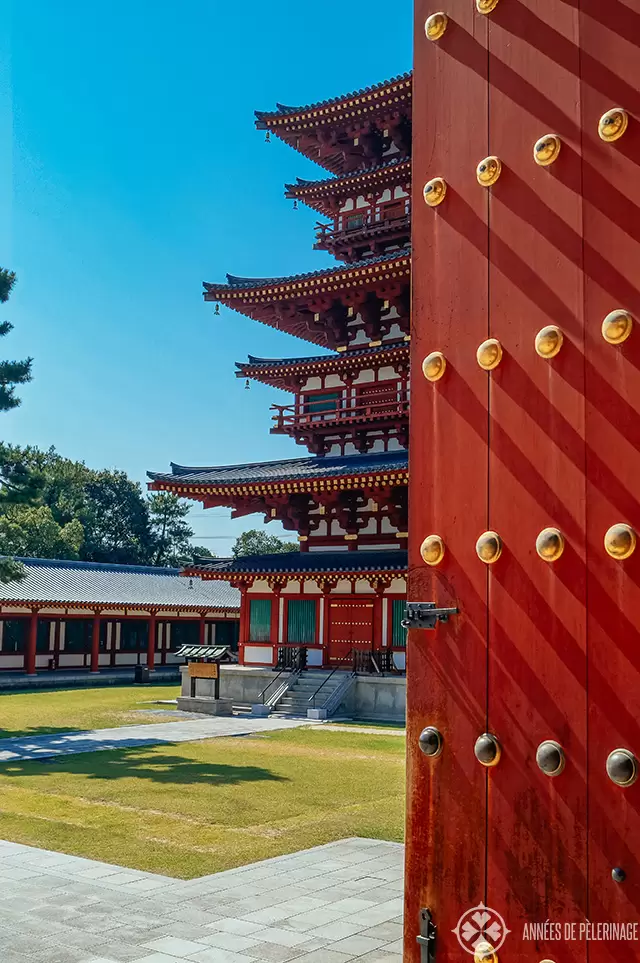 Actually, there are so many things to do in Nara that I recommend staying a night. Of course, you can also visit on a day trip from Kyoto or Osaka. But no matter how limited your time in Nara is, you really should focus on the many fascinating Buddhist temples and Shinto shrines in Nara. They are the oldest and biggest in the country and the main reason most people visit the town (other than the free-ranging deers).
I have been to Nara many times and I'm going to show you the top sacred places in the city. Most of the temples in the town were inscribed as a UNESCO World Heritage site called 'Historic Monuments of Ancient Nara' and I won't be mentioning this further down, as I feel things will get repetitive a bit. Anyways, let's go!
1. Todai-ji Temple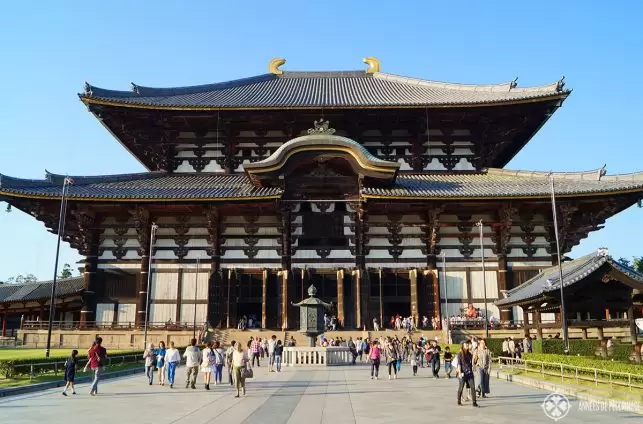 Buddhism was introduced to Japan in the sixth century, but I only gained wide popularity under Emperor Shōmu. He was a fervent believer and under his reign, construction for the biggest wooden structure in the world together started in 738 – the Todaiji (東大寺). When it was finished in 745, it also contained the biggest bronze statue of a Buddha – a feat that nearly bankrupted Japan at a time.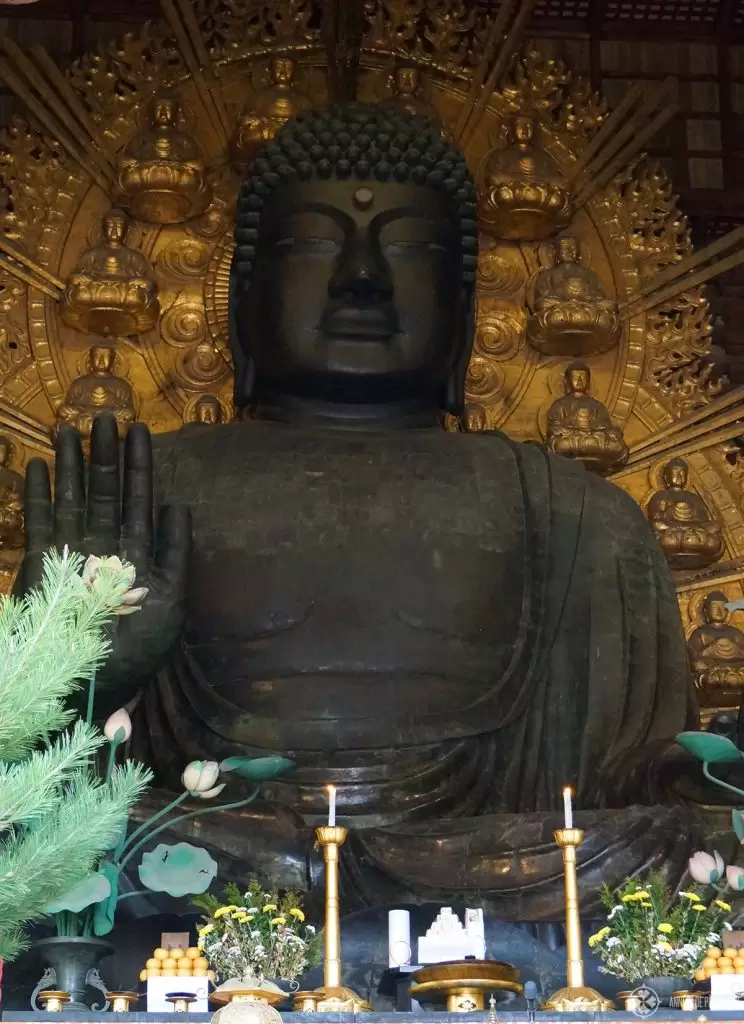 What is even more impressive: The great hall of the Todaiji held these records until recently, despite the fact that the present reconstruction from 1692 (when the temple burned down) is only two thirds the original size!
Todaiji literally means Great Eastern Temple and it a true must-see in Nara. I promise you, as you walk through the ancient Nandaimon Gate with his beautiful statues, you will hear your jaw drop! The Daibutsuden Hall is just so incredibly large!
Insider tip: Inside the hall to the right, one mighty pillar has a hole on the ground. It's considered a particularly auspicious sign if you scramble through (though there will be a long line) and you will be granted enlightenment in your next life.
2. Kasuga Taisha Shrine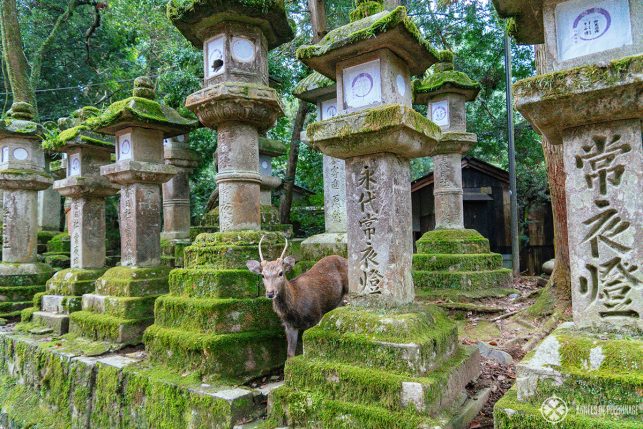 Most of Nara is in the firm hand of Buddism. Still, my favorite place is a Shinto shrine! Kasuga Taisha ( 春日大社 ) is famous for its thousands of thousands of lanterns. As you approach the shrine at the far end of Nara park, you will walk along sheer endless paths of stone lanterns covered with moss.
Kasuga Taisha is actually the oldest shrine of Nara as it was dedicated to the deity responsible for protecting the city. On top of that, it is the house shrine of the powerful Fujiwara clan (which dominated the political life during the Nara and the following Heian period).
Once you climbed the hill, you will find the inner sanctum where bronze lanterns are hanging from every roof. You will have to pay a small entrance fee to go inside and some might say it is not worth it (especially as the innermost part is off-limits), but I really love it! I wrote a bit more Kasuga Shrine here to give you a good idea.
Note: Make sure to visit the Kasuga Taisha Museum where the treasures of the shrine are on display!
3. Yakushi-ji Temple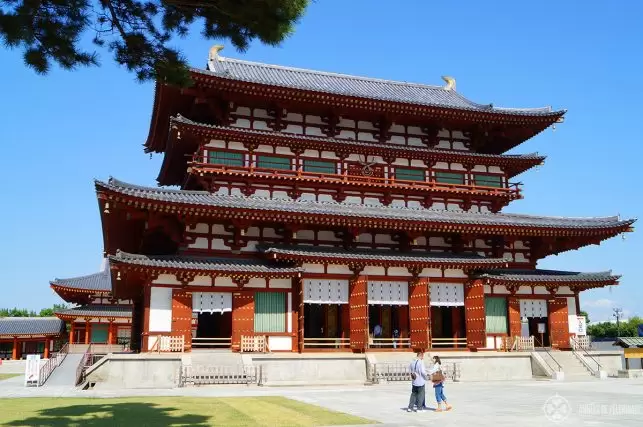 What's the prettiest temple in Nara? In my opinion, the honor goes to Yakushi-ji (薬師寺). The vermillion great hall of one of the Seven Great Temples of Nanto is just beyond picture-perfect. Fires destroyed the beautiful temple multiple times and most of what you see today was built rebuilt in 1970.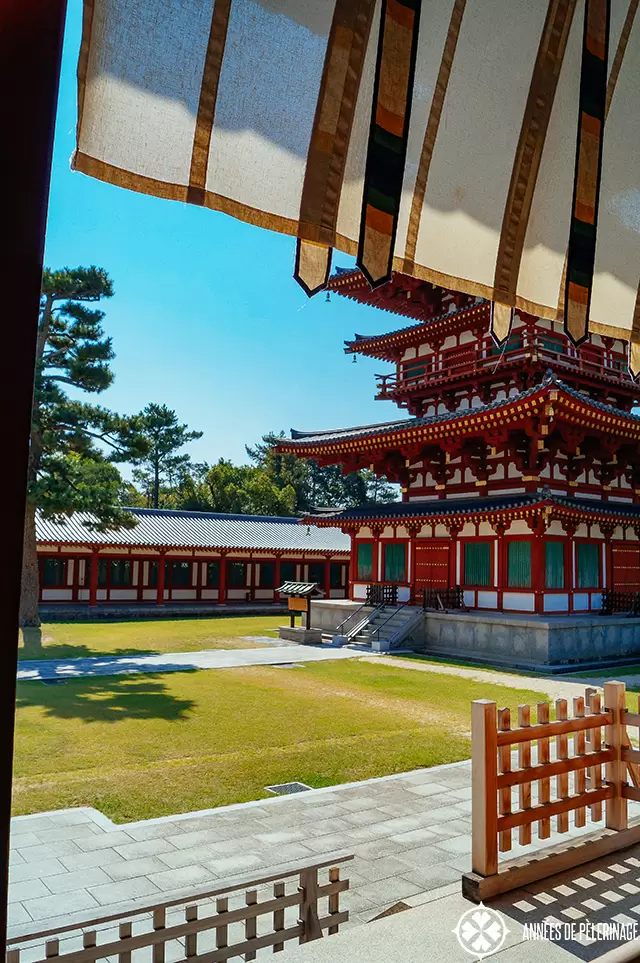 Only the East Pagoda still dates back to the 8th century. It is considered as one of the finest pagodas in Japan and you'll quickly see why. This place is like a dream!
4. Hōryū-ji Temple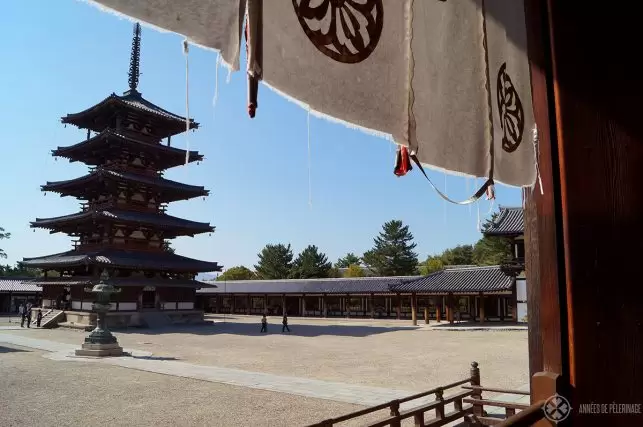 Nara holds quite a couple of records. Apart from one of the largest wooden buildings, you will also find the oldest extant wooden structures in the world, the Hōryū-ji (法隆寺). The central pillar of the pagoda was felled in 594 AD, can you believe it?
A couple of other buildings and treasure halls were constructed around that time as well. Most prominent is perhaps the Yumendono (Hall of Dreams). It was once the private palace of Prince Shotoku – a legendary Japanese emperor who is credited with establishing a centralized government and a 17 article constitution.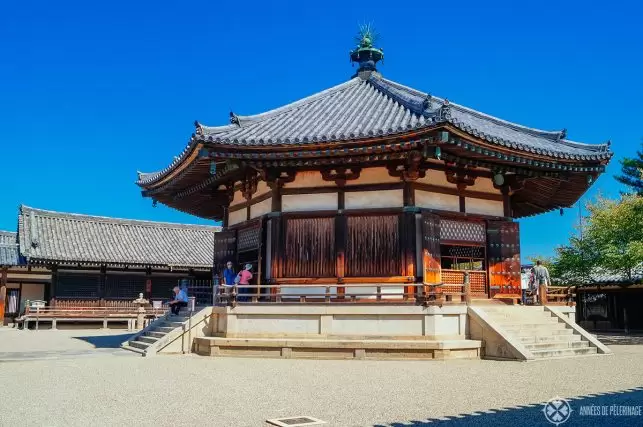 On auspicious days throughout the year, you may see the Yumedono Kannon inside – a fabled life-sized statue of Prince Shotoku from the 6th century. It survived the ages almost unscathed and even retains almost all of its original gilding.
Tip: Definitely visit the outstanding treasure hall of the temple. Here you will find the finest collections of Buddhist art from the sixth and seventh century in the world.
5. Kōfuku-ji Temple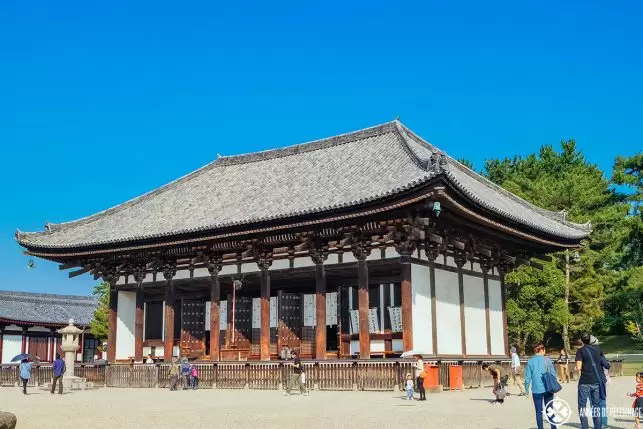 Right in the heart of the Nara Park you cannot help but notice the grand five-storied pagoda of the Kōfuku-ji (興福寺). The temple is the headquarter of the Hossō School and home to a couple of important National Treasures of Japan.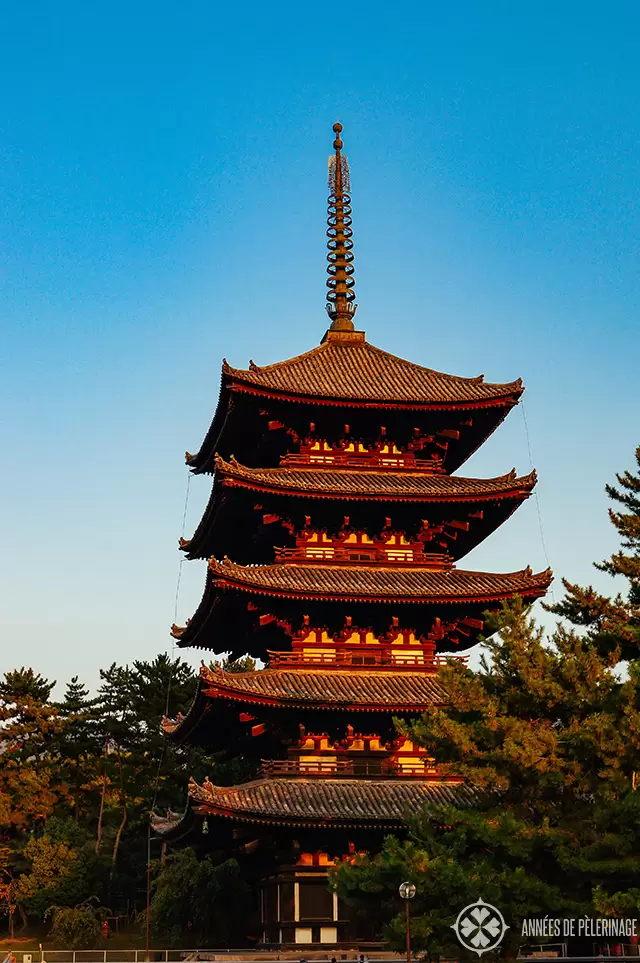 These treasured statues are the main reason to visit this temple. While the temple was established in 669 it was ravaged by fire so many times, that many of its buildings weren't rebuilt. Still, in 2018, the Central Golden Hall was reconstructed and is finally once again open to visitors.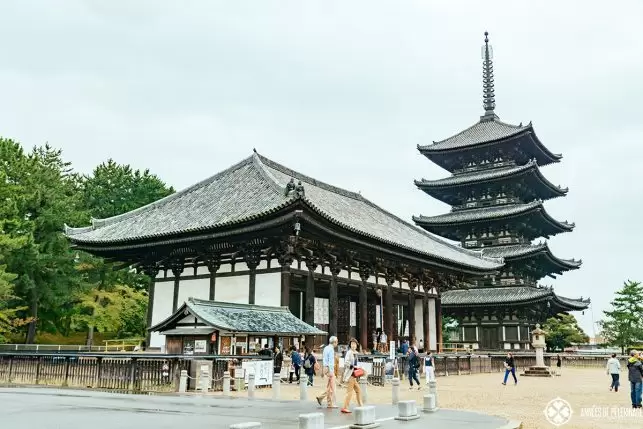 Once, you could also find the Rokusō-an (六窓庵, Six Window Hut) in the gardens – one of the three famous tearooms of Japans. You can not find in the Tokyo National Museum as it was in such a bad shape it had to be relocated.
6. Tōshōdai-ji Temple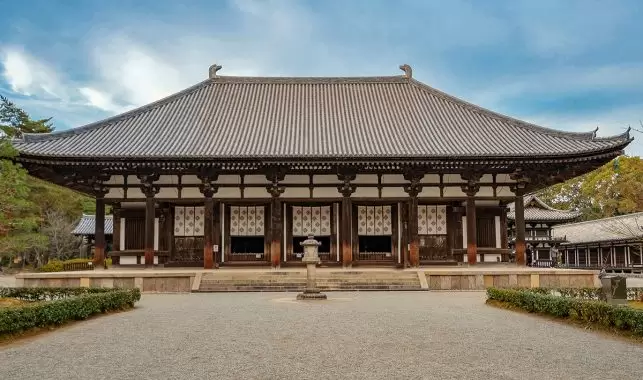 The grand Tōshōdai-ji (唐招提寺) is the headquarter of the Risshū sect and was founded in 759 AD. The Golden Hall , which dates back to that time, is a Japanese National Treasure and many other outbuildings of the complex are considered an Important Cultural Property.
The Tōshōdai-ji is perhaps not as flashy and impressive as other temples in Nara, but that's precisely why you should visit. You'll also find the kofun grave of Emperor Suinin very close by, so it really pays off to take the bus to get there (the Kintetsu Kashihara Line also stops almost right in front of the entrance).
7. Todai-ji Nigatsu-do Hall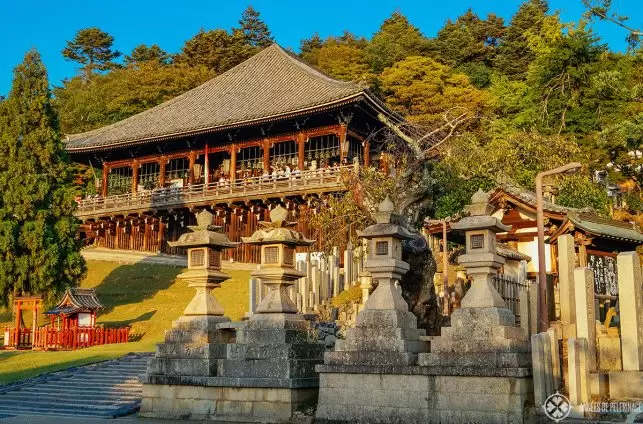 The Todai-ji is a huge temple complex and you really shouldn't think of it as just one big hall. There are many smaller pagodas and temples scattered around the huge park surrounding it. One of them is the Nigatsu-do.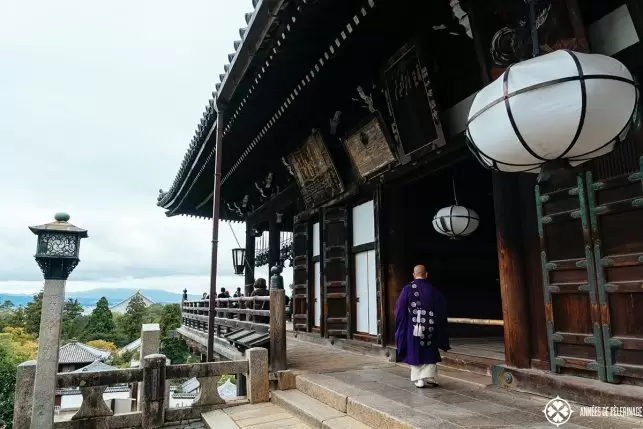 The view from the grand terrace of the temple is your main reason to climb the hill behind Todai-ji. It is the best view of Nara in my opinion and quite a special place! The temple was founded in 752 but what you see today is a reconstruction from 1669.
8. Saidai-ji Temple
I already mentioned the Todai-ji, the Great Eastern Temple. But did you know that there is also a Great Western Temple? Well, in 765 Emperor Shōtoku ordered the construction of the Saidai-ji (西大寺) as a pendant to the Todai-ji. Today, the temple is famous for its annual tea ceremony (Ō-chamori, 大茶盛) where matcha tea is served in gigantic tea bowls.
It takes place every second Sunday in April and October. And when I say gigantic, I mean gigantic. We are talking about a diameter of 20 inches and more!
9. Hokke-ji Temple
It's not easy to take a pick among the hundreds of temples in and near Nara. If you are looking for a somewhat different place, then the Hokke-ji (法華寺) could be just the right thing for you. It was built by Empress Kōmyō in 754 as a nunnery. Sadly, the place was damaged by fires and war quite a couple of times, so what you see today is mostly from the 16th century. What makes this place different, is an ancient bathhouse that was opened to the public right after the founding in the early Nara period!
10. Isui-en Garden
My last entry on this list of the best temples in Nara isn't actually a temple or shrine at all. While you will find a small pagoda in Isui-en, it's actually more a garden. Still, it is the most famous garden in Nara and the perfect place for some quiet contemplation. This is why I felt like mentioning it in this spot. Also, it offers wonderful views of Todai-ji.
Make sure to also visit the adjacent Yoshikien Garden which is almost as beautiful!
Other beautiful temples in Nara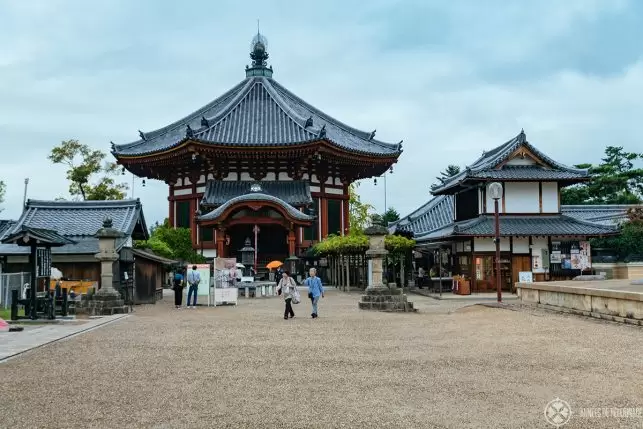 I want to be honest with you. If you would love to see all the temples in Nara, you'll probably need a month. There are so many smaller ones I did not mention in this guide. Remember, this region has been continuously inhabited for 2,000 years and it was never ravaged by modern mass warfare (which is not to say Japan'S history was all that peaceful).
Still, the Hase-Dera might also be worth a visit, especially as it does have a beautiful viewing platform, and so are the other former 7 Great Temples of Nanto (Daian-ji comes to mind).
But in a way, I urge you to be careful. Temple sickness is a real thing and you will see a lot of them on your Japan itinerary. You should definitely be aware that there are so many things to do in Japan, and there is also impressive nature, modern technology, and amazing performing arts. So, don't overdo it with temples, eh? :)
Further reads:
Anyways, that was my guide to the most beautiful shrines and temples in Nara. Got any questions? Feel free to leave a comment below!