You've seen the pictures, but you probably don't know what it is about. Here is my travel guide to Kiyomizu-dera in Kyoto.
High upon the hills behind Kyoto stands one of Japan's most famous temples and is an integral part of most Japan itineraries (click tocheck out mine). Kiyomizu-dera (清水寺) is best known for its monumental wooden stage abutting the sky. The timber construction invites its daily tourist to dive into the impressive vista over Japan's former capital. Some might even wonder, who of the suicide-prone Japanese took an actual plunge into the depths below.
I featured Kiyomizu-dera very high on my list of the top things to do in Kyoto, and that is for a reason! It's simply incredible1
Starting the tour through Kiyomizu-dera
A little print-out handed to me at the entrance informs me that Kiyomizu-dera was founded in 780 AD. The proximity to the Otowa Waterfall gave the temple its name. Kiyomizu-dera literally translates into Temple of Pure Water.
Having seen the majestic pictures of Kiyomizu-dera before, the entrance to the Buddhist temple seems almost puny by comparison. A stair, a little gatehouse and a three tiered pagoda behind – nothing the casual Japan traveler would judge as particular awe-inspiring. Kyoto is, you have to know, home to 17 UNESCO World Heritage sites. And exactly that is what I was expecting here.
Unmindful of the unremarkable prelude, I climb onwards. Only a few shallow steps later, all in all perhaps a walk of 200 meters, the imposing main hall of Kiyomizu-dera opens up. Flanking a flock of fifty Japanese school girls taking selfies, thick cedar boles invite me to explore the lofty heights of the ancient roof construction. Not a single nail was used, they say, in building Kiyomizu-dera. I rather wonder, where all these massive cedar trunks have been found that stem the temples weight with reliable ease.
I skid along the tourist-worn wooden planks. Ornate brass lamps illuminate the darkest recess where a small statue of the Kannon Bodhisattva sprouts a thousand arms and supposedly eleven heads from his slender golden body. I do not count them – in fact, few visitors seem to take an earnest interested in Kiyomizu-dera's prime object of worship. Instead, they are collectively drawn to the wide-open stage to Japan's natural wonders.
The 13-meter high balcony forms the perfect platform to breathe in the golden autumn colors of the untouched valley in front. My eyes shortly rest on the sloping roof of the Koyasu Pagoda but wander onwards to the nauseating depths below. There I can faintly hear the sprinkling of the Otowa Waterfall. In hindsight, I should have taken a picture, but to be fair it is nothing more than a stone fountain with three spigots. Still, from above you can see many Japanese plunging cups mounted on long sticks into the scarce trickle to imbibe the allegedly health bringing liquid with just as much vigor.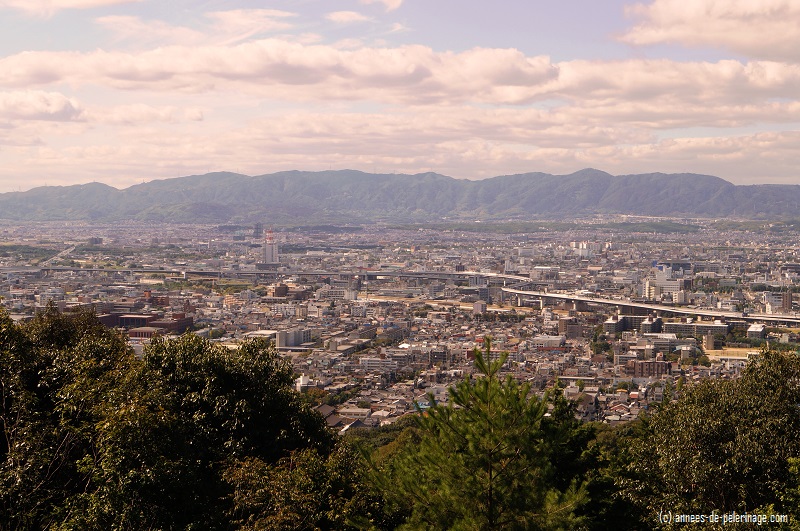 Still high up on the balcony, my gaze veers to the right where the greay mass of Kyoto's skyline can be seen through the hazy air. This is, in fact, a valid recommendation for any visitor in Kyoto. No matter if you are no particular fan of religious architecture – the temples and shrines on the hills offer an excellent vantage point for aerial observation.
An elevated wooden walkway and the pressing hordes of picture crazy tourists usher me along the hillside to another major hall of the temple. Okunoin Hall is maybe best known for its spectacular view on Kiyomizu-dera. In fact, I would be hard pressed to tell you, what can be seen inside this outbuilding. You, will, however, be able to fight over the best spots for taking your selfie with Kiyomizu-dera. For the sake of consistency, I added mine here.
Taking my leave from Kiyomizu-dera
Onward from Okunoin Hall, the tourist-clogged paths winds downward into the valley. Though the dense foliage mostly obstructs the view on Kiyomizu-dera, I'll harass you with yet another picture of the famous temple. In all honesty, I found the monumental wooden stage of Kiyomizu-dera to be the main attraction of the temple. Otherwise, there is little equally remarkable to see (to be fair that would be quite hard!). In fact, my tour took, all in all, not more than 30 minutes.
However, there is one more thing I'd like to highlight at the end. The narrow hillside streets leading to the main entrance of Kiyomizu-dera are busy with restaurants and a host of souvenir shops. If you are a sloth and feel like indulging yourself, then you should take the chance to hire a rickshaw here. While the incline to Kiyomizu-dera is neither particularly steep nor very strenuous, it sure adds to the experience to ride in Japan's traditional means of public transport.
Opening hours & Tickets for Kiyomizu-dera
Generally speaking, Kiyomizu-dera opens at 6:00 am and will close between 5:30 pm to 6:00 pm. The temple is opened throughout the year. There are, however, a few nights in the year, when Kiyomizu-dera won't shut its might cedar-doors before 9:00 pm.
Though I personally haven't seen the temple on these auspicious dates, I heard that the whole temple would be illuminated with candles and millions of lights. Should be quite a sight!! (Check out the official website for more information.) Be aware that the admission free for Kiyomizu-dera will be 400 Yen instead of 300 Yen an adult on these days.
With this last information, my travel guide ends. I hope you genuinely enjoyed my little tour through Kiyomizu-dera. If you are staying in Kyoto, make sure to read my guide on when & how to spot Geishas in Gion-district. The highest chances are in the late afternoon, so you could schedule your visit at the famous temple accordingly!
Oh..and don't forget to read my list of the 20 best things to do in Japan. I'm sure you'll find some nice inspiration on that list!