Where to stay in Machu Picchu. 5 stars hotel or budget – a guide to finding the best hotels in Machu Picchu, Peru
Finding good hotels in Machu Picchu is far from easy. Finding the best hotel for your budget is even harder. In fact, the Lost City of the Incas is one of the rare places on this planet you can't just visit on a whim. You really need to plan your stay months ahead. One of the reasons is its inaccessibility the other issue is accommodation. Unlike other highlights around the world, it is not feasible to do Machu Picchu on a day trip (say from Cusco) and see the full scope of the Inca ruins.
If you want to spend more than 3 hours in the ruins, there is no way around staying overnight. But it gets worse. Except for one single high-end luxury option, there are no hotels in Machu Picchu itself. All other hotels are located some 400 meters lower in Aguas Calientes, which is a 30 minutes bus ride away. Here is an overview of the best hotels near Machu Picchu (sorted from luxury to budget):
Note: I get commissions for purchases made through links in this post. I had no association with the hotels features in this article whatsoever when writing this review. My opinions are my own, as was the money that paid for my stays.
Belmond Sanctuary Lodge Machu Picchu
Belmond, formerly (and perhaps better) known as Orient Express, runs the only hotel in front of the entrance. The outstanding luxury hotel is by far the closest hotel to Machu Picchu (literally 5 meters away from the main entrance) and is called The Belmond Sanctuary Lodge. This gives tourists the chance to be the first in and the last out of Machu Picchu. There is even a spa with a view of the ruins.
Be aware that the Sanctuary Lodge is not exactly the cheapest hotel alternative for visiting the famous Inca ruins. For the rare chance to sleep in a hotel on top of Machu Picchu, Belmond charges more than 1,000 USD per night. Since the space so close to the entrance is very limited, there are also only a very limited amount of rooms – these sell out quickly (despite their high price).
The Belmond Sanctuary Lodge also has an á la carte restaurant and a buffet style restaurants in Machu Picchu. Both are open to the public, though again not exactly cheap. That being said, the food is of a very high quality and well worth its price. Besides those two restaurants are literally your only option if you want to eat lunch (or an early dinner) in Machu Picchu.
Check out my full review of the Belmond Sanctuary Lodge [including a video]
Other 5 stars hotels in Machu Picchu
If you cannot afford the Sanctuary Lodge (which really is not something to be ashamed of) or there are no vacancies, you still got a couple of other luxury hotels in Machu Picchu. Fear not, you are not going to have to sleep on the street.
The second most famous hotel in Machu Picchu (and the best hotel in Aguas Calientes) is the Inkaterra Hotel (officially called Inkaterra Machu Picchu Pueblo Hotel). There is a standing cooperation with PeruRail. You can opt to have lunch at this hotel right after you arrive by train at a discount place. The hotel appears to be some colonial-style property and is only a couple of meters away from the train station. Everything is very spacious. There is even an orchid garden you can explore.
If you are looking for traditional design, a lovely view and a very open architecture, then this is your perfect hotel in Machu Picchu.
Very close to the river passing by Aguas Calientes, there is another 5-star property. Sumaq Machu Picchu Hotel offers you comparable modern design, a wonderful setting, and spacious rooms. There is also a little spa. The hotel has a capacity of 60 rooms and is the largest of the luxury hotels in Machu Picchu.
If you are looking for modern design, oppulent luxury & a good location, this is your hotel.
Best Budget hotels in Machu Picchu
There are, all in all almost 100 hotels in Aguas Calientes. In fact, the town consists of little else. That being said, it is very hard to take a pick. Basically, I recommend you to check out the latest deals on booking.com (which I use) or similar hotel search sites. You can usually score a nice bargain there. Most of the hotels near Machu Picchu are quite similar in their pricing structure and the service offered. That being said, I can recommend:
The Casa del Sol Machupicchu is a very lovely 4-star hotel at a reasonable price. They have their own spa, a more than decent restaurant in a modern setting, not lacking traditional elements. For me, it's the perfect mid-range hotel in Aguas Calientes.
The Tierra Viva Machu Picchu is a three-star hotel and one of the most popular budget hotels in Machu Picchu. With a room price averaging around 120 US-Dollar per night, it is among the cheaper options in Aguas Calientes, while not being downright shabby. In fact, it is located inside a very modern building, with very clean and spacious rooms.
This hotel is located a bit further in town. Again it is very modern, very clean and most rooms offer a wonderful view. With roughly 100 US-Dollar per night and room, it is among the cheaper hotels in town, while still offering you the comfort of a three-star property.
Machu Picchu Hostels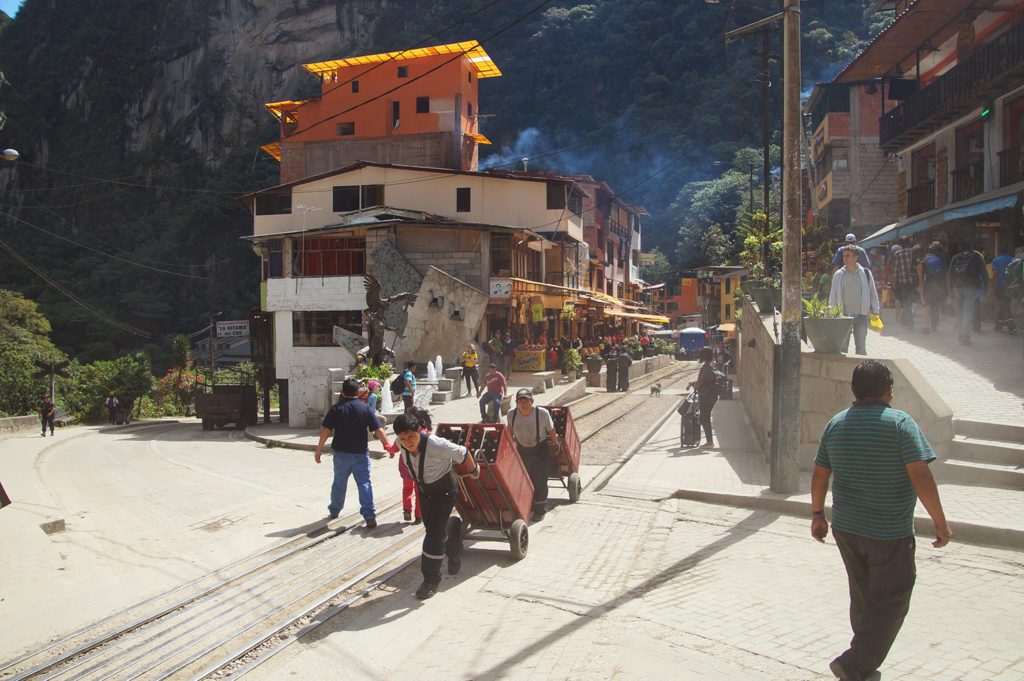 Peru is very popular among backpackers, so it is little wonder plenty of hostels can be found in Aguas Calientes. Since Peru is, generally speaking, safe to travel, and Machu Picchu is a very popular destination, there are no major concerns preventing you from booking a hostel.
This is, as far as hostels in Machu Picchu goes, your luxury option. There is no dorm room, all rooms have their private bathroom and the location is fairly central as well. With roughly 40 US-Dollar per night, it's also one of the most expensive hostels in Aguas Calientes.
The Tayta Hostel is the hostel in Machu Picchu with the most and currently best reviews. The charming little hostel is located a bit further upstream, in a quieter part of Aguas Calientes. The rooms are fairly big, have their own private bathroom and even breakfast is included!
If you are looking for dead-cheap and bunk beds, then you will find heaven in the Casa Machu Picchu. The traditional hostel has over a thousand reviews on booking.com and offers starting from 7 US-Dollar a night in a 4-bed dormitory room.
Camping in Machu Picchu
Machu Picchu is not exactly cheap to visit. Train tickets, entrance tickets, bus tickets – there are many strains on a tight budget that are hard to avoid. Still, there is a good way to save on accommodation. Aguas Calientes has a camping ground (quite rare for a pueblo). It is situated on the road towards Machu Picchu, so a little outside Aguas Calientes. (Sorry they do not have a website I can point you towards.)
What sounds like a disadvantage actually comes in quite handy in the morning, if you plan to hike up to Machu Picchu instead of taking the bus. The municipal campground in Machu Picchu features bathrooms and a little booth where you can buy snacks and drinks. They charge 15 soles (about 5 US-Dollar) per night and per tent – so absolutely your cheapest option to stay overnight in Machu Picchu. Wondering if you can do it? People doing the Inca Trail only sleep in camps, which proofs it's utterly feasible. Just absolutely remember to bring insect repellant!!
Daytrip from Cusco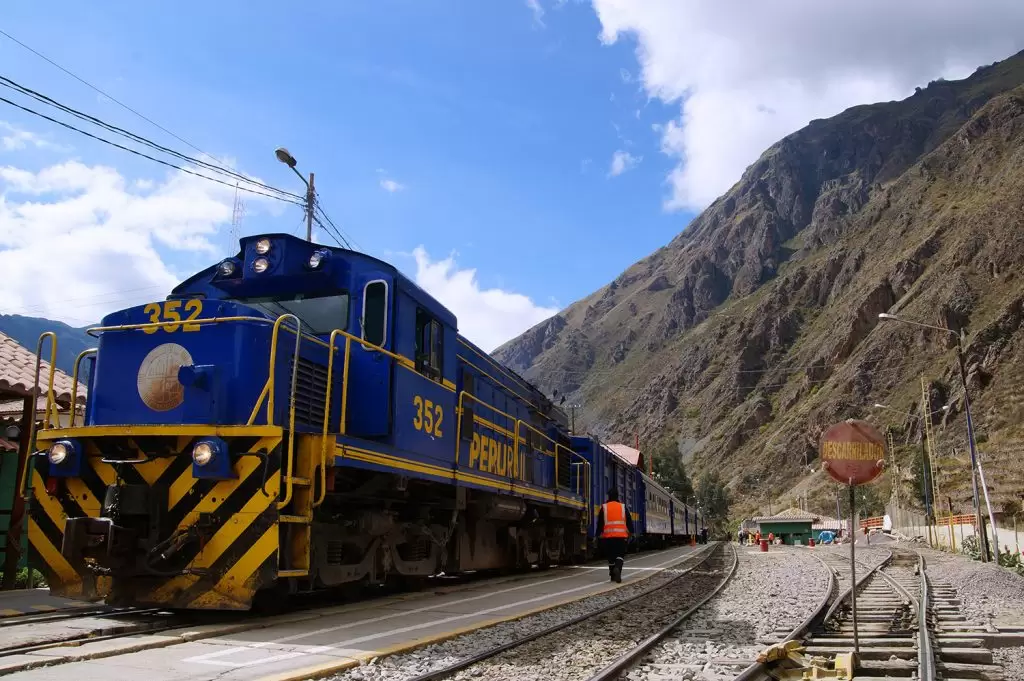 Last but not least you could opt to not stay overnight in Aguas Calientes at all. Day trips from Cusco are possible. If you hop on the very first train in the morning (which leaves around 6 am) you'll reach Aguas Calientes around 9 am. The last train from Machu Picchu usually leaves around 7 pm. Calculate 90 minutes for bus transfers (Aguas Calientes to Machu Picchu and back), that will leave you, ideally speaking, 6 hours to explore the ruins. Definitely count on less available time, though.
Here's my comprehensive guide on how to get from Cusco to Machu Picchu.
Obviously, you will not be able to see the sunrise in Machu Picchu – nor the sunset. You will also not be able to see all parts of the lost citadel either. But if you don't want to climb Huayna Picchu or Machu Mountain, a day-trip is actually feasible.
Instead of Cusco, you could also opt to start from the way closer Ollantaytambo (read all about the last fortress of the Incas here). Most people prefer to stay overnight in Aguas Calientes, though. In fact, there are many people deciding to visit Machu Picchu on two consecutive days. There is plenty to see inside the ruins to keep you occupied for more than two days, it decreases the chance of having bad weather and obviously, it gives you more time to enjoy the sublime beauty of the site.
Next steps towards Machu Picchu
Booking your hotel (or hostel) way in advance is quite important if you are planning to visit Machu Picchu. The best properties usually sell out very fast, especially in the high season. I know, it's not that easy to decide where to stay in Machu Picchu, but I hope I was able to help you a bit. To ensure you come prepared, here are some further articles on Machu Picchu.
Liked this article? Pin it for later!
Picture credits: Madeleine Deaton