Lares Trek into Machu PicchuMachu Picchu is one of the Seven New Wonders of the World, a UNESCO World Heritage site, the only surviving intact Inca city in Peru and so much more. Above all, it is beautiful beyond belief. Roughly a million people come to the Peruvian hinterland each day to visit the ancient Inca ruins. All of them had to ask themselves the same question at one point: Train, bus or on foot – How the hell do you get from Cusco to Machu Picchu?
____________________
Don't want to forget that all-important item at home? Check out my detailed Machu Picchu packing list.
Note: I heard a small comission for purchases made through links in this blog post.
The basics of getting from Cusco to Machu Picchu
There are three general ways to reach Machu Picchu, some of them quite expensive, while none of them are exactly easy. There is a reason why it took western archeologists until 1911 to find the lost city of the Incas. Strictly speaking, Machu Picchu is not very far away from Cusco.
If you were to take a helicopter along the Sacred Valley of the Incas and over the Andean Mountains it would only take you a couple of minutes (before you ask: this is not an option as the Ministry of culture forbade any airborne traffic above Machu Picchu!). The distance from Cusco to Machu Picchu is only some 75 kilometers! For more facts & information, I recommend you to read my ultimate insider guide to Machu Picchu.
Depending on your way of travel it can take you up to 7 days to reach it, though. The reason: the whole Urubamba valley is almost inaccessible. There is only space for small trails and dense vegetation. As of now, there is no road going directly to breathtaking Machu Picchu – only train tracks and long and winding paths to travel by foot.
Even that is not the full story, as you have to head to Aguas Calientes first – a town some 400 meters below Machu Picchu (check this article for the best hotels near Machu Picchu). From here you can either take a bus or hike up to Machu Picchu. Buses leave every 5 minutes.
You have to buy your tickets in advance. It's not posisble to buy them at the entrance. Do so months before your trip. They sell out fast. You can buy them directly here.
So how to get from Cusco to Aguas Calientes? You got three options: Taking the train, hiking (for example the famous Inca Trail) or taking the bus.
Taking the train from Cusco to Machu Picchu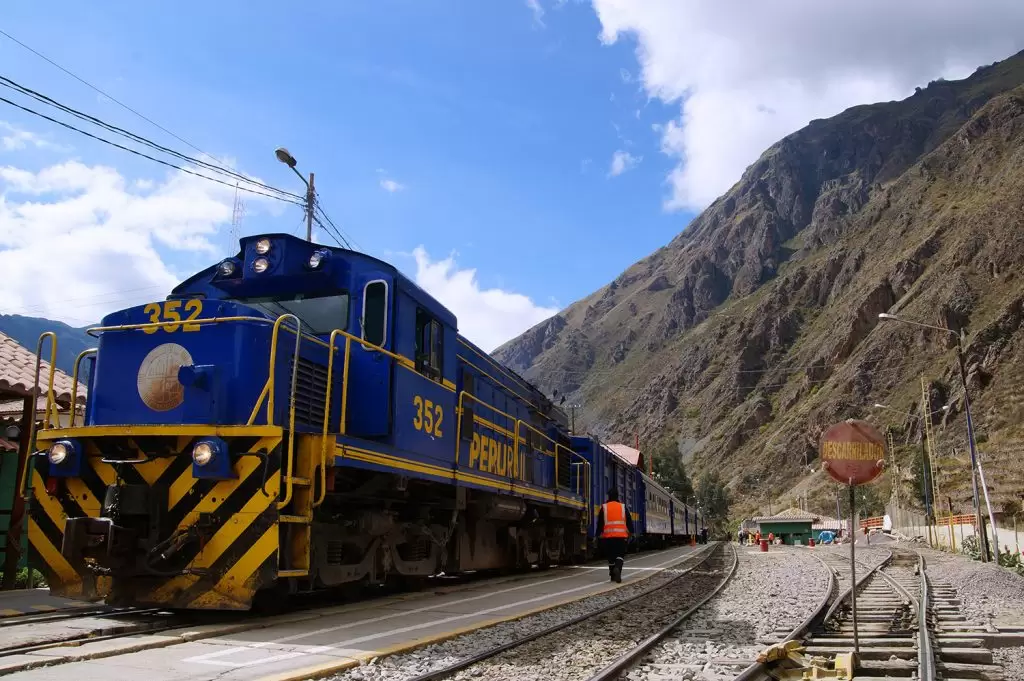 Taking the train to Machu Picchu is by far the easiest and fastest option. Trains depart multiple times each day, 365 days a year. The train ride to Machu Picchu is, in fact, one of the most beautiful train rides in the world, so you really shouldn't miss it.
As a tourist, you can either start in Cusco or in Ollantaytambo. Trains will roughly take 3 to 3 and a half hours from Cusco. If you got the chance, pick the train from Ollantaytambo. Not because the trip to the Inca ruins will only take 90 minutes to Machu Picchu from there, but because an outstanding Inca fortress (almost rival to Machu Picchu itself) can be visited here (read my full guide here).
Do book your train tickets from Cusco to Machu Picchu well in advance. The Inka citadel is a popular destination and not all options might be available to you on the site anymore!
Be aware that the Cusco trains leave from Poroy train station a bit further outside Cusco. From the center that is a taxi ride of about 20 minutes depending on the traffic situation. Depending on the ticket you are holding you may be required to be there 30 minutes prior to departure for registration.
Ever since July 2017, there is a special Afternoon ticket for Machu Picchu. Which enables you to see Machu Picchu on a day trip without paying fully. Read more about it here.
Another important notice: There is a baggage limit of 5kg per person on ALL trains. No big hand luggage is allowed! If you plan to visit Machu Picchu with bigger luggage you absolutely need to contact PeruRail in advance and ask them for permission! (which usually is no problem; at least I never faced any.
A) The Vistadome
The train most tourists will take is the Vistadome. It is run by PeruRail and offers wonderful panoramic windows. There is also food and non-alcoholic beverages being served on board – all included in your ticket price. Since the train tracks follow the Urubamba river down the Sacred Valley of the Incas, prepare for breathtaking landscape and an unforgettable journey.
Actually, this is a good opportunity to mention that Machu Picchu is hidden a cloud forest, so you will see the landscape change considerably on your way further down the valley.
There is also a little music and fashion show on board to pass away the time. Travelers can also opt to book a buffet lunch at the Belmond luxury property outside the gates of Machu Picchu (the so-called Sanctuary Lodge; read my review here) for an extra charge, though I would say that really is not needed as the buffet tends to be very crowded.
B) Expedition
The Expedition train is also operated by PeruRail but much cheaper. It's more or less a regular train without the panoramic windows, the extra food, and entertainment. If you are looking for a combination of budget and fast, this is the train you should take. Most locals pick these, so expect a joyfully mixed group of passengers.
You can buy the tickets for the Expeition train here.
C) Hiram Bingham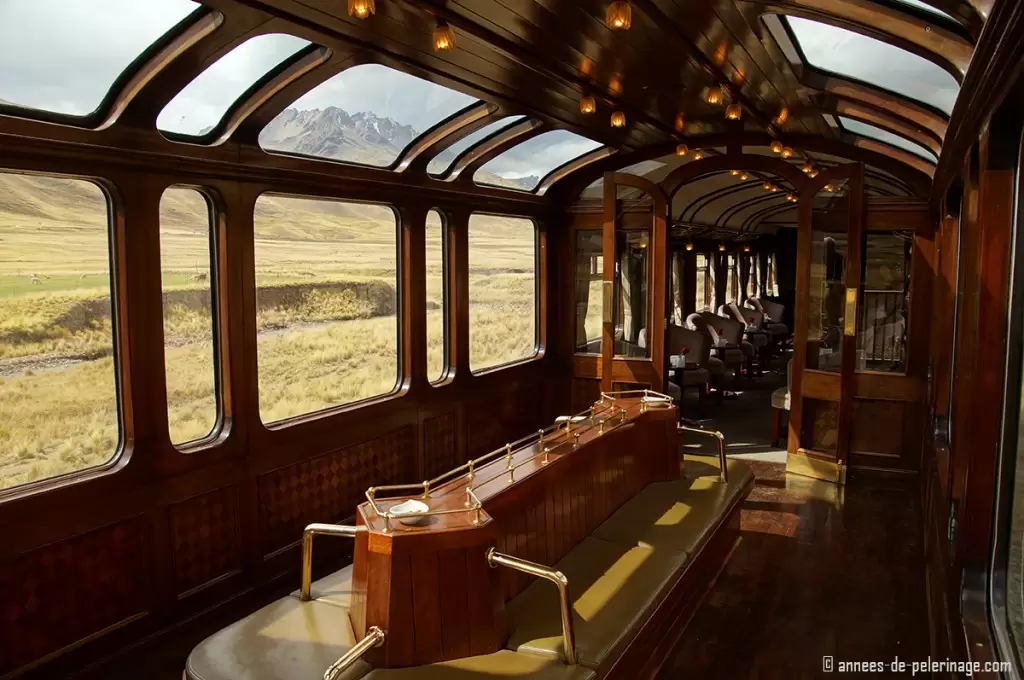 Hiram Bingham is the man who made Machu Picchu popular in the western hemisphere and Orient Express dedicated a special luxury train. The brand is now known as Belmond and sends luxury travelers to Machu Picchu from Monday through Saturday.
Welcome cocktail, onboard gourmet lunch, and a spectacular observatory car will make your journey to the Inca ruins the experience of a lifetime. A one way trip on the Hiram Bingham luxury trip will cost you about 450 US per person. Afternoon tea at the Belmond Lodge outside the gates of Machu Picchu will be included.
As an alternative, there is also a First-Class train which is a bit cheaper and almost as lavish. Check it out here.
D) Inca Rail
Three times a day during the high season (April through October) there is also a train run by IncaRail. They offer different ticket options (economy, business, first class and presidential). This is probably the cheapest option. The Economy ticket only costs 60 US-Dollar per round trip. The wagons are not as spacious as those run by PeruRail, though. This train leaves from the same train station as PeruRail.
Hiking from Cusco to Machu Picchu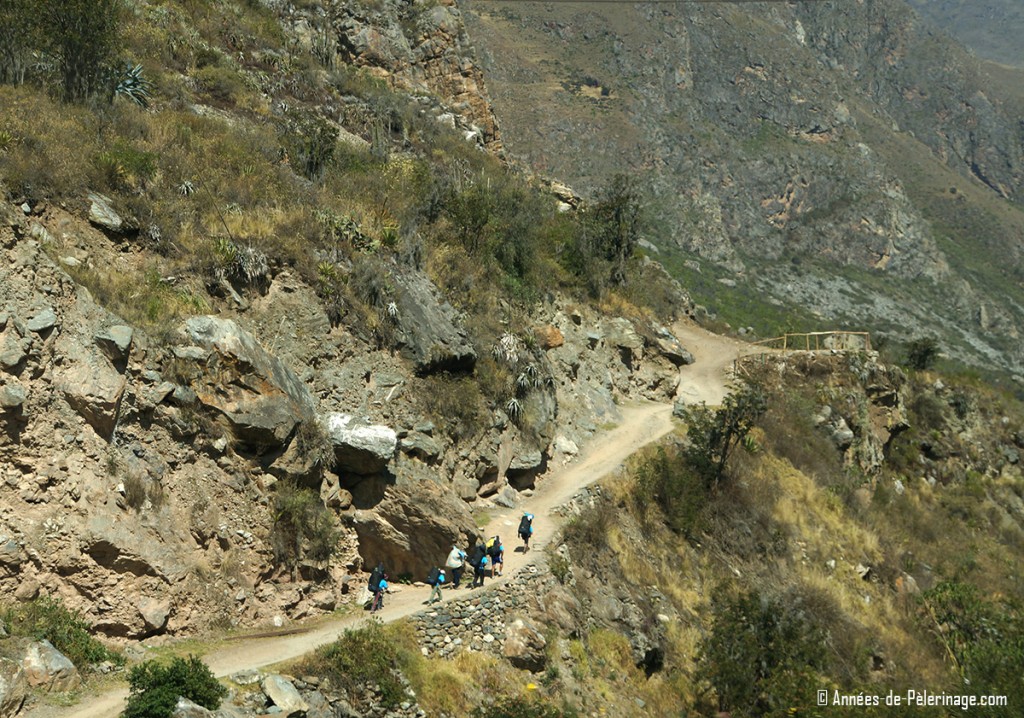 Machu Picchu was built in the 16th century and obviously, the Inca didn't have the option of taking the train. The whole Incan empire was connected by a very dense network of highly efficient roads and trails. Some of them are still in use today, so hiking to Machu Picchu is not on possibly but done every day by tourists from all over the world. There are various options ranging from 7 to 1 day – depending on the time available to you. Most of them give you the unique opportunity to see other, lesser-known Inca sites along the Urubamba valley.
Be aware that the Inca Trail (Camino Inca) will cross high passes (up to 4.000 meters above sea level) so altitude sickness might definitely be a problem (read my article on 10 ways to avoid altitude sickness to be prepared). Az the same time hiking to Machu Picchu will give you the unique opportunity to get so much more intimate with the South American country. Just remember to avoid the rainy season (check this out this comprehensive article about the weather in Machu Picchu).
Most treks will start in Cusco but will cover the first stretch by bus or car. Most tour agencies will pick you up in Ollantaytambo as well.
A) The classic Inca Trail
The most famous route still active is the Camino Inca or Inca trail, which will take you between four and five days to get to Machu Picchu (covering some 82 kilometers).
It is by far the most authentic way to the sanctuary, but certainly not a cheap option. If you got romantic backpacking ideas of hiking a lonely trail, then this is probably nothing for you. Private trekking is now allowed on the Inca Trail from Cusco to Machu Picchu. You can only go with a valid ticket in the company of a few official tour agencies. 200 people per day are allowed to start on the Inca Trail per day and tickets sell out fast (especially in the high season!)
Despite all that, the Inca Trail will give you the unique opportunity to see a couple of lesser-known archaeological sites on the way. But also know, that the Sacred Valley has other highlights (like Maras salt mines or Tipon) which you might miss then because your itinerary doesn't allow it.
B) 2-day Inca Trail
The shorter option of the Inca trail only does the last stage of the classic Inca Trail. You will take the regular train from Cusco to Machu Picchu, but hop off the train at kilometer 104. From here the trail starts. It will only take you about 4 hours to reach Machu Picchu. Before that, you will pass Winya Wayna (a lesser but still impressive Inca site). It's called 2-day because you will be visiting the citadel on the second.
C) Salkantay Trek
The Salkantay Trek is another popular alternative to the Inca Trail but is not as frequently booked out. It will take 7 days to complete this trek. The trail starts in Mollepata and passes by the impressive Salkantay mountain with an altitude of 6,271 meters. On the 5th day, the trail will join the last stretch of the Inca trail (so you will also see Winya Wayna).
Again: be aware that you won't be able to hike to Machu Picchu independently. You will have to contact an official and licensed tour agency and you will need entrance tickets for Machu Picchu as well.
Also note that there are yet more ways into Machu Picchu, like the Lares Trek. Actually, the Lares trek is one of the main alternatives to get to Machu Picchu from Cusco and will take you two or three days. This makes it the easiest, cheapest and fastest way to South America's archeological gem.
Taking the Bus from Cusco to Machu Picchu
All travelers to Machu Picchu will take the bus at one point. For only a bus connects the town of Aguas Calientes with the ruins itself (you can opt to walk though). But it is also possible to take a bus from Cusco to Machu Picchu. This is by far the cheapest option, but not exactly the most comfortable or safest one.
If you are on a very tight budget (and time being no concern) you can also take the bus to Machu Picchu all the way. Here are your two options.
A) Bus to Hidroelectrica
Starting from Cusco (Terminal Santiago) you can take a bus to Quillabamba. Get out at Santa Maria (after roughly 3 hours) and proceed onward with another bus to Santa Teresa (one more hour). From here you will have to take a local taxi to the Hydroelectric plant near Santa Teresa for a few soles. Hidroelectrica is the closest road to Machu Picchu. From Hidroelectrica you will have to walk, meaning following the train tracks for about 6 kilometers. The staff at Hidroelectrica will be able to point you onwards (might ask you for a registration).
Be aware that this bus option will probably take you the whole day! So don't leave Cusco later than 7 am and have a flashlight at hand for the last stretch of the walk. Book your stay in Aguas Calientes in advance. You could opt to stay in Santa Teresa, where lovely thermal springs can be found (accommodation will be dead cheap) to make your trip less stressful.
For more details read my full guide on taking the bus to Machu Picchu.
B) Bus to Ollantaytambo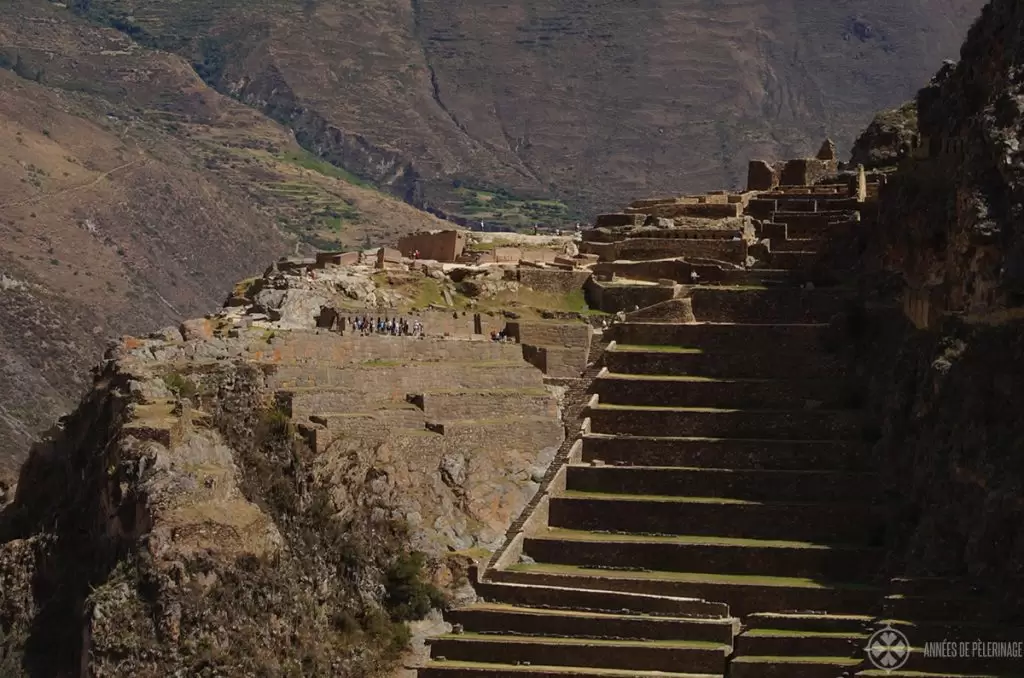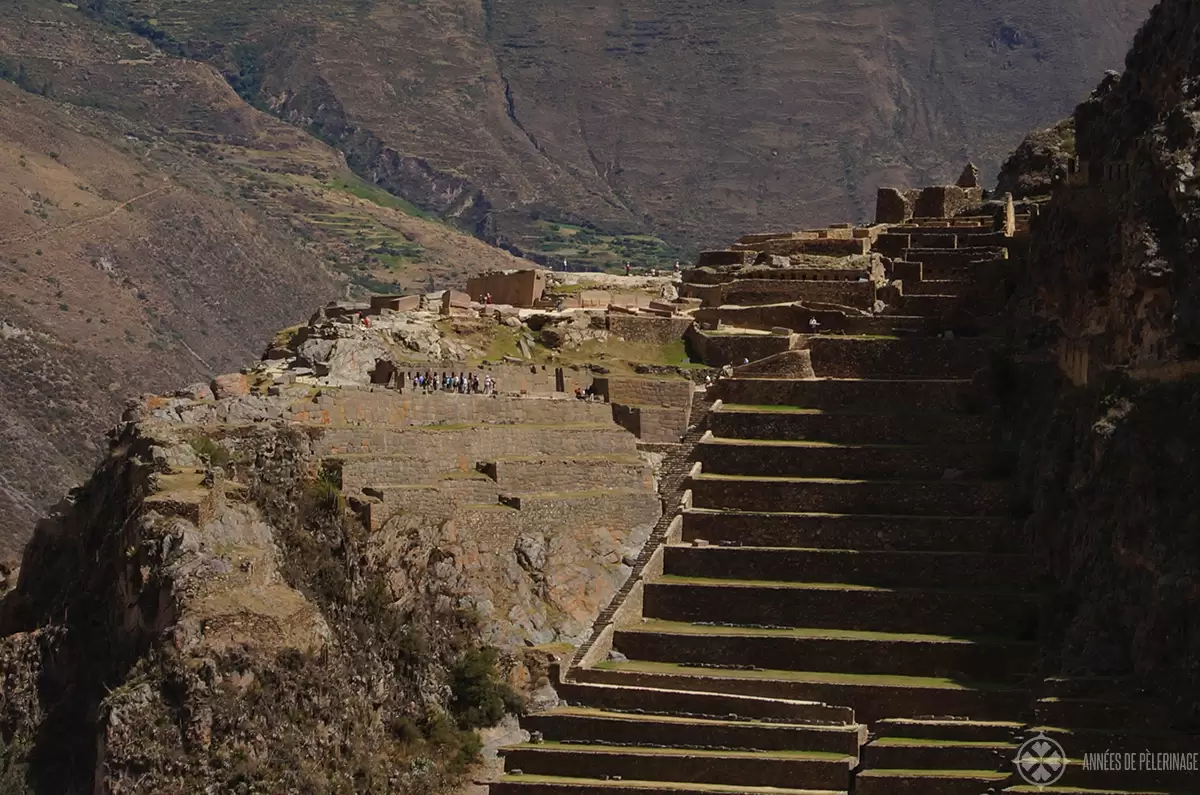 To save a bit of the high costs to reach Machu Picchu, you can take the bus to Ollantaytambo and only join the train for the last leg. There are plenty of collectivos heading towards Ollantaytambo each day and it will only cost a few soles. I wouldn't advise you to do this with big luggage.
For this option, you will have to book your train tickets in advance as well! (IncaRail will be the cheapest).
C) Bus from Aguas Calientes to Machu Picchu
Whether you arrived in Machu Picchu by train or bus, you will reach Aguas Calientes. Travelers taking the Inca Trail will usually head down to Aguas Calientes as well to stay there for the night. This means you will have to pave your way up to Machu Picchu (which sits on a mountain ridge 400 meters above the town) at one point or the other. Your only option to get there is taking the bus.
Buses from Aguas Calientes to Machu Picchu operate all day long throughout the year and take approximately 25 minutes. The first bus to Machu Picchu leaves at 5:30 am and will get you to the entrance in time for the sunset (MP opens at 6 am). The last bus departs at 3:30 pm from Aguas Calientes, while the last bus from the ruins leaves at 6pm. The air-conditioned buses leave whenever they are full.
The bus station is only a short walk away from the train station. You will have to walk through a souvenir market and you will then find it on the other side of the river. You have to buy tickets BEFORE you get on the bus. So it is better not to idle and get to the ticket booth rather quickly.
If you want to save the 19 US-Dollar for the scenic round trip you can also hike. It will take you about 90 minutes to reach the top. There is no need to pre-book these bus tickets. Simply buy them at the office in town or at the gates of Machu Picchu.
Phew! This article got longer than anticipated. I hope I was able to help you out on how to get from Cusco to Machu Picchu. If not, ask me in the comments below. And don't forget to pin this for later!