I learned skiing at the age of three. Each year, ever since I can remember, my family went on a skiing trip to South Tyrol for a couple of days. The Dolomites in winter are a special place, and I truly found them the best place to hit the slopes in Europe.
The landscape is just nothing short of breathtaking, and even if you don't plan to go skiing, the rugged peaks of the Dolomites are perfect for winter photography or just taking a walk. The food is amazing (hello pasta & Italian wine!), and it also happens to be one of the least expensive places.
Of all the places in and near Bolzano, the capital of the region, Alpe di Siusi (or Seisser Alm in German) is by far my favorite. I know, there are many other things to do in Italy, but if you didn't go skiing at least once, you only saw a half of the country.
Here is what you should know about this epic place in the Dolomites in winter:
PS: I got a detailed Italy packing list you might find helpful!
Alpe di Siusi: Why it's the best place to go skiing in the Dolomites
There is a sheer endless amount of valleys and skiing resorts branching off from the famous Brenner Pass across the Alps. Places like Meran, Kronplatz,  Tre Cime di Lavaredo, Schnalstal, Obereggen, and Rosengarten instantly come to my mind. But let me tell you why Alpe di Siusi is the best of them.
The view: There are quite a couple of epic mountain massives in South Tyrol, but the double peaks of Sassoplatto and Sassolungo (also known as Langkofel and Plattkofel) are with no doubt among the top three sights in the region. You can see these iconic peaks from every slope in the resort, and that alone is worth the trip. It is a UNESCO World Heritage site for a reason.
Good size: Personally speaking, I love medium-sized resorts. Too small, and it gets boring, too big, and you can easily get lost or spend the day trying to get somewhere, without actually enjoying the slopes. Alpe Di Siusi has a total of 63,6 kilometers of slopes and this is all you need to fill two or three days with epic adventures in the snow.
Modern lifts and cable cars: Nothing is worse than old lifts – they can spoil your whole day because it leads to long queues and frequent technical failures. Except for three lifts, you'll find only state-of-the-art technology. Also, the whole resort has snow guns everywhere, so snow is basically guaranteed all winter.
Versatile activities: Alpe di Siusi also offers extensive cross-country slopes, miles, and miles of walking trails, horse stables for sled rides, and photography enthusiasts will also love it. There are plenty of ways to spend your day! (no ice rink, though)
Excellent food: The food in most Austrian ski resorts is plain awful ( am talking about the restaurants on the slope!), while Switzerland and France usually are way too expensive. Like all other Italian ski-resorts, the food is both excellent and reasonably cheap. You can get a wonderful pasta + non-alcoholic drink for around 10 to 12 Euros.
Reasonable price: Most hotels are way cheaper than in Austria and Switzerland. As a general rule of thumb, you end up paying 30-40% less.
The only negative aspects are the fact that there is no real village or town. So, you can't go shopping or partying in the evening. Things are a bit quieter here, but that isn't necessarily a negative point in my book.
I do have to admit that if you want some serious aprés ski party, then Austria is probably the better choice (Sölden, Ischgl, etc), and for scenic mountain villages, Switzerland (like Arosa, etc) can't be beaten. But if you want a nice combination of fair prices, epic slopes, and the most breathtaking views, then Alpe di Siusi should be on top of your list. It could be the perfect end of a 2 weeks Italy itinerary.
The slopes at Alpe di Siusi
Now let me get into a bit more detail about the slopes. The vast majority of the slopes at Alpe di Siusi are of medium difficulty (45.5 kilometers), while you'll also find 14.6 kilometers of easy (or blue) pistes. It's the perfect place to go skiing with your family.
As most of the slopes are extremely wide and well-maintained, most of them are quite suitable for all skill levels. I don't know what exactly they do differently here, but in my personal experience, the slopes in Italy are prepared to perfection. No big bumps or ice-plates until the late evening.
I do have to mention, that there are only 2 very difficult world cup slopes. So, if you want to be challenged, Alpe di Siusi is probably not for you. The highest slopes start at 2.177 meters above sea level and it only goes down to 1.685 meters.
There also is no slope down into the valley. Most slopes are only around one or one and a half kilometers long. It is, however, easy to catch a bus (5 minutes) to connect you to the rest of the Dolomiti Superski resorts. There, you will find slopes for even the most demanding skiers.
Personally I love how most of the lifts start in the middle of the Seisser Alm plateau and climb the mountain ridges around it. You basically can't get lost and it's extremely easy to get back to your hotel in the evening.
If you are an experienced skier, then you might know that there are resorts where you have to plan your return to the hotel 2 hours in advance, as there are quite a couple of connecting lifts and ropeways you have to catch before they close.
If you love yourself some fresh powder snow, then you won't be disappointed as well. There are many smaller variants parallel to most slopes. There are only two big ski tours possible, though. Most of the area is covered by lifts already and they more or less reach to the top.
Gigantic Snow fun park
What I really would like to highlight is the outstanding snow fun park at the Seisser Alm. If you love to jump or slide across then perfect snow park, then you'll find almost one kilometer (!!) of jumps at the very start of the ski resort. From beginners to professionals, there are variants for everyone and I'm sure especially the younger generation will massively enjoy it!
Cross Country Skiing & winter hiking trails
I'm a huge fan of versatile ski resorts. If you plan to stay a week in one place, you might not want to spend every second on the slopes. And even if you do, the weather conditions might not permit it.
I love the fact that there are endless kilometers of cross country slopes at Alpe di Siusi. As you get to enjoy the fantastic panorama of one of the most amazing peaks in the Alps, you should certainly give it a try. I'd be hard-pressed to name even 5 better places for cross-country skiing in Europe.
You'll also find an endless amount of hiking trails (which are well-maintained even in winter). So, if you are traveling with a family and grandma doesn't want to go skiing, well, she can go for a wonderful walk and enjoy the scenery. They also offer sleigh rides (which is about the most romantic thing I can think of) through the amazing winter landscape.
There are also various toboggan slopes. You can catch a lift to the top and then enjoy a downhill ride of a kilometer and more. This is a lovely alternative if you are traveling with small kids who can't (or aren't old enough) to go skiing yet.
Where to stay at Alpe di Siusi
Note: I earn a small commission for purchases made through links in this article.
There are quite a couple of hotels and smaller guest houses in and around Alpe di Siusi. I would recommend you invest in one with a good spa because there is virtually nothing to do outside the hotel in the evening. As a (cheaper) alternative, you can also stay deep down in the valley and catch the ropeway in the evening.
I personally love the Alpina Dolomites (book it here) the most. It's the best luxury hotel in the region and has a lovely spa with an amazing sauna landscape. The rooms are marvelous, you got direct access to the slopes and food was quite wonderful as well.
Seiser Alm Urthaler (book it here) is maybe a bit more rustic and not as elaborate, but certainly a wonderful place to stay (and half as expensive as the Alpina Dolomites).
The Sporthotel Floralpina (book it here) is a very excellent alternative with 4 stars. You'll find it directly below the most iconic mountains of the region and you'll love the views from the heated outdoor pool.
Best time to visit the Dolomites
You should know that Alpe di Siusi is quite a popular place and there are not all that many good hotels. The slopes are never really crowded in my experience, but prices for a night is a different thing. The two weeks before Christmas or late March is probably your best bet to score a nice bargain and find the slopes virtually empty.
That being said, nothing speaks against spending the holidays at Seisser Alm or skiing in January. I personally never wanted to invest the extra money, especially as it is so much warmer in March and you can take a little sunbath during your lunch break.
If you are still struggling with planning your itinerary, then check out this massive resource for visiting Italy, which mentions 22 places besides the Dolomites.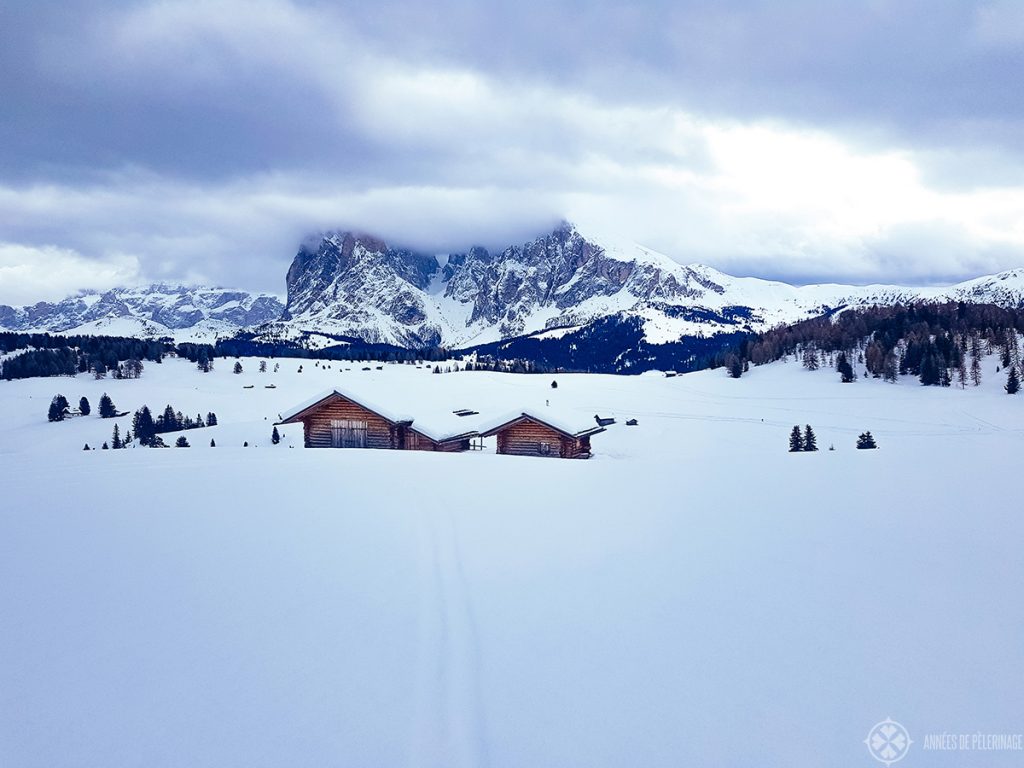 In winter, the weather is usually fairly good, but there are some rare cloudly days (snow has to come from somewhere, after all). Also, you could visit in the summer. There is no glacier, but hiking around the plateau is nothing short of spectacular and will get you even closer to the peaks!
You could easily combine it with a visit to Florence or Milan.
So, this was my little travel guide to the fantastic ski resort Alpe di Siusi and the Italian Dolomites in winter. I hope you didn't mind my smartphone pictures and shoot away if you got any questions.