Nightlife, Shopping, Eating, Sightseeing – these are my personal favorite things to do in Osaka, Japan
When tourists decide on their Japan itinerary, Osaka is often overlooked. Kyoto, Nara, Tokyo usually are all higher up on their list, each of them boasting a sheer endless mass of UNESCO World Heritage sites (read my article on things to do in Kyoto, so you know what I mean) and world-famous tourist attractions. But, in all honesty, that doesn't mean there are no downright amazing things to do in Osaka.
Here is my list:
1. Osaka Castle
No visit to Osaka is complete without visiting the giant castle sitting right in its center. Ōsaka-jō (大坂城) played an important role in the unification of Japan. Sadly, what you see today is only a concrete reproduction of the original building. There is a museum within, and the view from the top is downright amazing. But don't expect to see antique interiors.
Pro tip: The Osaka castle park is open 24 hours. So, absolutely consider going here at night, to see the famous castle in a different light.
2. Osaka Aquarium / Kaiyukan
With a capacity of 7.5 million liters of water, the Kaiyukan (海遊館) is the 6th largest aquarium in the world. For me, one of the best things to do in Osaka on a rainy day. The aquarium is huge, and there is way more to it than its central tank holding whale sharks and manta rays.
The whole aquarium has this concept of walking down to the ocean floor. So you'll start with otters and seals and end with deep-sea creatures and jellyfish. A truly amazing journey, even if you are traveling without kids.
3. Dōtombori
The Dōtombori (道頓堀) is a very famous shopping and restaurant street in the central amusement district Namba & among foreigners and locals alike the most popular attraction in Osaka. Before the World Wars it used to be a district of theaters and nightlife, but is now is more of a shopping mile with thousands of restaurants and bars.
If you want to see the huge neon billboard and street food galore, this is the place you want to go to. You can basically spend a whole day here and not see it all. You'll also find the famous Glico billboard here and even some pretty epic gaming arcades.
4. Watch Bunraku
Puppet theater is only for kids? Osaka will change your view. Bunraku is an ancient form of Japanese puppet theater. Its roots can be traced back to the 17th century. The National Bunraku Theater in Osaka is the most famous troupe and watching one of the intricate plays (even if you don't understand Japanese), will the perfect way to start an evening in Osaka.
Note: While there are many performances throughout the year, you really have to check the Universal Studios, as the troupe frequently travels through Japan and also has a couple of longer holidays.
6. Universal Studios Osaka
No matter if you love Harry Potter, Jurassic Park, the Amazing Spiderman or Sesame Street, the Universal Studios will be one of the most fun things to see in Osaka. Even though I am not a big fan of theme parks (I don't like big crowds), I'm absolutely sure Universal Studios won't disappoint you.
6. Abeno Harukas (Tower + Museum)
Osaka is a city of huge skyscrapers, as space is perhaps the rarest commodity in the whole Kansai region. You absolutely have to see this from above, and there is no better place to do so than from the highest building in the city.
Abeno Harukas doesn't only have a viewing platform, but also a wonderful museum with changing (but nonetheless marvelous) exhibitions. So, do check the schedule before your visit! Note: closed on Mondays.
7. Ride one of the many Ferris wheels
I got no clue why, but there are so many Ferris wheels in Osaka. In fact, the 5th largest wheel in the world can be found here. But no matter if you decide for the larger Redhorse Wheel or the Tempozan Wheel, you'll be able to enjoy a fantastic ride.
8. Tsūtenkaku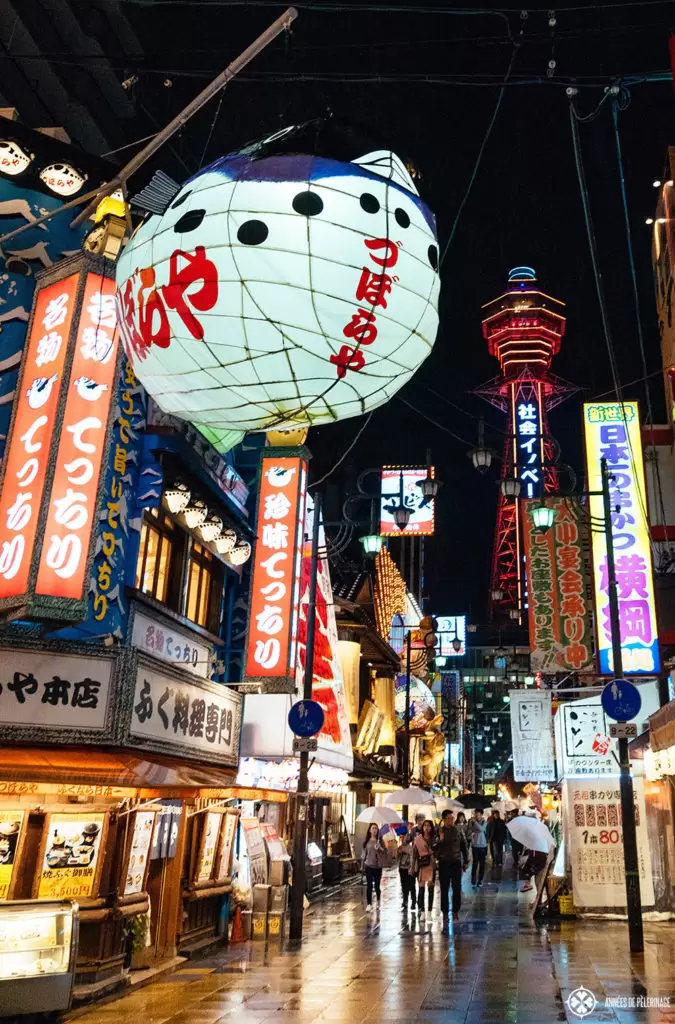 Tsūtenkaku (通天閣) is Osaka's answer to the Eiffel Tower in Paris. It's one of the most famous landmarks in Osaka, right next to the Umeda Sky building. The area around the tower, called Shinsekai, is filled with shopping streets and restaurants. Personally speaking, I'd recommend you to go to Namba first, as the area is so much livelier.
9. Osaka Museum of History
On your way to the Osaka castle, you will probably pass the Osaka Museum of History. The outstanding museum has more than 10 floors, and frequent special exhibitions on Osaka and everything related to it's long and changing history. Definitely put it on your list of things to do in Osaka.
10. Sumiyoshi Taisha
On your tour through Japan, you will see an abundance of temples and shrines. It's easy to catch the "shrine sickness", and I'd avoid seeing too many of them. However, there is one temple in Osaka you really should see: Sumiyoshi taisha (住吉大社).
The temple dates back to the year 211. The current buildings are newer (due to fires, earthquakes, and wars in between), but the general style of the shrine is uniquely Japanese. This is, in fact, a rare thing, as "newer" temples (starting from the 7th century) were greatly influenced by Chinese architecture.
Day trips from Osaka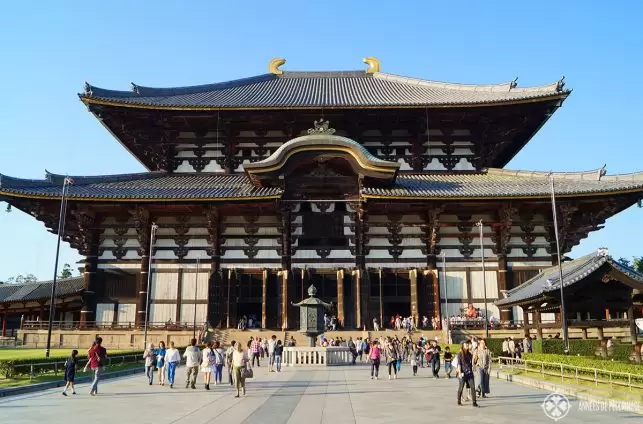 I already mentioned that Osaka is sitting in the middle of the Kansai region. This means Osaka could be the perfect spot for a couple of spectacular day trips as bullet trains will only take an hour or two to reach most nearby cities. In fact, it might be a good idea to stay a bit longer in Osaka and use it as your center for exploring the whole region. Here are a couple of options for day trips from Osaka:
Day trip to Nara (read my guide)
Day trip to Himeji
Kobe (Osaka's sister city)
Hiroshima and Miyajima (got to start early though)
The canal city of Kurashiki
Naoshima Island (for art lovers)
Mount Koya
Kanazawa and its gardens
Kyoto
Awaji
Still, in my Japan itinerary, I recommend you to stay in Kyoto and actually do Osaka as a day trip, as this is a bit more versatile.
Note: Also check out my detailed Japan packing list so you don't overpack or forget some of the essentials for Japan.
Osaka nightlife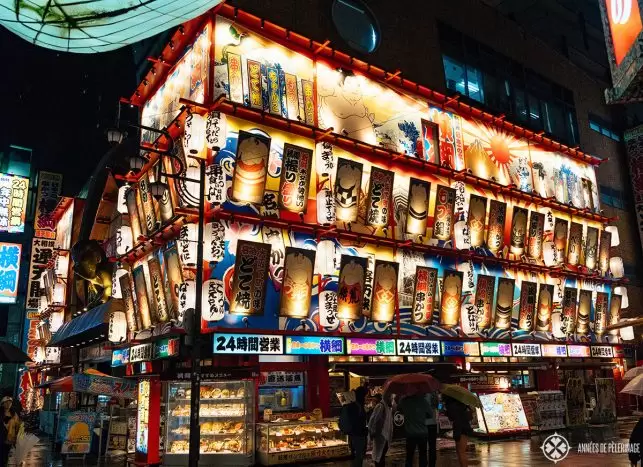 Planning for a bit of a party? Then Osaka is probably your best bet right after Tokyo. There's are numerous bars and nightclubs to be found. Some cozy, others rather large (though you generally won't find multi-floored nightclubs in Japan). It's really a good idea to head out into the city center after sunset.
Even if you are not looking for some hot sake and a little party, the illuminated streets will be a sight of its own. In fact, I think the nightlife in Osaka is way better than in Tokyo, as you got a lot of pedestrian areas rather hard to find in Tokyo in that size.
The best place to go out is probably Namba (just head out at Namba station and then take the exit Namba Walk or Dotombori). Umeda, right around the train station, is also a good bet, but not as lively.
Please note three very important things about the nightlife in Osaka:
a lot of bars won't accept foreign customers (gaijin), so make sure to check if you go in (if there is no English menu or any English signs, that's always a first indicator tourist are not welcome).
most bars will have a cover charge (usually around 1,000 Yen)
Trains & subways don't run throughout the night (depending on which line and which day between 1 and 5 am)
Where to stay in Osaka
Note: I earn a small commission if you book through links in this article
Osaka is huge and there is no easy answer to the very common question "where to stay in Osaka". Personally speaking, I recommend picking something in Chuo Ward, as this is the most central part of Osaka and it's fairly easy to reach everything else from there.
That being said, Osaka has a fantastic public transport system (like the rest of Japan to be honest), so you will be fine even if you pick a hotel more on the outskirts. Here are some hotel recommendations for you:
My personal favorite is the St. Regis in Osaka. Why? Because it is sitting right in the middle of the city, high up in a skyscraper and thus grants you a unique view right from your hotel room. It obviously also offers you world-class luxury. Just make sure to pick one of the corner suits, so you'll have the bathroom with a view!
Here's a direct link to booking.com for further pics & current prices.
If you are looking for something a bit more affordable, then the Westin Osaka is a good choice with an excellent location (book it here).
Nikko hotels is also a very dependable brand in Japan and they do run a branch in Osaka (book it here)
Japan & cheap is always a bad combination, but if your budget is tight, the APA Villa Hotel near Osaka castle might be a good choice. But do know that cheap hotels usually means a room of 10 square meters or less. It can feel quite cramped for westerners (who are usually bigger and taller than the locals).
So, this was my list of what to see in Osaka. Hope you liked it. Got any questions? Comment below! And don't forget to pin this to your Pinterest board for later.
Picture credits: chiron3636, Leong_CL