All the points of interests around Itsukushima shrine on Miyajima islands – day trip options and beyond.
A ride of maybe 30 minutes on the train will take you from Hiroshima to Miyajima Islands in Hiroshima Prefecture. Located in the shallow waters of the Japanese Inland Sea, it is home to one of Japan's most famous Shinto shrines: the Itsukushima Shrine with its big red floating Torii gate.
Even back in 1643, the well-known scholar Hayashi Gaho ranked this site as one of the three most important views of Japan (Nihon Sankei). A statement that remains true to this date. Every day thousands of tourists and pilgrims alike are drawn to the scenic island like moths to the light. But then again, it is a UNESCO World Heritage site, eh? So, let's explore together what to do in Miyajima on a sightseeing tour, shall we?
#1 Visit the Itsukushima shrine in Miyajima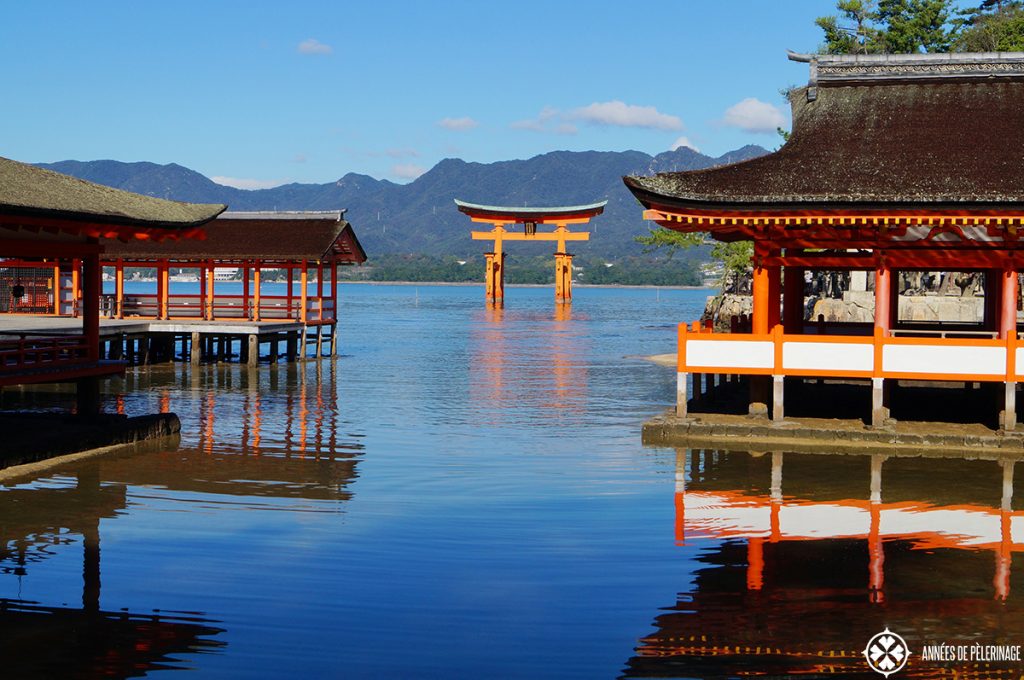 Okay, this one is obvious. Even if you have never been to Japan, you probably will have seen the floating torii of the Itsukushima shrine somewhere. As usual, the torii marks the entrance to a sacred Shinto site – in this case the Itsukushima shrine. The whole complex is built on poles in the water and will appear floating at high tide.
At low tide, the water will recede back far enough so you can actually walk straight up to the big red Torii gate. Take your time walking around the extensive bridges and outbuildings of the shrine. At high tide, you will be able to get on a boat to get closer to the Torii (Click here if you like to see more pictures of Itsukushima Shrine). Also, take note of the pier of the shrine. In ancient times, this was once the place where all the (male) pilgrims docked (these days, the ferry terminal is located further down the shore).
Right next to it you will be able to see Daiganji Temple, dedicated to the Goddes Benzaiten, which will only open its door on June 17th, where a huge festival is held each year.
#2 Walk along the promenade of Miyajima
The area around Itsukushima shrine is one big pedestrian area. Especially the shore is lined with endless gravel pathways. Go on a walk there and take your best pictures from the Shinto shrine and its big red gate. Take your time, since you will not be the only one who will want to take a family picture. Your patience will be rewarded!
The tide is what really defines this area, and I recommend you to see both sides of the Sacred Islands.
#3 Get on Mount Misen
Miyajima has been a sacred Shinto site way before the Itsukushima shrine was built in 1168. Scientists found out that the biggest mountain of the island, Mt Misen, has been the center of worship as early as the 6th century. While there is a cable car taking lazy tourists up, I recommend you to take one of the three hiking trails to get on Mount Misen. This will give you intimate moments with Japan's nature and plenty of time to enjoy the spectacular scenery of the small island.
You will certainly not see any wild monkeys or deer on the cable car. Mount Misen is only about 500 meters high and the walkways are in very good shape! Expect some steep inclines, but otherwise, people of all constitutions should be able to manage the ascent.
#4 Enjoy the breathtaking view over the Inland Sea
No matter how you get up on Mount Misen – take your time and breathe in the spectacular view over the Inland sea. On good days you will be able to see Hiroshima and much more. There are probably only a handful better panoramic views in Japan than from above Mount Misen. The line of sight is truly spectacular. In the water, you will also see the many oyster farms around the island.
#5 Stop by at Senjokaku Hall
Located on a hill overlooking the Itsukushima Shrine you will find another big shrine, usually called Senjakaku (even though the official name is Hokoku Shrine). The shrine will impress you with its spacious and austere interiors. The five-storied pagoda (Gojunoto) is also very lovely! Senjakuku also offers a good vantage point on the red torii and the town of Miyajima.
The shrine was originally built by Toyotomi Hideyoshi as a Buddhist library but was turned into a Shinto Shrine dedicated to the founder during the Meiji area.
#6 Walk up to Daisho-in Temple
A short walk of about 20 minutes from the main pier of Miyajima, straight into a small valley, you will find a temple of the Shingon Buddhism. Known as Daisho-in the Buddhist temple will present itself with sophisticated interiors and many Buddhist statues. Since it is located on your way down from Mount Misen, it is a good place to catch your breath for a few minutes.
#7 Go shopping in Miyajima
Making your way from the pier of Miyajima to the Itsukushima shrine, you cannot help but pass hundreds of souvenir shops. The island is famous for its oysters and for a maple shaped sweet cake known as Momiji Manju. Make sure to try both as you walk through the meandering shopping street with its many souvenir shops. Most manufactories will have big glass windows allowing tourists to watch the baking process. Not bad, eh?
Personally speaking, I am more the Oyster kind of guy. I even found a little stall selling them grilled – tasted like heaven!
#8 Stay at one of Miyajima's Ryokan
There are a couple of accommodations available on the island. For most tourists, Miyajima is only worth a day trip from Hiroshima. I personally decided to stay on the Island two nights. It gave me the opportunity to see all its famous attraction before the big crowds arrived and also experience a traditional Japanese Ryokan. If you got the chance, stay over – it is worth it!! Make sure to book in advance, since the few tatami-matted rooms on the island are obviously in high demand!
There are a couple of western style seaside hotels on Miyajima as well, but I'm not sure if that really adds to the experience in a way a Ryokan does.
#9 See Itsukushima shrine at night
Staying on Miyajima will also grant you another unique privilege: You will be able to see the big red torii at night! Lights will illuminate the floating structure in the dark hours. This will create an almost eerie setting you do not want to miss!
#10 Watch a wedding in Miyajima
Miyajima draws thousands of tourists to its red-clad attractions each day. It is also very popular among young couples. No wonder: The century-old Shinto Shrine creates a spectacular background for the most important ceremony of your life. There are weddings held there basically every day. If you are a little bit lucky you will have the opportunity to watch one (the shrine will not be closed during the ceremony!)
#11 Watch the wild deer in Miyajima
The island of Miyajima is home to thousands of wild deer. Those are very friendly (though a bit sheer than the ones you will find in Nara park). You will see them everywhere you go – even close to the shrines and on the piers. If you hike upon Mount Isen you will see them in their natural habitat!
#11 Check out Miyajima Public Aquarium
If you walk a bit down to the west end of the island, you will finally get to the Miyajima Public Aquarium. It's not a grand affair, but still quite worth seeing, especially if you are staying more than one day! I loved it and it had some cool jellyfish tanks!
How to get to Miyajima as a day trip from Hiroshima city
Now having read about all those fantastic sights you certainly wonder how to get from Hiroshima to Miyajima? If you already got a valid JR Ticket things couldn't be easier:
Take the JR Sanyo Line from Hiroshima to Iwakuni and get out at Miyajima Guchi. Once there, walk down to the harbor (that's maybe 200 meters from the train station) and get on the next Miyajima Island ferry. Your tickets will be valid for both train and ferry. Ferries will depart every 15 minutes (here is the official schedule in Japanese)
When to visit Miyajima Island
Miyajima will be beautiful throughout the year. But it is probably best to visit the shrines and temples during the warmer days in April or October. There are also quite a couple of festivals (matsuri) held on the island (here's the official schedule). Most notable among them will be the Kiyomori Festival in spring and the Kangensai festival in summer. The latter will feature impressive fireworks in the water before the Itsukushima Shrine and also ancient Japanese music.
And that's it. This was my travel guide to Miyajima. Make sure to tell me what you think of this amazing island in the comment section below!
Do you love Japanese Shinto shrines? Here are two other shrines you will enjoy!