Munich is one of the best cities in the world for art lovers. Thanks to the industrious Bavarian kings, the collections in the art museums of the city rival those in London, Paris, Rome or St. Petersburg. In fact, not even our capital, Berlin, has so many outstanding masterworks on display. But what are the best museums in Munich?
You see, there are many things to do in Munich and you probably don't have all that much time in Bavaria's capital. Also, you don't want to miss all those amazing day trips you can do. It really makes sense to plan ahead and identify those museums in Munich you want to visit and those you can skip. Otherwise, there won't be enough time.
Even I, as a local and big fan of museums in general, have trouble keeping up with all the amazing special exhibitions, etc. I think, all in all, there are a close to a hundred museums in Munich. You could possibly stay three months here and visit a different art collection each day.
If you only got one day in Munich, there is probably just time for seeing one of them. Since the most important are located in the Kunstareal (art quarter) rather close to the city center, it's no big detour. So, let me help you pick your favorite, eh? :)
Here is the list of my favorite Munich art museums
1. Alte Pinakothek
The Old Pinakothek is one of the oldest and most important art museums in the world. The Bavarian Princes and Kings started the collection as early as 1528, though it was only made public 1836 when the current building was finished.
Leonard da Vinci, Albrecht Dürer, Titian, Rafael, El Grecco, Rubens, Velásques, Rembrandt, Goya, Lippi, Botticelli, Veronese, Brueghel – the list of outstanding masterpieces on display inside the Alte Pinakothek is sheer endless. 19 halls and over 700 paintings are there for you to enjoy – plus frequent special exhibitions.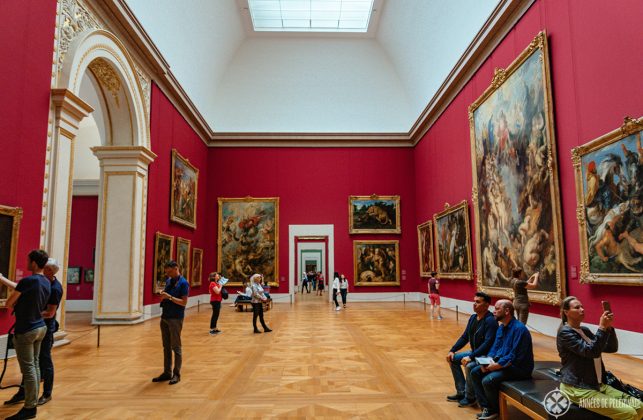 The focus lies on old masters from Germany, Netherlands, and Italy – starting as early as the 13th century and up until the 18th century. The building is quite large and you should definitely bring more than just one hour to appreciate it all. Plan your visit here.
Opening hours and entrance fees:
Tuesday & Wednesday: 10 am – 8:30 pm
Thursday -Sunday: 10 am – 6 pm
Closed on Mondays
Ticket price: 7 Euros (or 5 Euros für students, elderly, etc)
Note: Like all state-owned museums, the entrance fee is only 1 Euro each Sunday! So, definitely something to consider if you plan to visit a lot of museums in Munich
2. Bavarian National Museum
The Bayerische Nationalmuseum is actually my personal favorite museum in Munich. Even the historic building itself is amazing. It looks a bit like a huge castle, and you can easily get lost inside. The focus of the museum is, quite unsurprising, on bavarian art from all ages.
What might sound a bit dull, is actually quite spectacular. You see, the Bavarian house Wittelsbacher dominated European history for almost a thousand years. So, throughout the ages, they amassed a lot of wealth – and part of it is now on display in that museum. Here is the official website.
Opening hours and entrance fees:
Tuesday – Sunday: 10 am – 5:00 pm
Thursday: 10 am – 8 pm
Closed on Mondays
Ticket price: 7 Euros (or 6 Euros für students, elderly, etc)
5. Pinakothek der Moderne
There are altogether three Pinakotheken in Munich and the Pinakothek der Moderne is the third addition. It opened up in 2002 and is now home to the art of the 20th century and beyond. There are actually 4 different collections inside and you really should bring half a day to see it all.
The building itself is also incredibly beautiful from within with many direct and indirect lines of sight. So, even if you don't like Gerhard Richter, Joseph Beuys, Salvador Dali, Picasso, and their contemporaries – you should visit just because it is such a beautiful place.
The park around the gallery is quite lovely as well as there are many beautiful sculptures (and even a ufo) you can see.
Opening hours and entrance fees:
Tuesday & Wednesday: 10 am – 8:30 pm
Thursday -Sunday: 10 am – 6 pm
Closed on Mondays
Ticket price: 7 Euros (or 5 Euros für students, elderly, etc)
4. Lenbachhaus
Franz von Lenbach was one of the leading portraitists of the second half of the 19th century. Popes, Emperors, Kings, and the starlets of the time – he virtually painted everyone. The prince of artists built himself a huge villa in Munich which was turned into a museum in 1929. It's now home to the largest and best The Blue Rider collection in the world.
They also do have a couple of important installations by Joseph Beuys and there is usually a special exhibition with contemporary art as well. You can even tour the historic living quarters of Lenbach, so there is quite a lot to see inside the Städische Galerie im Lenbachhaus!
Opening hours & Ticket price
Tuesday 10 am–8 pm
Wednesday – Sunday: 10 am–6 pm
3. Neue Pinakothek
The Pinakothek der Moderne is the museum I visit every year on my birthday. I just love the place and its world-famous collection of paintings and sculptures from the 19th century. They got important masterpieces from Van Gogh, Monet, Manet, Böcklin, Cézanne, William Turner, Caspar David Friedrich or Friedrich Overbeck and many more.
The collection is quite huge and you'll have no problem getting lost in the many small cabinets and corridors.
Important note: They are currently renovating the building. No opening date has been specified yet. But 2022 at the earliest! You'll find parts of the collection inside the Alte Pinakothek and some in the Galerie Schack.
6. Museum Brandhorst
The multicolored building of the fantastic Museum Brandhorst is the latest addition to the Museum quarter and the Pinakotheken cosmos. Inside, you will find the finest contemporary and late modern art. Cy Twombly, Damien Hirst or Andy Warhol – this museum celebrates the new and the different.
I found it to be particularly popular among locals and it can be quite busy on weekends. Either way, you really should check out the website and see if they got a nice special exhibition that interests you!
Opening hours & tickets
Monday – Sunday: 10 am – 6 pm
Thursday: 10 am – 8 pm
Tickets are 7€ / 5€ reduced price
7. Egyptian Museum
Do you love ancient Egyptian art? Then I have a special treat for you: The Staatliche Museum Ägyptischer Kunst is home to one of the finest collections on this planet. It's also an incredible new museum, so the exhibition halls are amazing. They also provide you with a detailed multi-media guide.
In essence: Their exhibits might be 3,000 years and older, but the presentation is super exciting and very interactive. I wrote a more detailed blog post about the Egyptian Museum in Munich here.
Opening Hours & Ticket price
Tuesday: 10 am – 8 pm
Wednesday – Sunday: 10 am – 6 pm
Ticket price: 7 Euros (or 5 Euros für students, elderly, etc), children free entry
8. Haus der Kunst
If you are looking for the best contemporary art museum in Munich, then the Haus der Kunst will be your best friend. It is actually one of the few private institutions on this list and it's run by a non-profit club. The brutalist building dates back to the time of the Nazis and is quite massive! Personally, I always have to smile when I drive past and read the beautiful Yiddish slang under its lintel.
There is no permanent exhibition inside (only quite a lovely bar and a famous club "P1"). So, you basically have to check out the website before and check out if there is something of interest to you (there almost always is.
Opening hours & tickets
Monday – Sunday: 10 am – 8 pm
Tuesdays: 10 am – 10 pm
Ticket prices depend on the exhibition you want to visit. A day pass is 14 Euros (10€ reduced price).
Tip: Free entrance every first Thursday between 6 and 10 pm.
9. Hypokunsthalle
Another of my favorite museums in Munich is the Hypokunsthalle. You will find it right in the heart of the pedestrian area, very close to Marienplatz. Again, there is no permanent exhibition. Instead, the foundation is putting together world-class exhibitions on the fly.
O'Keefe, Dürer, Picasso, Mark Rothko, Rodin, Helmut Newton, Fabergé, Giacometti – the list of past exhibitions is as long as illustrious. I can't promise you there will be something equally spectacular during your stay, but it's definitely worth checking out on the official website.
Opening hours and Admission fees
daily: 10 am – 8 pm
Standard ticket: 12 Euros, students 6 Euros, children 1 Euro, family pass (22€) available
10. Glyptothek & Antikensammlung
The award to the most beautiful building in Munich probably goes to the partner museums Glyptothek and Antikensammlung. You'll find them in the middle of Königsplatz and they sure look like monuments from another millennium. They were inspired by ancient Greek and Egyptian architecture and within you will find exactly that.
The focus is on ancient greek and roman sculptures and pottery, while you will also find a treasury in the basement of the Antikensammlung with important gold, silver, and bronze artifacts from the millennium B.C. Here's the official website.
Note: The Glyptothek will be closed until Autumn 2020.
Opening hours & entrance fee
Tuesday – Sunday: 10 am – 5 pm
Wednesday: 110 am – 8 pm
Tickets: 6 Euro (reduced price is 4)
Other notable art museums in Münch
Now, I did list, in my opinion, the best art museums in Munich for you. This is a bit unfair, as there are quite a couple of other notable exhibitions in my hometown that are equally as fantastic. Foremost, probably the Munich Residence (here's the website), which is the formal palace of the Bavarian kings. Inside, you will find the Treasury Museum and they also got quite a big porcelain collection in the display as well.
Then there is the amazing Villa Stuck, which is the Art Nouveau equivalent to the Lenbachhaus, another place with stellar contemporary art exhibitions. I also featured this place in my self-guided Art Nouveau walking tour through Munich.
Sammlung Schack belongs to the Pinakotheken cosmos, and so does the Schleißheim palace, where you will find a beautiful baroque exhibition on the ground floor (in addition to a beautiful palace). In Nymphenburg Palace, you will find an outstanding porcelain collection, while I personally really enjoy medieval sculptures in Sammlung Boller.
In essence, I am saying that there is a museum for every preference. Hell, we even got an amazing technical museum, so do check out the Deutsche Museum if you are not into figurative art. Or the Münchner Stadtmuseum, which will let you dig into Munich's ancient past.
A few helpful tips to plan your visit
A already said it above, but I'll say it again for good measure. All state-run museums are closed on Mondays. Perhaps more importantly, the ticket price is reduced to 1 Euro on Sundays, so this is probably the best day to visit (even though it will be a bit more crowded than usual).
Because there are so many outstanding museums in Munich, there are usually no big queues in my experience – except on some national holidays and special exhibition closing days. Still, weekdays, early in the morning is usually the quietest time to visit.
If you plan to visit a lot of museums, then you really should consider buying the Munich City Pass*. It's free admission to most of the top museums and free public transport. It's quite expensive, so it only makes sense if you visit more than 4 museums and you will stay more than 3 days. Otherwise, it is probably too expensive and you should get the CityTourCard instead.
Once a year, there is a museum night called "Lange Nacht der Münchner Museen". It's quite a fun event because you get to visit the top museums in Munich at night (just like in that movie, lol), and there are special guided tours etc. Most museums also offer complimentary special guided tours on selected dates, but you'll have to check the websites as the dates and times change frequently.
So, this was my little Munich art museum guide. I hope I was able to inspire you to visit one of the collections. Feel free to ask your questions in the comments below.
*note this is an affiliate link