Munich is a city of many wonders. I should know, I live there. We have close to a hundred museums and so many popular tourist attractions that it is really hard to take a pick. A place you should absolutely check out is the Egyptian Museum – one of the hidden gems in Munich.
Okay, it's not especially secret, but I feel that the fantastic museums with its outstanding collection is totally underrepresented in the media. While it appears in my list of the top 50 things to do in Munich, most similar lists and travel guides don't even mention it.
I don't even understand why. Probably because most people will instantly think of Cairo when they hear "Egyptian Museum". Now admittedly, that museum is spectacular (and really one for the bucket list). But the Staatliche Museum Ägyptischer Kunst does have some world-class exhibits as well! Here is why you should visit:
Inside the Staatliche Museum Ägyptischer Kunst
The Egyptian Museum in Munich is a fairly new addition to Munich's Kunstareal. The current building was opened in 2013. Before, part of the collection was on display inside the Munich Residence.
The building itself is quite noteworthy itself. The museum had to share it with the University of Television and Film Munich. So, what did they do? They moved the Egyptian Museum into the basement. Which really sounds like a bad idea, BUT it turned out magnificently. It feels a bit like walking into an ancient Egyptian tomb.
Not sure if this was the intended effect, but it really reminded me of my trip to Luxor. The interiors are "slightly" different – but a pylon of concrete and steel marks the entrance. The austere hallways get a lot of indirect light from a central courtyard, which really helps to put the ancient artifacts into the right spotlight.
Sometimes museums make the mistake of putting their whole collection on display. Often there is so much to see you lose all context and focus. Instead, the Egyptian Museum in Munich leaves every single exhibit room to breathe so you can fully appreciate it.
You can follow a golden path (sounds like an obscure Dune reference :P ) through the collection: From predynastic cultures until Coptic times – you find a representation of all important ancient Egyptian eras.
In between, are a couple of media galleries where the ancient Egyptian world is explained in great detail: War, handicrafts, literature, religion, and burial customs – there are fabulous digital installations throughout the whole museum.
Even your audioguide is more like a virtual tour guide. It will know where you are and give you visual and acoustic pointers about the artworks in your immediate vicinity.
I particularly love the display of the Book of the Death. There's a huge screen underneath which you can scroll along and it will explain every single line and picture to you. Quite the amazing annotation concept.
Another reason I really like the museum so much is their decision to honor the dignity of the deceased. So, while there are quite a couple of sarcophagi on display, there are no mummies. Depicting a dead body was an anathema to the ancient Egyptians. I always felt it was beyond creepy looking into the (rather shrunken) eyes of Rameses II.
The fact that they also prominently feature the Nubian and predynastic history on the banks of the Nile is equally as recommendable. Much as we love to hear stories of Tutanchamun or Akhenaten, these two pharaohs only defined a very short (albeit important) period of a civilization that lasted more than 3,000 years.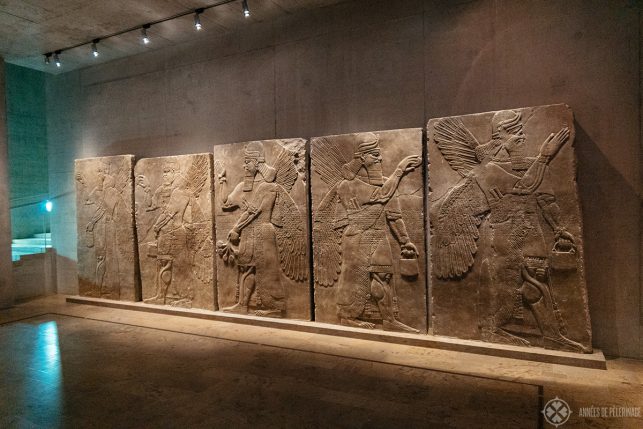 At the very far back of the museum, you will also be able to see four exquisite Assyrian reliefs from the palace of Assurnasirpal II and a fantastic lion from the world-famous Ishtar gate. It's not exactly what you would expect in an Egyptian museum, but there is no denying there were diplomatic relationships with the neighboring region and it's probably the best fit of all the other museums in Munich.
Outstanding highlights from the collection:
There are, of course, many other priceless artifacts. For the sake of brevity, I urge you to visit on your next trip to Munich, eh?
Egyptian Museum Munich Opening Hours & Ticket price
Tuesday: 10 am – 8 pm
Wednesday – Sunday: 10 am – 6 pm
Please note that the museum is closed on Mondays, Christmas, and New Years.
Tickets prices:
Adult 7€
Children under 18: free entry
Students, handicapped people, and senior citizens: 5€
The media guide is included. Like in all other state-run museums, the entry fee is only 1 euro every Sunday. Please check the official website for further information
How to get there
It's quite easy to get to the Egyptian Museum in Munich. You can actually walk from the central station (takes like 10 minutes), so you can easily take any S-Bahn. It's not all that far from Odeonsplatz either (also roughly 10 minutes). Just enter "Gabelsbergerstraße 35" into google maps and you will have no trouble finding it.
For a more direct approach, take subway line U2/U8 and get off at Königsplatz. Buses number 58, 68 and 100 also stop almost directly in front of the museum. In this case, you have to get off at Pinakothek. In both cases, you have to walk around 300 meters.
You could even take the tram 27 or 28 and get off at Karolinenplatz. So, essentially I'm saying – it's incredibly easy to reach.
So, this was my little blog post about the Egyptian Museum in Munich. I hope I was able to convince you to visit. Feel free to comment below with your questions.
Further reads: