Must-see tourist attractions and things to do in Bavaria's capital. How to spend one day in Munich.
Munich is frequently voted the best city in Germany. Both tourists and locals alike love to visit Bavaria's capital. The city has just so many highlights and day trip options that it is easy to spend a week or more. But sometimes time is short. If you only got one day in Munich I got a treat for you. As a local, I put together a list of all the must-see tourist attractions. I also compiled a list of the best hotels in Munich in case you are still looking for the perfect hotel in the city center!
It was hard deciding what to skip and what not, as 24 hours in Munich feels like far from enough time. But obviously little time is better than no time, and I am positive you will enjoy your stay in my hometown! I also tried to focus on cheap or free things to do in Munich, because I am quite aware that not everyone loves luxury travel as much as I do. If you got more than one day, you should definitely also check out my complete list of the 50 most amazing things to do in Munich. Anyway, here what to do in one perfect day.
1. Marienplatz & old town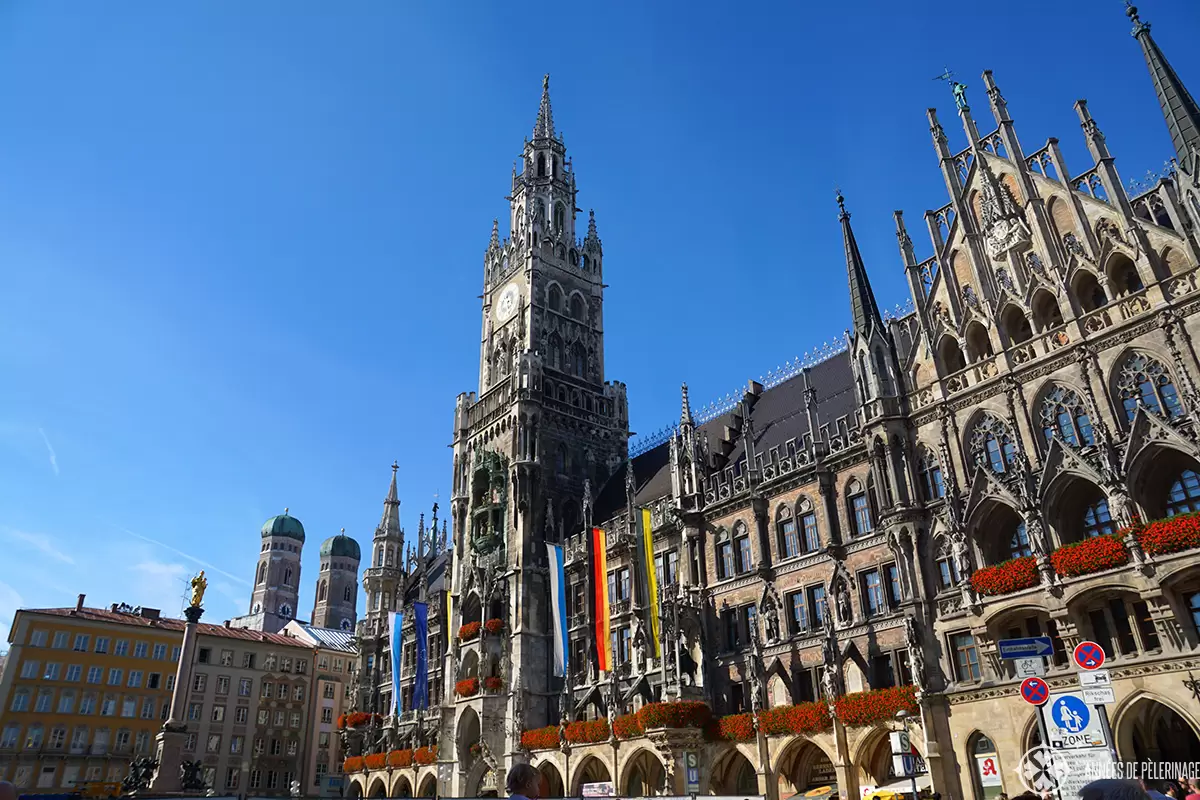 Start your day in Munich right in the heart of the city. Marienplatz is the home of the magnificent neo-gothic city hall (Rathaus). It's an ideal starting point for exploring the old town of Munich. Don't hesitate walking through the grand gates into the courtyard to get a different view of the magnificent building. There's a huge traditional restaurant in the cellars of the city hall very popular among tourists.
Insider tip: The famous carillon of the Munich city hall will activate at 12 o' clock each day, so you might want to return here in time. You can also climb one of the towers to get a good view.
2. Alter Peter
Alter Peter (old Pete) is the name of the clock tower of the St. Peter's church only 100 meters away from Marienplatz. The church is quite noteworthy itself and home to priceless artworks from the Bavarian high baroque. It is the oldest church in Munich and dates back to 1225.
Now you might want to skip touring the interiors if time is pressing, but you should definitely climb up the clock tower. From atop you'll have the single best view of Munich. There's no elevator and the staircase is quite narrow but totally worth it. Tickets are 1,50€ (here's the official website).
Insider tip: In winter, you can opt to go very late in the evening to watch the sunset from the top and get a night's view of Munich. Last entry is 17:30 in winter and 18:30 in summer. Read my guide for more information.
3. Viktualienmarkt
Do you love food? Then you must see the Viktualienmarkt! The famous gourmet food market is only a short walk away from Marienplatz. A beer garden is part of the market, so you should also take your time and drink Bavaria's national drink. But also sample some of the German delicacies at one of the booths. If you are neither hungry nor thirsty, you can still marvel at the colorful bounties on display throughout the market. I wrote an extensive article about the Viktualienmarkt here.
4. Hofbräuhaus
No trip to Munich is complete without a visit to the world-famous Hofbräuhaus. It was once the brewery that produced the beer for the Bavarian kings and still adheres to the high-quality standards dating back from these days. Inside the Hofbräuhaus you will find a big beer hall where you can drink beer, listen to traditional Bavarian music (usually a live band) and eat authentic food.
A word of warning, though. It really is a kind of a tourist trap, because locals tend to shy away from it (not all, mind you!). But it is still a fun place to have lunch or dinner, so you should head there anyway. Here's the official website.
Insider tip: You'll find tons of souvenir shops around Hofbräuhaus; this is your best spot to buy an authentic gift for your beloved at home.
5. The Residenz
Not far from the Hofbräuhaus you'll find the Munich Residence castle. It was the home of the Bavarian Kings until 1918 and is now a museum. A museum you should visit on your one day in Munich. The Munich castle is one of the biggest city castles in the world.
There is also a huge treasure room where you can see the crown jewels of the Bavarian King's and so much more. Gold, silver, and diamonds from five centuries are decorating a whole wing of the castle. Here's a link to the official website.
6. Maximillianstraße & Parliament
Do you like shopping? Then check out the Maximillianstraße! It's right around the corner from the Munich Residence. Here you'll find a sheer endless amount of shops from the international brands like Chanel, Gucci, and Louis Vuitton.
Even if you don't plan to buy anything, the royal avenue is quite worth a visit. At the very end, you'll find the so-called Maximilaneum, which is the seat of the Bavarian state parliament. (Note: you can't go inside, except on Saturdays to have a coffee at the bar, but hide your camera as they don't like tourists stomping through the aisles.)
7. Englische Garten
The Englische Garten is a huge landscape park right in the middle of the city. At the very center you will find a fantastic (and quite lively) beer garden, so you should put it on your list of things to do in Munich – especially on a sunny day. You'll see many locals hanging around on the impeccable lawns, playing games and having picnics. Above all, the park is just so beautiful and a welcome respite from all the museums.
Insider tip: Right next to the art museum "Haus der Kunst" you'll find a famous river surfing spot. There's always a huge crowd watching the many sportsmen taking their chances! They even have their own website.
8. Odeonsplatz
Odeonsplatz is a historic place in the old town of Munich. It was here, Hitler first attempted to seize power over Germany (which failed). The incident is known as Beer Hall Putsch. The square then played an important role during the Nazi regime.
9. Theatinerkirche
Setting history aside, your real reason so head towards Odeonsplatz is the so-called Theatinerkirche (Theatine Church). For me, it is the most beautiful church in Munich. The inside is kept in all white. It might be a baroque church, but the lack of ostentatious golden splendor really transforms it into something divine.
Insider tip: Each Sunday you will be able to attend a Solemn High Mass accompanied by a live choir and organ music. You'll find the schedule here.
10. Frauenkirche
Munich's most famous church is certainly the Frauenkirche (Cathedral of Our Dear Lady). It unmistakingly dominates the skyline of my hometown. In fact, no building inside the city limits is allowed to exceed the height of the majestic towers of the church. The church is huge, but quite austere inside. Much of its former glory has been destroyed during WWII.
Insider tip: Normally you can climb the south tower of the church. It is currently closed due to construction works.
11. Königsplatz
King's Square (Köngisplatz) should be very high on your list of things to do in Munich. It is located in Munich's museum quarter. Now the two museums you'll find in the Neo-Classicistic buildings lining the square are mainly focused on ancient Greek and Roman art, so maybe not everyone's cup of tea. The square itself is wonderful, though. You'll also find the amazing Egyptian Musuem very close by.
12. The Opera
Munich has one of the best Opera in the world. It is also one of the most beautiful ones, so you should consider booking a ticket for the evening. Tickets start from about 9 euros, though you'll have to pay a liiiitttle bit more if you want to sit in the front row. It is, in any case, the perfect way to close the evening. Here's the official website.
Alternatives for spending one day in Munich
Now as I said, there are so much more options for Munich. You could, for example, visit one of  the many (actually close to a hundred) wonderful museums in Munich. Lenbach Haus, Haus der Kunst, the three Pinakothek Museums, the Deutsche Museum and the Hypo Kunsthalle or all world renowned and each worth a trip themselves.
If you want to head out a little bit of the city, Castle Nymphenburg might be a wonderful place to visit (read my guide here). But there is also the BMW World, the television tower, and the Olympic Park. All these options will probably take about 3 hours from your time budget, but totally doable even if you are only one day in Munich.
Still, you might want to check out how many days in Munich is enough to visit all the major landmarks and highlights. It's really worth to stay longer in my hometown!
Some might want to eschew the city altogether and rather do a day trip to Castle Neuschwanstein or Castle Linderhof (check out my list of the 10 best castles near Munich). You'll be hard-pressed to find more beautiful castles anywhere in the world. At the end of the day, it boils down to your personal preferences and the season.
Here is my list of the 20 best day trips from Munich >>
Munich also has a fantastic Christmas market (read about it here), but obviously, this is only an option during December. Actually, I am lying. Munich has probably 20 fantastic Christmas markets and all of them so romantic! Mulled wine, German chocolates, and gingerbread – you'll not regret visiting my hometown in winter.
But to be fair, there are many other festivals throughout the year. Oktoberfest is certainly the most popular one, so you might want to consider visiting Munich at the end of October. Not convinced yet? Here's my ultimate guide to Oktoberfest. But there's also a spring festival, and so on. Truth be told, there'll be some minor or major event, no matter when you visit.
Now, I could go on and on. Instead, I'll finish my little guide here. I hope I could give you some wonderful inspiration for planning your Munich itinerary. Got any further questions? Simply shoot me a message in the comments below!