This is a detailed Ecuador itinerary, covering the capital, the Amazon river, and Galapagos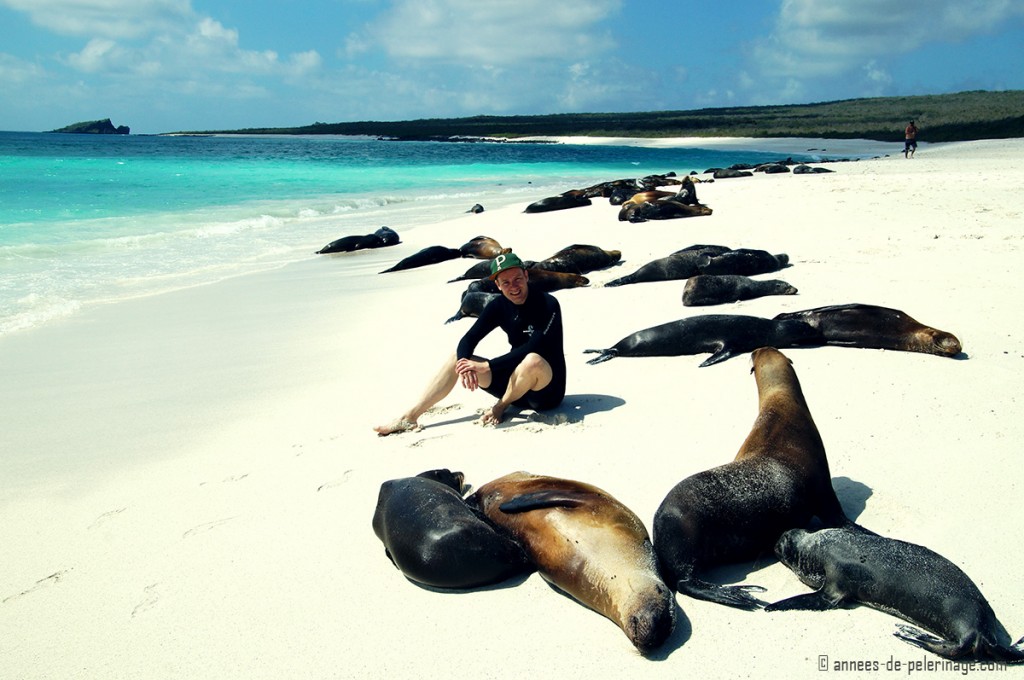 I know it can be hard to plan a trip. After traveling for more than 30 years I DO know just how hard. It's not only about deciding what to see, but also what works out in terms of time and connections. In Ecuador, this can be particularly stressful, because not all areas are easily accessible. Also, keep in mind that most Amazon lodges or cruises do not leave every day. So here is my Ecuador itinerary. I went there May 2015. Just in case you are wondering. Before I went to Peru (find my Peru itinerary here). So I did not start in my hometown Munich but flew from Juliaca (2 hours layover in Lima) in Peru. I guess this itinerary will work out either way.
8. June 6-7: Quito
Quito is the capital of Ecuador. Other than that Quito just made it into my itinerary because I wanted to see the upper Amazonas and Galapagos, and for that Quito is just the best (and only) place to start out. Unfortunately getting there from Lake Titicaca (Juliaca) needs a shortstop of 3 hours in Lima.
My hotel in Quito:
I stayed at some random Mariott Hotel (here's the link). I really couldn't find any good hotels – so I decided for something international where I can expect acceptable standards. Hell – it's just two days – I lived through it! Don't expect world-class – it's bearable though!
Things on my To-Do-List in Quito:
9. June 8-11: Upper Amazon River
Ecuador? Amazon? Yes! When most people think of the largest river in the world, they will head straight to Brazil. However, the origins of the Amazon River can be found in Ecuador, Peru, and Colombia. Here can be found a couple of outstanding national parks and nature reserves. I decided for the Yasuni National Park. Allegedly it is the most biologically diverse spot on Earth. Since 1989 it is a UNESCO Biosphere Reserve. Judging from my experience (saw a Jaguar, Tapir, and Pink dolphins!!!!)
There are regular flights from Quito to Coca. From here I'll take a boat straight to my lodge. Okay – they'll pick me up ;-)
My hotel at the Upper Amazon River: La Selva Lodge
Originally I wanted to do a cruise on the Amazon. It just seemed the most mobile and most luxurious way to explore it. Reports about pirates made me change my plans. Also, I toured the Galapagos islands through a cruise directly after my stay at the Upper Amazon (see below) and I figured staying at Lodge would offer more diversity in terms of accommodations.
Things on my To-Do-List:
tour to see the pink river dolphins
Seeing a parrot clay lick
bird watching in general (just look at that list!!!)
visiting a local community
monkey watching
a night tour through the Amazon (I want to see a Jaguar! Yasuni National Park reportedly has the highest density of them)
10. June 12: Quito
A short layover in Quito. I really tried to avoid another stay in Quito for this itinerary. Would have worked if I had decided on a different amazon river national park.
Hotel for my Quito layover:
I stayed at the Mariott again. Mainly because I wanted to leave part of my luggage in Quito for the Amazon but in the end decided against it.
11. June 13: Isla Baltra
Galapagos will mark the end of my Peru/Ecuador itinerary. Sadly that entails another unnecessary layover on Isla Baltra, where the Galapagos airport is located – unnecessary because it is necessary. Unlike hotels cruises always start on the most inconvenient dates (am I the only one cursing there?). To be fair I could have skipped that. I just wanted to be saved in case of flight delays and other such calamities that can happen somewhere in between the Amazonas and Galapagos airport. I really felt insecure with a buffer of 1 hour between arrival on Galapagos and the scheduled departure time of my cruise.
Also, there was one more reason: My cruise wouldn't take an excursion to a Lava Tube and I really wanted to see one of those close-up. It was more than worth it!
My hotel for the one night on Isla Baltra: Royal Palm Galapagos
Things on my To-Do-List for Isla Baltra:
(I'll just have one day to do anything *sigh*)
Relaxing
Exploring a lava tunnel
Visiting the giant tortoise station
And seeing tons of other animals
11. June 14-21: Galapagos Cruise
Galapagos often referred to as Darwin's Island, has been a long time on my bucket list. In recent years it has become one of the far-flung luxury hotspots. Not that I really care about such ranking, I rather want to see the unique & undisturbed nature of the archipelago. A cruise seemed to be the most versatile option – especially since each island has other endemic species.
The seas around the Galapagos archipelago are special in terms that only licensed ships are allowed into the waters. You will not see any big cruise ships but only medium-sized yachts. I decided for the Celebrity Xpedition – mainly because the Silver Galapagos was already booked. The Celebrity Xpedition dates back to 2004, while the Silver Galapagos got a full refurbishment in 2014. I am, however, fairly positive that the Celebrity Xpedition has been rated again and again the best cruise ship in the Galapagos. According to the website, they got a "couple" of awards. Hehe! The ship looks sleek at any rate and only has 98 passengers!
Read my review here >>
Things on my To-Do-List for Galapagos:
The good part about a cruise is, you don't need to worry about anything. There will be two landings every day, while lunch is being served on board.  Galapagos is all about the wildlife and I expect to see:
Iguanas in all their shapes and forms
Giant tortoise & turtles
Cormorants
Frigatebirds
Penguins
Albatross
Sea lions and seals
Sharks
For more information, do read my detailed travel guide to the Galapagos Islands.
12. June 21-22: Flight back to Guayaquil ->Amsterdam > Munich
Did I tell you I hate long flight? Anything past 6 hours really gives me the chills. I should be using miles for upgrades and stuff – but I almost always find better opportunities. To me, first class always feels like wasting an average monthly salary for a couple of hours of comfort. Am I truly the only guy that doesn't fall for the shameless lifestyle campaign airlines constantly bombard us with? That being said: My economy flights back home will start on the 21st of June at noon local time and ended on 22nd of June 5 pm (net flight time is 15:00 hours).
Anyways. This was my Ecuador itinerary. I hope you liked it. If you would love to add something, please let me know in the comments below.