Machu Picchu's other side: Rain, fog, mosquitoes and big crowds can turn the adventure of a lifetime in a very bad experience just as quickly.
You probably have to be deaf, blind and without internet access to not have heard about Machu Picchu, and even then chances are slim. The ancient Inca ruins are voted among the 7 New World Wonders, they are protected by the UNESCO and almost a million visitors pave their way down into the Peruvian hinterland each year. They all come searching for a dream famous Hiram Bingham claimed for himself in 1911.
Picture-perfect images of Machu Picchu flooding the social media serve as a marketing perpetuum mobile, enticing ever new generations of photographers hunting for their holy grail in HDR. But Machu Picchu also has a dark side, a very rainy, foggy and crowded side, which is crawling with mosquitoes! A side that puts quite a high demand on your packing list (so make sure to read my ultimate Machu Picchu packing list).
A word of warning in advance: I'm writing this mainly not to discourage you from going (because you really should!), but more to show you a less than perfect image. In an age where a beautiful picture means more likes & shares, the somewhat more mundane (or even ugly) reality seldom has a chance to surface. I guess I really can't exclude myself. I did compile a complete guide to Machu Picchu with copious amounts of those picture perfect vistas. But since people are dedicating a lot of money and funds to visit such a far-flung destination as Machu Picchu, I really felt obliged to keep things real for you.
______________________
Wondering what to pack for Peru? Check out my detailed Peru packing list
The weather in Machu Picchu can be awful
I'll start out assuming that you are currently planning a visit to Machu Picchu or at least having it close to the top of your bucket list. Much like I did before my first visit, you probably have been googling something along the line: "When is the best time to visit Machu Picchu?".  You probably did your research and came up with May. While June to September is the dry season, May really doesn't see a lot of rain either but has less of a crowd (40 instead of 20 millimeters of rain). Like most travelers, I came from Cusco (click for 20 spectacular things to do in Cusco).
But obviously, even 20 millimeters means that there will be rain in May or June in Machu Picchu. So it pays off to pack wisely (click for a detailed Machu Picchu packing list). Of course, it only results in an average of 2-3 rainy days during that time, as opposed to close to 20 in January. Sometimes the rains are so heavy, that landslide occur! Anyway, if you only got one day in Machu Picchu, there is that chance, that your view on the famous ruins will be somewhat, shall we say, watery – even in June!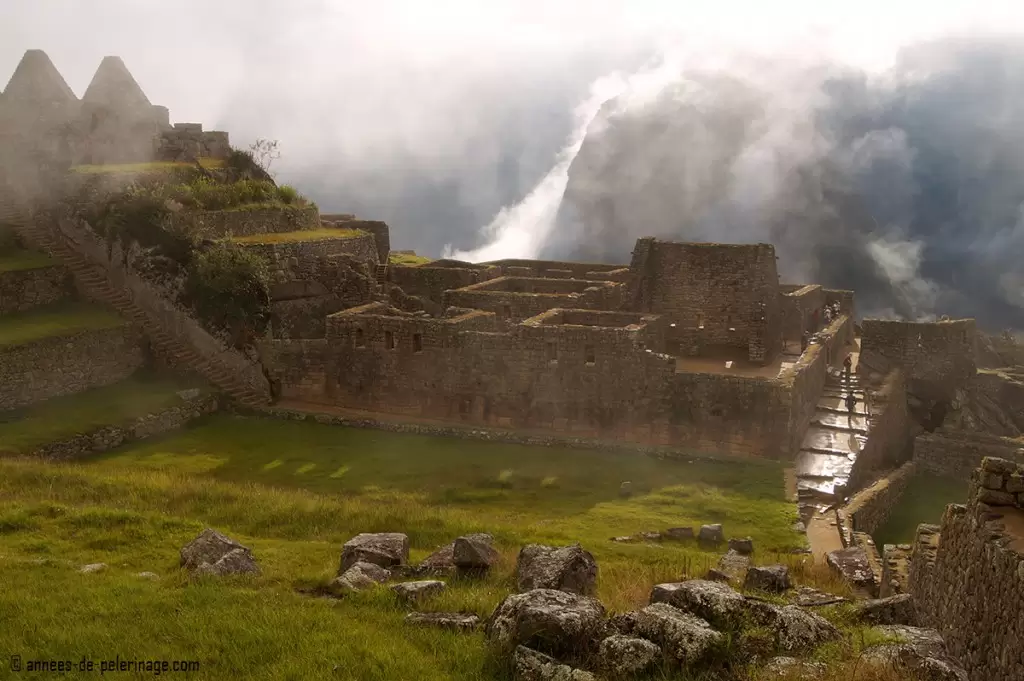 There is just one positive thing about seeing Machu Picchu in the rain: Underneath the Inca ruins hides a perfect drainage system. So despite torrential rains, Machu Picchu will not be bogged down in muddy walkways. Heavy rains give you the opportunity to see that ingenious system in action. It kind of reminded me of the famous Inca salt mines in Maras, where the trickling down water is collected in evaporation ponds (wrote about this breathtakingly beautiful Inca site here).
Side note: During the dry season it is very rare for the rain to last a full day. Usually, if you wait for a couple of hours, rain and clouds will disappear more or less towards the afternoon.
Read more about the weather and the best time to visit Machu Picchu here.
Heavy Fog is common in Machu Picchu
Your best picture of Machu Picchu could look like this! (this is the very spot the classic panorama of Machu Picchu usually is taken; view it here in my Peru itinerary). If you take a very close look at a climate diagram of Machu Picchu, you will very soon discover that humidity averages a more or less constant 45 to 65 percent. Machu Picchu is not actually very high, just some ~2,400 meters. It is way better to think of it as a ruin in the middle of a rain forest (all around Machu Picchu you can see orchids, hummingbirds, and even monkeys). On most pictures of Machu Picchu, you will thus see thick clouds hugging the mountain peaks behind it.
But do keep in mind to have your camera ready for when the fog rises because that will be quite a sight to behold!!!
Forget about that sunrise picture
I am sure you read that the gates to the sanctuary will open at 6 am. If you want to make it to the gates ready for sunrise in Machu Picchu, you really only have two options: Either you rise up veeeeeerrry early and hike up all the way from Aguas Calientes (the first bus does make it in time, but will mostly already be booked out). Alternatively, you can stay at the Belmond Sanctuary Lodge, the only hotel located inside Machu Picchu (like I did; read about my spectacular stay here), but be prepared for a more than hefty price.
Even then your lonely sunrise picture of Machu Picchu is very unlikely to happen. Here are three reasons:
First of all: even at 6 am there will be a crowd at the gates
Two out of three days Machu Picchu will be hidden in heavy fogs in the morning
The sun rises behind a mountain. By the time the first rays of direct light actually hits Machu Picchu, it will be around 10 am depending on the season.
Machu Picchu is scary as hell
Ever wondered why it took until 1911 to discover Machu Picchu? After all, the Spanish combed through Peru rather intensely – looking for all that Inca gold, and looking for the last vestiges of the resistance. There is one easy answer: Machu Picchu is crouched on top a tremendously steep mountain, much like a crow's nest.
The bus ride will already be quite an adventure and your walk around the ruins will be even more so. There are places where you will be faced with vertical drops of 500 meters and more. People have died trying to climb this mountain! Check out this article to get a feeling for the real danger.
This is especially true if you decided to hike the mountain behind Machu Picchu. Wayna Picchu is even steeper and is often referred to as the "Stairs of Death" because the climb down features stairs that would better be referred to as ladders. I urge you to read my guide about Wayna Picchu to get a proper impression of just how steep it all is (but also how spectacular the view from atop is).
If you are looking for a less scary, but equally spectacular Inca ruins, I am sure you will enjoy Tipon, near Cusco. Read all about the amazing water gardens of the Incas here.
The sun gate? Should call it fog gate!
Obviously, before my first visit to Machu Picchu, I also looked up "When does the sun rise in Macchu Picchu" and stuff like "Watching the sun rise from the Sun Gate". So each day in the morning you will find a crowd gathering at the auspicious point waiting for those first rays. For people taking the Inca Trail it will be the first sight of Machu Picchu and usually, these guys wake up around 4 am in the morning to make it in time. But again: you can be lucky to see those first lovely rays, but mostly the gate will be hidden in the fog!
There are crowds and then there is Machu Picchu
Tickets for Machu Picchu are limited. Access to the Inca ruins used to be limited to only 2,500 people, but these days up to 4,000 can be seen during the high seasons (thank you, Rick, for the research) and there are plans for allowing even more. That doesn't actually sound all that much. But do keep in mind two things:
Paths, stairs, and walkways in Machu Picchu are very narrow and are often not wide enough for two people walking next to each other
Everyone will be in what I call "Selfie Zombie Syndrom". It's not a normal crowd, but a crowd constantly hunting that perfect picture for Facebook, Instagram, etc.
So especially around noon, the ruins will be very, very crowded. So please do not expect to be alone in Machu Picchu. I found the best time to enjoy in Machu Picchu the late afternoon. It is also the best time of the day for taking pictures (lots of indirect soft light and no sun glare!).
Mosquitoes are everywhere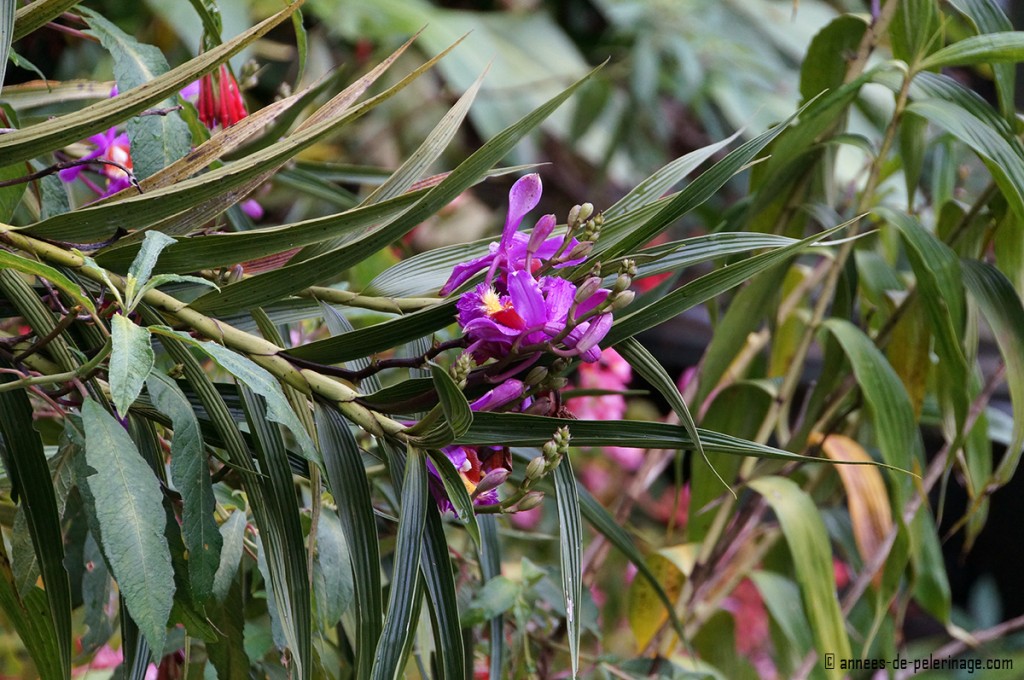 I want to repeat two things: The humidity in Machu Picchu is quite high, it rains often and it is located in the middle of a rain forest. (Okay that was three things). Now guess who likes these conditions a lot? Exactly! Mosquitoes. Especially if you are taking the Inca Trail or climbing one of the two mountains around Machu Picchu (Wayna Picchu/Huayna Picchu or Machu Mountain), bug repellant is a must!
I've seen some short-sleeved arms dotted with ugly red welts (these gnats are rather biggish). On a more positive note, you really should look out for those beautiful orchids that are everywhere around. You will need a keen eye though – despite being colorful they are actually hard to spot amidst the dense foliage!
Note: The amount of Mosquitos depends a bit on the season, though.
Aguas Calientes is a quagmire
I already pointed out that there are no hotels in Machu Picchu. Everyone (except an exalted few who get a reservation for the Sanctuary Lodge) has to stay in Aguas Calientes, the little town some 400 meters below Machu Picchu. There is hardly any space down at the bottom of the valley and so everything is really narrow and packed.
Now those 2,500 people visiting each day have to stay and eat somewhere. If you ask me, it really is one of the worst towns in the world. There are tourists everywhere you look, everything is crowded as hell, and every inch is covered with souvenir shops and the like. That's why I urge you to read my guide to the best hotels in Aguas Calientes.
But not all is bad in Machu Picchu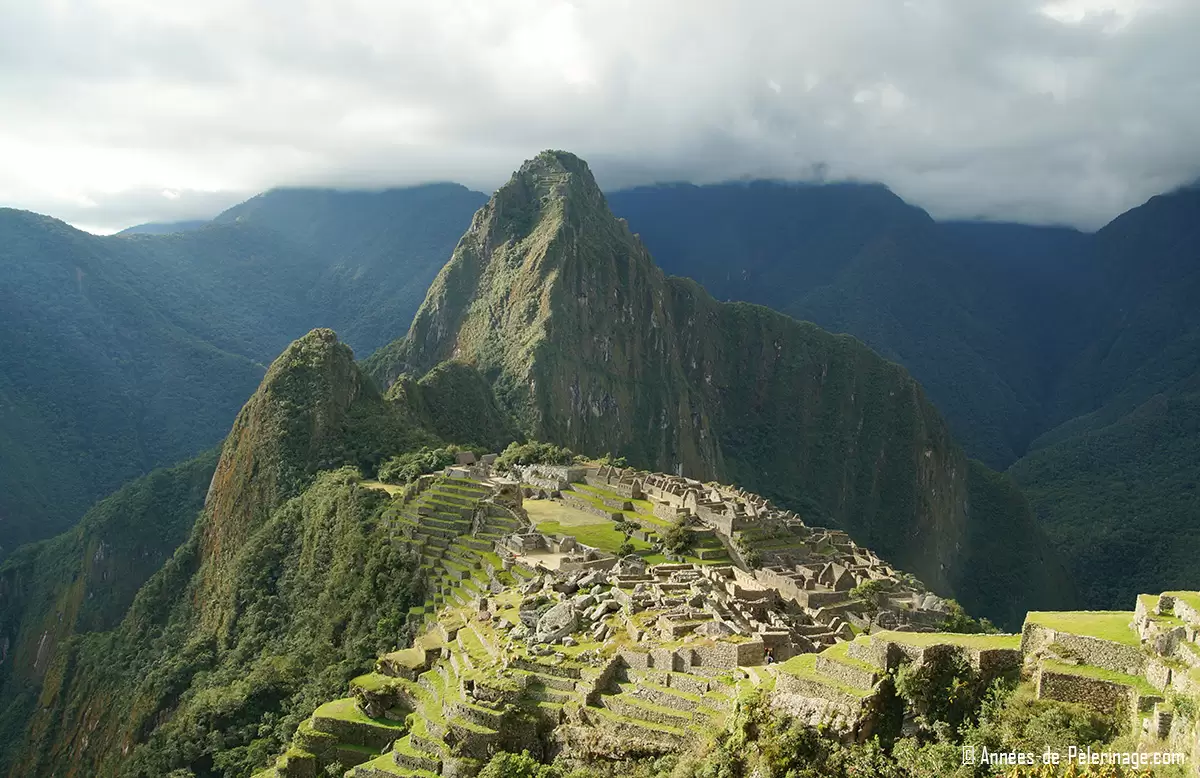 Now I showed you a couple of very unpleasant pictures. Nonetheless, I hope I didn't convince you to stay away from Machu Picchu. Then you somehow missed the point. Machu Picchu is glorious. It is worth every single Dollar you spend getting there (and it will be quite a few).  I stayed 3 full days in Machu Picchu at the very end of May find my complete itinerary for Peru here).
Those three days all started out with fog, one day was rainy and the other two had pleasant sunshine later in the afternoon. In a way I loved how things turned out – it gave me the opportunity to experience the ancient ruins in all its many facets. I saw, however, many travelers only staying one day, or worse, only a morning. This could turn out to be disastrous.
I also invite you to read Mark Adam's classic book Turn Right at Machu Picchu: Rediscovering the Lost City One Step at a Time for a different kind of perspective. Mine is not the only opinion and the book is very fun to read!
An insider's tip: If you only got limited time, I'd personally recommend you to opt for the afternoon. Here are four compelling reasons:
Light will be perfect for photography late in the afternoon (morning is more difficult because of the delayed sunset)
There will be less of a crowd starting from around 3 pm
All the morning fog clinging to the rain forest will have dissipated
Rains are more likely to occur in the morning as well
Last hint: Even if it does rain, try to appreciate the ruins as they are. In my opinion, Machu Picchu can be beautiful even in bad weather – it's just a different view.
Further reads:
Hope you liked my different view on Machu Picchu. Have you been to the famous Inca ruins yet? What were your experiences? Share your views in the comments below!