A list of the top tourist attractions and points of interest in Okinawa you shouldn't miss
Are you planning to visit Japan, but wondering what to do in Okinawa? Then this travel guide was written for you.
I'm going to show exactly what to do on the tropical island is often coined the Japanese version of Hawaii. Okinawa might still be off the radar among the international tourist crowd, but that doesn't mean there are no spectacular attractions. It's the perfect spot to finish your Japan itinerary (click to read mine).
Okinawa might be Japan's best-kept secret offering both ancient culture and stunning beaches! The mild climate and the exotic culture mix make it the perfect destination for tourists (click to see 19 other places you must visit in Japan). Okinawa is the birthplace of Karate and home to quite a unique Japanese dialect.
It was once, a long time ago, a kingdom of its own, called Ryukyu, and is now famous for its many centenarians and healthy cuisine (definitely eat goyas!). Also, it's your main reason to pack a bathing suit (so check out my Japan packing list)
But let's start with my list of the 10 unique things to do in Okinawa, eh?
1. Visit Shuri Castle in Naha
High upon a hill above Okinawa's capital Naha you will find the ancient palace of the former Kings of the Ryukyu Islands (click for the official website). Little of the original structure remains other than the foundation. The castle burned down during the infamous Battle of Okinawa at the end of World War II in 1945. But the original architecture, dating back to the late 14th century, has been skillfully reconstructed in the early 1990ies. The castle is now a designated UNESCO World Heritage site and you should definitely put that on your list of cultural things to do in Okinawa.
Read all about Shuri Castle and its festival here
2. Go to the beach
Okinawa Island is more or less on the same latitude as Hawaii. So it is no big wonder that the beautiful Japanese island has a lot in common with its American neighbor. The volcanic island offers scenic beaches and bays that will be virtually empty. Like I said: there are hardly any tourists on Okinawa. So the best things to do in Okinawa really is going to the beach! Take along a good book, some snacks, and drinks and lose yourself among the shallow waves of the Pacific!
If you are looking for things to do in southern Okinawa, then I recommend checking out Komaka Island. The small, uninhabited island is very popular among tourists and a favorite snorkeling and sun-bathing ground. There are regular ferries departing from the port at Chinen Ocean Leisure Center.
If you got a lot of time, you could also visit the famous Yaeyama Islands to the south. It's a bit of a detour but extremely spectacular and a bit more relaxed and authentic paradise! Loved the white sand beaches on Ishigaki Island (though Iriomote is popular as well)!
3. Go snorkeling in Okinawa
Okinawa has a very rich maritime life. So visiting the island, make sure to go scuba diving or snorkeling! The coral reefs will not be as impressive as in other parts of the world, though. But the strong currents of the Pacific attract various other specimens that are definitely worth seeing. Consider leaving the main island for a day trip to one of the smaller islands a few kilometers offshore. The beaches will be even quieter and the reefs more colorful.
4. Visit the Churaumi Aquarium in Okinawa
One of the top places to visit in Okinawa is the famous Churaumi Aquarium. Here you can see giant whale sharks and Manta rays! The aquarium is considered the best in Japan, if not the whole world. At the very center of the complex, you will find a massive tank holding 7,500 cubic meters of water.
The Churaumi Aquarium belongs to the Ocean Expo Park and is located in the northern part of Okinawa. Regular buses will leave from Naha (the capital) to this touristic highlight. Even though public transport is not an issue on the island, you might consider renting a car just to be more mobile (just be aware you have to drive on the left).
Here is a link to the official website of the aquarium
5. Explore the Native Okinawan Village
Part of the Ocean Expo Park is an open-air museum called Native Okinawan Village. So after your tour through the Churaumi Aquarium, take some time to stroll through the reconstructions of ancient Okinawan architecture. Since the small museum is open to the public and does not require a ticket, it's definitely one of the places of interest in Okinawa you shouldn't miss. The little huts are just so idyllic and one of the few heritage sites (though no longer inhabited)
6. Visit the Botanical Garden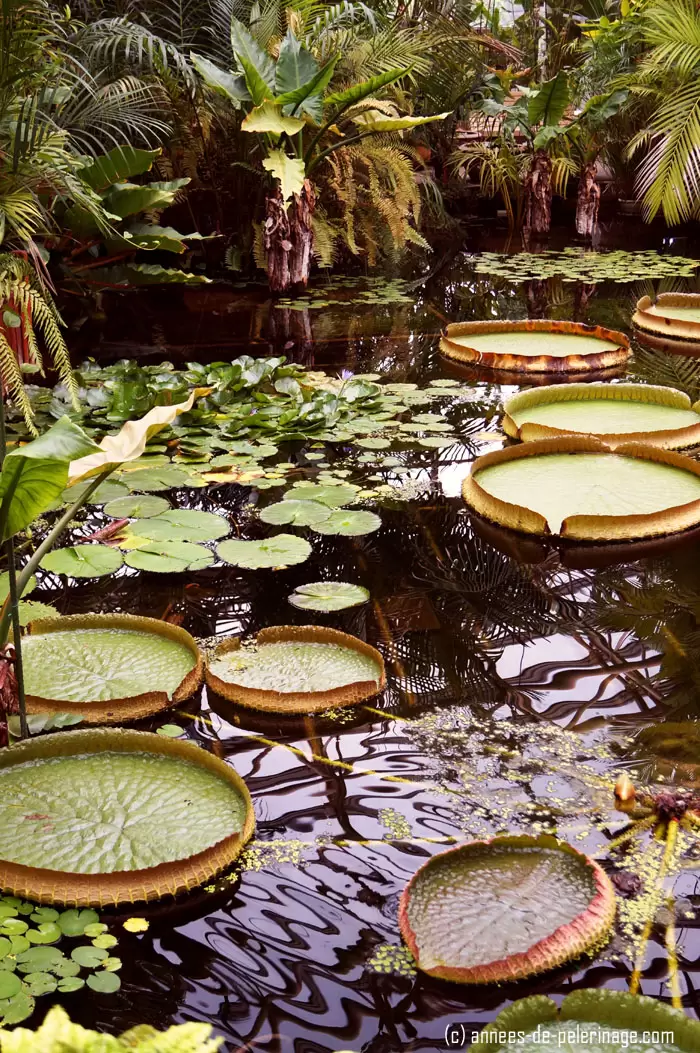 Finish your day at the Ocean Expo Park in the botanical garden. Called Tropical Dream Center, you will find truly gigantic greenhouses brimming with verdant shrubbery and colorful tropical flowers. Compared to European counterparts the botanical garden might appear a bit kitschy, though. Where you would see on orchid from one kind in, say Berlin or Vienna, you will see 200 side by side forming a huge blooming wall in the Tropical Dream Center. But don't let that irritate you – rather enjoy the different take on nature's riches!
There is a second botanical garden in between Uruma and Okinawa city. Here is the website. Might one of the most fun things to do in Okinawa with kids as they got lots of children-friendly attractions.
7. Go shopping in Naha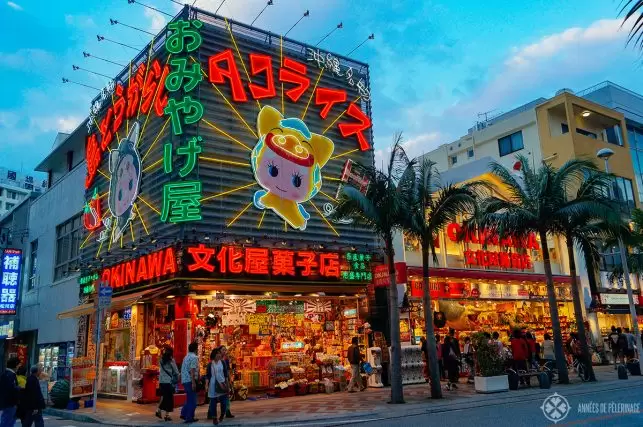 The biggest city in Okinawa is called Naha. It is also the governmental seat and capital city of the Okinawa Prefecture. Roughly 320,000 people live in the economic & cultural center of the subtropical island. You shouldn't miss going shopping there. The kilometer-long main street (called Kokusai Dori) is home to thousands of souvenir shops and restaurants. From trinkets for a couple of yen to elaborated snakeskin belts and poisonous snake liquor (habushu) – there are so many beautiful souvenirs (omiyage) to choose from.
A few shopping malls are located along the street as well, where you can find more traditional goods and also groceries. If you have some spare time, make sure to visit the Tsuboya District. Here you will find hundreds of small pottery shops selling their handicraft. Definitely put that on your Okinawa to do list!
And definitely make sure to take a ride on Naha's famous Monorail. Probably for safety reasons, they decided against a subway – the views are just spectacular.
8. Explore the mangroves
Okinawa is a subtropical island with moderate tides. It does offer the perfect conditions for mangrove forests. Even though not the whole coastal areas form up a big mangrove biotope, there are quite a few places you can see them. Even in the capital City Naha, you will find a small patch. So grab yourself a canoe and go exploring this unique habitat while you still got the chance! You could possibly even see Manatees in Okinawa, though kayaking you will probably only see crabs and some birds.
9. Listen to traditional Okinawan music
The sanshin is Okinawa's most famous instrument. You will see the snakeskin covered banjo a lot around the island. If you got the chance you should definitely take the time to listen. There are bars that will host local bands at night where you can enjoy the local Orion beer (quite tasty in fact!). Sometimes you will also see a street band. If all fails you should at least buy a cd with the peaceful oceanic music.
Note: Okinawa also has a rich dancing tradition. Especially at Shuri castle, you will have the opportunity to watch the peculiar dance at special events throughout the year.
10. Enjoy Manzamo Cliff
Okinawa is basically a volcanic island – just like the rest of the Japanese archipelago. While you can find a lot of beautiful beaches, there are also quite some spectacular cliffs to be seen. The most beautiful one is probably the Manzamo cliff, but it is well worth your time to go on a stroll along the rest of the coast and breathe in the amazing scenery you will find there.
11. Bonus thing to do in Okinawa: Watch a sunset
Now always remember: you are on a tropical island and people at home will expect pictures of a beautiful sunset. Visiting Okinawa you will have no problems producing one!
Where to stay in Okinawa
Note: I get a small commission for purchases made through links in this article.
There aren't a lot of good hotels in Okinawa, and most of them are around Nago Bay. Which is perfect, as it is the perfect home base to explore the north and the south of the island. Plus the coastline of Nago Bay offers the best beaches. I wouldn't recommend a hotel in Naha, as there are many attractions to the north (like the Churaumi Aquarium) and it will take you ages to get there (but you could pick two hotels).
I stayed at the Ritz Carlton the last time in Okinawa. It has a wonderful pool, amazing rooms and is by far the best hotel in Okinawa. It does not have its own beach, though. But as I was visiting in October this did not matter. I can recommend it from my heart
If you are looking for some beach, you got two lovely choices. The Sheraton Okinawa Sunmarina Resort really has one of the loveliest beach areas you will ever see. They even got their own zipline and almost all rooms have an ocean view.
One of the newest and most spectacular properties is the Hyatt Regency Seragaki Island Okinawa. I haven't stayed there yet myself (as it only recently opened), but this means prices are still moderate. The location is just so spectacular. Check out prices and pictures here.
The most famous hotel (and one of the first to bring luxury to the island) is the ANA InterContinental Manza Beach resort. Beautiful location, wonderful beach and some of the rooms have awesome terraces
Best time to visit Okinawa
There really is no one single best time to visit Okinawa – it totally depends on what you want to see. Still, Okinawa is the most southern part of Japan, so you can expect some pretty warm temperatures throughout the year and a subtropical climate. Even in January, you can expect temperatures of around 20°C (68°F). January is also the time of the cherry blossom (March-April for the rest of Japan). The rainy season is roughly between May and June, though it's rather short showers instead of neverending days of rain.
The only time you really need to avoid visiting is the so-called Golden Week at the End of April when half of Japan seems to be visiting. July and August will be quite hot with high humidity, so September and early October are great times to visit if you want to do sightseeing and some swimming. Water temperatures and currents will be excellent for snorkeling. March and April are also excellent months to visit Okinawa
There is a higher chance of typhoons from July to September. So, you might want to take this into consideration, as it could mean a week of bad weather. If you are looking for cultural things to do in Okinawa, you should take a look at the festival calendar. Shuri Castle Festival, New Years, the Naha dragon-boat races, or the tug of war festival are all events you might not want to miss.
And thus ends my personal list of the top things to do in Okinawa! Hope I could convince you that Okinawa is worth visiting!
I do invite you to read the Okinawa and the Ryukyu Islands Guide by Robert Walker he covers so many details of this beautiful Islands I couldn't possibly mention within the confined space of a little travel guide.
Also, don't forget to pin this to your Pinterest board, if you liked it