A local's travel guide to the best winter activities in Munich. Here is what to do in Munich from December to March.
Are you wondering what to do in Munich when it snows? Are you are afraid to book a flight to Bavaria's capital in the winter months?
Fear not. I got you covered! I compiled a list of the best things to do in Munich in Winter. As a local, I can really tell you it pays off to brave the cold temperatures. Fewer tourists mean cheaper hotel prices and almost no queues. Besides, I actually believe Munich is even more beautiful after a fresh snowfall. So, who would ever say no to that?
And the best part: I could think of literally no tourist attraction that is closed to you between December and March. Now, as I don't really want to repeat my massive list of things to do in Munich, I'll focus on special winter activities and points of interest that are particularly beautiful in winter.
So, let's start with my guide to the best things to do in Munich in winter, eh?
1. Enjoy the snow in Munich's parks
Munich, you will notice quite quickly, is a pretty green city. There are parks around every corner. Some of them are particularly worth visiting in the colder months and you really should consider staying a bit longer in my hometown (Read this guide on how many days in Munich are enough).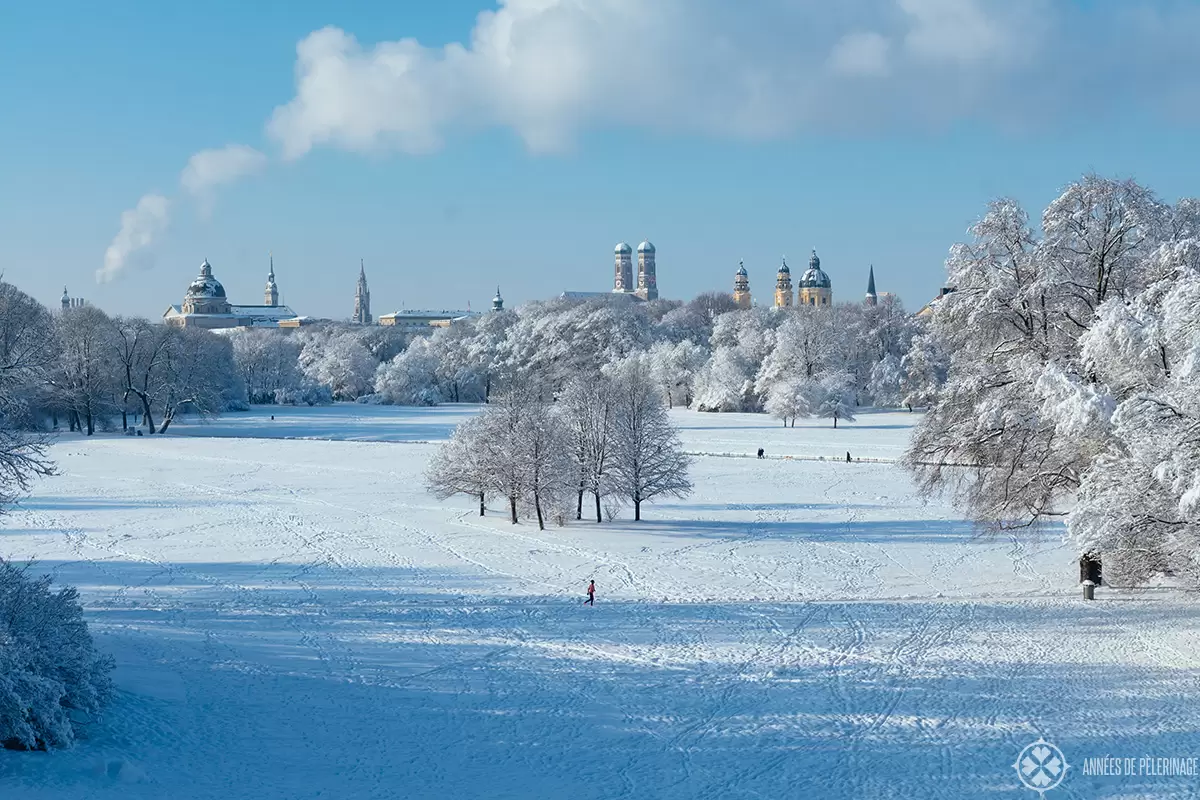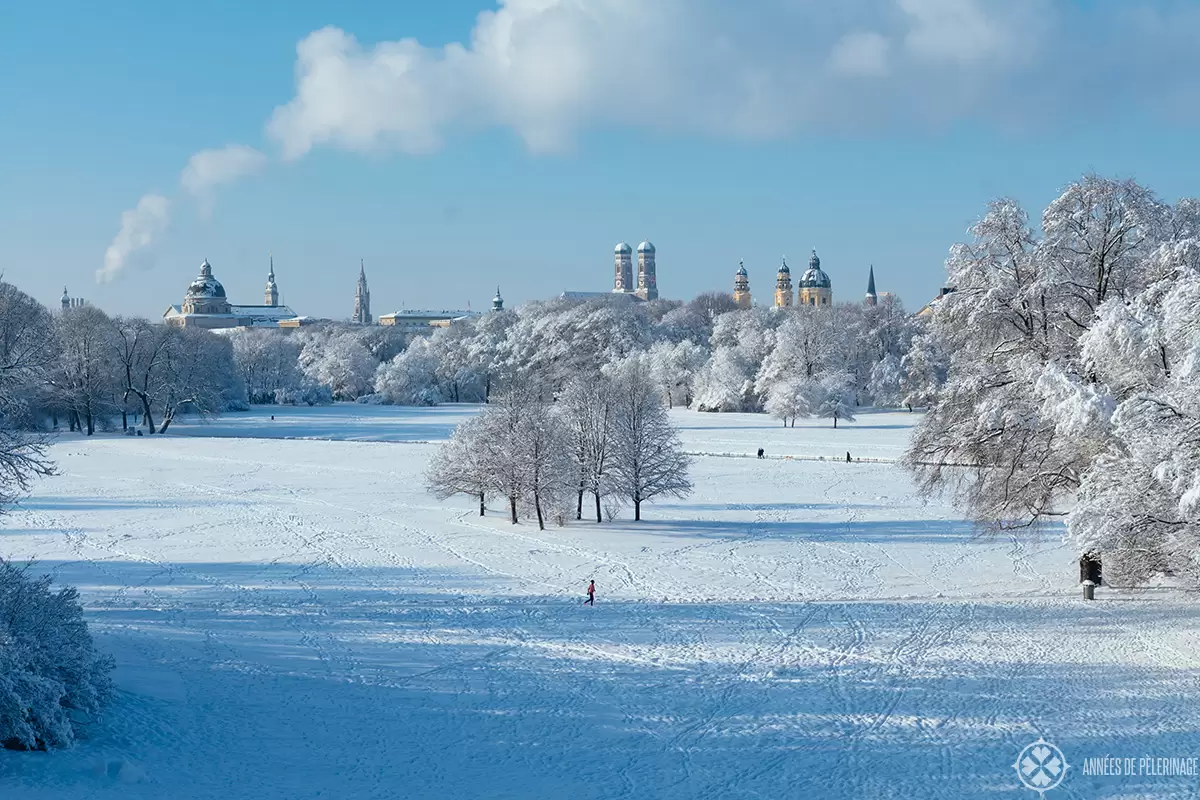 You certainly shouldn't miss the Englische Garten. Head here early in the morning to capture that cold morning light and pristine snow-covered meadows. While you can also visit later in the day, the snow usually starts to melt somewhat towards the afternoon.
If you are super lucky, the Kleinhesseloher Lake in the middle of the big landscape garden is frozen over and you can go skating (see below). This, sadly, doesn't happen every year. But when it does it's paradise on earth.
The Chinese tower is usually also worth a visit, but the famous beer garden will be closed. If you are visiting during December, you will be surprised to find an extraordinarily romantic Christmas market here.
If walking through the huge Englische Garten sounds a bit too much for your cold ears, then you could just stick to the Hofgarten. It's a little park right next to Odeonsplatz which usually looks extra pretty after a fresh dusting.
Now, don't hesitate to get a bit further out of the city. Towards the district of Bogenhausen in the East of Munich, you will find the Friedensengel. This gigantic column is quite close to my home and probably Munich's most post popular landmarks among photographers.
2. Visit one of the many castles in and around Munich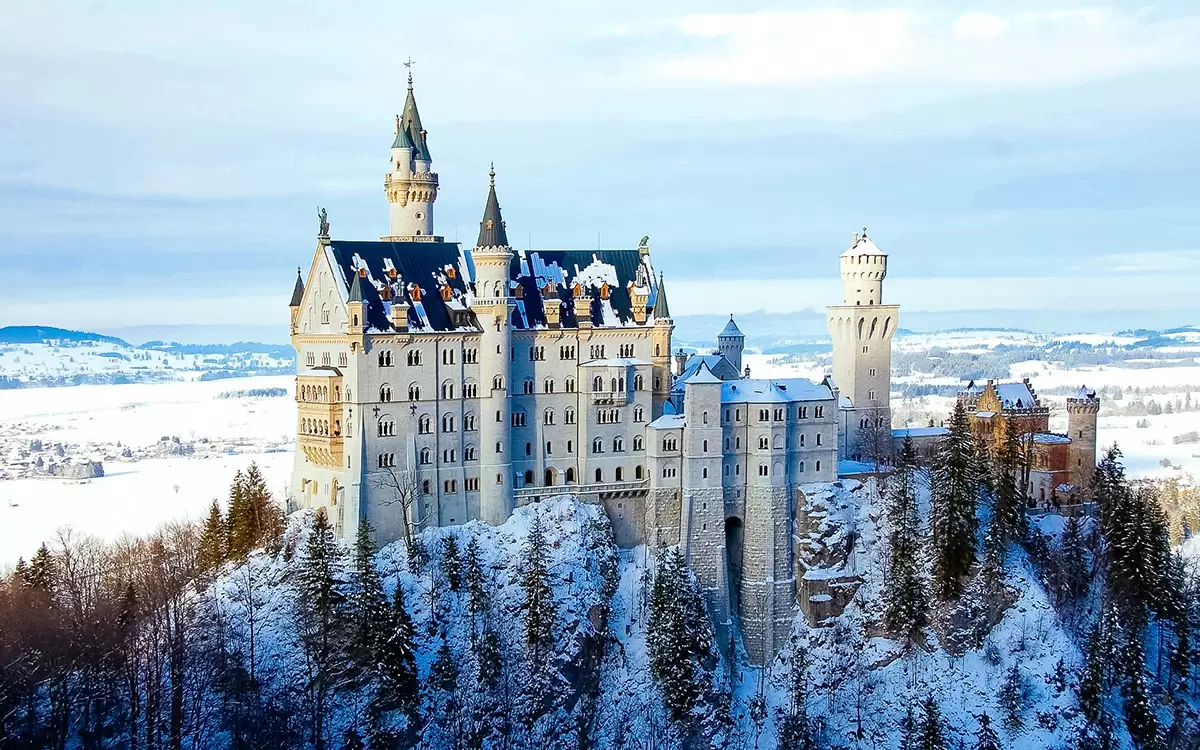 There are virtually a billion pictures of our beautiful castles floating around the internet. If you don't want to add to this boring mass of the ever same vistas, you should brave the snow and visit them in winter. And here is a list of the best castles near Munich if you can't get enough.
I have to warn you, though. Castle Neuschwanstein is already extraordinary kitschy..er beautiful in summer. If you visit in winter (click to find out how), I'm sure you will suffer from a sensual overload. Please also bear in mind, the castle of castles is located about a 2 hour's drive away from Munich. Here's a list of the best day trips from Munich for your convenience.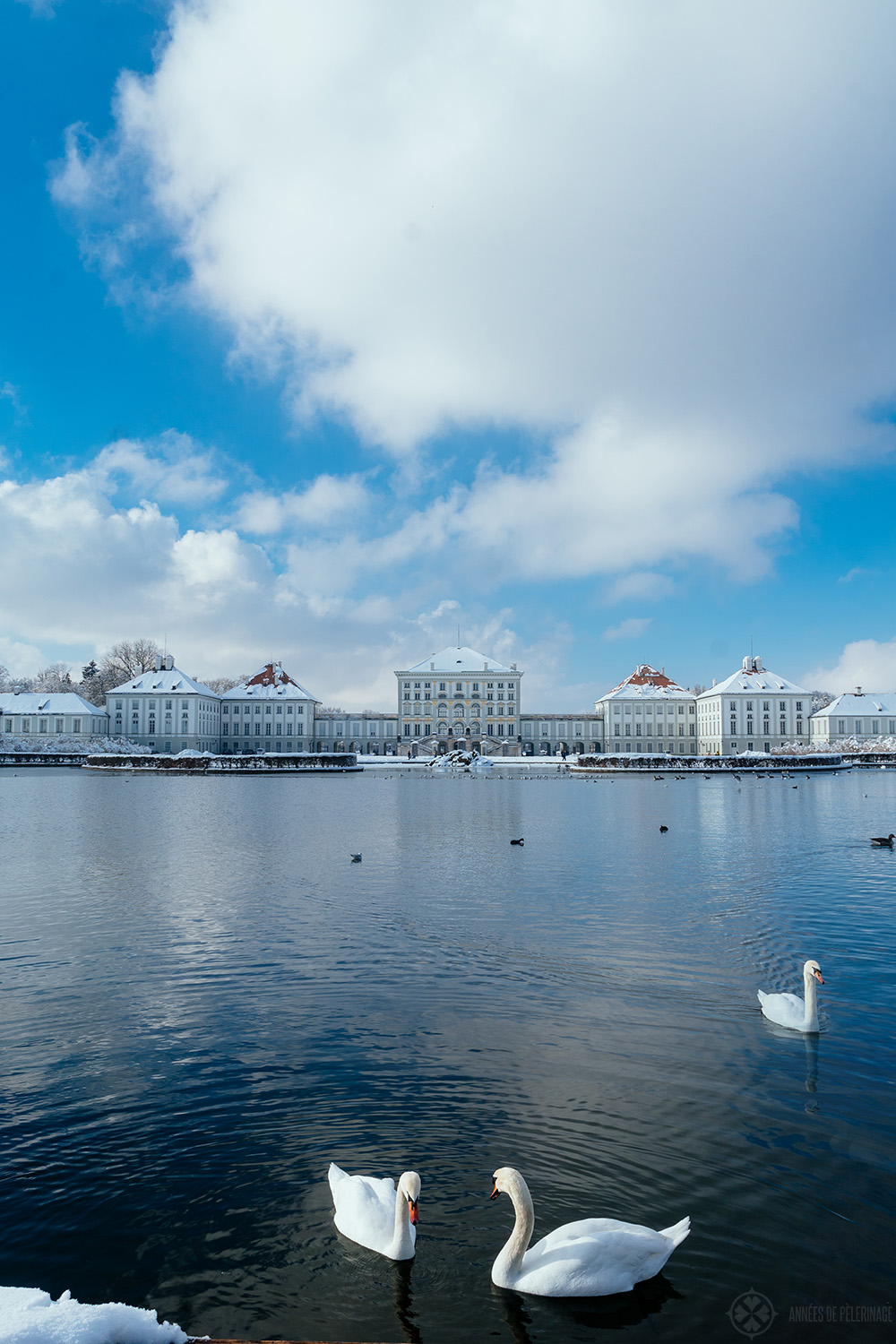 If that sounds too far, you'll love Nymphenburg Palace (here's the official website). A tram will get you to the former home of the Bavarian kings from the central station in 15 minutes. There is a huge park around Nymphenburg you might want to check out, though I feel it is more beautiful in autumn. You really should check out my detailed Nymphenburg guide here.
Sometimes, the water channel in front of the castles freezes over and you'll see locals competing at Bavarian curling or ice skating. Naturally, you are allowed to join in, but you probably have to bring your own skates.
On a particularly cold day in winter, you should definitely also check out the Munich Residenz in the very heart of Munich (click for the website). The imposing city palace is not especially noteworthy from the outside, more or less just a square something, but it will blow you away with its interior splendor!
3. See Munich's winter wonderland from above
Around Marienplatz (the central square), you got two opportunities to get above Munich's snow-covered rooftops. While some tourist guides recommend scaling the stairs of the new city hall (that's the belfry you see to the left of the picture above), I urge you to buy a ticket for the Alter Peter ("old Pete") bell tower.
Why? Well, the view is so much better from here. You will actually want to see the neogothic city hall, which is (for obvious reasons) not possible when you stand atop of it.
Note: You have to climb all 13 stories to the top of the Alter Peter. There is no escalator, and you can only pay in cash. Here's my guide for more info.
4. Visit a museum
Munich has so many museums that even I haven't visited them all. I guess there are like more than a hundred all in all. Now, I don't necessarily have to visit the Potatoe Museum (though you could!) and are allowed to stick to the main highlights.
The Bavarian National Museum (click for the website) will look extra pretty in winter and they usually got a beyond than stunning nativity scene exhibition. I know it sounds a bit boring, but after you've seen the huge extremely realistic dioramas (and there are like 100s of them), you will thank me later!
Naturally, you can also visit the other Museums in winter, but none of them will have a special winter exhibition, so I didn't feel like mentioning them. If you want to see some pretty winter exteriors, Villa Stuck is certainly also a good choice. I also love the Egyptian Museum.
5. Do some winter sports
Munich has quite a couple of ice rinks and the locals love to enjoy sledding down the many smaller hills throughout the city. Olympiapark will be your best bet, as you will find the best hills there. A lot of locals also ride down the little hill in the middle of the Englische Garten at the Monopteros. Be aware that you will have to bring your own sleight (a plastic bag filled with snow works as well, believe me!). Most big ice rinks do rent skates, though!
Of course, you can also go on a skiing day trip to Garmisch-Partenkirchen, the Zugspitze mountain, and beyond. I highly recommend it, even though it shouldn't appear on a list of things to do in Munich, at least technically speaking ;-)
6. Hit one of the theatres
Munich is quite renowned for its theater and opera houses. In fact, the Bayerische Staatsoper counts among the top 10 opera houses in the world. It can be a bit tricky to score tickets for the evening performances, but it will be worth it (they got English subtitles).
The Prinzregententheater may not be as famous as its sister house, but the Jugendstil theater will be quite a pretty sight in winter. Just follow the road from the Friedensengel to its end (about 500 meters) and you'll see it.
Note: Munich also has a very famous circus which has a permanent winter house. Not all shows feature animals, and most of them are extraordinary!
7. Visit one of Munich's many public baths
There are quite a lot of spas and public baths in Munich. Some of them, like the Dantebad, will even heat up their outdoor pools in winter. The Therme Erding is one of the biggest spa complexes in the world and certainly also a good choice to escape the cold outside. It's easy to spend a full day there.
8. Escape the cold at the Botanical garden
Munich has a very lovely Botanical garden, you do not want to miss. The huge greenhouses are filled with specimens from all over the world. Usually, they even have a special butterfly house in winter. I also love their big collections of cactus (here's the official website).
9. Enjoy the Bavarian inn culture
Roast pork, cheese noddles ("Spätzle"), shredded pancakes ("Kaiserscharm"), and white sausages ("Weißwürste") are just one of many Bavarian specialties you absolutely have to try. Our famous beer gardens may be closed in winter, but you will be able to enjoy our equally famous inn culture instead.
Most tourists will flock to the Hofbräuhaus, which isn't actually that big of a mistake (if you retreat to one of the many rooms at the back), but Augustinerbräu, Donisl, and Spatenhaus an der Oper are very viable alternatives and a bit less touristy. As you will literally find an inn around every corner, I'm sure you will find a place to warm your cold bones after a long day outside.
10. Enjoy a Christmas market [only December]
German Christmas markets are the best in the world. I'm not saying this because we sort of invented them, I'm not saying it because I am Germany myself, but simply because it is true. Munich has so many Christmas markets, I really lost count. Basically, the whole inner city will turn into one big Christmas Market in December (read my guide).
My favorite ones are at the Chinesischer Turm, inside the Munich Residenz and the medieval Christmas Market close to Odeonsplatz (Wittelsbacherplatz). Here is a list of the top 10 Christmas markets in Munich.
Note: If you are visiting Munich in January or February, you will have to do without drinking mulled wine, as they close the day before Christmas.
Other things to do in Munich in winter
I already mentioned it above, and I'll say it again. This list is hardly complete. Even if you just got one day in Munich, there are plenty of other points of interest I didn't mention. Definitely make sure to walk around the old town, enjoy Königsplatz or take a walk across Munich's gourmet food market (read all about it here).
Also, don't miss visiting one of the many churches in Munich. Apart from the central Church of our Lady, the Theatinerkirche and the Asamkirche are true must-visits.
What to pack for Munich in winter
Temperatures often drop below the freezing point in Munich in winter, so it pays off to come prepared. While there is a lot of snow, it usually melts away quite quickly in the city, leaving a soggy grey mass behind on the pavements. You should definitely pack:
Warm, waterproof walking boots
A warm jacked
A warm hat (and possibly an umbrella)
A scarf
Sunglasses (snow reflects the sun quite heavily)
warm gloves
We do have an excellent winter service in Munich. Still, roads and paths in parks can be slippery at times. If you are not very sure footed anymore, you might consider bringing walking sticks for your stay in Munich in winter. I am seeing quite some older people using them every winter, and why shouldn't you? If you just stick to the inner city, you probably won't need them, though, as the winter service salts the roads and that usually takes care of things by around 10 am in the morning.
So, this was my little guide to the best things to do in Munich in winter. I hope I was able to prepare you for some snowy fun in my hometown. Still got any questions? Feel free to comment below!