A visual tour through the Cairo citadel, also known as the Saladin Citadel of Cairo, and everything you need to know to plan your visit.
Perched high upon an arid hill above Egypt's Capital, tourists interested into Islamic Cairo will find a medieval citadel full of architectonic wonders. The Citadel of Saladin (Qalaʿat Salāḥ ad-Dīn) dates back to 12th century and is now a dedicated UNESCO World Heritage site. While there are many things to do in Cairo (check out the full list here), few places will offer you a better glimpse into the Islamic past that its most famous fortress.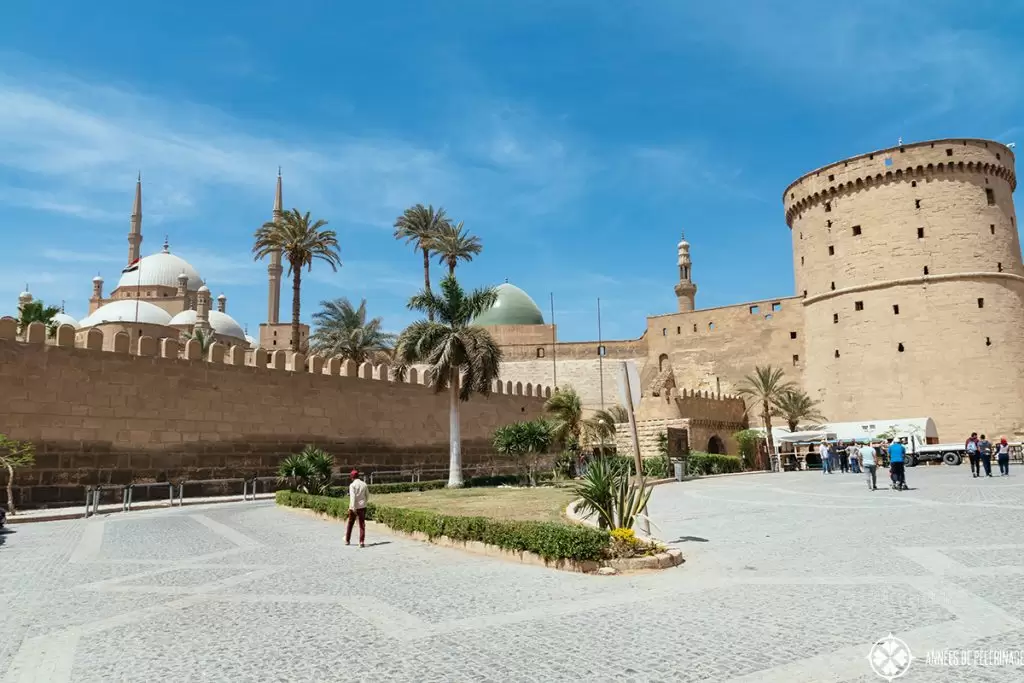 Here is what you should know before visiting the monument that appears in basically every Egypt travel guide:
Cairo citadel facts
built between 1176-1183 AD
commissioned by Salah al-Din
UNESCO World Heritage site since 1979
Home to 3 mosques and 4 museums
The depth of the well 85 meters (280ft)
PS: Check out my 14 days Egypt itinerary. A visit to Cairo Citadel is featured there as well!
Mosque of Muhammad Ali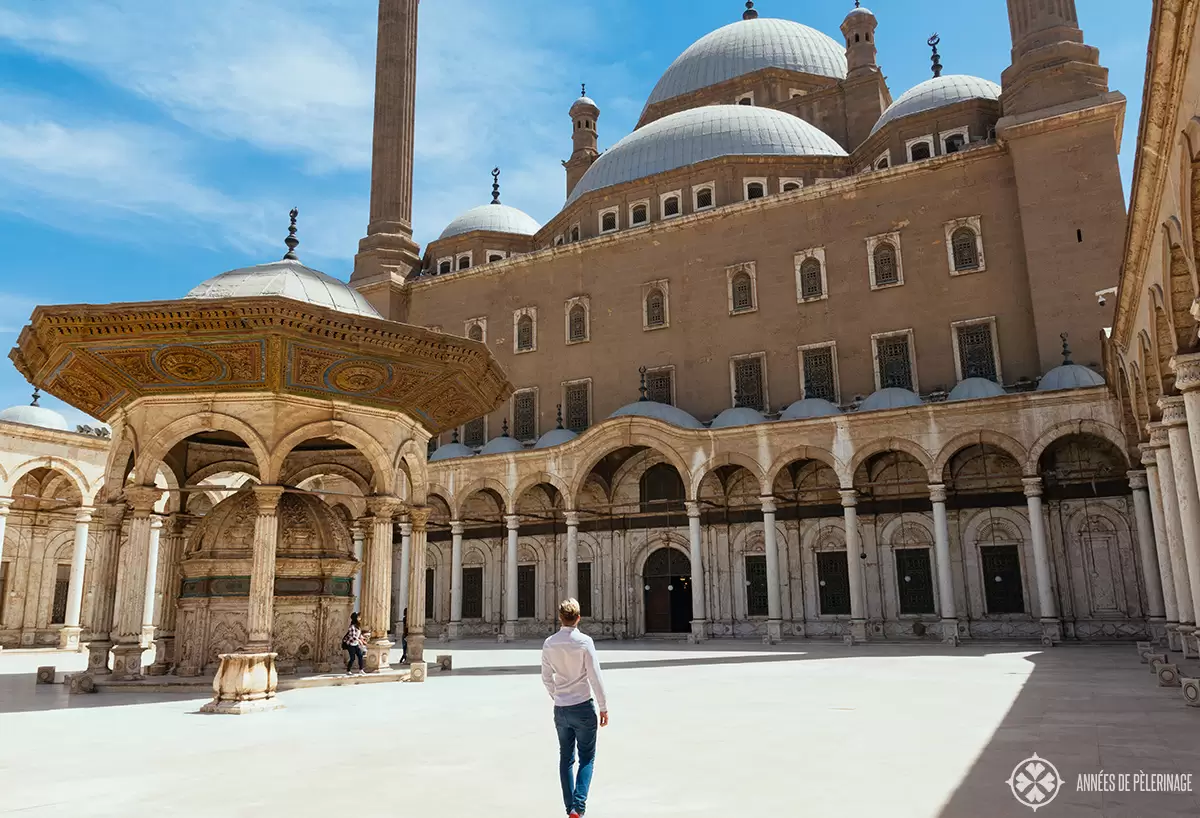 The main reason most people will come to see the Cairo Citadel is the Mosque of Muhammad Ali. Commissioned by Muhammad Ali Pasha between 1830 and 1848, this spectacular mosque was built to rival the Hagia Sofia in Istanbul.
It is also known as the Alabaster Mosque as the lower storey and the forecourt are tiled with alabaster up to 11,3 meters (the rest is limestone).
Almost unbelievable fact: There is a clock in the courtyard of the Mosque. It was reciprocated with the obelisk of Luxor now standing in Place de la Concorde in Paris. By today's standard, quite the lopsided deal.
Definitely, don't miss to go inside and admire the gigantic chandelier hanging from the domed ceiling of the Mohammed Ali mosque. Due to frequent sandstorms, it is all a bit dusty, but nonetheless incredibly impressive.
You should take your time exploring the grand terrace at the front of the mosque. It is by far best viewpoint in Cairo. The Mosque-Madrassa of Sultan Hassan and od Islamic Cairo is directly below, while you can see the Nile river & downtown Cairo on the horizon. On a clear day, you can even see the Great Pyramid of Giza. So panoramic!
Note: You have to enter this mosque (as any other mosque) without shoes. Socks are okay and you are perfectly okay to step inside if you are not a Muslim. Read my full guide to what to wear in Egypt to be on the safe side.
Al-Nasir Muhammad Mosque
The Sultan al-Nasir Muhammad ibn Qala'un Mosque is the true gem inside the Cairo citadel. Built in the early 14th century, the magnificent hypostyle mosque impresses with its serene courtyard and the two ancient minarets.
Originally it was built for Sultan al-Nasir for his daily prayer, ceased to feature a prominent role in the daily life of the kings way before the British Conquest. The Ottomans had ransacked the beautiful building, and it was an amateur archeologist by the name C.M. Watson who restored the beautiful mosque to its former glory.
The mosque is quite peculiar, as its two minarets are quite ornate, unlike any other minarets from the Mamluk period. No other mosque in Cairo is decorated in mosaics/faience (which is typical of religious structures in the rest of the Arab world, particularly Central Asia). The Arabic influence is almost palpable.
Egyptian Military Museum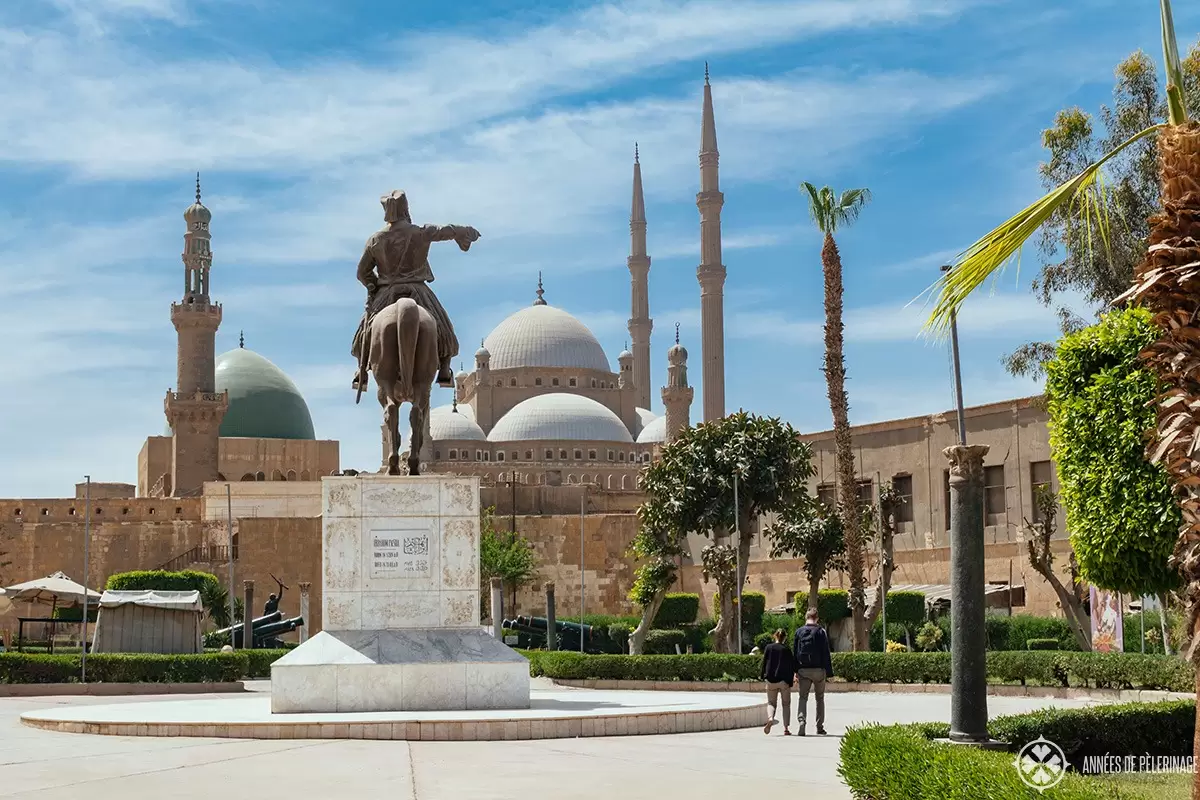 There are three museums inside the Citadel of Saladin. Personally speaking, I couldn't recommend any of them. They are, all things considered, not what you'd expect of a standard museum.
That being said, you might enjoy strolling around the courtyard of the Egyptian Military Museums. The square features some cafés and grants a lovely view of the citadel. Inside you will find a couple of halls dedicated to the most recent wars in Egyptian history. There is even an Egyptian Martyrs Hall.
There is also the Al-Gawhara Palace Museum, the National Police Museum, and the Carriage Museum. During the past couple of years, not all museums were open to the public at all times. From what I gathered it is sort of a hit or miss thing, with lots of stuff being renovated or rebuilt. Better spend your time sightseeing in Coptic Cairo, etc.
Cairo citadel entrance fee / Cairo citadel ticket price
The entrance fee for the Cairo Citadel is 100 Egyptian Pounds (LE) per person. Tickets can be bought at the only entrance. There is a security check right after the entrance. There is no need to buy tickets in advance or go through a tour agency.
Note: Ticket Cairo citadel ticket prices have been adjusted recently. Before 2018 it used to be 60 LE
Cairo citadel opening hours
The Cairo Citadel is open Monday to Sunday from 9 AM to 4 PM each day.
Please note that the Citadel will close at 3 pm during Ramadan. Also, best not visit on Fridays, as the mosque of Mosque of Muhammad Ali will be quite busy on these days. You should probably also stay away from the midday heat – especially in summer, as the Citadel will become a true furnace.
How to get to the Cairo Citadel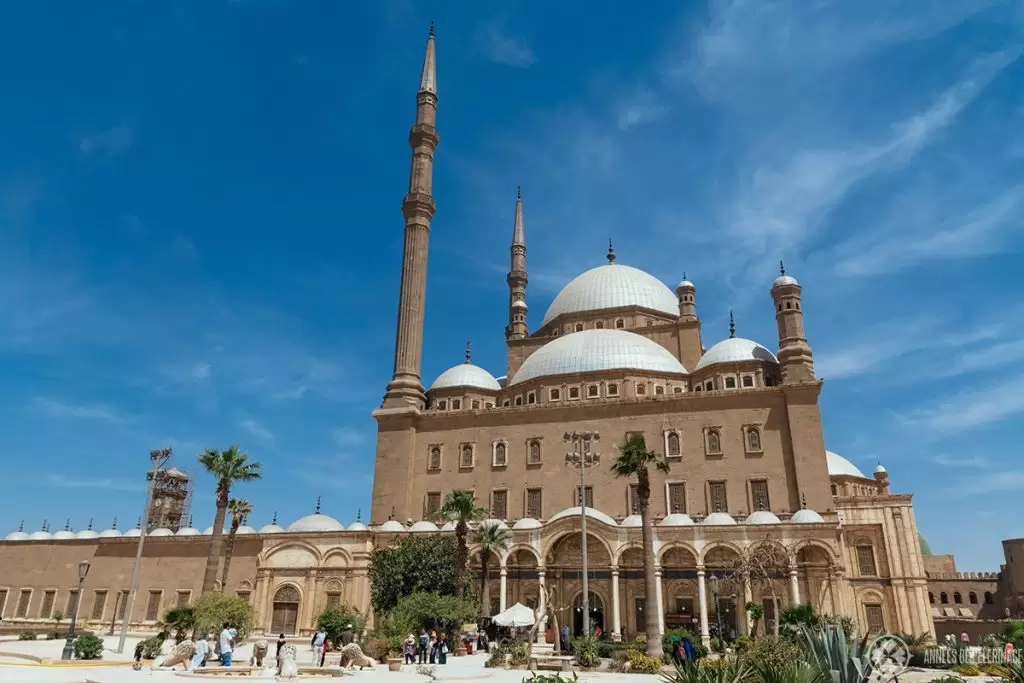 The Cairo Citadel has three remaining gates, but only the Bab Al-Gebel gate will get you inside. There is a big parking lot in front of it (gotta walk a short stretch up a hill from there). You get there via the Salah Salem Street winding around the hill of the Citadel.
Basically, the only feasible way to get there is taking a taxi. There is no metro station even remotely close (we are talking about 5 kilometers!). Even walking from the Mosque-Madrassa of Sultan Hassan (which is directly below) is not recommended, as it will still be some 2 kilometers walking up the hill on the sidewalk of a very busy street.
The only other viable alternative is booking a bus tour through Islamic Cairo that is bound to stop at the citadel as well. If you don't mind walking around in a group, this is probably the cheapest alternative. Even though Egypt is perfectly safe (read my full guide on Egypt travel safety, if you are worried), I understand that a lot of tourists just don't feel comfortable with hiring a taxi and going on a self-guided tour.
This was my little travel guide to the visiting the Cairo Citadel. If you are looking for other beautiful highlights within Cairo, you should definitely read about my Great Pyramids tour.  And here is my guide to the 20 best places to visit in Egypt.
Liked this Cairo Citadel guide? Then pin it to your Pinterest board or share it on social media.