The top tourist attractions and places to visit in Nara – a fabulous city only a short day trip from Kyoto & Osaka.
Are you planning a trip to Nara? Are you wondering what are the best things to do in Nara? Well, then you clicked on the right link. Distilled from my many visits, I compiled a comprehensive list of the best tourist attractions and points of interest in this beautiful city in the Kansai area.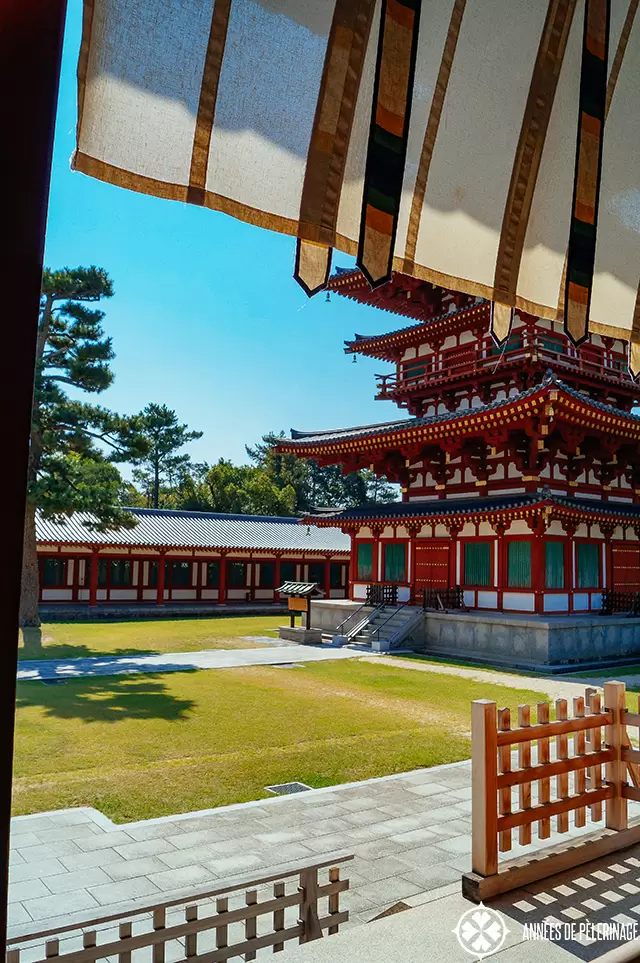 Nara was the capital of Japan between 710 to 794 AD. The ancient city is one of the major tourist highlights in Japan and is famous for its tame deer ranging freely in the city. Right after Tokyo (make sure to read my guide) and Kyoto (you'll find my guide here), Nara should be the third stop in your Japan itinerary and can easily be visited on a day trip from Kyoto (or Osaka – click here to find out how).
Believe me, there are just so many things to do in Nara and you would eternally blame yourself for not visiting this part of the Kansai area. Here is why:
In Nara Prefecture, you get the unique opportunity to delve into Japan's most ancient past. Nara was the first permanent capital of the then still young Japanese kingdom. Some might say, it never got surpassed. Colossal Buddhist temples and intricate Shinto shrines survived the ages as a testament to its former glory. Hence the UNESCO declared it a World Heritage Site.
A quick glance at the Nara Map will tell you that there are a loooot of temples and shrines to explore. It really pays off to plan ahead. First-timers might want to book a guided tour (you can do so here) so you don't miss out on Nara's attractions. Don't forget to check out my perfect Japan itinerary either, so you know how how to make ends meet on your trip.
But let's dive right into it?
___________
Looking for more things to do in Nara and beyond? Check out my massive list of the 20 best tourist attractions in Japan in Japan
Note: I earn a small commission for purchases made through links in this article.
1. Todai-ji
The Todai-ji (東大寺, Eastern Great Temple) is a beyond than monumental Buddhist temple complex. You will have a hard time missing the main hall of the ancient temple founded in 728 AD. What you see today, is a reconstruction dating back to 1709 AD, which is 30 percent smaller than the original. Even in that state, it held the title of the largest wooden building in the world until 1998.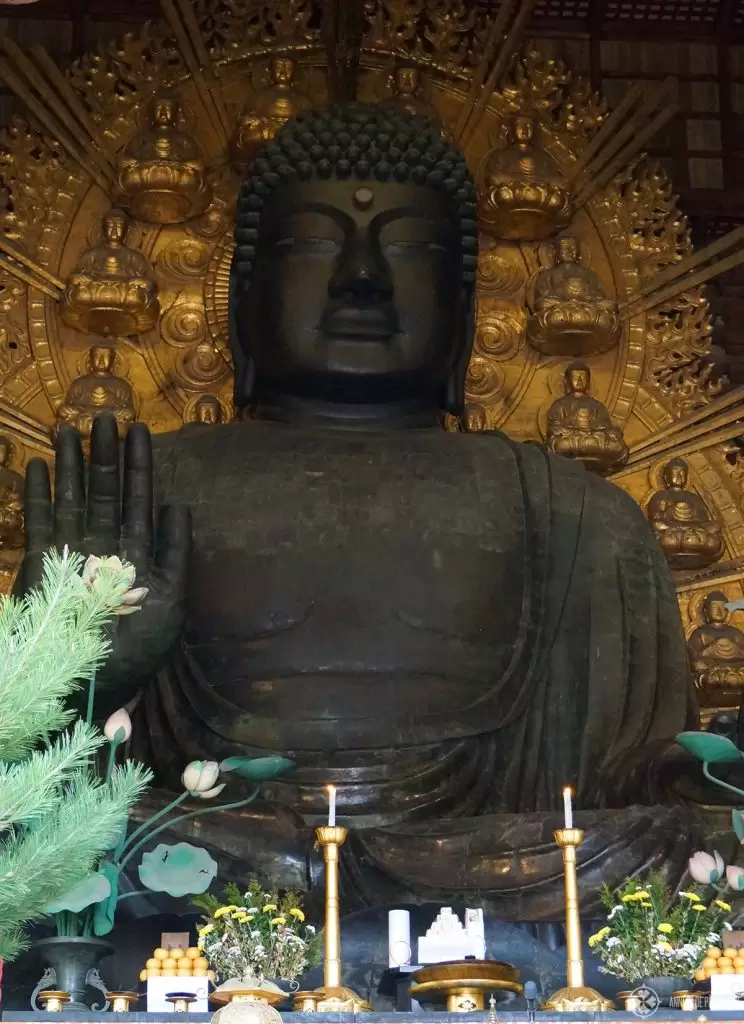 Inside you will find the biggest bronze Buddha in the world. The so-called Daibutsu is almost 15 meters high and weighs over 500 tons. Believe it or not, but it was finished in 752 AD and almost bankrupted Japan's economy at that time. So if you were wondering what to see in Nara and if it was worth it, I hope I already got you convinced.
(The Nara Daibutsu is one of two of its kind in Japan. The other one, slightly smaller and from the 13th century, is located in Kamakura)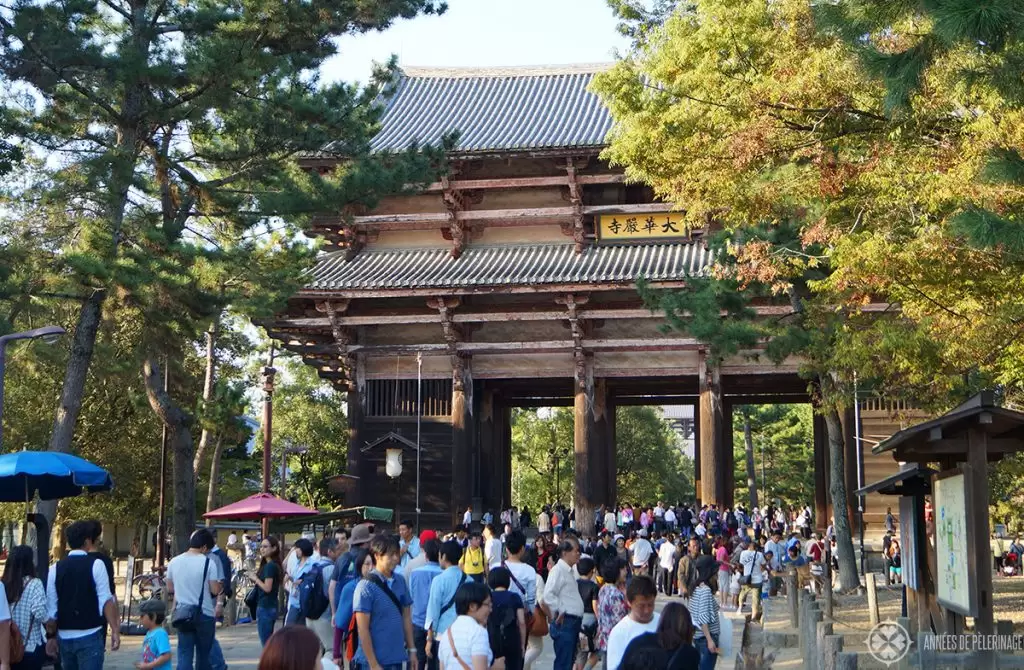 Also, take note of the Great South Gate which dates back to the 13th century and houses two gigantic and equally ancient statues of Bishamonten and Komukuten. As far as Buddhism in Japan is concerned, it doesn't get any better than the Todai-ji.
Pro tip: Don't miss the Nigatsu-dō hall (February Hall) abutting the hill behind the Todai-ji. It's quite beautiful and offers a beautiful view of Nara. A customized private tour might help you (you can book one here) in case you are scarred of getting lost ;-)
2. Nara Park
On my first visit to Nara, I seriously couldn't believe my eyes. Ranging freely through the innermost temple district were thousands of tame deer. This area is called Nara Park and should be at the very top of places to visit in Nara.
Pro tip: Buy fodder from one of the many street vendors; just keep any other food out of range. They will snatch away your ice cream and try about everything else that looks remotely edible.
Nara Park Entrance fee
Entering Nara Park is free for everyone. Only the various temples within the park will charge you a small fee. Despite having seen a lot of people asking for it on the internet, there is no Nara Park entrance fee. Great, isn't it?
Nara Deer Park Opening hours
Nara Park is open 24 hours 7 days a week. Only the temples lining the park (like Todai-ji) have opening hours and an entrance fee – the park itself is open whenever you feel like it. In fact, you really should not think of it as a park, and rather parts of the city where you can walk around freely.
3. Kasuga-Taisha
My favorite shrine in Nara (if not in Japan), is Kasuga-Taisha. I call it the temple of the 10,000 lanterns, fully knowing there are a bit less and it's not actually a Buddhist temple. I just feel that these words transcribe the magical aura this Shinto shrine emits from its every pore.
You'll find Kasuga-Taisha at the far end of Nara Park up in the hills (but only a very short climb!). If you want to find out more about this amazing temple and how I caught a glimpse of the most expensive Kimono ever, read the full story here.
Pro tip: Be here for Mantoro festival (Feb 3rd and Aug 14th), when all of the 3,000 lanterns are lit. Walking through the temple area will be beyond than magical experience during that time.
4. Hōryū-ji Temple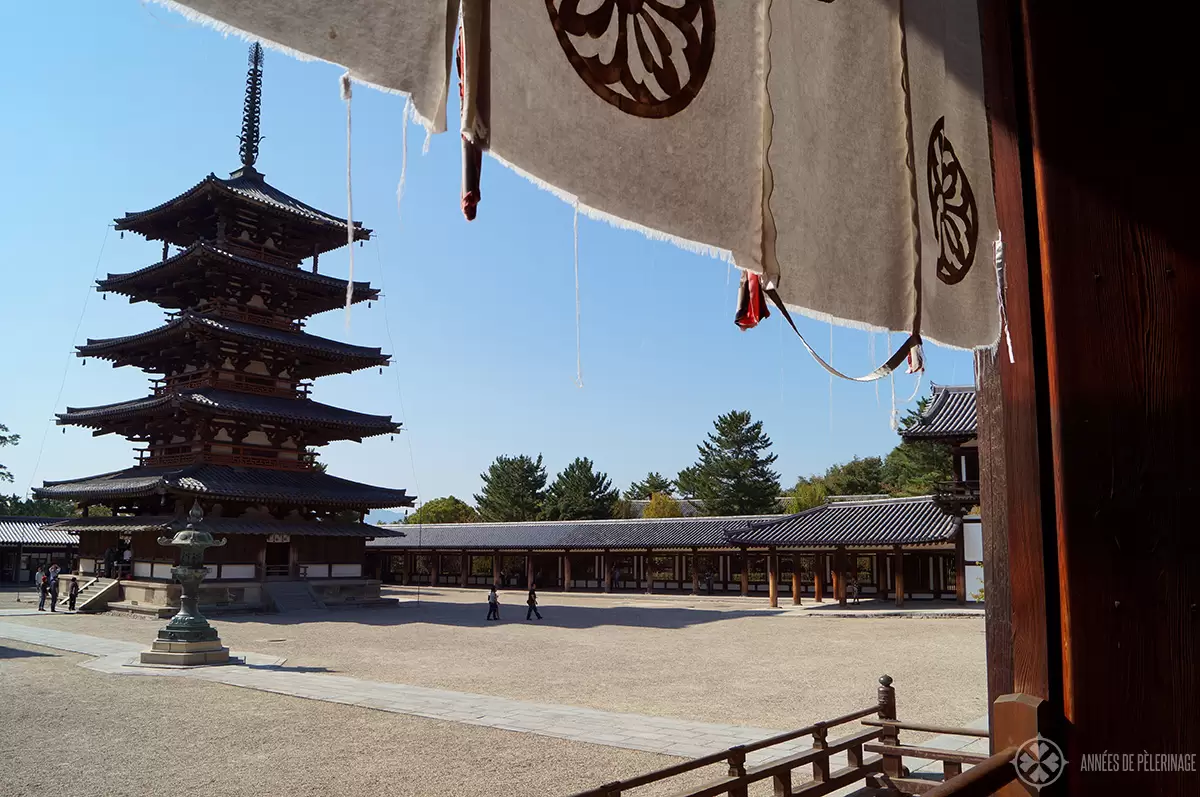 When I told you, Nara is ancient, I really meant it. One of the places you absolutely have to visit is the Hōryū-ji (法隆寺, Temple of the Flourishing Law). Why? Because it is the oldest wooden building in the world. Recent studies suggest that construction might have started as early as 670 AD!!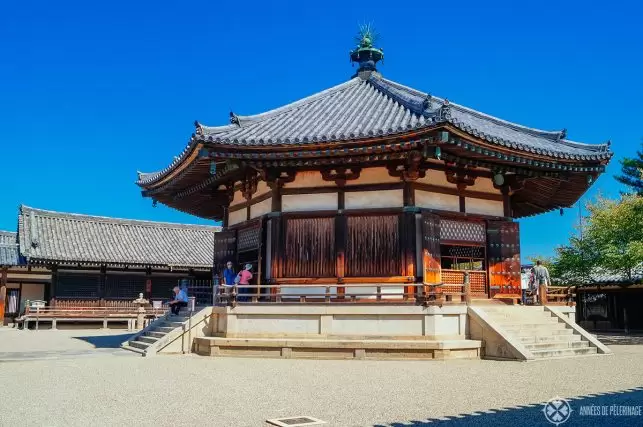 As fires and weather left their toll, it is estimated that about 20 percent of the original wooden materials remain in the current building. The layout, however, and the treasures you can see within, are all from the very dawn of Japanese history. Absolutely put it on your list of things to see in Nara. There is a regular bus that will get you there.
Pro tip: Absolutely visit the adjacent treasure (treasure hall), where you will be able to see the world-famous Kudara Kannon and other amazing artwork from a thousand years ago and more
5. Yakushi-ji
Temples and yet more temples. Nara is really all about them. It's easy to catch what I call the temple sickness here. The problem: Every single one of them is more beautiful than the other. Like all the places mentioned above, Yakushi-ji (薬師寺 Temple of the Buddha of healing) is part of the "Historic Monuments of Ancient Nara" protected by the UNESCO.
It's the brightest and most colorful temple in the city and one of my favorite landmarks. Sadly, fires reduced the complex to ashes in 972 and 1528 AD, so most the buildings tourists are able to see today are later reconstructions (only the East Pagoda still dates back to the 8th century)
6. Isui-en Garden
After so many temples, you might long for a little relaxation. The Isui-en (依水園) might just offer you that. The beautiful Japanese garden is best visited during autumn when the maples turn red. But truth be told, the tranquil haven and its many tea houses will still be beautiful throughout the year.
There are a couple of smaller gardens to be found in and around the temples as well. Just make sure to put at least one on your list of things to do in Nara.
7. Kofun tombs
In Nara, you will have the unique chance to see one of the megalithic tombs build between the 3rd and early 7th century AD. These key-shaped tumuli are surrounded by a wide moat and called Kofun – or ancient graves. You can't actually go in. In fact, western scientists really don't know what lies within, as the Imperial Household Agency wouldn't allow anyone but their own experts in.
In a way that is understandable, as these tombs hold the bodies of former emperors. Some of them near-legendary, like the Gosashi tomb in Nara revered as the resting place of Empress Jingu.
Personally speaking, I find it absolutely weird that these ancient tombs appear in no tourist guide, because even from outside they are truly spectacular and beyond significant!
8. Heijo-kyo
A lesser-known Heritage site in Nara is the Heijō-kyō (平城京). Here you will be able to see the actual remains of the complex that served as Japanese capital between 710-40. (Side reference: The capital moved to Kyoto with the start of the so-called Heian period in 794 AD.)
9. Nara Prefectural Art Museum / Nara National Museum
Right in the middle of Nara Park, you will find the Nara Prefectural Museum of Art. It is an amazing museum if you are into Buddhist, ancient art and Japanese culture. I find it beautiful, but if you went to the exhibition at Hōryū-ji, it might be a bit repetitive. It's actually not the only museum in town, but the most prominent. If you are short on time, you might want to skip it.
A wonderful alternative to the Nara National Museum would be the Kofukuji National Treasure Museum just a couple of meters away.
10. Kōfuku-ji Temple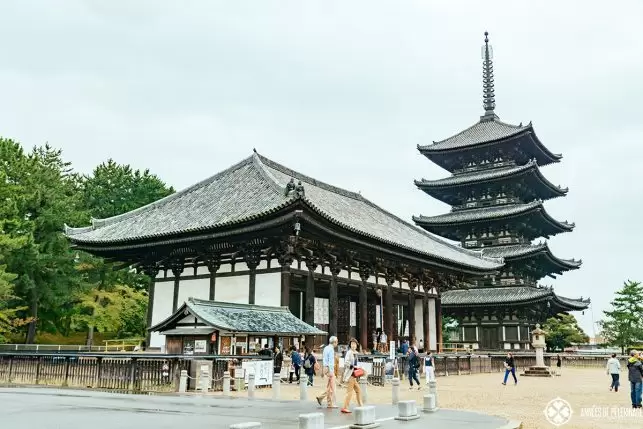 You'll find the amazing Kōfuku-ji Temple right in the heart of Nara Park. The beautiful pagoda and the main hall have been meticulously restored in recent years and it's quite worth to go inside the different halls and marvel at the outstanding National treasures inside!
[Bonus] Higashimuki Shopping District
Japanese people love their shopping arcades. Basically, every small town has one, and Nara is no exception. If you are looking for a wonderful little souvenir or were wondering what to eat in Nara, you really shouldn't miss the Higashimuki Shopping District in Nara. Just walk past the Kōfuku-ji back to the main station and it will be on your left side. There is a ton of excellent food take away options and a million tiny shops offering authentic gifts.
Day trip to Nara or is it better to stay a night?
Now you are probably wondering how much time you will need in Nara. I would say that utterly depends on your personal preferences. If you want to see it all, you will probably need two days, as some of the sites (like the Hōryū-ji or the Kofun graves) are not within the city center, but farther outside.
Please bear in mind that you will see a lot of temples on your visit throughout Japan. At one point, you will most certainly grow sick of them and there is just so much you can see in one day without suffering from sensual overload. So, I would recommend staying a night in Nara and taking things slowly.
That being said, and depending on how tight your Japan itinerary is, it is utterly possible to do a Nara day trip from Osaka. Wondering how to get to Nara from Osaka? Just take the Bullet Train / Shinkansen. Hyperdia is a fabulous site where you can check connections. There are regular trains and the JR Yamatoji Line Rapid Service will take you to Nara in about 40 minutes or less.
It is also possible to do a Nara day trip from Kyoto. Here, the same applies: just take an early train in the morning and a late train back to your hotel. They only cost a couple of Yen and there is even a special tourist ticket available.
I wrote a super helpful article on how to get from Kyoto to Nara. You'll find it here.
Pro Tip: Get a Japan Rail Pass so you'll be able to access the Japanese rail system for a fixed price and unlimited connections!
Where to stay in Nara
Note: I get commissions for purchases made through links in this post.
If you want to stay a night in Nara, you really don't have that many options. I can recommend the Hotel Nikko Nara and stayed there two times already. It's not luxury and the rooms are quite small. But that could probably be said about any hotel in Japan.
Nikko is a hotel chain that operates a couple of hotels in Japan. Prices are very reasonable for the service offered, hence the recommendation.
You could also opt to stay at a more traditional venue, like a Ryokan. The Wakasa Ryokan probably offers the best bang for your buck. Prices will be higher but do keep in mind that typically an onsen (hot spring) will be part of a good ryokan. Ryokan usually over above excellent food, so never consider staying at a ryokan and eating out. It might be contrary to what you are used to in other parts of the world, but in 95% percent of all cases, the food you'll find on the street will be of a lower quality or more expensive.
As most points of interest are located around Nara Park, it pays off to pick an accommodation close to the center. The Hotel Nikko Nara is actually very close to the train station – so perfect for traveling on AND exploring the city (that's what you want to do in Nara).
Best time to visit Nara / Festivals in Nara
Actually, this point is kind of moot. There really is no best or worst time to visit Nara and all its UNESCO World Heritage sites. Still, I felt like my little Nara Japan guide wasn't complete without out it. The city and its many shrines and temples will be utterly beautiful throughout the year. Obviously cherry blossom season and autumn will be especially beautiful, but do not neglect winter either. The temple ground can be beyond enchanting dusted with fresh snow. Also, the town will be less crowded then.
There are two important festivals (matsuri) you might take note of, though:
1. Yamayaki (Grass Burning Festival)
Each year, on the fourth Saturday of January you have the opportunity to attend one of Japan's most spectacular festivals. Accompanied by a fireworks show, locals will set the complete hillside of the Wakakusa-yama on fire. The festival starts around 5:30 pm.
2. Mantoro (Lantern Festival)
I already mentioned the Mantoro Festival in the section about Kasuga-Taisha. This festival is actually held twice a year. Once on February 3rd and another time on August 15th. Mantoro starts around 6 pm in the evening when all the lanterns lining the many pathways of the shrine are lit. Truly magical!
Apart from these two, there are much more (like the Takigi Ono Festival in May or the Shika-no-Tsunokiri in October). Note that Nara will be utterly packed on these festival days, so you will need twice as much time to see all the highlights.
As you are probably currently preparing a trip to Japan, I'd also like to point you towards my detailed Japan packing list. It's really important to come prepared and not over- (or under) pack.
Anyways, this was my list of 10 amazing things to do in Nara in 1 day or more. Got any questions? Do ask them in the comments below. Also, don't forget to pin this article for later!
Picture credit: Ruth Hartnup, Wikipedia, Wikipedia, Rocky T, tonko43, Ross Fowler